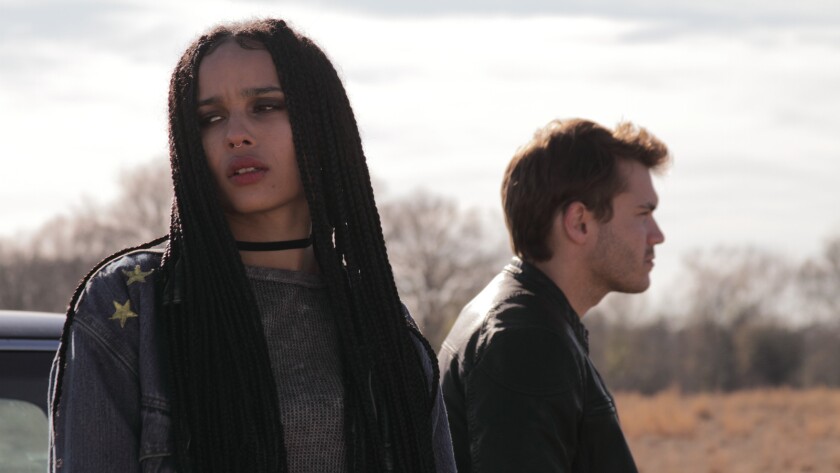 Shot through a sun-filled lens by cinematographer Alex Disenhof, "Vincent N Roxxy" is filled with quiet moments punctuated by scenes of startling violence. Directed by Gary Michael Schultz, this uneven rural romance and thriller has echoes of Terrence Malick, Jeff Nichols and Andrew Dominik, but its dueling tones battle with neither side emerging victorious.
After Vincent (Emile Hirsch) witnesses Roxxy (Zoë Kravitz) being attacked on the street, he steps in to rescue her. They take refuge at his family's farm, where the two fall in love, as they live alongside Vincent's brother (Emory Cohen) and his girlfriend (Zoey Deutch). But "Vincent N Roxxy" dwells on the idea that violence is inescapable for some people, and their quiet existence is again interrupted.
There's an absence of character details that could make the central romance of "Vincent N Roxxy" more believable. Luckily for the film, the palpable chemistry between Hirsch and Kravitz imbues the relationship with realism, even if we don't have much else to go on.
The final scene allows for some redemption, but "Vincent N Roxxy" largely casts its female characters as objects: devoted sisters, oft-naked girlfriends and victims to be saved. There are hints throughout about the deeper nature of these characters, but the last moments ultimately feel like they're part of an entirely different movie.
-------------
'Vincent N Roxxy'
Rating: R, for brutal bloody violence, language throughout, some strong sexual content, nudity and brief drug use.
Running time: 1 hour, 42 minutes
Playing: Vintage Los Feliz Theatre, Los Feliz
See the most-read stories in Entertainment this hour »
---