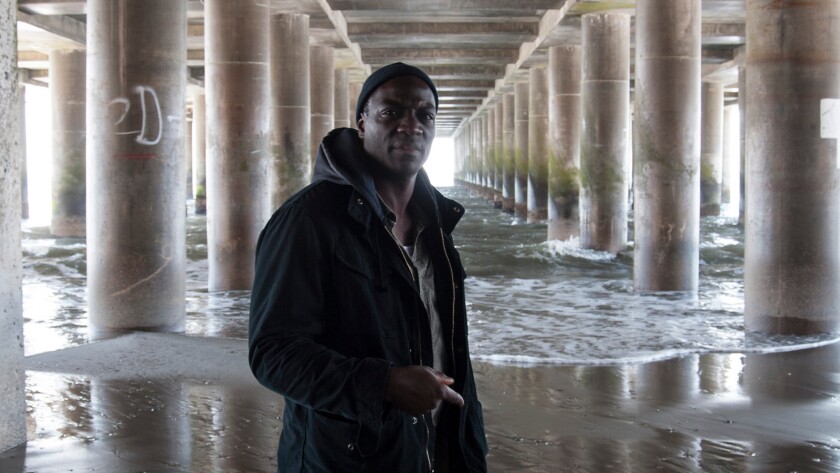 Sodden with amateurishness, "Wetlands" attempts to turn Atlantic City in December into a noir nexus of drug-dealing surfers, struggling moms and broken cops, but instead merely claims a handful of good actors as unfortunate victims. Adewale Akinnuoye-Agbaje glowers painfully as Babs, a disgraced, recovering-addict detective on a last-chance posting in a desolate stretch of New Jersey waterfront he once called home. (All we know, because it's repeated incessantly, is something went down in Philly.) His new partner is a loutish drunk (Christopher McDonald) with a disillusioned anchorwoman (Jennifer Ehle) for a wife.
Obsessed with reconnecting with his teenage daughter (Celeste O'Connor), Babs sees trouble in his surf shop owner ex-wife (Heather Graham) hooking up with an unnamed surfer girl (Reyna de Courcy) who sells dope for a lowlife called Jimmy Coconuts (Louis Mustillo).
In fashionista-turned-filmmaker Emanuele Della Valle's nonsensical screenplay, the embarrassing "tough" dialogue is somehow both needlessly oblique and glaringly obvious at the same time, leaving accomplished performers looking like motivation-challenged hostages waiting for the words "It's a wrap." There are occasionally atmospheric shots of depopulated boardwalks and streets, but the strain to give the visuals meaning becomes its own clue in the worst crime committed here: the killing of good storytelling.
-------------
'Wetlands'
Not rated
Running time: 1 hour, 38 minutes
Playing: AMC Universal CityWalk 19
See the most-read stories in Entertainment this hour »
---