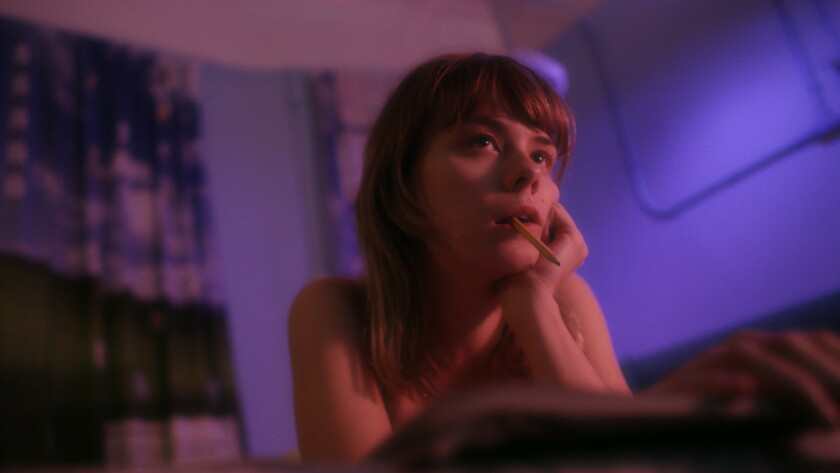 Eugene Kotlyarenko's "Wobble Palace" proves that a relationship can be just as lonely as being single. In this blithe indie, the apps that promise to connect us — from iMessage to Tinder — are just as likely to keep us in isolation, as are our own self-absorbed tendencies.
In the days before the 2016 presidential election, insufferable young Los Angeles couple Eugene (cowriter-director Kotlyarenko) and Jane (cowriter Dasha Nekrasova) realize that their open relationship is as broken as the American political system. They split their shared apartment, a.k.a. "Wobble Palace," for the weekend, and they each bring home potential partners found on Tinder and on the streets of their Chinatown neighborhood.
"Wobble Palace" is a low-budget effort befitting its title, but the warm, stylized visuals never look cheap. Safdie brothers and Alex Ross Perry regular Sean Price Williams serves as cinematographer, adding a dreamy, sunny air to the film and providing an elevated look. iPhone app screens are interspersed with the action, looking like one of Instagram's golden-hued filters.
But this isn't an idealized version of romance or L.A. millennials; Kotlyarenko and Nekrasova shine a glaring iPhone flashlight on their characters' — and their generation's — flaws. They poke fun at Eugene and Jane, but they always treat them as humans, even if they're not anyone we'd actually want to spend time with for more than the brief run time of a movie.
-------------
'Wobble Palace'
Not rated
Running time: 1 hour, 26 minutes
Playing: Starts Oct. 12, Laemmle Noho 7, North Hollywood
See the most-read stories in Entertainment this hour »
---