Review: 'Miss Sharon Jones!' finds moments of beauty as the powerhouse soul singer battles cancer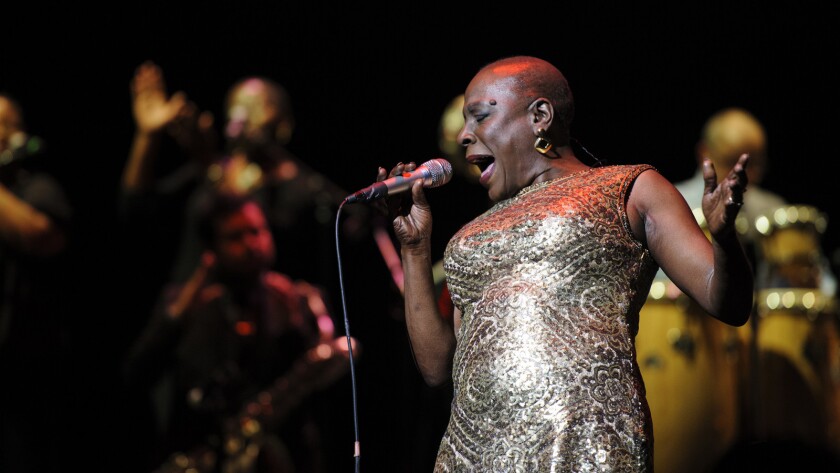 The incandescent soul singer Sharon Jones, who once endured a major-label executive's pronouncement that she was "too fat, too black, too short and too old" to be a star, knows a thing or two about resilience. That couldn't be more evident in Barbara Kopple's illuminating and often powerful, if not always satisfying, documentary portrait, which follows the 4-foot-11 fireball as illness forces her to slow down.
In "Miss Sharon Jones!," the accomplished filmmaker shadows the powerhouse vocalist during her treatment for stage 2 pancreatic cancer, and then through an emotionally charged return to performing with her ace retro-funk outfit, the Dap-Kings. Jones' diagnosis arrived when she was in her late 50s, as she and the band were on the cusp of a career breakthrough after years of touring — not to mention her earlier stints as a wedding singer and corrections officer.
Kopple, whose filmography stretches from the indispensable "Harlan County U.S.A." to profiles of the Dixie Chicks ("Shut Up & Sing") and Mariel Hemingway ("Running From Crazy"), brings a clear-eyed intimacy to her observations, zeroing in on revelatory moments. There's no overarching life-story chronology; biographical details emerge in bits and pieces. The director doesn't wring maudlin tears from her subject's ordeal, in part because Jones never asks for pity.
As Kopple jumps from one aspect of Jones' story to another — medical crisis, financial stress, the deep bond she shares with her musicians, her Southern roots — the film can sometimes feel scattershot. Its chief attribute is the gift of Jones' joyful music and her most excellent company. Her strength may be diminished, but her spirit is unbroken and her down-home humor intact, even when she's undergoing chemotherapy.
During her months of treatment, Jones finds a calming respite from career matters in the upstate New York home of her friend Megan Holken, occupying herself with daytime TV and a paint-by-numbers canvas. Back in Brooklyn, the economic fallout of a canceled tour poses challenges for the band and for managers Alex Kadvan and Austen Holman, all of whom are not just the singer's associates but her family.
Though the topic is under-explored, there are fascinating glimpses of the importance of that family to this hardworking single woman. Her reaction after a group dinner is called off says it all, and the clarity of her self-understanding, even in the midst of an emotional outburst, is remarkable. As it does for everyone, family also means responsibilities for Jones: In different ways, both the Dap-Kings and her large extended clan (she's the youngest of six kids) depend on her financially.
And the audience she's built show by show depends on her for the ineffable. Performance footage from better times captures the ecstatic verve of Sharon Jones & the Dap-Kings. In sparkly cocktail dress, her heels kicked off and her dreadlocks swinging, she's an R&B dervish, her voice, as one of her backup singers puts it, "like a train." The snippets are electrifying yet also frustratingly abridged. That's particularly so when Kopple provides just the first astounding line of Jones' interpretation of "Somewhere Over the Rainbow" from Holken's wedding video. More, please.
The full songs the movie gives us, though, are knockouts, beginning with the holy-spirit fervor of the gospel hymn "His Eye Is on the Sparrow," which Jones delivers at a church in Queens. Those few minutes alone are worth the price of admission. And then there are the first two numbers of Jones' comeback show in New York. To see her quiver in the wings and then take the stage with a world-conquering smile is to see a woman emerge from a crucible.
Kopple's approach can be limiting as she moves from incident to incident. But she also finds heart-stopping beauty in unexpected places, like Jones' rapture over a takeout sandwich and its perfect pickle. Or the way, on a visit to an upstate farm, her clear-as-water voice delights a couple of goats. They, too, want to hear more.
-------------
'Miss Sharon Jones!'
Not rated
Running time: 1 hour, 34 minutes
Playing: Nuart Theatre, West Los Angeles
---
The complete guide to home viewing
Get Screen Gab for weekly recommendations, analysis, interviews and irreverent discussion of the TV and streaming movies everyone's talking about.
You may occasionally receive promotional content from the Los Angeles Times.