Reinaldo Marcus Green wants to provoke discussion with 'Monsters and Men'
Navigating America's current socio-political climate — from the persistent deaths of unarmed black and brown folks by police to the Time's Up and #MeToo conversations taking place everywhere from college campuses to Capitol Hill — requires choices to be made.
Among them, one can remain silent in the hopes the chaos of the world might self-correct in due time. Or one can do something to spark change. Reinaldo Marcus Green, with his feature debut "Monsters and Men" in theaters now, chose the latter.
"It's about people coming out and supporting and talking about it and then doing something, however small," the writer-director said about his film. "And that was me making it, because [with just over 2,000 followers on Twitter] if I put out a tweet, nobody's looking at it. But if I make a film, this is my tweet to the world and I could say something that might be able to build."
"Monsters and Men," which premiered at the Sundance Film Festival earlier this year, is ripped straight from recent headlines and the African American and Latino lived experience. (Green is half African American and half Puerto Rican.)
Told in a triptych structure, the picture follows three members of the Bed-Stuy community in the aftermath of the killing of an unarmed black man by police. Anthony Ramos is a young father who captures the death on his cellphone. (Think Ramsey Orta, who filmed the death of Staten Island's Eric Garner.) John David Washington ("BlacKkKlansman") is a black police officer who must navigate precinct politics. And Kelvin Harrison Jr. is a high school athlete inspired to take a stand — or knee, as it were.
Becoming a filmmaker was never Green's dream. Until it was. While his brother Rashaad went to film school, he became an elementary school teacher in an affluent New Jersey district. He then transitioned to Wall Street just long enough to pay off student loans when the movie-making bug bit. Reinaldo had been the lead in Rashaad's first short film.
"Of course when you're making shorts, you've got no money and you asked your family to come help," Green said. "[Rashaad] put me in front of the camera as an actor. He came over to my apartment and was literally like, 'Make love to your girlfriend.' I was like, 'This is really weird.' ... My brother doesn't even tell me what it's about . … He goes back to his house and then records a voiceover over this thing. He showed it in film school and people are like, 'Oh, you should submit this [to film festivals].' And his homework literally got into Sundance."
As Rashaad made a name for himself, Green lived vicariously through him as his biggest cheerleader. But four years into Green's Wall Street stint, he had a "mini crisis."
"I was 28 and had paid off my $40,000 in student loans and was like, 'What do I do now? I don't know. Why am I here?'" he said.
He figured going back to school to get an advanced business degree made sense. Following a Google search, he stumbled on a joint MBA-MFA program at NYU, his brother's alma mater. He read the description and found it to be the perfect combo for his business interests and budding creative energy. But the application was due that very day. Green pulled his brother out of the editing bay for the feature "Gun Hill Road" (which played Sundance in 2011) to share the news.
"I wanted to do this program so I could basically produce," Green said, "and my brother would write and direct."
It was like I was doing it and I had directed it, but I didn't feel like I was a director. I felt like I was a producer directing.
— Reinaldo Marcus Green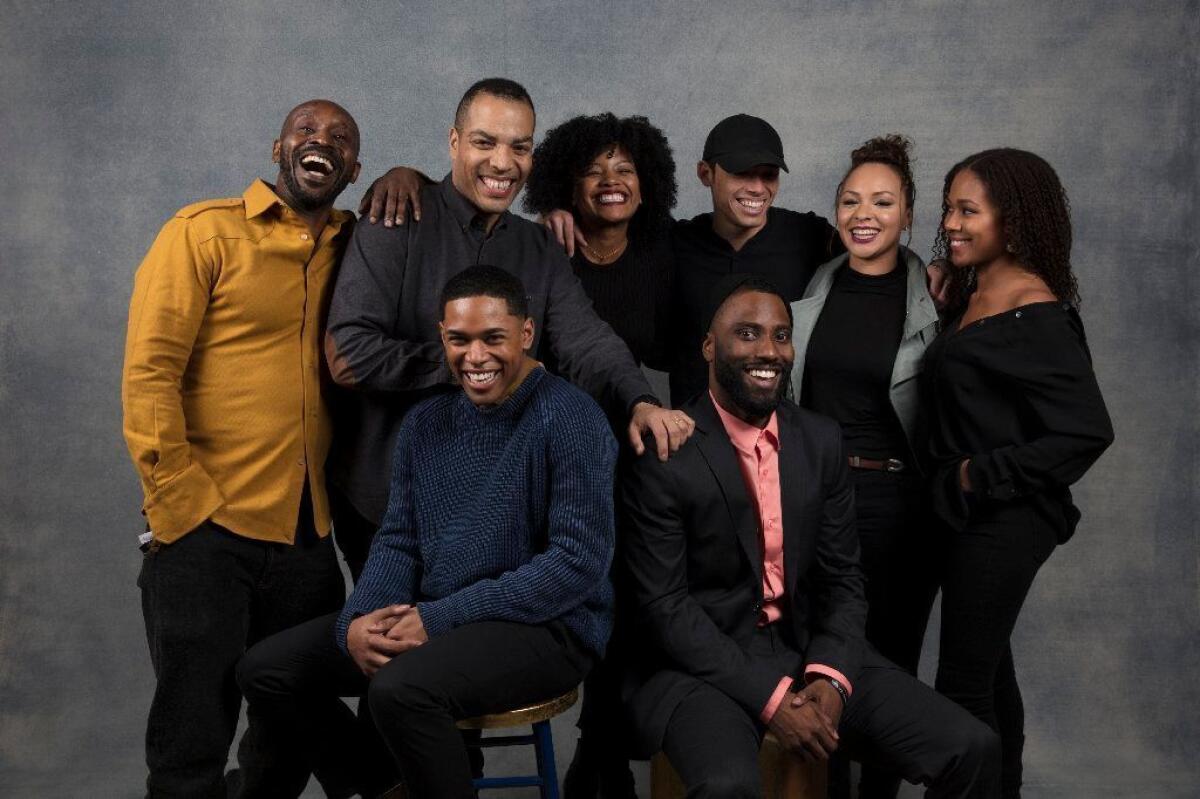 Rashaad texted the chair of the film department and got Green an extension on the application.
Green submitted his application within the following month. After a short period on the waitlist, he was accepted, but only into the film program. And because the program focused on writing and directing, he was required to create short films throughout. One of his first, "Stone Cars," premiered at Cannes in 2014.
"It was like one of those things where it happened quickly… but I didn't necessarily believe I was a director," he said. "I had directed [the short], but I didn't feel like I was a director. I felt like I was a producer directing."
Though he went through another "identity crisis" as a result of that experience, in his third and final year, he decided to lean more heavily into writing and directing. He made three shorts that year. One of them, "Stop," was about a young man who's racially profiled and stopped by cops on the way home from baseball practice. It was born out of the acquittal of Trayvon Martin's killer, George Zimmerman.
"That could have been me," Green said. "I could've been walking home in my own neighborhood and [encounter] some random dude who's not in a uniform, and I'm defending myself and I end up gone. I remember feeling like that kid literally could have been me. I made the short out of that conversation."
"Stop" premiered at Sundance in 2015. While there, Green got the inspiration for what would become "Monsters and Men."
Staying with Green in his cottage for the Utah festival was a longtime friend who was by then a cop. The friend, who is white, had played an officer in the short film. After its premiere, conversation between the two turned to the death-by-chokehold of Eric Garner, who was killed in their home neighborhood of Staten Island.
"And what starts as a regular conversation started becoming progressively heated," Green said. "What I saw on the tape was a guy that should be alive. I'm not saying he wasn't doing what they said he was doing. I just think he should be alive. Point blank period. And his perspective was that it was unfortunate, but [Garner] was resisting arrest."
They went back and forth for some time, said Green, "and then he went off into a little bit of a tangent about everything that wasn't on the tape.
"It was everything about what it's like being a police officer and how I don't understand what he faces," he said. "He broke down and started crying … Somehow this conversation triggered something and he felt like I was pointing the finger at him."
Green and his friend never came to an agreement and "just kind of let the conversation go," hugging it out the next morning. But he said he was "forever changed by that conversation."
"It was a perspective that somehow you know, but you don't hear," he said. "And I just heard it … I also hadn't seen it [on screen] and it was what I didn't have in my short film."
From that, the seeds for "Monsters and Men" were planted, in a way that Green felt would do more than simply expand on what he had already covered in "Stop." And though it was Green's first time writing and directing a feature-length project, his fresh perspective was a benefit in the filming process.
"Because of the enthusiasm of what comes with the first time, he wasn't jaded," Washington said. "He wasn't cynical or an 'angry black artist.' The foundation of it was a pure one and there's nothing like your first time."
Ramos agreed, noting Green's collaborative approach to filmmaking.
"It takes a village to make something happen, to make anything and anything good," said the "She's Gotta Have It" star. "He just wants to win, and his way of winning — which I think is the way to win — is to know that the best idea in the room wins and that's how we're going to get the best product."
And because Green doubled as the writer, "we could ask him, 'Where did you get this?' or 'Where did this come from?" Ramos said.
"We didn't have to really guess … and it's amazing to have that inspiration, when the writer can be there to tell you, 'This is what I was feeling when I wrote this.'"
Harrison also credited Green's relative proximity in age to all three of the leads for a filmmaking process that felt like a communal experience.
"He's cool and grounded and feels like an older brother," he said. "He saw me and understood me and what my upbringing was like. I felt like he was just as new as I was and we were both excited and went on this journey together. It kept us in this wide-eyed take on what the filmmaking experience can be where we weren't pressured on the outcome but more so the process."
"Monsters and Men" is the latest addition to the (unofficial) Black Lives Matter Cinematic Universe — filmic renderings of contemporary socio-political life inspired by and related to the rise and enduring legacy of the Black Lives Matter movement. It joins recent pictures such as Spike Lee's "BlacKkKlansman" and Daveed Diggs and Rafael Casal's "Blindspotting" as well as the Oscar-winning "Get Out" as reflections on the black experience.
"I'm rooting for those folks, and those films need to be here," Green said, "as they're different ways to look at [the issue]. But my hope is that 'Monsters and Men' stands out and is not what one would expect.
"I hope it kind of opens up some perspective … and there's some sort of revelation that happens that allows people to talk and engage with the subject matter in a way that they did not expect to do so when walking in the movie."
Get your life! Follow me on Twitter (@TrevellAnderson) or email me: trevell.anderson@latimes.com.
Get our L.A. Goes Out newsletter, with the week's best events, to help you explore and experience our city.
You may occasionally receive promotional content from the Los Angeles Times.