Review: 'Science Fair' is a winner, even in a year of extraordinary documentaries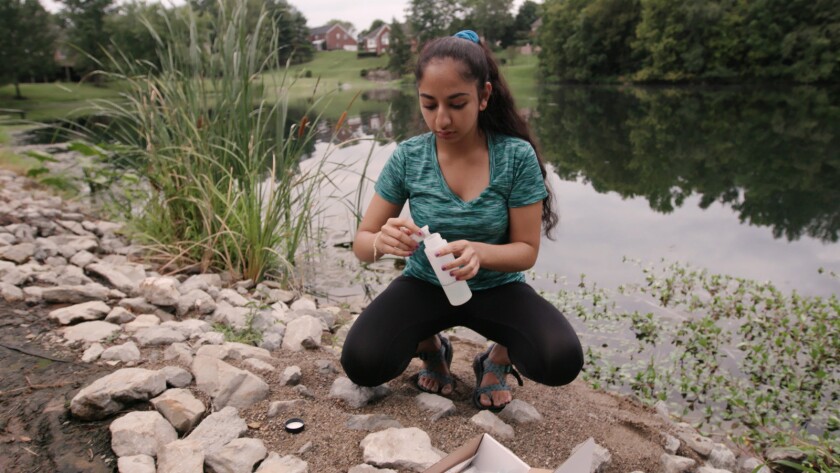 Film Critic
Even in a year of extraordinary documentaries like "RBG," "Won't You Be My Neighbor" and "Three Identical Strangers," "Science Fair" is something special.
Winner of audience awards at both Sundance and South by Southwest (not an easy accomplishment), this infectious and exuberant film wins you over by focusing on the enthusiasm and enviable good spirits of the smart and engaging young people who compete in "the Olympics of science fairs."
If you want to increase your faith in the future of humanity and have a rollicking good time doing it, there is no better place to go.
Crisply directed by Cristina Costantini and Darren Foster, "Science Fair" focuses on the 2017 Los Angeles-hosted edition of the Intel International Science and Engineering Fair, familiarly known as ISEF.
In existence since 1942, ISEF presently attracts roughly 7 million initial competitors who duke it out in 425 qualifying fairs around the world.
This group is winnowed down to 1,700 high school student finalists from close to 80 countries, competing in 22 categories but all hoping they walk off with the coveted Gordon E. Moore award for the best project.
Costantini knows this world intimately – she is a former competitor who placed fourth in her category as a high school freshman – and the film's insider sensibility benefits from her knowledge.
Costantini and Foster, who first worked together on "Death by Fentanyl," a much darker and very different documentary on the opioid crisis, turn out to have impeccable instincts for the intimate and the warmly comic that gives this film the best kind of human moments.
That is very much the case with the footage that opens the movie, showing then 15-year-old Jack Andraka screaming, crying and in general having an out-of-body experience when he wins the 2012 Gordon E. Moore award.
Interviewed by the filmmakers today, a much calmer Andraka underlines that "winning will change your life in ways you don't even comprehend."
Completely in the spirit of 2002's "Spellbound," "Science Fair" proper begins with on-location introductions to the competitors we will be following, motivated young people determined to make the world a safer and better place.
Visited first is Louisville's duPont Manual High School, a perennial hotbed of ISEF competitors, where we're introduced to Anjali, as formidably self-possessed and articulate a 14-year-old as you are likely to meet with a project that tests for arsenic levels in drinking water.
When Anjali says, "I know how to communicate ideas, that's why I'm successful," she is no more than telling the truth. Even the rare setback does not faze her but merely underlines the important truth that "I'm just a person."
Much more of a fish out of water is Kashfia, a slight, hajib-wearing teenager at Brookings High in Brookings, S.D., a school with three gyms and a weight training room but no laboratory.
Very conscious of having to be "extra nice and unharmful" as one of the rare Muslims in her community, Kashfia has found an unlikely mentor in the school's head football coach, who accurately observes that "inside her there is a lion, she's really ferocious about what she wants to do in life."
Not fitting in for very different reasons is 17-year-old Robbie in West Virginia. Uninterested in school work to the point that he almost failed algebra (his teacher provides the amusing details), Robbie has a gift for machine learning and creativity and has programmed a computer to rap like Kanye West.
Because ISEF has numerous competitors from overseas, "Science Fair" provides a sampling, starting with Ivo from Lorch, Germany, a small town in the Rhine Valley, who parlayed a passion for model airplanes into a radical rethinking and re-engineering of the venerable Flying Wing concept.
From Iracema, Brazil, described as "a very poor city in a very poor state in a very poor region" comes 17-year-old Myllena and her best friend, Gabriel, determined to help inhibit the Zika virus. Their journey to ISEF is so against the odds that people tend to cry when they describe it.
Not a contestant but a key player in the film is Dr. Serena McCalla, the faculty advisor for ISEF powerhouse Jericho High in Jericho, N.Y., a school that qualified a remarkable nine students for the fair. Smart and super-focused, McCalla means it when she says, "I'm going to be so proud when one of my kids wins the Nobel Prize, because one of them will."
After introducing these folks, "Science Fair" follows them to the 2017 ISEF fair, tagging along as they socialize – "the better you are at science fair, the worse you are at dancing," one competitor says – and present their projects.
Winning at ISEF is guaranteed to change lives, but what's clear is that just participating does as well. "If you're there just to win prizes," Robbie astutely points out, "you're missing the best part."
--
"Science Fair"
No rating
Running time: 1 hour, 30 minutes
Playing: Laemmle Music Hall, Beverly Hills; Regal LA Live, downtown; ArcLight Sherman Oaks
---
The complete guide to home viewing
Get Screen Gab for weekly recommendations, analysis, interviews and irreverent discussion of the TV and streaming movies everyone's talking about.
You may occasionally receive promotional content from the Los Angeles Times.