Female-powered Shatterbox Anthology announces films directed by Yara Shahidi, Gillian Jacobs, Jessica Sanders and more
Yara Shahidi had just wrapped the first season of "Grown-ish," her ABC "black-ish" spinoff, when she dove into her next role: directing her first film.
"I enjoy acting thoroughly, but I also like the process in which we tell stories," Shahidi, 17, told The Times of her directorial debut for Refinery29's Shatterbox Anthology, a series of female-helmed shorts created in 2016 with the mission of giving women directors a platform to tell their stories.
In its founding class, Kristen Stewart and Chloe Sevigny made directing debuts with shorts that premiered at the prestigious Sundance and Cannes film festivals, respectively, while costume designer-turned-director Courtney Hoffman turned her feminist western short "The Good Time Girls" into a calling card that landed her a feature directing gig for Amblin.
Now in its second season, the Shatterbox Anthology will feature eight films. This year's directors are Shahidi, "Community's" Gillian Jacobs, Academy Award-nominated Jessica Sanders, Gilly Barnes, Ivy Agregan, Janine Shermon Barrois, A.M. Lukas (nee Anna Martemucci) and Allana Harkin. Partnering with TNT, the new season of shorts will screen across all TNT social, digital and television channels as part of a multiplatform release.
Shahidi says the opportunity to direct came with an offer she couldn't refuse: full creative control. She developed the concept for her film and wrote the script with "Grown-ish" writer Jordan Reddout, drawing inspiration from the 1956 French film "The Red Balloon," the podcast "99% Invisible" and her own experience strolling along Los Angeles' Melrose Avenue one day with friends.
"The story centers around one character who we have aptly titled 'X,' and it's X's journey through L.A. — a day in the life — but also a larger commentary on what it's like to maneuver through a space that you don't own or have ownership of," Shahidi said.
"Being somebody who'd been in California for most of her life, I've benefited from how diverse it is, how open it is, how liberal it is," she continued. "This really stemmed from us wanting to dive further into that ... and still discuss the universality of what it's like to be an unprotected class of any kind, whether you're a person of color, whether you're an immigrant, whether you're a woman, whether you're differently abled — whatever it is."
For Shahidi, the experience was a family affair — mother Keri Shahidi served as executive producer and father Afshin Shahidi was her director of photography on a crew that included several members of the "Grown-ish" and "black-ish" sets.
"Directing really makes you stick to your voice and have the ability to back it up, saying, 'This is how I want to do it.' Of course you have to make compromises here and there, but it really did remind me to not be so willing to [make compromises], and to feel empowered to execute my vision."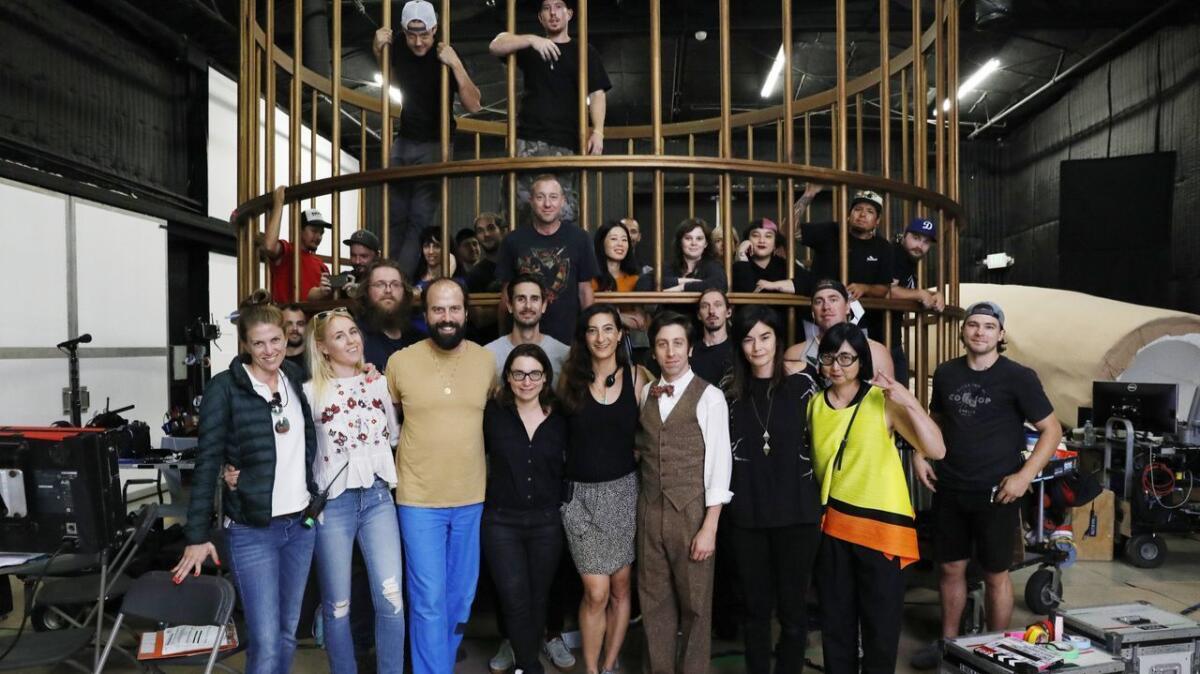 Sanders, whose Shatterbox Anthology entry is the dark comedy "End of the Line," is a veteran director. Her 2005 wrongful-conviction documentary "After Innocence" premiered at the Sundance Film Festival, where it won the special jury prize. She's returned this year to premiere "End of the Line," starring Brett Gelman and Simon Helberg as two men locked in a surreal power struggle.
Making a transition from nonfiction to fiction storytelling is Sanders' focus at the moment. She will make her narrative feature debut with "Picking Cotton," adapted by "Elle's" David Birke from a story featured in "After Innocence." It's about the unlikely friendship between Jennifer Thompson, a white woman raped in 1984, and Ronald Cotton, the black man who served 11 years in prison before being exonerated of the crime by helping to catch the real perpetrator.
"There's documentary in my blood, but right now I have a lot of narrative stories to tell," said Sanders. "I think Refinery is making a huge difference in Hollywood by making our films and respecting the director's vision."
In an industry in which women account for 52% of moviegoers but only 7% of directors of the top 100 films at the box office, the extreme lack of gender parity is an issue studios and their gatekeepers have been slow to address in concrete ways. Refinery29 chief content officer Amy Emmerich says the media company focused on women has invested in female directors and voices because it's what their audience craves.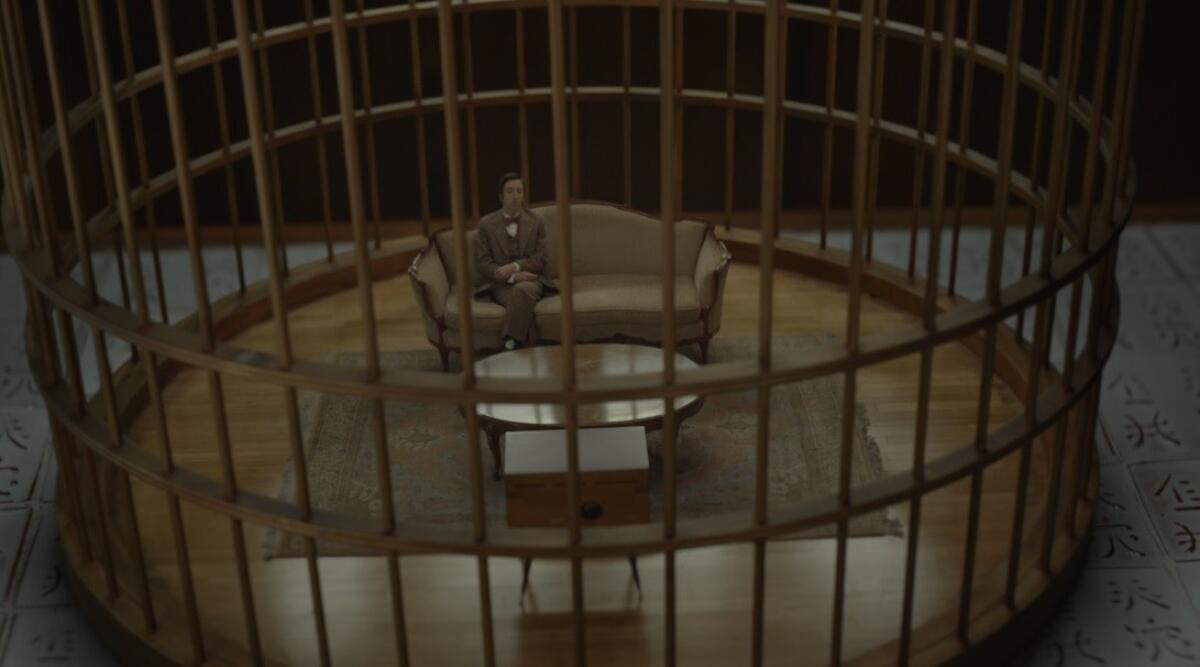 "When we started the first year, it was about increasing the ranks of women in front of and behind the camera — more important, more female directors was the priority," said Emmerich. "The second was representation: What kind of stories are out there, and are they representing our audience and what they want to see in the world? Obviously, that wasn't the case. We had a large amount of audience data where they felt they weren't seeing themselves in media. So by putting more female directors in the chair, we would change, then, the representation."
For "Empire" actress Gabourey Sidibe, who made her own debut behind the camera in the first-season Shatterbox Anthology short "The Tale of Four," the experience was transformative. Before debuting the film — based on Nina Simone's 1966 song "Four Women" — last October, Sidibe was "fearful that it wouldn't really matter to anyone outside of myself, that my opinions and my point of view wouldn't make sense to anyone."
"But now that [the film] has been out and people have seen it, I don't know why I cared so much in the first place — my art still is my art, and I'm the one who validates it, not anyone else," said Sidibe, with a laugh. She tapped Aisha Hinds, Ledisi Young and Jussie Smollett for the multi-thread piece about black womanhood.
The short film also gave her the chance to hire diversely in key roles throughout her production and to hire department heads of color who had never been hired as leads.
"It was really important for me to hire people of color," said Sidibe, whose producing partner Kia Perry co-wrote the piece with Ayanna McMichael. "The first real step was finding our producer, and we wanted a producer who was a black female."
She found one in "Shadowboxer" producer Lisa Cortes, her mentor since the two worked together on "Precious." "I really wanted a black woman to tell this story, because what I see in media is other people telling our story and getting it wrong."
Now, Sidibe says, she's eager to get behind the camera again — and is currently shadowing her "Empire" EP and mentor Sanaa Hamri to learn the ropes of directing television.
"I'd love to direct again. I can't wait to direct again. And some opportunities have come up, but more than that, I know that I can do this now. I learned that I can make my own opportunities — I don't have to wait for someone to give them to me."
ALSO
Ruth Bader Ginsburg on her new Sundance documentary, her #MeToo revelation and 'SNL's' 'Gins-burn'
Riding with Jane Fonda to the Sundance Film Festival's Respect Rally
Sundance breakout Kelvin Harrison Jr. found his form of activism through 'Monster' and 'Monsters and Men'
Sundance 2018 diary: 'The Tale,' 'American Animals' blur the lines between fact and fiction
Get the Indie Focus newsletter, Mark Olsen's weekly guide to the world of cinema.
You may occasionally receive promotional content from the Los Angeles Times.