John C. Reilly, Steve Coogan and the filmmakers of 'Stan & Ollie' find hidden depths in Hollywood history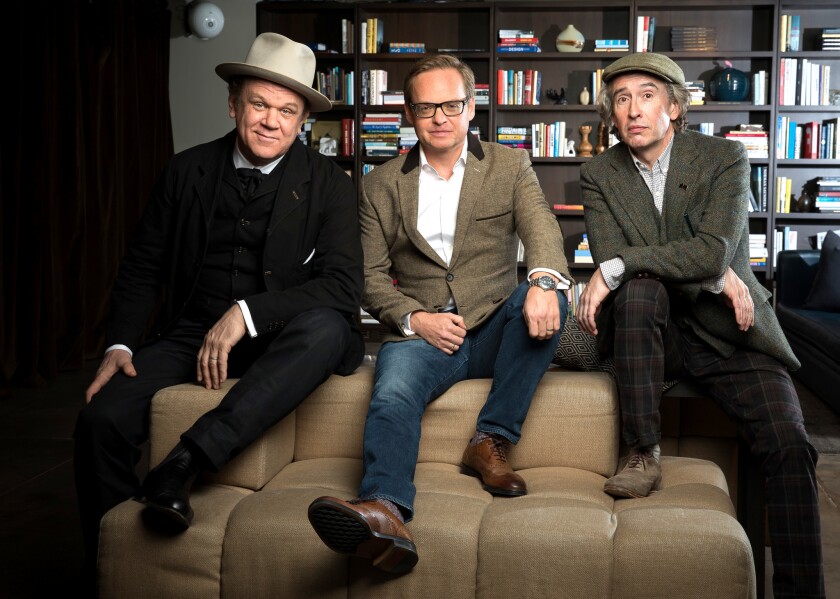 The screenwriter of "Stan & Ollie" never wanted to make a cradle-to-grave biopic of the beloved comedy team Stan Laurel and Oliver Hardy.
In fact, Oscar-nominated Jeff Pope ("Philomena") didn't want to make any kind of biographical drama.
"What I set out to do was to tell a love story," he said in an email interview.
A fan of Laurel & Hardy since he was a little boy, Pope started to research the duo in earnest after receiving a DVD set of their work about 15 years ago. It wasn't until he read about their later years in the early 1950s "that I realized there was a story to tell about love, friendship and mortality."
The film's director, Jon S. Baird, elaborated on this idea. "We didn't want to do a story about Laurel & Hardy," he said in a recent interview. "We wanted to do a story of friends who just happen to be Laurel and Hardy."
"Stan & Ollie," which stars Steve Coogan as Laurel and a Golden Globe-nominated John C. Reilly as Hardy, depict these two legends at the twilight of their career when they toured the United Kingdom.
Unabashed Laurel & Hardy fans Reilly and Coogan, the latter of whom starred in and co-wrote "Philomena," were drawn to "Stan & Ollie" because it explored this little-known aspect of their career.
Once I learned about the theatrical tour, I thought, well, that's a brilliant prism through which to see everything about them.

John C. Reilly
"When I heard Jeff wanted to focus on the theatrical tour, and once I learned about the theatrical tour, I thought, well, that's a brilliant prism through which to see everything about them," Reilly said recently. "You find out that this tour was where they really learned to love each other as human beings. That's the stuff of drama. "
Noted Coogan: "It's always smart to try and pick a slice of life, and if you pick a slice of life then you can learn from the whole of that life. It becomes useful because it gives us chance to slow down the action and explore the minutiae of a relationship between the two men."
Laurel & Hardy were giants in the late 1920s and 1930s when they worked with producer Hal Roach on such films as the Oscar-winning 1932 short "The Music Box" and such features as 1933's "Sons of the Desert" (which is also the name of the team's appreciation society), 1934's "Babes in Toyland" and 1937's "Way Out West."
But their films were not as popular with fans and critics after they moved to Fox in the 1940s, and by the early '50s, their film roles were nonexistent. "The war added to the boys' disconnection with their audience as their gentle humor fell out of favor immediately after the horrors of World War II," Pope explained. "The brasher comedy of Abbott and Costello and Martin and Lewis came into the forefront."
Their last film, the 1951 French-Italian production, "Atoll K," was a disaster. And both were dealing with health issues.
"All that was left for them was touring and even then, the only offer was from the U.K., not the U.S," Pope explained. "They weren't flat broke, but because they never owned their movies — like Chaplin did — they never became truly wealthy."
A.J. Marriot's book "Laurel & Hardy: The British Tour," a compendium of reviews, cuttings and letters, was a valuable research tool. Pope also scoured the Laurel family archive and had conversations with great-granddaughter Cassidy Cook, who maintains the archive.
"Before I started, I didn't know Laurel was the dominant one in their partnership — not Hardy, as it appears in the movies," Pope said. "I didn't know they had such complicated and tangled private lives — each of them was married multiple times. I hadn't realized what a workaholic Stan was and how hard they worked to make their movies so effortless."
Before their last hurrah, Laurel and Hardy "were friends and colleagues, but essentially lived separate lives," he added.
But their relationship changed as they traveled around England, initially performing — at small venues to small crowds — such classic sketches as their dance to "At the Ball, That's All" from "Way Out West" and the hapless, childlike Laurel making the short-tempered Hardy's broken leg worse in 1932's "County Hospital."
(Reilly and Coogan faithfully re-create these sketches in the film).
Before production began on "Stan & Ollie," the writer and director talked with fans who were children when they caught Laurel & Hardy on stage during their last tour — director Stephen Frears saw them when he was a youngster — as well as members of the Sons of the Desert.
"We actually had someone come up to us in one of the venues and said that when they were a kid they actually remembered going into Laurel and Hardy's dressing rooms, chatting with them after the show," Baird said. "They remembered what they looked like up close, how much makeup they had on and remembered the smell of the dressing room. It was incredible to get that."
Baird learned many things about the duo during research. The one he loved the most he added to the opening scene of the film. "Stan Laurel used to cut his heels off of his boots and his shoes so it would make him walk funny," Baird said.
"It would give him a real flat-footed walk. If you notice at the beginning of the film before the picture comes up, you hear the scrapping noise, the crunching noise, and when it comes up, he's in his dressing room and he's prying the heel off his shoe!"
But the filmmakers took artistic license when it came to Laurel and Hardy's offstage conversations. "You imagine what would have been said or what would have happened," Baird said. "It definitely seems like they didn't know how much they were friends and how much they did care for each other when they went on this tour because they had to really rely on each other and be with each other day in and day out."
And like most comedy duos, these were very different men. "Oliver Hardy was an incredible romantic," Reilly said. "Steve said it best — 'Stan lived to work and Oliver worked to live.' "
Hardy suffered a mild heart attack in May 1954, and the two made their last appearance together on Dec. 1, 1954, on "This Is Your Life." He had a major stroke and died in 1957 at age 65.
Laurel, who earned an honorary Oscar in 1961, never worked again. He lived in a rented apartment in Santa Monica and listed his name in the telephone book. He would talk to fans who called him.
"I heard some of those conversations," Coogan said. "People actually recorded the conversations on tape. It was very, very useful because it helped me get under his skin."
And Laurel, who would also personally answer his fan mail, never got over Hardy's death. He kept writing sketches for the duo until his death of a heart attack in 1965 at age 74.
"That's all he knew," Coogan said.
---
Inside the business of entertainment
The Wide Shot brings you news, analysis and insights on everything from streaming wars to production — and what it all means for the future.
You may occasionally receive promotional content from the Los Angeles Times.