Q&A: 'The Last Jedi' breakout Kelly Marie Tran on her whirlwind 'Star Wars' journey and Rose's future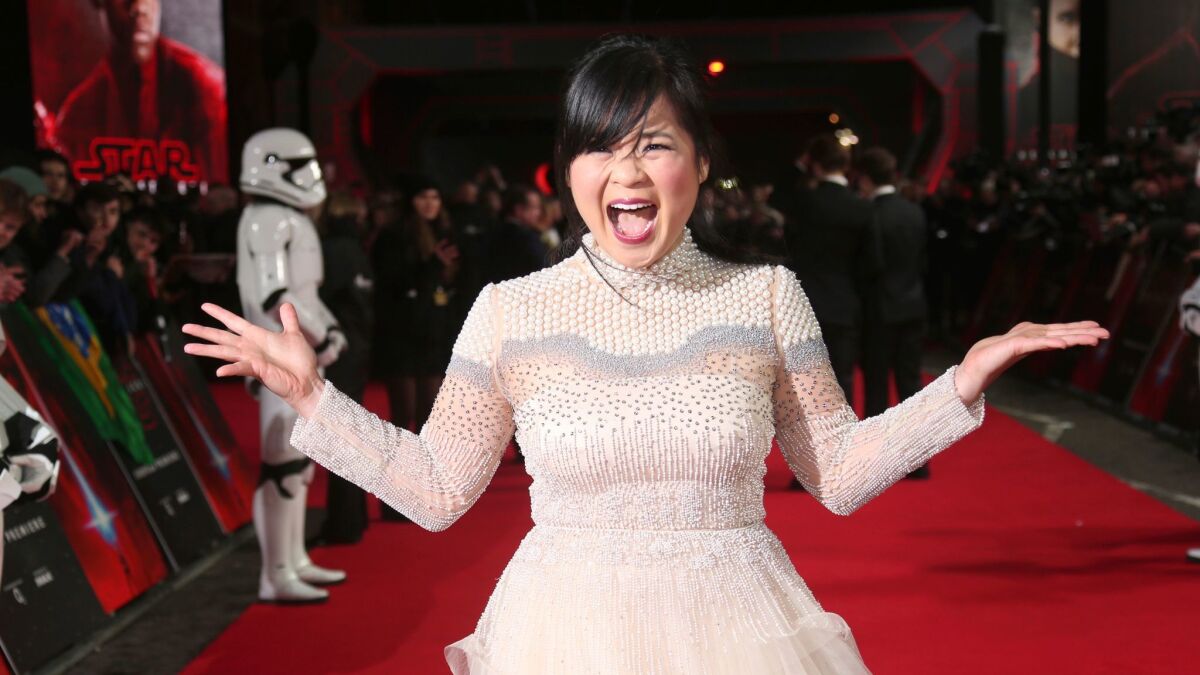 After years spent chasing the Hollywood dream and hustling for small parts in film and TV, San Diego native Kelly Marie Tran scored the role of a lifetime when she was cast as Rose Tico, a spunky Resistance mechanic turned courageous rebel fighter in Rian Johnson's "Star Wars: The Last Jedi."
Roles like Rose Tico are a rarity in Hollywood, where Tran, the daughter of Vietnamese immigrants, fought her way in from the outside, gravitating toward comedy and improv. She found herself reading for one stereotypical supporting role after another — until Johnson, casting inclusively to consider actresses of all backgrounds, offered her the part after an extensive auditioning process.
"I had resigned myself to thinking that one day I would be just the weird side character who always talks about being Asian and brings kimchi to the party," said the bubbly Tran, 28, who brings charismatic enthusiasm and resolve to every scene-stealing moment as Rose, joining returning stars Daisy Ridley, John Boyega, Oscar Isaac, Carrie Fisher and Mark Hamill.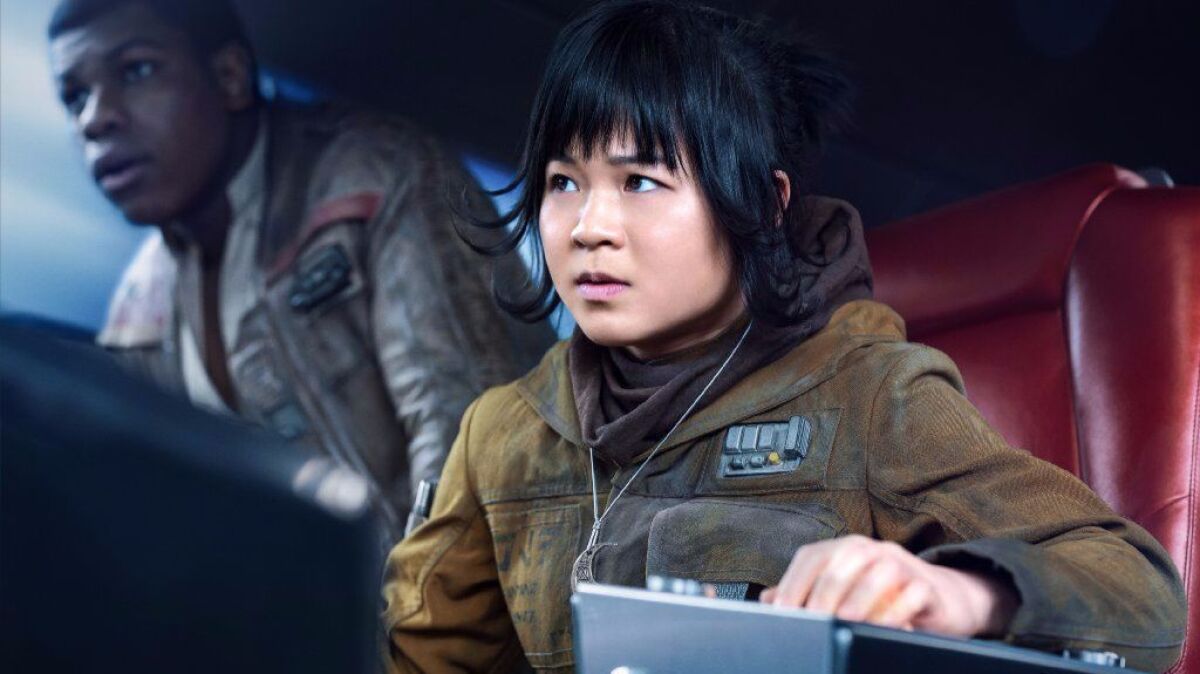 From crying joyful tears on the red carpet, to buying her own action figures, to nerding out over Harry Potter, Tran has become the breakout star of "The Last Jedi" and endeared herself to fans across the globe while blazing a trail for inclusion in the galaxy as the first Asian American woman to play a major role in the 40-year-old "Star Wars" franchise.
Fans are clamoring, too, to know more about Rose and her sister Paige, a Resistance gunner played briefly but memorably in "The Last Jedi" by Vietnamese actress Veronica Ngo. (Both new characters appear in a tie-in novel, "The Last Jedi: Cobalt Squadron," out now, and in the expanded universe one-shot comic "Star Wars Adventures No. 6" and "Star Wars: Forces of Destiny — Rose & Paige," due in January from IDW Publishing.)
Back home in Los Angeles after traveling internationally to launch the biggest film of her career, Tran rang The Times to chat about her emotional "Star Wars" experience, how her life has changed, and how — on days spent blissfully movie-hopping at the ArcLight, one of her L.A. happy places — it's still the same. (Warning: This interview includes minor plot spoilers from "The Last Jedi.")
You hit the L.A. premiere of "The Last Jedi," the London premiere, and now you're finally home for a bit. How are you feeling?
I'm good! I had a dental cleaning this morning so I'm feeling very fresh. [Laughs]
Dental work! I respect your commitment to getting important tasks done before the closing of the year. What have you been doing to get back to normal?
I went to the ArcLight yesterday and saw three movies by myself. It was awesome. I saw "Shape of Water," which I freaking loved. I saw "I, Tonya," which I also loved. And then I saw... "[The Last] Jedi," because it's really weird to watch yourself, and I want to watch it enough to the point where I can forget it's me. I'm having a hard time doing that at the moment.
You went… by yourself?
Yeah, dude! I love watching movies by myself! This is going to sound insane, because we just did this awesome press tour, but in terms of my life — yeah, I did that, but other than that everything is so normal. I thought for a while, "Oh man, am I going to be worried about leaving the house?" And I'm like, "No!" I went and no one noticed, and it was great.
Rian Johnson says that parts of your personality made their way into the Rose we see on-screen. How much of yourself do you see in her?
I don't know that I knew that was happening! Rian was always so generous in terms of his ability to make everybody feel comfortable, and John Boyega, who I have the most scenes with, was so easy to work with. You get the initial script and then things sort of change here and there but the whole thing is this sort of mushy collaboration, which I love. That was my favorite thing about it because I came from the TV world, where I would have one line here and there and it was, "Say your line and if you speak anything else, you'll get fired." Suddenly I was in this position where Rian was asking me, "What do you think?"
Watching Rose and her sister Paige getting to be true heroes was an emotional personal experience, because growing up I'd never had a heroine who looked like me in Hollywood movies. What's it like to hear from so many people having this same experience of validation from seeing Rose on-screen?
I hear that a lot, but it also means a lot to me because I grew up the same way. I think that's why I get so emotional — because I know how impossible this is. It's not just because it's hard to be an actor, which it is when you're first starting, especially if your parents are from a different world and you didn't grow up in the entertainment industry. It just seems so far away. It seems truly, completely impossible. Whenever I talk about this I think, "Man, I wish I didn't have to talk about this" — that in 2017 there were a plethora of different types of people writing and producing and directing and creating, and that we didn't have to address this. But the fact is, it is 2017 and we have to talk about it, because we're just not there yet.
Because I'm an Asian American, and every role I was auditioning for before was sort of this same side character…. To have someone like Rian write something that was so full and rich, and a complete human — I've never had that before. I don't know that many people of color have that often.
The Rose and Paige fandom are now very hungry to know more about these heroic Tico sisters. How much of their back story did you need to know to fill in the character as you played it?
We actually had lines in the movie that were cut out that said exactly where they were from. So I did know their back story in terms of that, but other than that I tried to make it as personal as possible. Even if it wasn't something that was canon, I made that relationship in my mind. I think as an actor you create things for your character that you think will make it more personal to you, because on the day you want to make sure that you're truly there in the moment. So for me, I invented these things — and then I ended up doing this audio book and finding out what in the canon is their true story. [Laughs]
Rose has a number of fun and surprising moments, but the Finn kiss might be the biggest surprise of all. What do you think it means for their friendship and their future together?
Man, wouldn't that be the best way to approach romantic relationships? Just go for the kiss and never have to deal with it after that! [Laughs] I don't want to create any rumors by saying what I think will happen. But I will say that I really liked the emotional journey that those characters went through together. It starts out with Rose seeing Finn as a hero and someone who is out of her league, someone who represents everything she's ever believed in. To have Finn immediately tarnish this idea she has in her head about him — which I think is a little bit of her own fault, for idolizing any person — I love the evolution of that relationship.
I think there are many ways to be brave, and that being brave and vulnerable in terms of a romantic situation is one of the hardest things to do in real life. So for her to have that moment where she just goes for it is a big deal, because I know how hard that is! I'm excited to see what happens with these characters.
Rose also has a powerful monologue on Canto Bight when she explains to Finn that exploitation and profiteering fuel this lavish one-percenter paradise. How much do you feel, in moments like that, that the "Star Wars" franchise parallels our real world?
Even though "Star Wars" takes place in another galaxy, a lot of the themes and things that characters deal with in terms of lessons that they're learning are things that are completely relatable to real life. That moment for me, the Canto Bight moment — I'm getting emotional thinking about it, because I made it so personal to me when we were filming it — it just feels so… specific. I'm hesitant to align a movie with any sort of current politics, but yes — for me, it was very emotional.
Now that you're back in L.A. for the holidays — where are some of your happy places, spots that feel like home?
There are a lot of happy places in L.A. that I love! First of all, the ArcLight, because as you can tell I spent all day there yesterday. I got there at 10:30 am and saw a movie and just kept going back to buy more tickets! They were like, "Are you OK?" [Laughs] I also love Republic of Pie in the Valley, it's this weird coffee shop where I used to study all the time for auditions. And UCB — I went to a show there after I saw three movies!
Are you finding new opportunities coming your way now that you're starring in one of the biggest movies, in one of the biggest franchises, in history?
Yes. I'm definitely getting more meetings and things like that, which is really exciting. I feel really good about everything. I just want to work with great filmmakers and tell important stories. We'll see.
ALSO
Review: 'The Last Jedi' brings emotion, exhilaration and surprise back to the 'Star Wars' saga
How Rian Johnson made heroism inclusive in 'Star Wars: The Last Jedi'
Critics on what makes 'Star Wars: The Last Jedi' one of the best films of the franchise
Get our L.A. Goes Out newsletter, with the week's best events, to help you explore and experience our city.
You may occasionally receive promotional content from the Los Angeles Times.