"Stranger Things" actor Caleb McLaughlin narrates Netflix's commercial featuring black actors in Netflix projects.
During the BET Awards on Sunday, Netflix aired a new photo and video featuring 47 black talent from the streaming platform's series and films. Inspired by the iconic "A Great Day in Harlem" photo from 1958, Netflix's Strong Black Lead arm gathered the likes of Spike Lee, Ava DuVernay, Lena Waithe and Justin Simien among others on the Universal Studios backlot for their own "A Great Day in Hollywood."
Below is all the information you need to know about the photo and video, as well as Netflix's effort to support its black shows and talent:
What is "Strong Black Lead"?
Spearheaded by a group of black executives at Netflix, Strong Black Lead "represents an intentional focus from Netflix to talk authentically with the black audience," said Maya Watson Banks in an interview with the Los Angeles Times. As Netflix's director of brand and editorial, she helps oversee the effort. "Strong Black Lead is relatable and real, always unapologetically black, and assumes context and knowledge so that content doesn't need to be watered down."
Through social media channels (@strongblacklead on all platforms), they inform audiences about what to watch with or by black talent and support all things "for the culture," she said. They also recently hosted a party in the Netflix FYSee event space attended by the cast of "Dear White People," Lil Rel Howery and others.
Watson Banks notes that while the effort isn't exclusionary, "it's also not afraid to be specific and intentional."
"There's an actual group of Strong Black Leads behind this work at Netflix, and it's important that people see and feel that," she said.
(It should be noted that two top-ranking black executives, Layne Eskridge and Tara Duncan, exited the company earlier this year.)
Where did the inspiration for the "A Great Day in Hollywood" photo and video come from?
On Aug. 12, 1958, freelance photographer Art Kane, working for Esquire, was assigned to photograph a group of 57 notable jazz musicians in Harlem. The black-and-white photo, which became known as "A Great Day in Harlem" and published in the magazine's January 1959 issue, eventually became the basis for the Oscar-nominated 1994 documentary of the same name. In the photo are jazz legends including Count Basie, Thelonious Monk, Mary Lou Williams and Sonny Rollins.
"This photo is simply iconic," said Watson Banks, "and it's on the walls of many of our older family members' homes. It's rare that you can gather that many powerhouses together for a single reason, and when we realized just how many black talent Netflix works with, we knew we had to try and re-create this with our actors, writers and directors."
Who is in "A Great Day in Hollywood"?
The photo and video include: Ajiona Alexus ("13 Reasons Why"), Alfre Woodard ("Luke Cage"), Alisha Boe ("13 Reasons Why"), Antoinette Robertson ("Dear White People"), Antonique Smith ("Luke Cage"), Ashley Blaine Featherson ("Dear White People"), Ava DuVernay ("13th," "Central Park Five"), Brett Gray ("On My Block"), Britney Young ("GLOW"), Caleb McLaughlin ("Stranger Things"), Chante Adams ("Roxanne Roxanne"), Cheo Hodari Coker ("Luke Cage"), Danielle Brooks ("Orange Is the New Black"), Dawn Porter ("Bobby Kennedy for President"), DeRay Davis ("How to Act Black"), Derek Luke ("13 Reasons Why"), DeRon Horton ("Dear White People"), Gabrielle Dennis ("Luke Cage"), Hayley Law ("Altered Carbon"), Justin Simien ("Dear White People"), Justine Simmons ("All About the Washingtons"), Kano ("Top Boy"), Kat Graham ("The Holiday Calendar"), Kia Stevens ("GLOW"), Laverne Cox ("Orange Is the New Black"), Lena Waithe ("Master of None"), Logan Browning ("Dear White People"), Marlon Wayans ("Naked"), Marque Richardson ("Dear White People"), Mike Colter ("Luke Cage"), Mustafa Shakir ("Luke Cage"), Nia Long ("Roxanne Roxanne"), Nia Jervier ("Dear White People"), Priah Ferguson ("Stranger Things"), Quincy Brown ("The Holiday Calendar"), Rapsody ("Rapture"), Rev Run ("All About the Washingtons"), Russell Hornsby ("Seven Seconds"), Sacha Jenkins ("Rapture"), Samantha Logan ("13 Reasons Why"), Sierra Capri ("On My Block"), Simone Missick ("Luke Cage"), Spike Lee ("She's Gotta Have It"), Steven Silver ("13 Reasons Why"), Sydelle Noel ("GLOW"), Vaneza Oliveira ("3%") and Yance Ford ("Strong Island").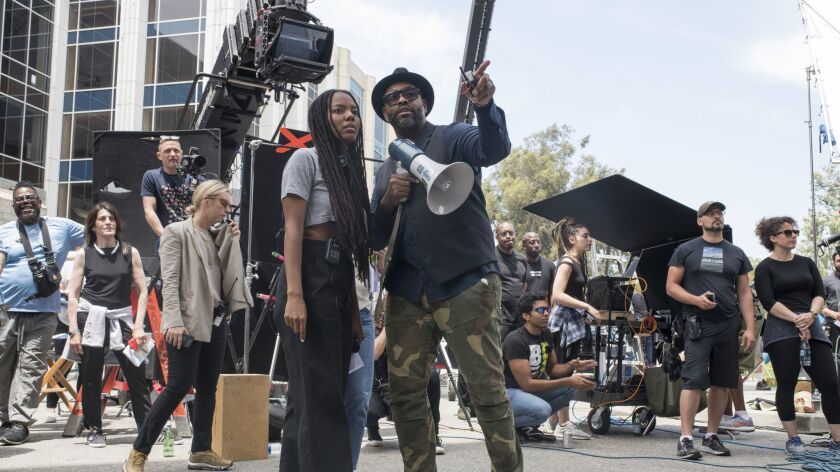 Who directed the video?
The minute-long video, which debuted during the BET Awards, was directed by Lacey Duke. She's also directed music videos for Janelle Monae, St. Beauty and The Internet.
"I'm very sensitive, meticulous and purposeful about the way the black form is presented in my work," she said in an interview with the Los Angeles Times, describing her aesthetic. "I want to make sure that we're portrayed in a multitude of ways that are authentic, yet imaginative and I try my best to create beautiful pictures out of every frame. That was the goal with this spot."
One of Duke's memories from the effort was when Alfre Woodard led everyone "in an epic rendition of [the black National Anthem] 'Lift Every Voice and Sing' before we started shooting.
"It was beautiful, and in a flash it was over," Duke said. "It was probably the most overwhelming two hours of my career. I was just so happy to be a part of history."
While filming Netflix's recreation of the "A Day in Harlem" photo (and video) with 47 members of their black talent, participants broke into song with an impromptu version of "Lift Every Voice and Sing."
Here's what Caleb McLaughlin says in the video:
This is a new day, built from the ground broken by legends, a day for our generation to see untold experiences of our blackness representing a limitless range of identity, playing kings and queens of our neighborhoods, defeating larger-than-life forces trying to flip our world upside down. We stand up on any stage and every screen. A day when black women are boldly the lead character, whether inmates or scholars. We're not a genre because there's no one way to be black. We're writing while black, nuanced and complex, resilient and strong. This is not a moment. This is a movement. We are Strong Black Leads. Today is a great day in Hollywood.
Who took the photograph?
Kwaku Alston, who has photographed Oscar and Grammy winners as well as President Barack Obama and his family, shot the photo.
"Group shots are important because they represent and create legacy that transcends time," he said in an interview with The Times. "'A Great Day in Hollywood' represents fellowship and community and honoring a creative community at this important time in American history is crucial to changing the narrative in a positive direction."
He added: "It's an honor to be part of the journey and narrative of what Netflix is trying to accomplish and represent. Photographically, I stand on the shoulders of many who came before me and who have inspired my vision. Paying homage to Art Kane's 'A Great Day in Harlem' will be a highlight in my career as an image maker."
Check out the final image below: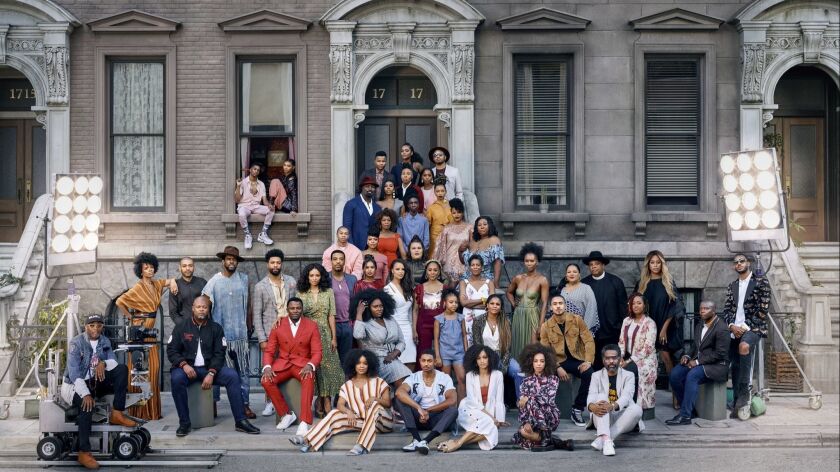 Get your life! Follow me on Twitter (@TrevellAnderson) or email me: trevell.anderson@latimes.com.
---