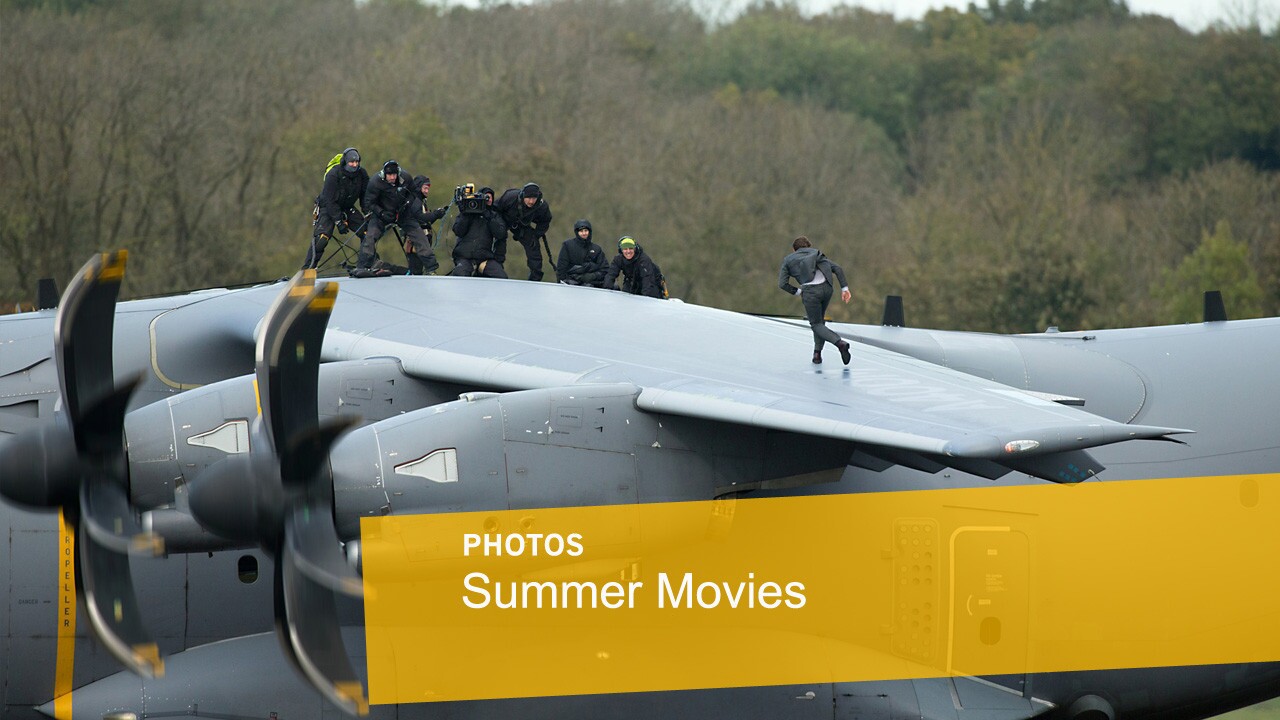 73 Images
Summer Movie Sneaks 2015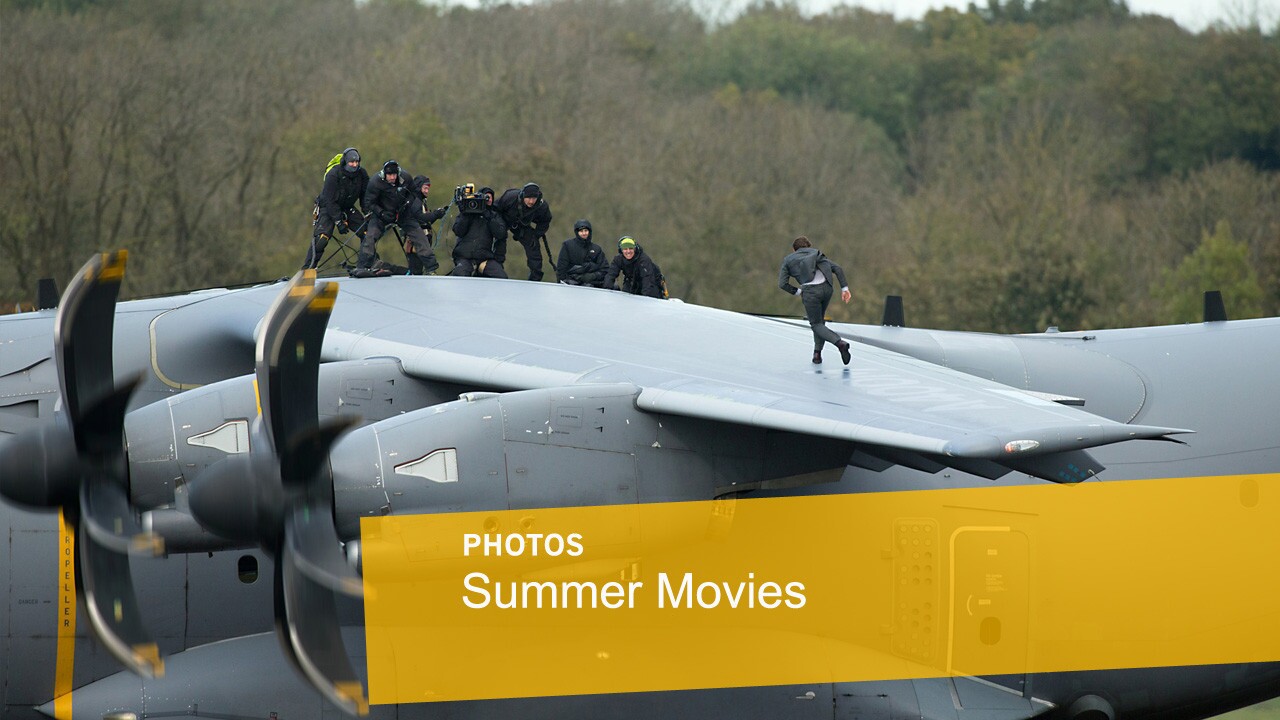 With the IMF disbanded, secret agent Ethan Hunt and his team face off against a shadowy group of highly trained operatives hellbent on creating a new world order. With Tom Cruise, Jeremy Renner and Rebecca Ferguson. Written and directed by Christopher McQuarrie. Paramount Pictures
(Christian Black / Paramount Pictures)
A dramatic account of the five-day interview between Rolling Stone reporter David Lipsky and novelist
David Foster Wallace
that took place shortly after the 1996 publication of the latter's groundbreaking book "Infinite Jest." With Jason Segel, Jesse Eisenberg and Ron Livingston. Written by Donald Margulies. Directed by James Ponsoldt. A24
(Jakob Ihre / A24)
Following in his father's footsteps and hoping for some much-needed family bonding, a suburban everyman surprises his wife and two sons with a cross-country trip to an amusement park. With Ed Helms, Christina Applegate and Leslie Mann. Written and directed by Jonathan Goldstein and John Francis Daley. Warner Bros. Pictures
(Hopper Stone / Warner Bros.)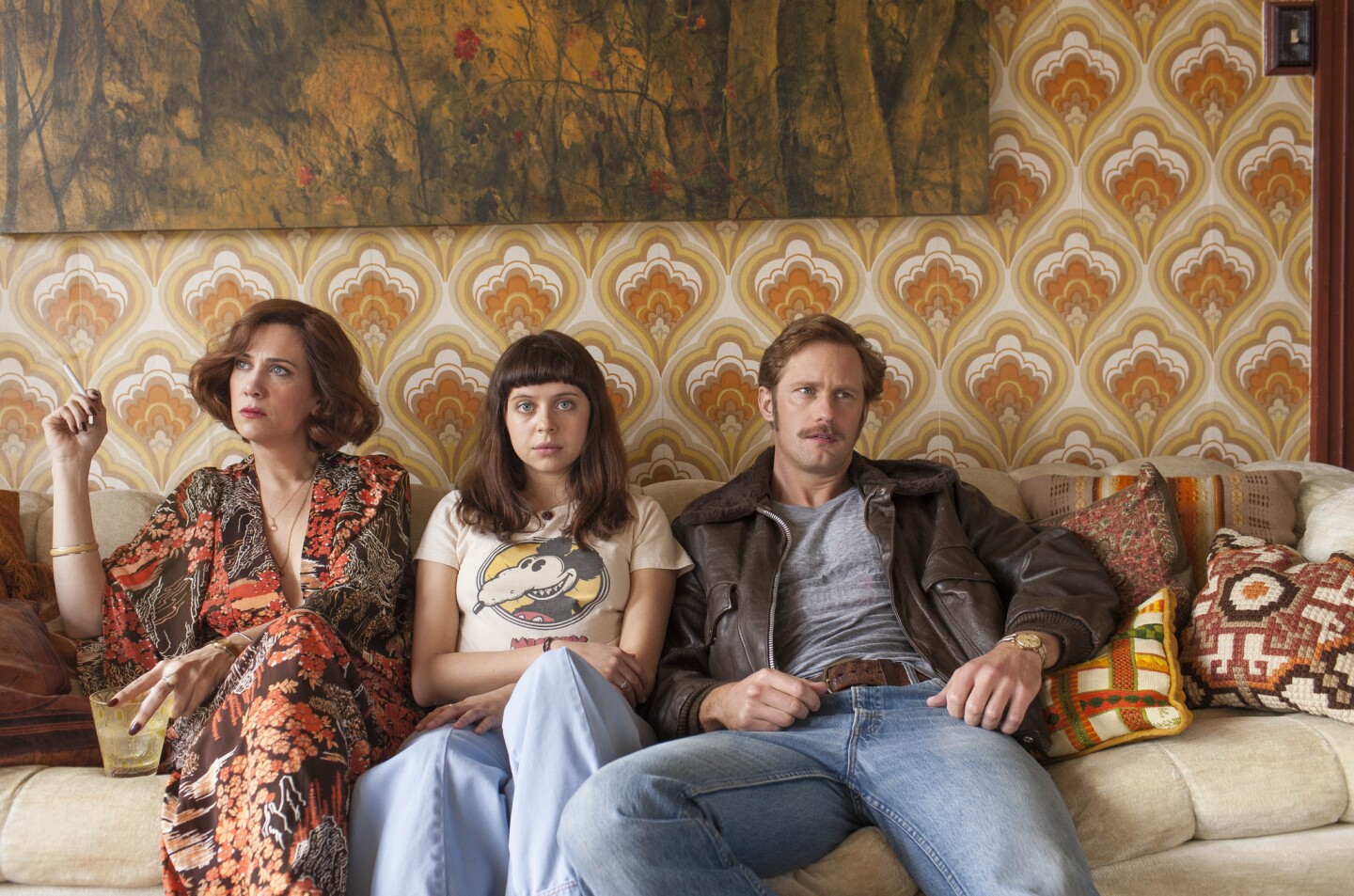 In 1976 San Francisco, a teenage girl left rudderless by her hard-partying mother and absent father begins an affair with her mom's boyfriend. With Bel Powley, Alexander Skarsgård and Kristen Wiig. Written by Phoebe Gloeckner. Directed by Marielle Heller. Sony Pictures Classics
(Sony Pictures Classics)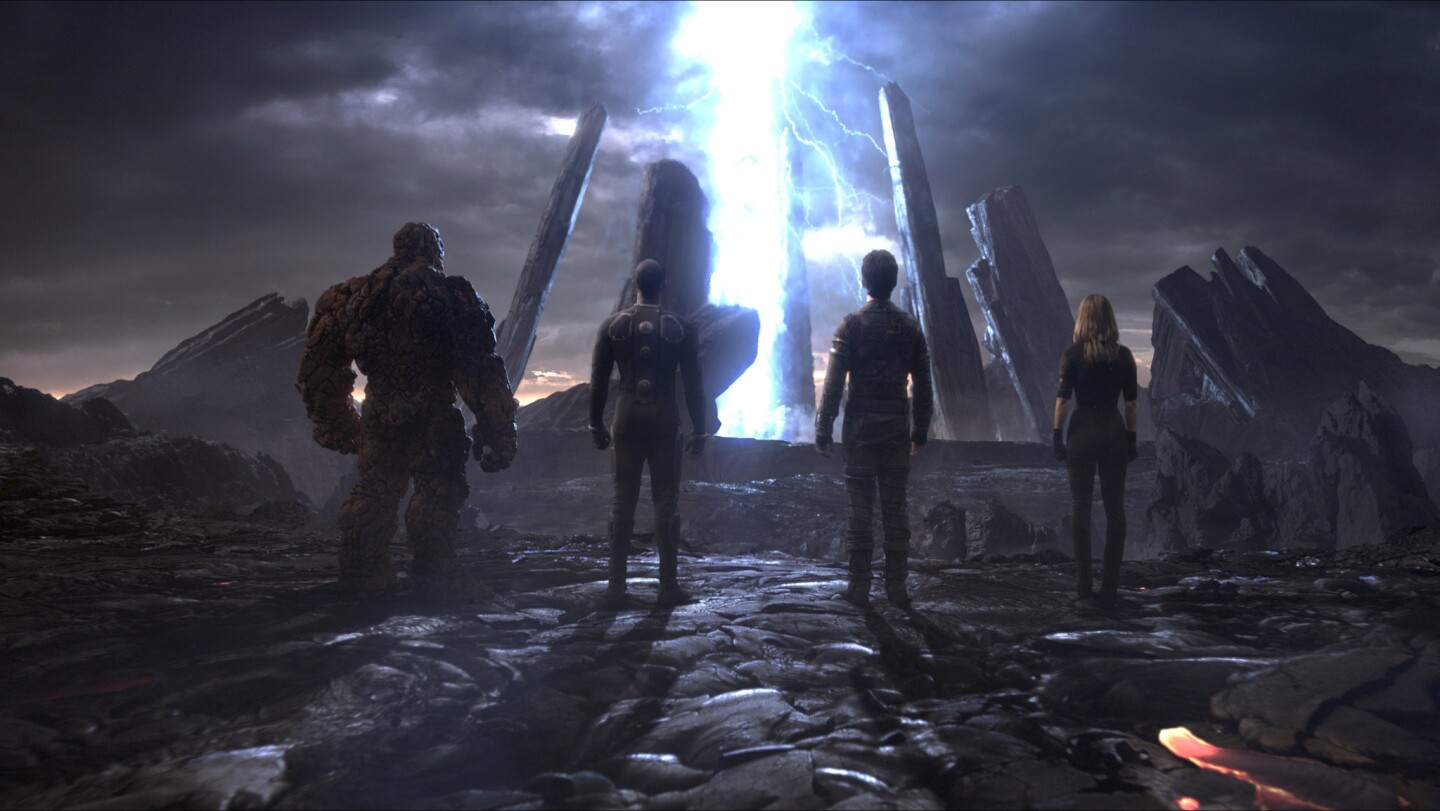 When a scientific expedition to an alternate universe transforms them, a quartet of outsiders must learn to harness their new abilities and stop a former friend turned enemy. With Miles Teller, Michael B. Jordan, Kate Mara and Jamie Bell. Written by Jeremy Slater, Simon Kinberg and Josh Trank. Directed by Trank. In 3-D. 20th Century Fox
(20th Century Fox)
In this animated film set in a seaside Mediterranean village, an exiled poet, his housekeeper, and her free-spirited young daughter embark on a fateful journey. With the voices of Liam Neeson, Salma Hayek and Quvenzhané Wallis. Written by Roger Allers. Multiple directors. GKids
(GKids)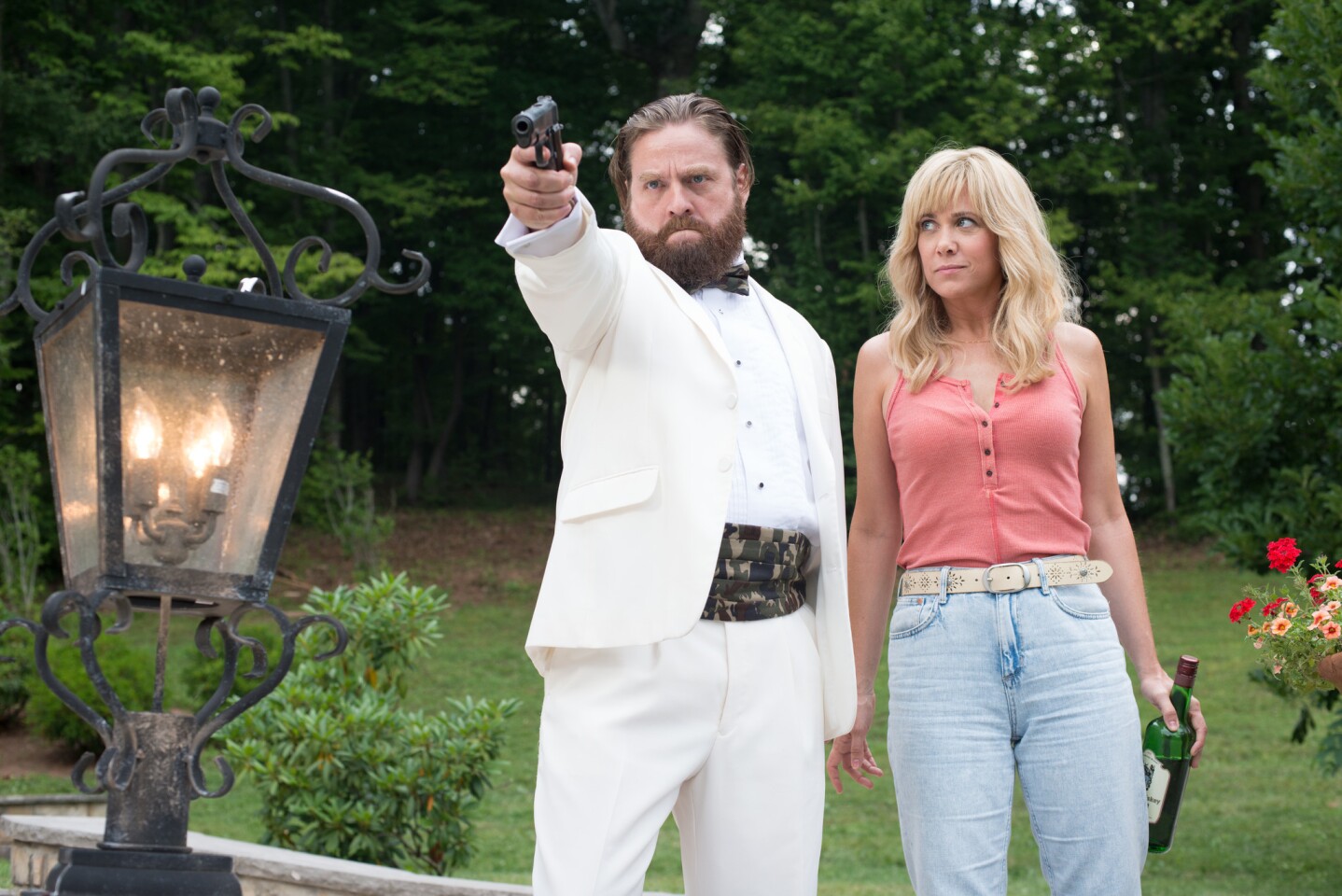 A bored armored-truck driver gets mixed up in an absurdly flawed heist that nets $17 million in cash but puts him at odds with double-crossing cohorts and the authorities. With Zach Galifianakis, Owen Wilson and Kristen Wiig. Written by Emily Spivey, Jody Hill, Danny R. McBride, Chris Bowman and Hubbel Palmer. Directed by Jared Hess. Relativity Studios
(Glen Wilson / Relativity Media)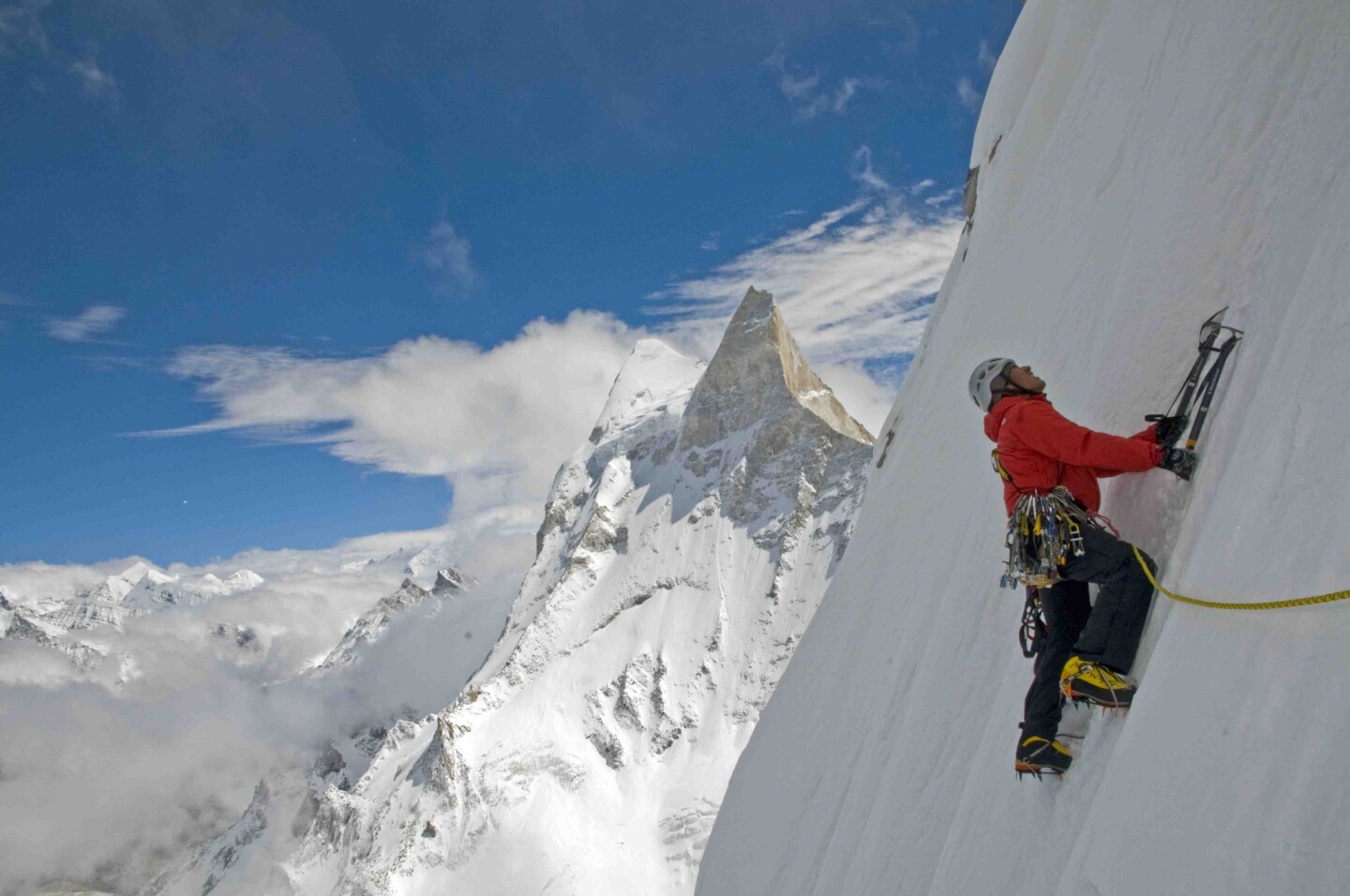 A documentary following three American climbers as they attempt to become the first people to scale Shark's Fin on Mt. Meru, a 21,000-foot peak in the Himalayas. Directed by Jimmy Chin and Elizabeth Chai Vasarhelyi. Music Box Films
(Jimmy Chin / Music Box Films)
When her best friend dies, a young French woman reaches out to comfort the bereaved husband and discovers that he secretly enjoys dressing as a woman. With Romain Duris, Anaïs Demoustier and Raphaël Personnaz. Written and directed by François Ozon. In French with English subtitles. Cohen Media Group
(Cohen Media Group)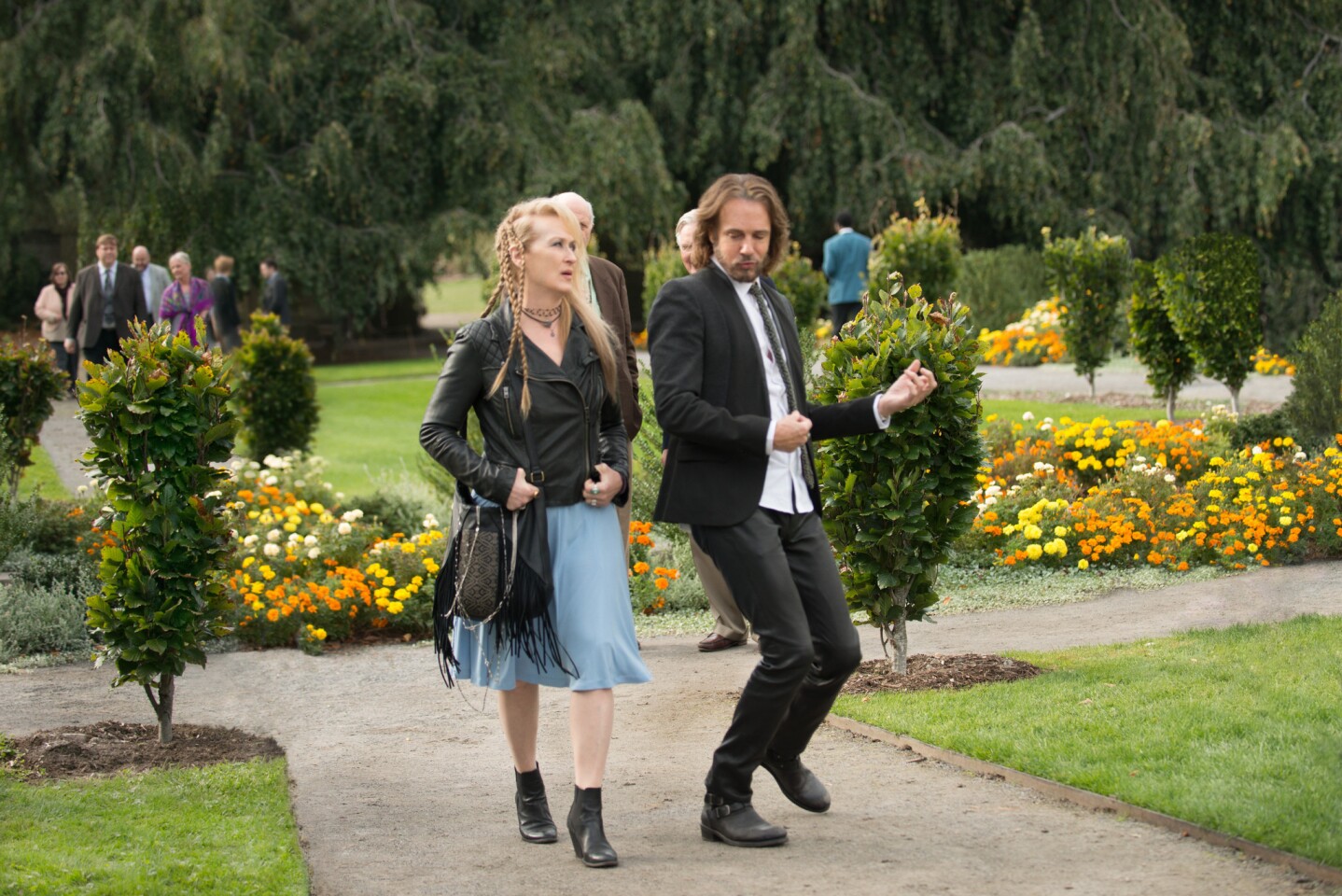 A fading rock musician who chased stardom at the expense of her family tries to reconnect with her daughter, who has been devastated by her failed marriage. With Meryl Streep, Kevin Kline and Mamie Gummer. Written by Diablo Cody. Directed by Jonathan Demme. TriStar Pictures
(Bob Vergara / TriStar Pictures)
When her best friend dies, a young French woman reaches out to comfort the bereaved husband and discovers that he secretly enjoys dressing as a woman. With Romain Duris, Anaïs Demoustier and Raphaël Personnaz. Written and directed by François Ozon. In French with English subtitles. Cohen Media Group
( Cohen Media Group / Cohen Media Group)
Two self-absorbed twentysomething Brooklynite women take a day trip to the beach and begin to realize uncomfortable truths about their lives. With Bridey Elliott, Clare McNulty and Griffin Newman. Written and directed by Sarah-Violet Bliss and Charles Rogers. Orion Releasing
(Orion Releasing)
At the height of the Cold War, a CIA operative and a KGB agent join forces to stop an international criminal organization. With Henry Cavill, Armie Hammer and Alicia Vikander. Written by Guy Ritchie and Lionel Wigram. Directed by Ritchie. In Imax. Warner Bros. Pictures
(Daniel Smith / Warner Bros.)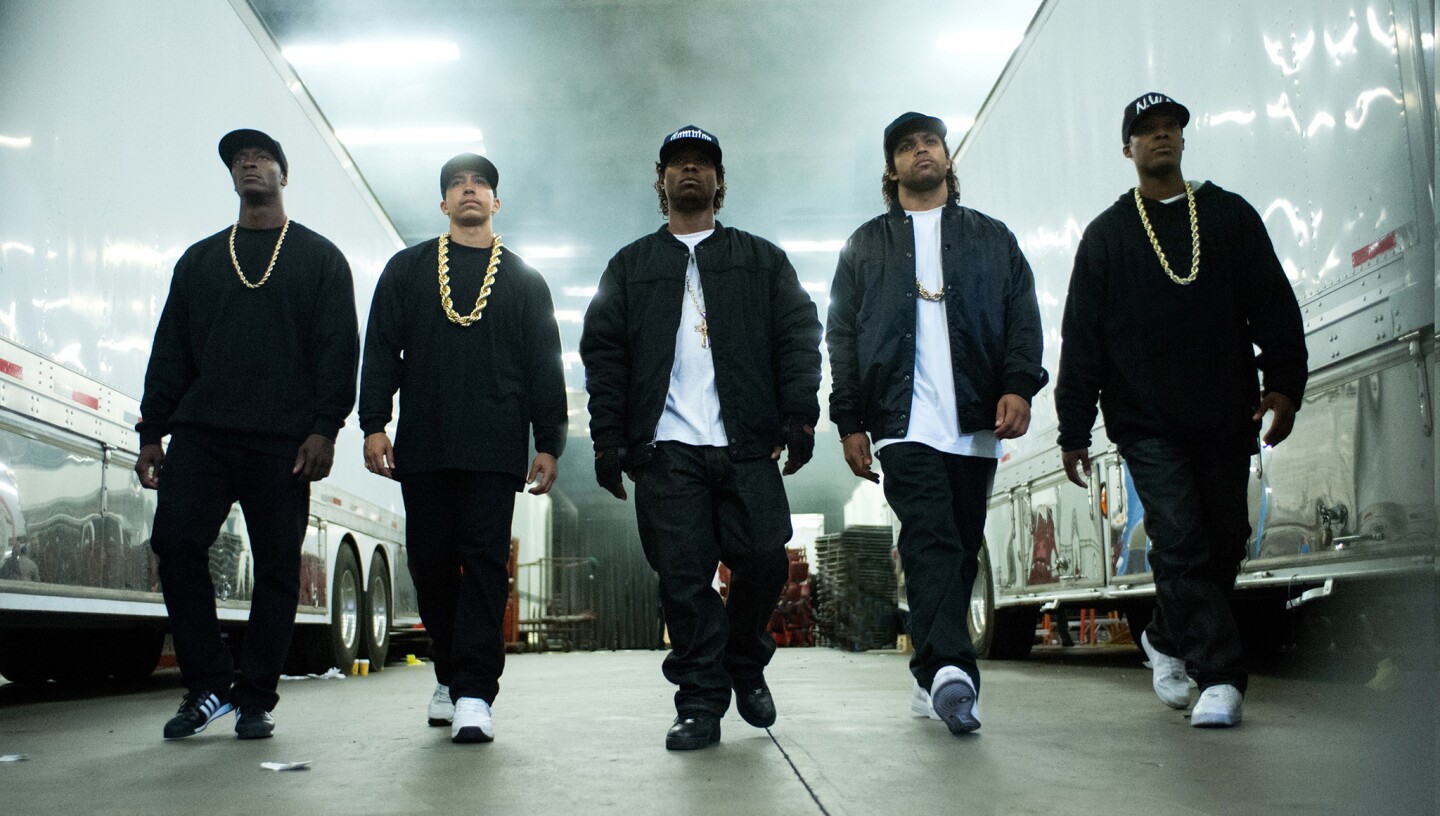 A biopic about the rise and fall of the seminal Los Angeles gangsta rap group N.W.A, led by Ice Cube, Dr. Dre and Eazy-E. With O'Shea Jackson Jr., Corey Hawkins and Jason Mitchell. Written by Andrea Berloff. Directed by F. Gary Gray. Universal Pictures
(Jaimie Trueblood / Universal Pictures)
When the players from his foosball table are magically brought to life, a table-soccer ace recruits them to help save his town and win the heart of his crush. With the voices of Matthew Morrison, Ariana Grande and Nicholas Hoult. Written by Juan José Campanella, Eduardo Sacheri and Gastón Gorali. Directed by Campanella. The Weinstein Co.
(The Weinstein Company)

The discovery of a bone and a gun sends a husband and wife on separate adventures over the course of a weekend. With Jake Johnson, Rosemarie DeWitt, Brie Larson. Written by Johnson and Joe Swanberg. Directed by Swanberg. The Orchard
(The Orchard)
A genetically engineered assassin takes on a mega-corporation seeking to create an army of killers whose powers surpass even his own. With Rupert Friend, Hannah Ware and Zachary Quinto. Written by Skip Woods and Michael Finch. Directed by Aleksander Bach. 20th Century Fox
(Reiner Bajo / 20th Century Fox)
In the wake of a nuclear war, a young woman fearing she might be the last person on Earth discovers she isn't alone after all. With Chiwetel Ejiofor, Margot Robbie and Chris Pine. Written by Nissar Modi. Directed by Craig Zobel. Roadside Attractions
(Parisa Taghizadeh / Roadside Attractions)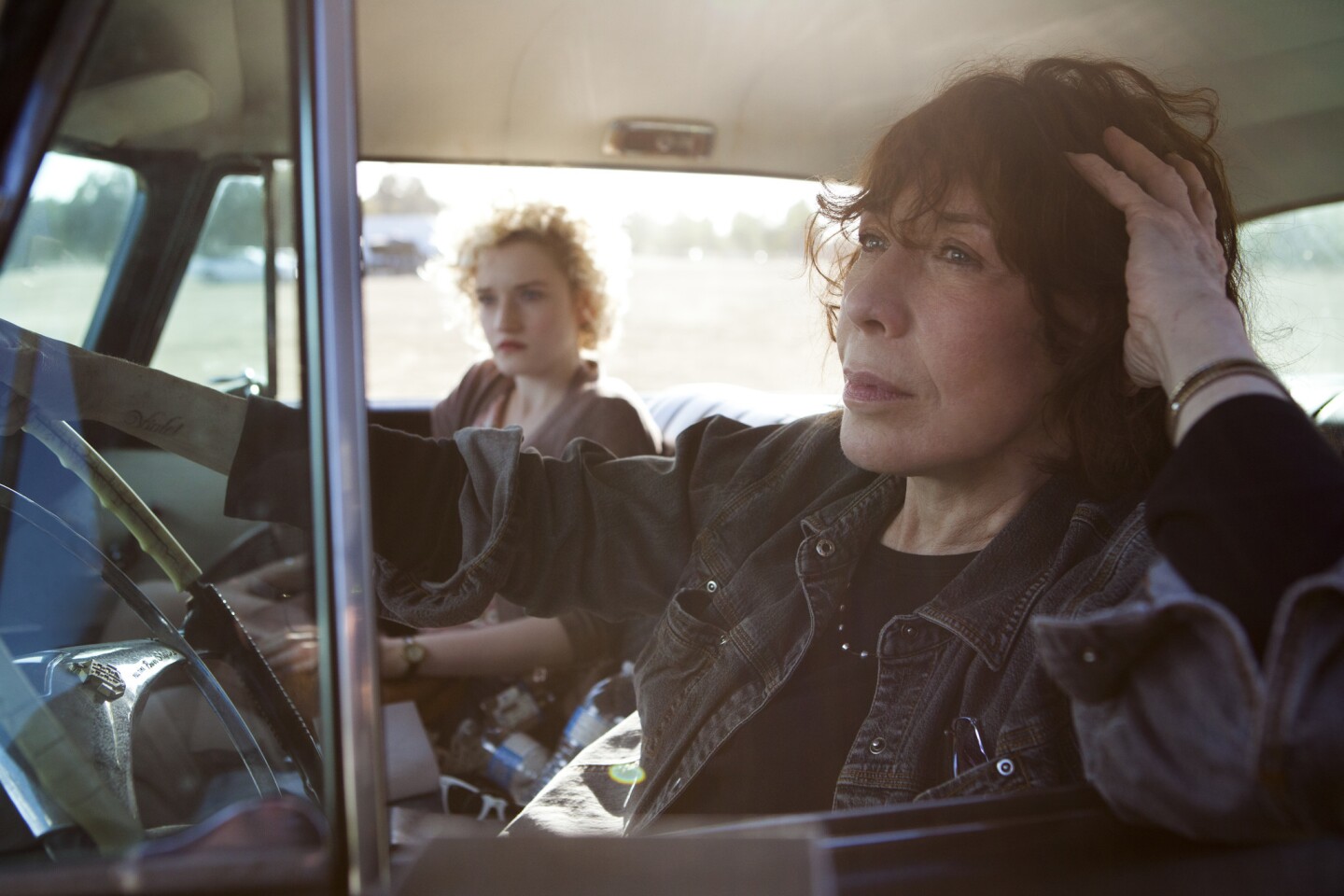 Having just broken up with her girlfriend, an ornery septuagenarian poet helps her teenage granddaughter try to rustle up money for an abortion. With Lily Tomlin, Julia Garner and Marcia Gay Harden. Written and directed by Paul Weitz. Sony Pictures Classics
(Sony Pictures Classics)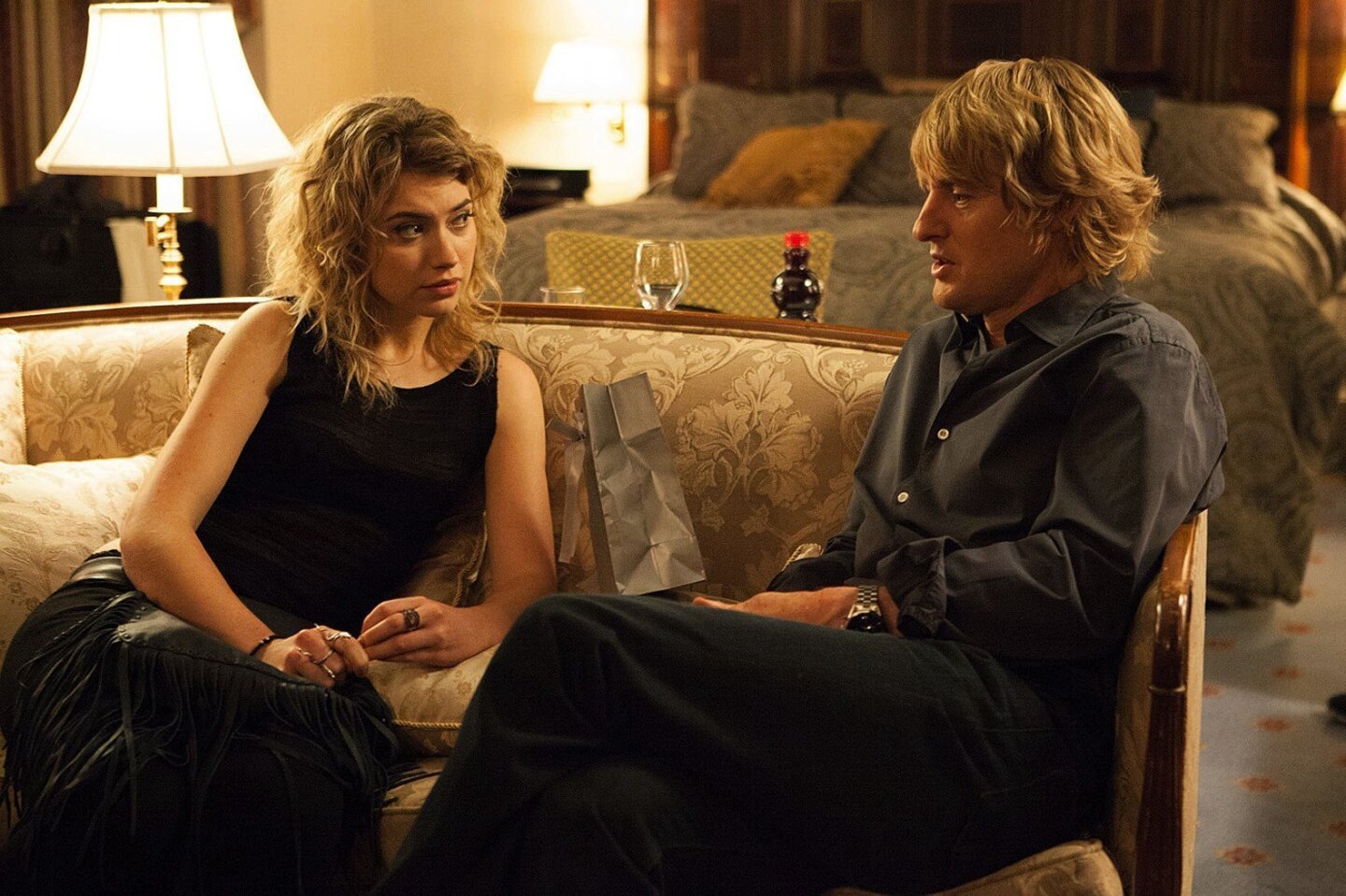 After spending an evening with an escort, a Broadway director is shocked when she unsuspectingly walks into his audition for a role opposite his actress wife and nails it. With
Owen Wilson
, Imogen Poots and Kathryn Hahn. Written by Peter Bogdanovich and Louise Stratten. Directed by Bogdanovich. Clarius Entertainment
(KC Bailey / Clarius Entertainment)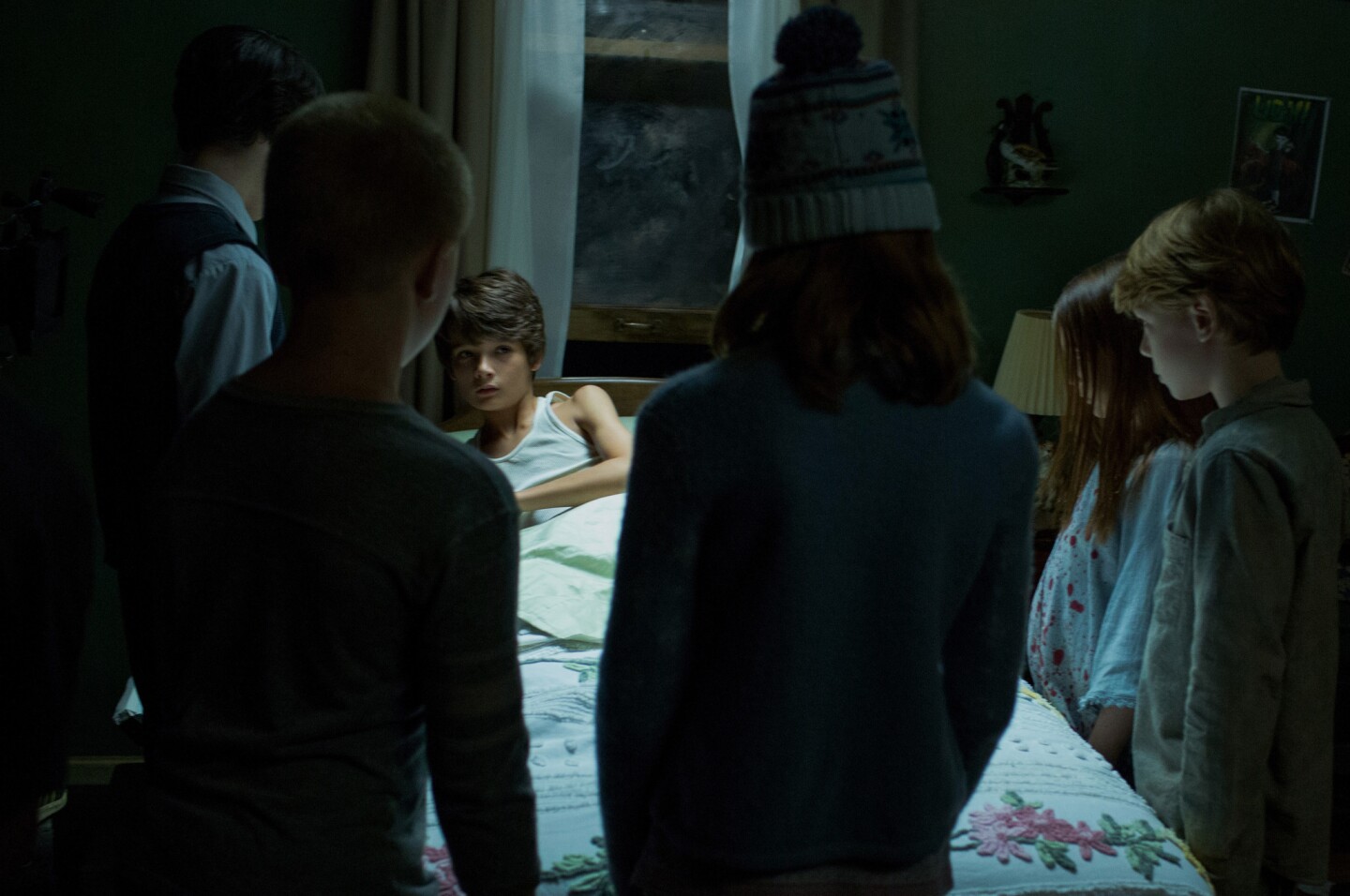 A protective mother and her twin 9-year-old sons find themselves in a rural house haunted by an evil spirit. With Shannyn Sossamon, James Ransone, Robert Daniel Sloan and Dartanian Sloan. Written by Scott Derrickson and C. Robert Cargill. Directed by Ciaran Foy. Focus Features
(Elizabeth Morris / Focus Features)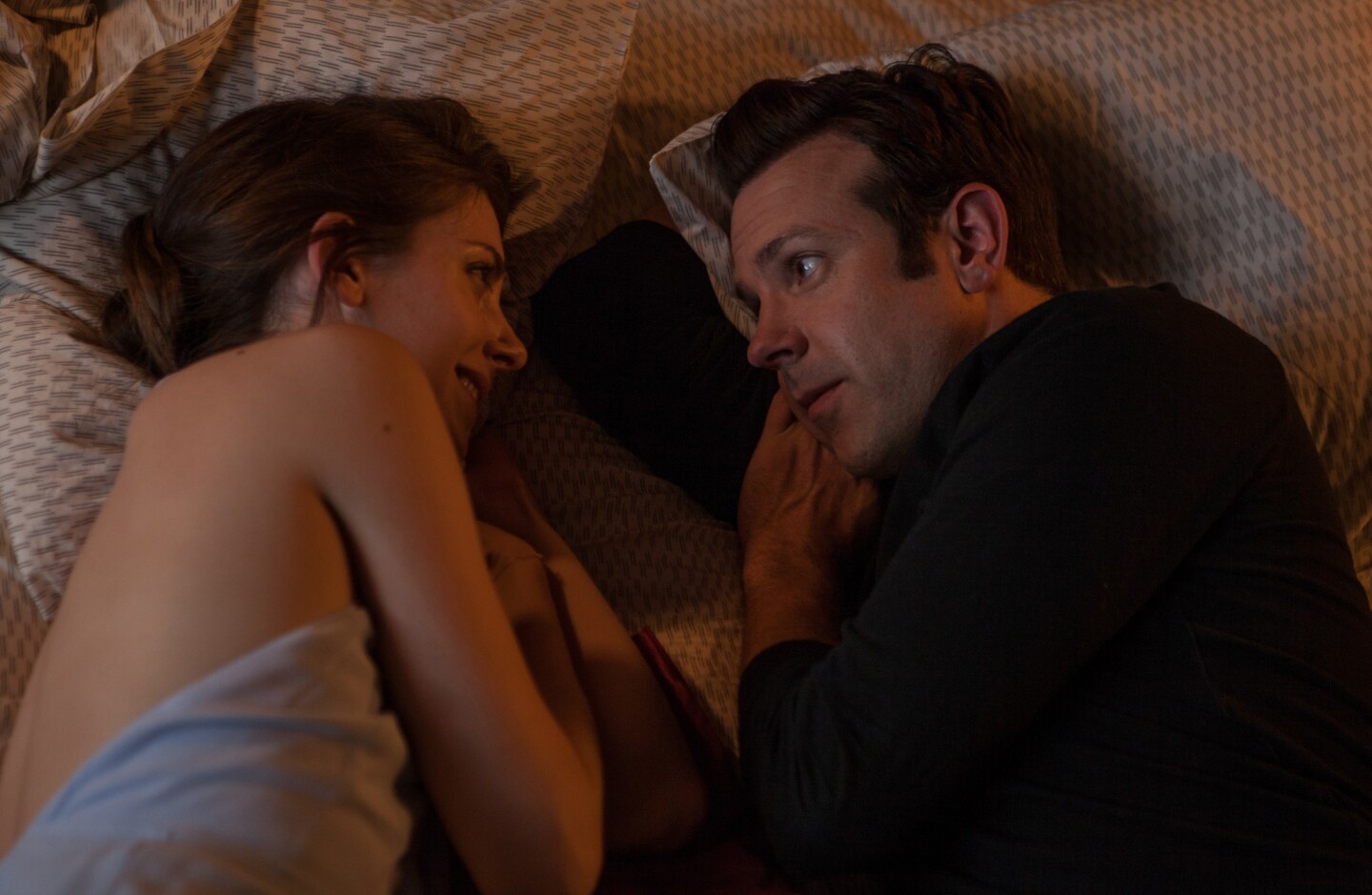 Two New Yorkers with histories of infidelity and self-sabotage try being platonic friends. With
Jason Sudeikis
, Alison Brie and Adam Scott. Written and directed by Leslye Headland. IFC Films
(Linda Kallerus / IFC Films)
When Iron Man's plan to develop an artificially intelligent peacekeeping force backfires, he and his fellow Avengers must save the world from a megalomaniacal android. With Robert Downey Jr., James Spader, Chris Evans and Scarlett Johansson. Written and directed by Joss Whedon. In 3-D and Imax. Walt Disney Pictures
(Jay Maidment / Marvel)
In this adaptation of the Thomas Hardy novel, a headstrong young woman in Victorian England attracts three very different suitors: a sheep farmer, a wealthy bachelor and a reckless soldier. With Carey Mulligan, Matthias Schoenaerts and Michael Sheen. Written by David Nicholls. Directed by Thomas Vinterberg. Fox Searchlight Pictures
(Alex Bailey / Fox Searchlight)
A documentary portrait of the 93-year-old New York style maven Iris Apfel. Directed by Albert Maysles. Magnolia Pictures
(Magnolia Pictures )
A woman with borderline personality disorder wins the lottery, quits her medication and buys herself a talk show on an infomercial channel. With Kristen Wiig, Wes Bentley and Linda Cardellini. Written by Eliot Laurence. Directed by Shira Piven. Alchemy
(Suzanne Hanover / Welcome to Me)
Sentenced to counseling after a minor drug infraction, a club DJ returns to his estranged father and quiet North Dakota hometown. With Josh Duhamel,
Maria Bello
and Laura Dern. Written and directed by Daniel Duran. eOne Films
(eOne Entertainment )
An uptight police officer tries to protect the brassy widow of a drug boss as they race through Texas pursued by criminals and dirty cops. With Reese Witherspoon, Sofia Vergara and John Carroll Lynch. Written by David Feeney, John Quaintance, Dana Fox and Katherine Silberman. Directed by Anne Fletcher. Warner Bros. Pictures
(Sam Emerson / MGM)
A biographical drama chronicling a turbulent decade in the life of fashion designer Yves Saint Laurent. With Gaspard Ulliel, Jérémie Renier and Louis Garrel. Written by Thomas Bidegain and Bertrand Bonello. Directed by Bonello. In French with English subtitles. Sony Pictures Classics
(Sony Pictures Classics )
After the death of her beloved dog, a seventysomething widow pursues a new love interest, reconnects with her daughter and strikes up a friendship with her pool man. With Blythe Danner, Sam Elliott and Martin Starr. Written by Brett Haley and Marc Basch. Bleecker Street
(Bleecker Street )
After a mishap mars their performance for the president, the Barden Bellas enter an international a cappella competition to redeem themselves. With Anna Kendrick, Elizabeth Banks and Rebel Wilson. Written by Kay Cannon. Directed by Banks. Universal Pictures
(Richard Cartwright / Universal Pictures)
While in China to donate his kidney to his dying niece, a former black-ops agent awakens the day before the operation to find his organ stolen, prompting bloody retribution. With Jean-Claude Van Damme. Written by Joshua James. Directed by Ernie Barbarash. eOne Films
(eOne Entertainment)
A naive 16-year-old Scotsman journeys across the American frontier in search of the woman he loves while accompanied by a mysterious traveler. With Kodi Smit-McPhee, Michael Fassbender and Ben Mendelsohn. Written and directed by John Maclean. A24
(A24 )
A bright teenager and a jaded former boy genius embark on a dangerous mission to unearth the secrets of a mysterious place somewhere in time and space. With Britt Robertson, George Clooney and
Hugh Laurie
. Written by Damon Lindelof and Brad Bird. Directed by Bird. In Imax. Walt Disney Pictures
(Disney )
In this animated film, a girl sent from her foster home in the city to a sleepy seaside town in Hokkaido meets a mysterious new friend. With the voices of Hailee Steinfeld, Kiernan Shipka and Grey Griffin. Written by Keiko Niwa, Masashi Ando, Hiromasa Yonebayashi and David Freedman. Directed by Yonebayashi. GKids
(GKids)
A military contractor returns to the site of his greatest career triumph and reconnects with an old flame while unexpectedly falling for the hard-charging Air Force watchdog assigned to him. With Bradley Cooper, Emma Stone and Rachel McAdams. Written and directed by Cameron Crowe. Columbia Pictures
(Neal Preston / Columbia Pictures)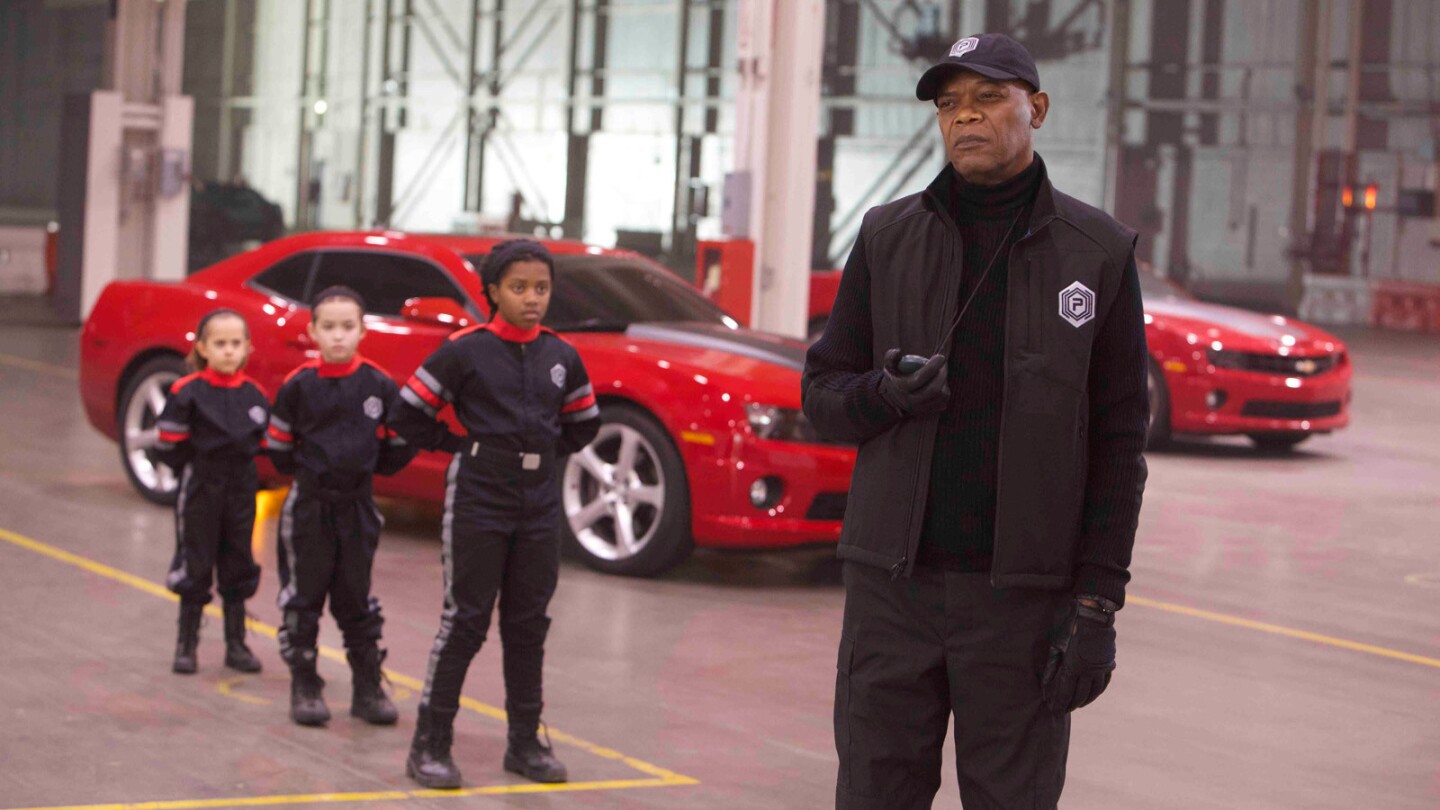 A teenage special-ops agent yearning for a normal adolescence fakes her death, assumes the role of an exchange student and comes to learn that high school has its own perils. With Hailee Steinfeld, Samuel L. Jackson and
Jessica Alba
. Written by John D'Arco. Directed by Kyle Newman. A24
(Quantrell D. Colbert / DirecTV)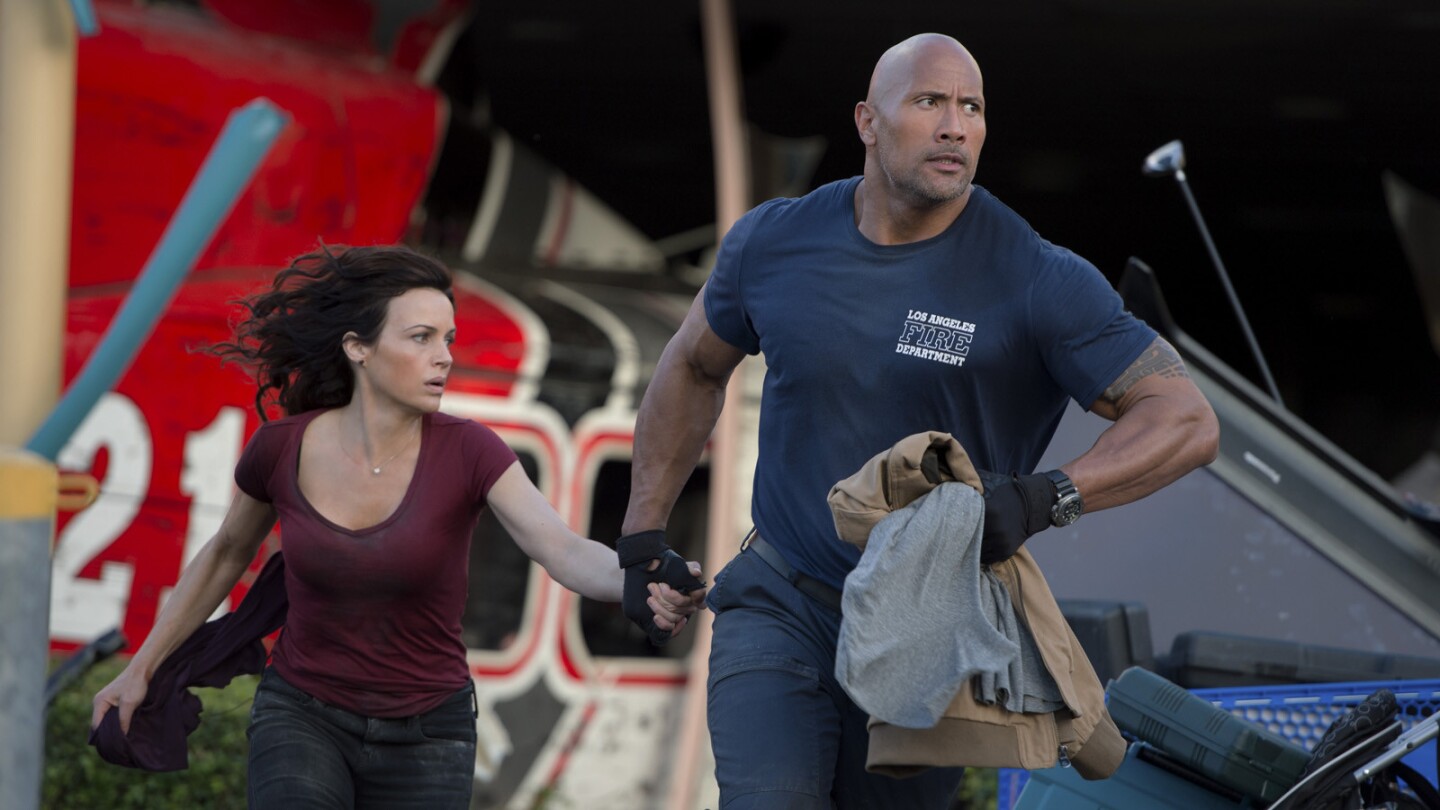 When a massive earthquake strikes California, a helicopter pilot and his estranged wife travel from Los Angeles to San Francisco to save their daughter. With Dwayne Johnson, Carla Gugino and Alexandra Daddario. Written by Carlton Cuse. Directed by Brad Peyton. In 3-D. Warner Bros. Pictures
(Jasin Boland / Warner Bros.)
A gifted psychic reluctantly agrees to contact the dead to help a teenage girl targeted by a supernatural entity in this horror prequel. With Dermot Mulroney, Stefanie Scott and Angus Sampson. Written and directed by Leigh Whannell. Focus Features
(Matt Kennedy / Focus Features)
A biopic about the pop star Gloria Trevi, who has been called the Mexican Madonna. With Sofía Espinosa, Marco Pírez and Tatiana del Real. Written by Sabina Berman. Directed by Christian Keller. Picturehouse
(Picturehouse )
A biographical drama about
Brian Wilson
, the mercurial singer, songwriter and leader of the Beach Boys. With Paul Dano, John Cusack and Elizabeth Banks. Roadside Attractions
(Francois Duhamel / Roadside Attractions)
When her partner falls off the grid and another top agent is compromised, a deskbound CIA analyst is sent into the field to infiltrate the world of a deadly arms dealer. With Melissa McCarthy, Jason Statham and Rose Byrne. Written and directed by Paul Feig. 20th Century Fox
(Larry Horricks / 20th Century Fox)
An awkward high school senior is forced by his mom to spend time with a classmate he hasn't spoken to since kindergarten, a girl who has just been diagnosed with cancer. With Thomas Mann, Olivia Cook and R.J. Cyler. Written by Jesse Andrews. Directed by Alfonso Gomez-Rejon. Fox Searchlight Pictures
(Fox Searchlight)
A documentary tracing the early years of the late-night sketch show "Saturday Night Live" and its evolution into a comedy institution. Directed by Bao Nguyen. Abramorama
(Courtesy of 'Life From New York')
A business executive who suffers yet another miscarriage is told she's too old to carry a child but refuses to accept her fate. With Kim Basinger, Jordan Prentice and Peter Stormare. Written and directed by Anders Morgenthaler. Brainstorm Media
(Brainstorm Media)
At an island theme park where dinosaurs have been resurrected through science, a new genetically engineered specimen escapes confinement and plunges the park into chaos. With Chris Pratt, Bryce Dallas Howard and Vincent D'Onofrio. Written by Derek Connolly and Colin Trevorrow. Directed by Trevorrow. In 3-D. Universal Pictures
(Chuck Zlotnick / Universal Pictures and Amblin En)
An 11-year-old girl and her family move to a new city, prompting her five personified emotions to help guide her through the transition, in this animated film. With the voices of
Amy Poehler
, Bill Hader, Lewis Black and Mindy Kaling. Written by Pete Docter, Meg LeFauve and Josh Cooley. Directed by Docter and Ronnie del Carmen. Walt Disney Pictures
(Pixar / Disney)
A scene from "Manglehorn," in which a reclusive small-town locksmith who has never recovered from losing the love of his life cautiously approaches the possibility of moving on. With Al Pacino, Chris Messina and Holly Hunter. IFC Films
(Ryan Green / IFC Films)

For a trio of geeky Inglewood teens, a chance invitation to an underground party sets them on a drug-dealing adventure. With Shameik Moore, Tony Revolori and Kiersey Clemons. Written and directed by Rick Famuyiwa. Open Road Films
(Rachel Morrison / Open Road Films)
A young man who's afraid to break up with his overbearing girlfriend is seemingly bailed out when she's killed in a freak accident, but she doesn't stay dead for long. With Anton Yelchin, Ashley Greene and Alexandra Daddario. Written by Alan Trezza. Directed by Joe Dante. Image Entertainment
(RLJE / Image Entertainment)
A documentary about seven siblings who grew up in virtual isolation in a low-income development on New York's Lower East Side and learned about the outside world almost entirely through watching movies. Directed by Crystal Moselle. Magnolia Pictures
(Magnolia Pictures)
After a nervous breakdown lands him in a mental hospital, a bipolar 1970s father becomes the primary caretaker for his two young daughters while his wife gets her MBA. With Mark Ruffalo, Zoe Saldana and Imogene Wolodarsky. Written and directed by Maya Forbes. Sony Pictures Classics
(Bobby Bukowski / Sony Pictures Classics)
A biographical drama about Toni Jo Henry, a woman who survived abuse and prostitution only to get entangled in kidnapping and murder in 1940s Louisiana. With Jaime King, John Hawkes and M.C. Gainey. Written by Tom Anton and Sandi Russell. Directed by Anton. Monterey Media
(Monterey Media)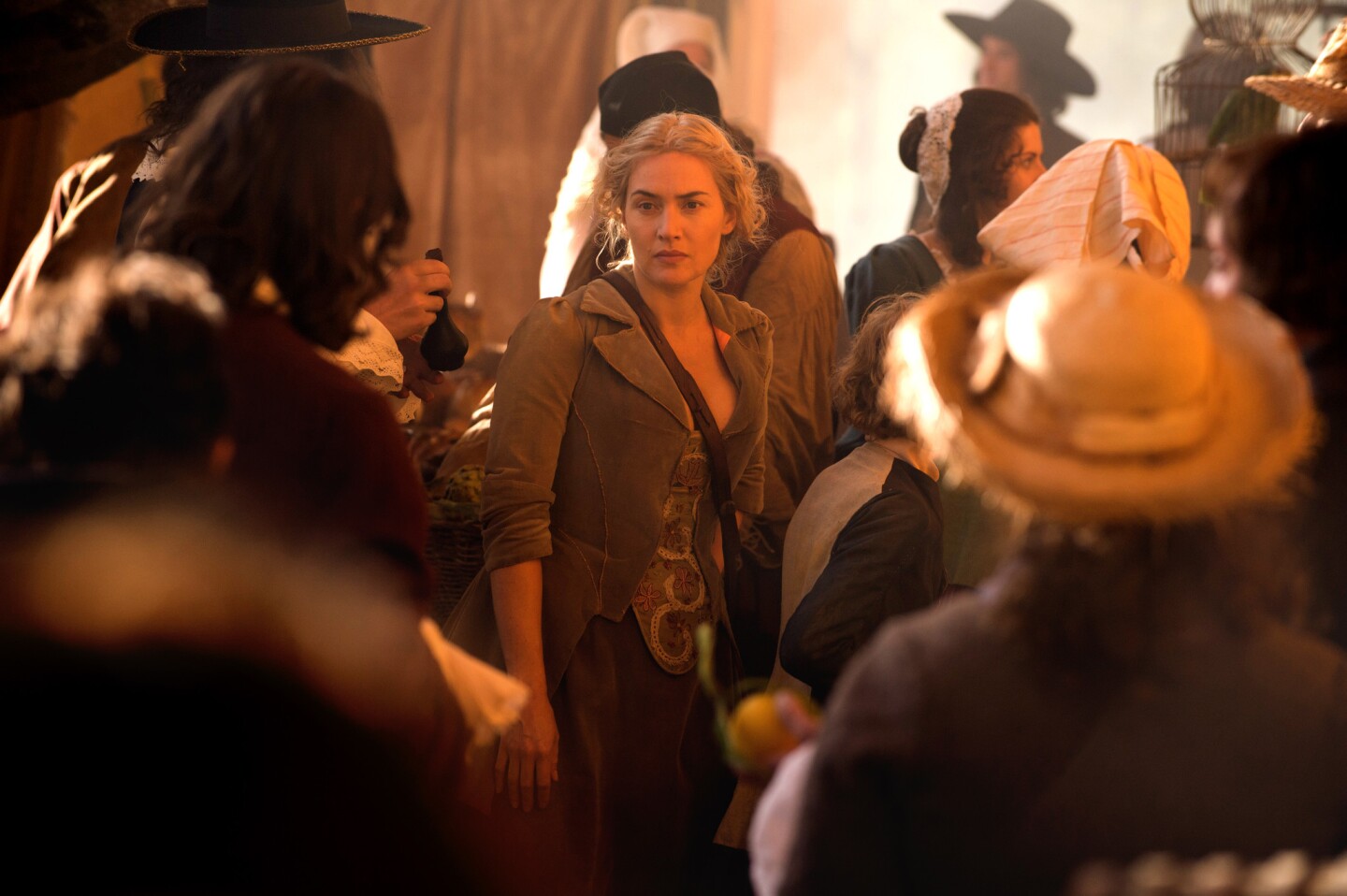 A strong-willed landscape designer chosen to build a garden at King Louis XIV's new palace at Versailles challenges gender and class barriers. With Kate Winslet, Matthias Schoenaerts and Alan Rickman. Written and directed by Rickman. Focus World
(Alex Bailey / Focus World)
A look at the secret lives of five suburban couples living in Sydney, Australia. With Josh Lawson, Bojana Novakovic and Damon Herriman. Written and directed by Lawson. Magnolia Pictures
(Magnolia Pictures)
When Air Force One crashes in the Finnish countryside, the president teams with an intrepid 13-year-old boy to evade a group of terrorists. With Samuel L. Jackson, Onni Tommila and Ray Stevenson. Written and directed by Jalmari Helander. EuropaCorp
(Stephanie Kulbach / EuropaCorp)
A potty-mouth teddy bear that's been magically brought to life wages a legal battle to prove his humanity in this sequel to 2012's "Ted." With Mark Wahlberg, Amanda Seyfried and the voice of Seth MacFarlane. Written by MacFarlane, Alec Sulkin and Wellesley Wild. Directed by MacFarlane. Universal Pictures
( Tippett Studio / Universal Pictures & Media Right)
Three years after bowing out of the stripper life, an ex-dancer hits the road with his former colleagues for one last blowout performance in Myrtle Beach, S.C. With
Channing Tatum
, Matt Bomer and Joe Manganiello. Written by Reid Carolin. Directed by Gregory Jacobs. Warner Bros. Pictures
(Claudette Barius / Warner Bros.)
When a soldier from the future is sent back in time to protect the eventual leader of humanity's war against sentient machines, an unexpected turn of events fractures the timeline and alters his mission. With Jai Courtney, Emilia Clarke and Arnold Schwarzenegger. Written by Laeta Kalogridis and Patrick Lussier. Directed by Alan Taylor. Paramount Pictures
(Melinda Sue Gordon / Paramount Pictures)
A documentary portrait of two vigilante groups battling Mexican drug cartels on either side of the border. Directed by Matthew Heineman. The Orchard
(The Orchard )
Returning to his native Ireland a decade after living in the U.S., a political activist reopens his old dance hall, which becomes a controversial community center. With Barry Ward, Simone Kirby and Jim Norton. Written by Paul Laverty. Directed by Ken Loach. Sony Pictures Classics
(Joss Barratt / Sony Pictures Classics)
When a residency takes her from Barcelona to Los Angeles, an artist and her boyfriend must rely on technology to keep their relationship alive. With Natalia Tena and David Verdaguer. Written by Carlos Marques-Marcet and Clara Roquet. Directed by Marques-Marcet. In Spanish, with English subtitles. Broad Green Pictures
(Oscar Fernandez Orengo / Broad Green Pictures)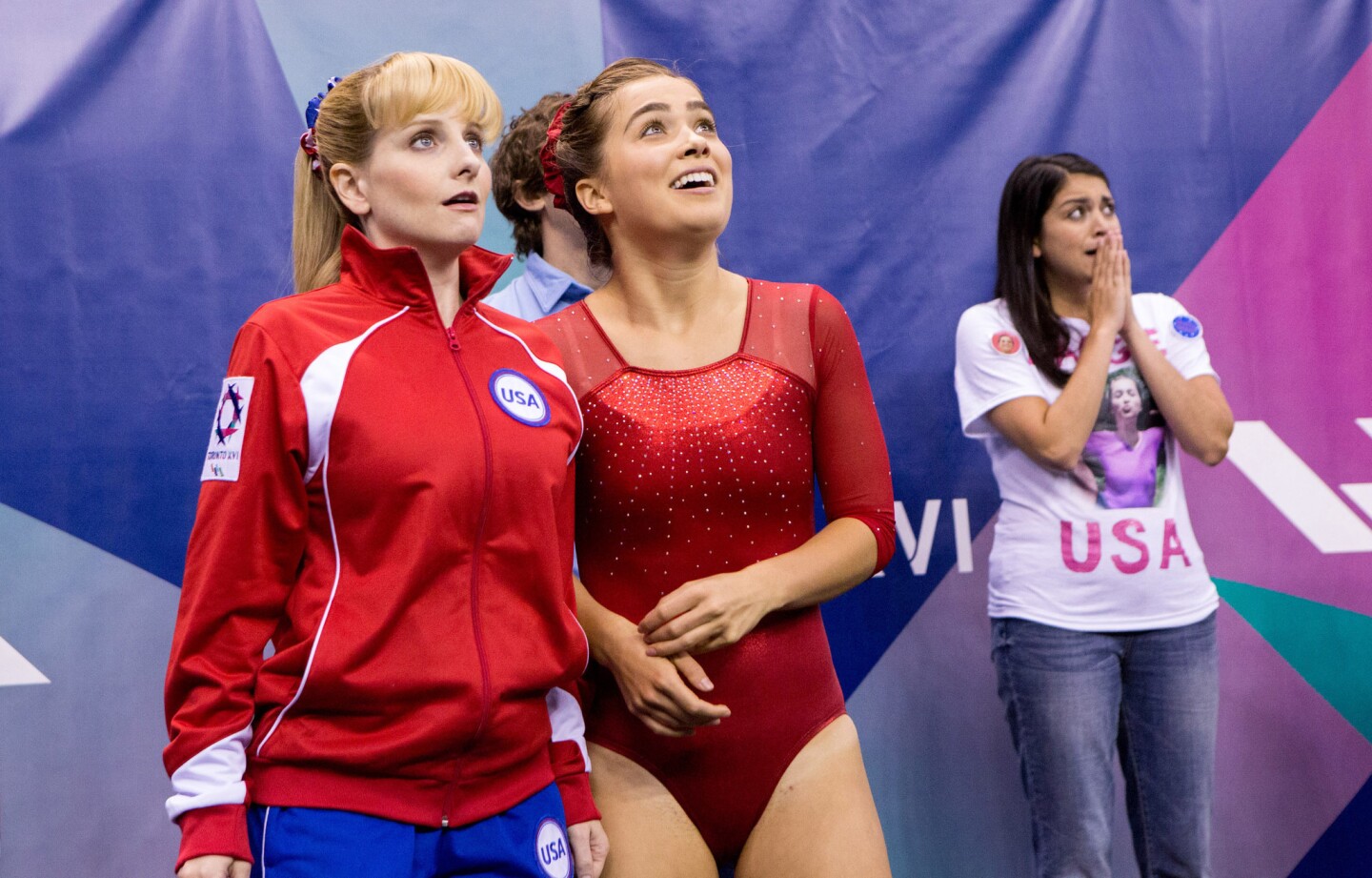 A bitter small-town gymnast clinging to her third-place Olympics win a decade earlier is persuaded to coach a promising local talent but isn't too keen on having her thunder stolen. With Melissa Rauch, Haley Lu Richardson and Thomas Middleditch. Written by Melissa Rauch and Winston Rauch. Directed by Bryan Buckley. Relativity Studios
(Alicia Gbur / Relativity Media)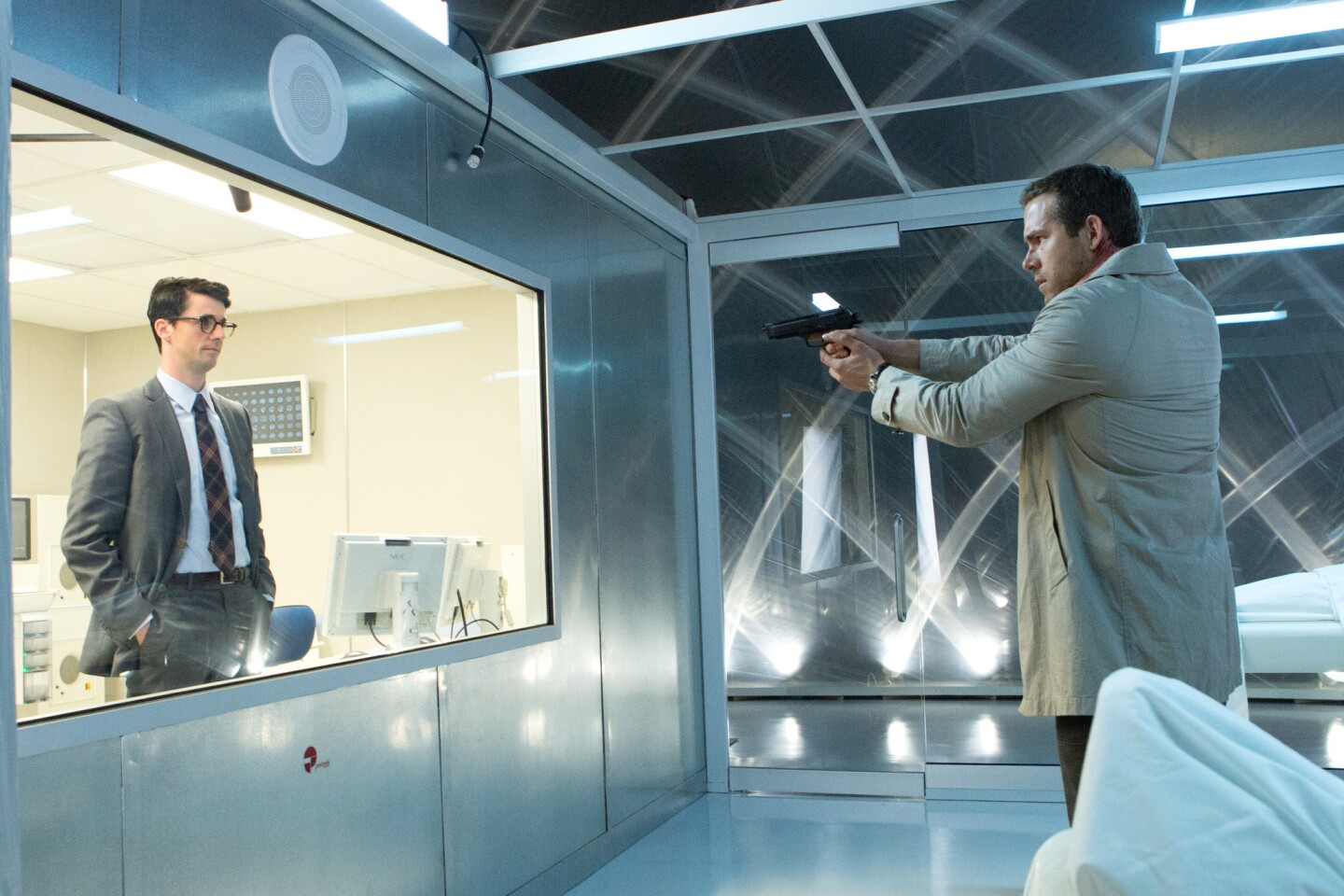 A wealthy man dying of cancer undergoes a radical medical procedure to transfer his consciousness into a healthy young body, but all is not as it seems when he digs into the origin of his new frame. With Ryan Reynolds, Natalie Martinez and Ben Kingsley. Written by David Pastor and Alex Pastor. Directed by Tarsem Singh. Focus Features
(Alan Markfield / Focus Features)
On Christmas Eve, a transgender prostitute and her best friend seek revenge on the former's pimp/boyfriend. With Kitana Kiki Rodriguez, Mya Taylor and Karren Karagulian. Written by Sean Baker and Chris Bergoch. Directed by Baker. Magnolia Pictures
(Sean Baker & Radium Cheung / Magnolia Pictures)
The capsule-shaped creatures known as Minions search for a new evil mastermind to follow in this spinoff of the "Despicable Me" animated films. With the voices of
Sandra Bullock
and Jon Hamm. Written by Brian Lynch. Directed by Pierre Coffin and Kyle Balda. In 3-D. Universal Pictures
(Universal Pictures / Illumination Entertainment)
A master thief seeking redemption dons a suit that allows him to shrink in size but increase in strength to face down a new generation of threats. With Paul Rudd, Evangeline Lilly and Corey Stoll. Written by Rudd and Adam McKay. Directed by Peyton Reed. Walt Disney Pictures
(Zade Rosenthal / Marvel)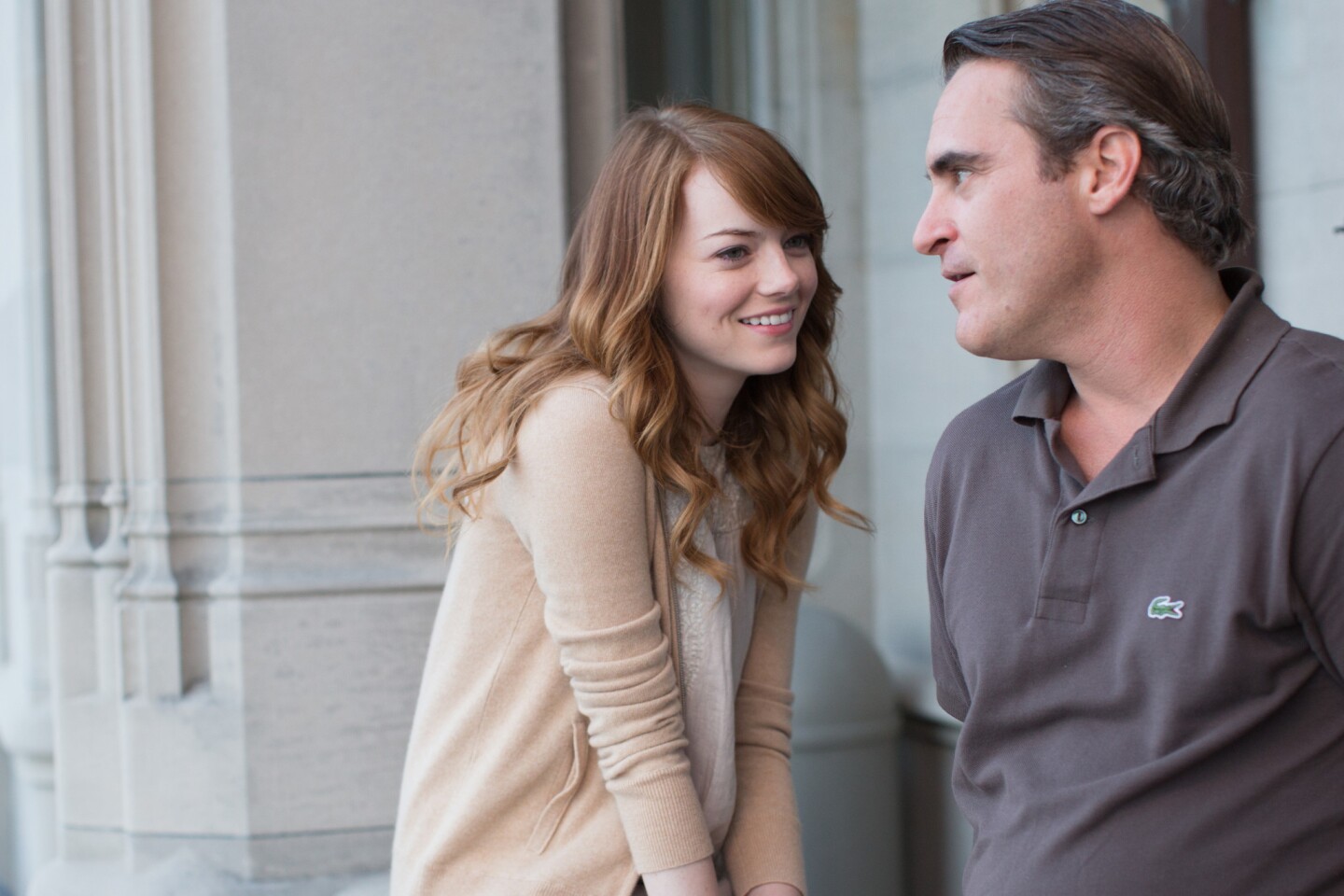 A tormented philosophy professor finds a will to live when he commits a crazy act to help a total stranger. With Joaquin Phoenix, Emma Stone and Parker Posey. Written and directed by Woody Allen. Sony Pictures Classics
(Sabrina Lantos / Sony Pictures Classics)
In 1947, an aging Sherlock Holmes faces the end of his days in a remote seaside farmhouse, where he begins to rely on his housekeeper's young son and revisits the unsolved case that forced him into retirement. With Ian McKellen, Laura Linney and Milo Parker. Written by Jeffrey Hatcher. Directed by Bill Condon. Roadside Attractions
(Giles Keyte / Roadside Attractions)
A dramatic account of the infamous 1971 psychology experiment in which 24 male undergraduates acted out the randomly assigned roles of guards and prisoners, embracing their roles to a shocking degree. With Billy Crudup, Ezra Miller and Michael Angarano. Written by Tim Talbott. Directed by Kyle Patrick Alvarez. IFC Films
(IFC Films)
A hard-living men's magazine writer who doesn't believe in monogamy is thrown for a loop when she starts to fall for her latest profile subject, an endearing sports doctor. With Amy Schumer, Bill Hader and Brie Larson. Written by Schumer. Directed by
Judd Apatow
. Universal Pictures
(Mary Cybulski / Universal Pictures)
When aliens misinterpret videos of classic arcade games as a declaration of war and use them as models for an invasion of Earth, an old-school joystick jockey is enlisted to fend them off. With Adam Sandler, Kevin James and Michelle Monaghan. Written by Tim Herlihy and Timothy Dowling. Directed by
Chris Columbus
. Columbia Pictures
(Sony Pictures )
When a lefty boxing champ known for his brutal but effective style suffers a personal tragedy, he teams with a hard-bitten former pugilist to fight his way back to redemption. With Jake Gyllenhaal, Forest Whitaker and Rachel McAdams. Written by Kurt Sutter and Richard Wenk. Directed by Antoine Fuqua. The Weinstein Co.
(Scott Garfield / The Weinstein Company)