Review: 'The Choice' story falls way short compared with other Nicholas Sparks adaptations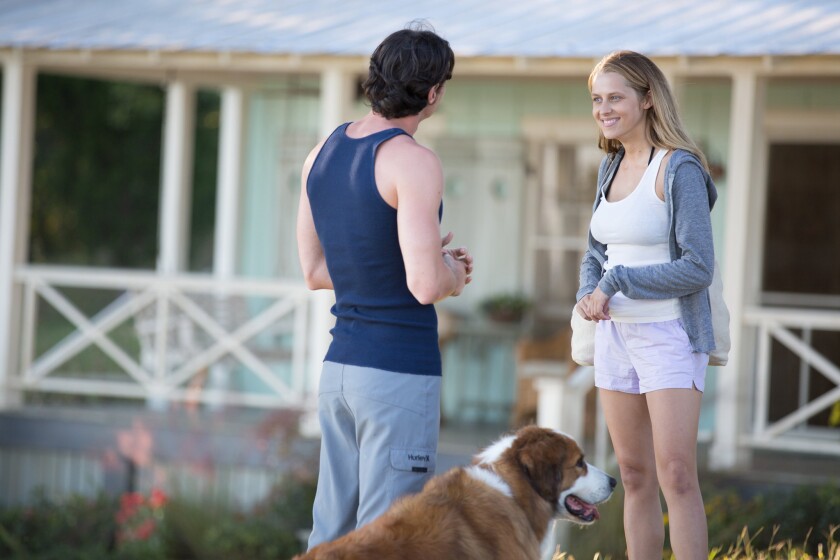 "The Choice" is the 11th feature film to be adapted from a novel by bestselling author Nicholas Sparks. They should have stopped at No. 10.
An inauspicious first production for Sparks' nascent film company, "The Choice" stretches a first act's worth of low-concept romantic dramedy into two acts, then tacks on a tragic third act to create the movie's raison d'etre. No spoilers here about said third act except to report it feels interminable.
See more of Entertainment's top stories on Facebook >>
When gorgeous medical student Gabby (Teresa Palmer) moves in to a North Carolina coastal cottage next door to hunky veterinarian Travis (Benjamin Walker), it is oil-and-water at first sight. Travis, a womanizing good ol' boy who lays on the Dixie charm with a trowel, instantly hones in on the more serious-minded Gabby. In turn, she puts up the most forced wall of defense south of the Mason-Dixon line; one look at the fun-loving, swoopy-haired Travis and you know she's pretty much toast. Just don't tell her doctor boyfriend, Ryan (Tom Welling).
When Ryan conveniently leaves town on business, Gabby and Travis finally get together and sparks (no pun intended) fly like crazy. A volley of nominal obstacles leads to Travis' frantic, near sitcom-like marriage proposal to Gabby. Cue the nuptials and baby-making interludes.
This brings us back to the downward spiral, which is set about a decade after the film's start, yet no one seems to age or have so much as a different hairstyle. Even the lovable dogs here look as if they've been lapping from the fountain of youth.
The screenplay by Bryan Sipe (the upcoming "Demolition") jams in a host of romantic movie tropes to get us rooting for our storybook lovers. But there's such mechanical artifice at work that it's hard to do more than squirm and groan at the couple's ultimate travails, wherein lies the titular choice. The story's conclusion is all but foregone.
In full disclosure — and lest you think I'm a crabby, anti-romantic cynic — I loved the film version of Sparks' "The Notebook" and totally got into the movies of his "Nights in Rodanthe" and "The Best of Me." Bottom line: They were simply richer stories.
Walker, channeling no small amount of Matthew McConaughey's honey-dripping bit, acts his heart out here, largely to decent effect. Whether he's reveling in Travis' self-satisfied ebullience or plumbing the depths of his Southern-boy soul, Walker ("Abraham Lincoln: Vampire Hunter," "In the Heart of the Sea") proves a magnetic presence. Better movies than this one are surely in his future.
The Aussie-born Palmer ("Warm Bodies," the "Point Break" remake) looks appropriately fetching and brings warmth and energy to feisty golden girl Gabby. Unfortunately, she's saddled with so much banal dialogue, plus a less-than-credible med student trajectory, so there's a limit to what she can accomplish. But don't fret for her career either. Palmer's in a string of other movies scheduled for release this year, including Terrence Malick's "Knight of Cups" and Mel Gibson's "Hacksaw Ridge."
The always-welcome Tom Wilkinson also appears as Travis' kindly, widowed dad, Shep, a veterinarian — he and Travis share clinic duties — and part-time pastor. (That second job feels awfully wedged in.) Maggie Grace (the "Taken" franchise) is appealing as Travis' loving, forthright sister.
As usual, Sparks' trademark North Carolina setting (the film was shot in and around Wilmington) proves a star in its own right, and director Ross Katz and cinematographer Alar Kivilo use the area's coastal, small-town beauty to full advantage. If only it were in the service of a stronger movie.
MORE REVIEWS:
Love them or hate them, the Coen brothers will leave you laughing with 'Hail, Caesar!'
Al Pacino and Anthony Hopkins star in the ludicrous 'Misconduct'
Sarah Jessica Parker stars in a predictable 'All Roads Lead to Rome'
---
Get the Indie Focus newsletter, Mark Olsen's weekly guide to the world of cinema.
You may occasionally receive promotional content from the Los Angeles Times.