Veena Sud's 'The Lie' explores the lengths to which desperate parents will go and reflects America today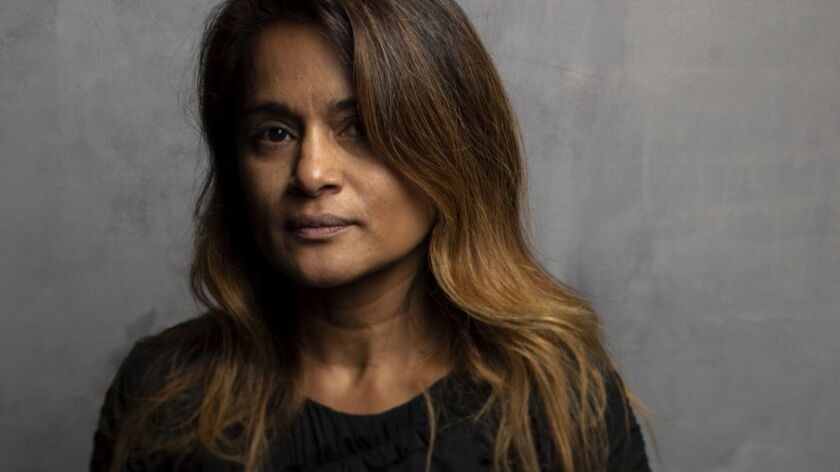 Reporting from Toronto —
As she transplanted the German thriller "Wir Monster" to the snowy North American setting of her own chilling adaptation "The Lie," Veena Sud found herself influenced by aspects of her own life.
Like the otherwise good people and loving parents at the center of "The Lie," faced with the consequences of their beloved daughter's rash and irreversible actions, Sud wondered: "What would I do?"
"As a parent, contemplating the unhappiness of a child that would lead to something like what happens in the film … the question weighed on me heavily," Sud said on a rainy day at the Toronto International Film Festival last week, where "The Lie" had its world premiere. "Life throws these things at you that are completely unexpected — and from what I've seen, at least in my own life, we all react in different ways that we don't expect."
For Sud, who first broke into Hollywood over 15 years ago as a writer before making her name as the showrunner of AMC's crime drama "The Killing," "The Lie" represents a personal breakthrough in feature film directing.
An unnerving piece of Hitchcockian drama set during a snow-covered winter that blankets the action in an appropriately icy veneer, "The Lie" tracks the increasingly frayed nerves of divorced couple Rebecca (Mireille Enos) and Jay (Peter Sarsgaard) after their 15-year-old daughter, Kayla (Joey King), reveals a horrific crime.
Together as a family, they decide to keep the terrible secret. And that's where their desperate unraveling begins.
Directing was always Sud's goal, even if somewhere along the way she fell in love with the "novelistic longform" approach of television she exercised over four seasons on "The Killing" and on her Netflix limited series "Seven Seconds," a crime drama exploring the aftermath of the police-shooting death of an African American boy that earned star Regina King an Emmy this week.
Teaming up with "Winter's Bone" producer Alix Madigan, Sud adapted Sebastian Ko's 2015 German-language feature "Wir Monster" (which was translated as "We Monsters") and made key changes to its setting and subtext, inspired by the turmoil she felt around her in a post-election America.
"I grew up in Ohio. Ohio was so conservative, so white," remembered Sud, whose Filipino mother and Indian father met while working in New Jersey.
Born in Toronto, she was raised in Ohio from an early age and now lives in Los Angeles with her family. "Nobody knew what I was. [I'd get the] 'Where are you from?' and 'Where are you really from?' question."
Although "The Lie" centers on a fractured white family of relative privilege, on the surface it's not about race — until it is. Brought to life by finely-tuned performances from Enos and Sarsgaard, both of whom Sud collaborated with on "The Killing," the film's heroes are relatably good people, kind neighbors, and loving parents. At least before they're pushed to their own desperate limits.
"Especially because of the times we live in now, what shocks and saddens me aren't the obvious racists, but the people who voted for Trump and don't consider themselves racist," said Sud. "That part of America that took a side. … That's what the [film] is trying to address in terms of deeper race issues. When push comes to shove, and it's a decision between what's mine and what's yours, those lines are so drawn in the sand."
Government hostility to outsiders on both sides of the Atlantic, including Trump's travel ban and Europe's migrant crisis, were top of mind when Sud first discussed the project with Sarsgaard.
"At the time a lot of immigrants were dying off the coast of Greece and Italy," said Sud. "We were saying, 'How can anyone do that to a child?' and he said, 'If it's not your child, it doesn't matter,' in this very perceptive way. This is why this is possible. This immigrant crisis is endlessly ongoing. What's happening in Europe and the United States is reflecting the 'otherness' of these children."
"What I was trying to do with this film was say, we all have our reasons — and love is always, for the most part, [the reason]," said Sud. "Writing cop shows, every bad guy you've ever met has a reason.
"And usually we cast ourselves in the role of hero because either we have to, to live with the thing we've done, or because it's true."
As "The Lie" hurtles forward, its protagonists exploit every tool in their arsenal to protect their own, and two characters become ever more crucial as fissures beneath the surface of civility become instruments of self-preservation.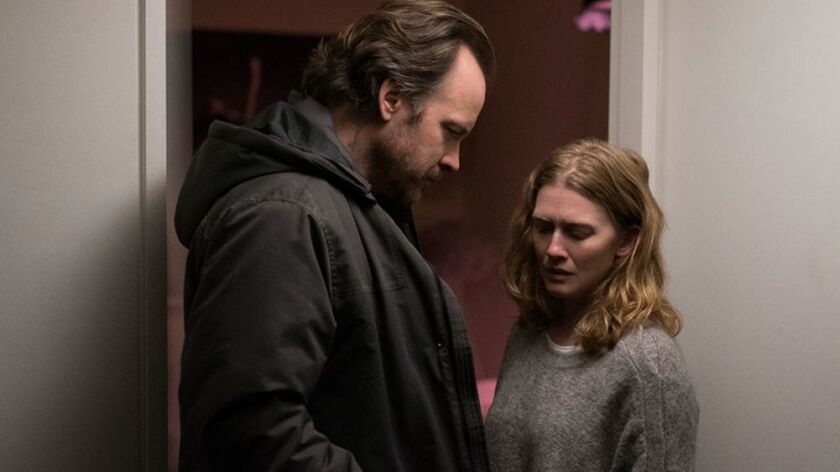 Devery Jacobs was cast as Kayla's outgoing friend Brittany, and Canadian actor Cas Anvar ("The Strain") came aboard in the key role of Brittany's father Sam, who becomes an increasingly unpredictable interloper in the escalating scheme that Rebecca and Jay are weaving.
It was important to cast Anvar's role with an actor of color, Sud said, "partially because of the times we're living in, and as a mirror of our own society. When a brown man fits in, he's a very unthreatening guy: He's wearing J. Crew, he's got an American accent, he's a suburban dad. He's a good brown man until he starts questioning these people. The criminal justice system, which as we know is so race-biased, it just yawns open to pull him in. He's such an easy target."
Central to the themes she's exploring in "The Lie" — a film very much of a piece with her television crime dramas about corruption, race and colliding social issues in contemporary life — are the increasing anxieties faced by minorities in America today.
"As a woman of color and especially as an Asian woman I feel like I live on that line of, I can fit in and I can 'pass' when I do certain things," Sud explained. "But if I dare step out of that line, then I'm exiled. And I've felt it all my life, and certainly all of us that don't fit into white Americana are growing exiled more and more of the time."
She recalled a recent experience driving to San Diego, only to see signs warning of border closings.
"The first thought that came into my mind was, 'Do I have my passport?' I'm an American citizen and I'm scared whether people are going to question if I belong here," said Sud. "To some degree I was interested in, how do we demonize people we have to demonize in order not to care about them — in order to take the side of what we know is flat-out wrong?"
Last year the pieces fell into place when producer Jason Blum and his Blumhouse Pictures boarded the project, now the latest in a streak of socially conscious genre fare at the company following the Oscar-winning success of Jordan Peele's "Get Out."
Sud had already attached Enos, who starred as the embattled detective Sarah Linden on "The Killing," and Sarsgaard, who also starred on Season 3 of the show. Blum's greenlight meant an accelerated timeline for "The Lie," which filmed in Toronto in January over a 21-day shoot while Sud had a gap in her schedule.
"Veena is always incredibly hands on – it's one of the things that was amazing about her on 'The Killing,' that no matter what question you had, she always had a really specific, thoughtful answer at her fingertips," said Enos. "She understands the worlds of her stories so completely. It's very confidence-building working for somebody like that.
"Her indefatigable desire to get underneath the choices — to really dig and dig and dig and dig to where these people were the most full of fear and uncomfortable and human and flawed — was a very exciting process," she added, "to know that what we were making was something we were making together, and that neither one of us could do it without the other."
On set, Enos recalled, she and Sarsgaard stayed in their characters' head spaces by reminding each other that, from their perspectives, their story is one of parental love.
FULL COVERAGE: 2018 Toronto Film Festival »
"[Sarsgaard] has a family he's madly in love with, we're telling the story of a broken family, so he's bringing his insight into what family should feel like," said Enos. "He and I kept saying, 'It's a love story!' because I think under all the tragedy that is the engine that drives it are these people trying to find each other again."
Joey King, who has been acting since she was 8 in films like "Ramona and Beezus," "The Conjuring" and more recently the Netflix rom-com "The Kissing Booth," leaped at the challenge of playing Kayla.
As seen through her parents' alternately doting, horrified and guilt-ridden eyes, she's a character who feels alternately childlike and eerily grown-up, both impossibly naive and chillingly capable of the unthinkable.
"Playing Kayla was tricky in a way because she's feeling so many things, but a lot of the time is trying to conceal those feelings," said King, who was 18 at the time of filming. "Underneath all of her fronts she's really just a lost girl who's deeply saddened by events that have taken place in her life, and they affect her more than they probably should."
As "The Lie" continues on its post-TIFF journey, Sud hopes audiences respond to its driving themes of love, blind devotion and the darkness that lies dormant even within the most decent of people.
And, she notes, she wants to see more stories with women like Enos' Rebecca — "a raw, rough, vicious animal, as we all are when ours are threatened."
"I want to see that in movies! I want to see women who get to be as real as all the men I see in other films, being brutal and going straight for what they want, sometimes in terribly ugly ways," said Sud. "We don't have to take side roads. We don't have to smile. We don't have to be palatable. I want unpalatable women."
---
Inside the business of entertainment
The Wide Shot brings you news, analysis and insights on everything from streaming wars to production — and what it all means for the future.
You may occasionally receive promotional content from the Los Angeles Times.