'Three Billboards,' 'Handmaid's Tale' and 'Star Wars'-inspired protest posters take over the streets at the second women's march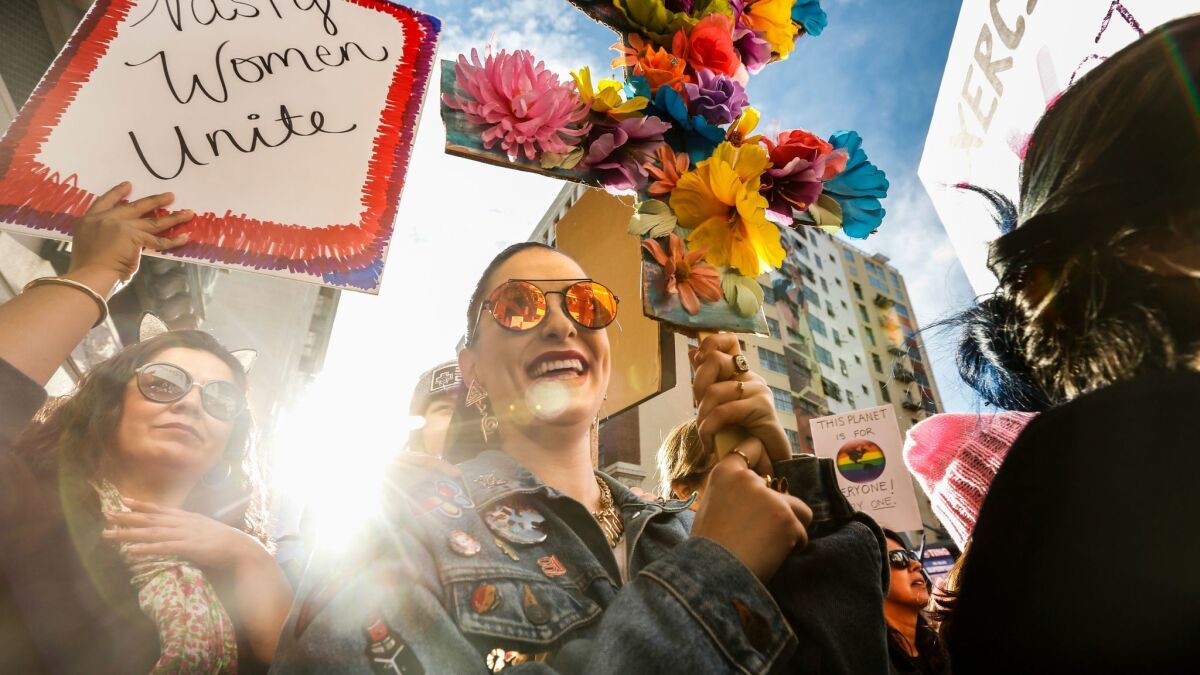 Hundreds of thousands of people — some using familiar images from film and TV — took to the streets along with a handful of celebrities to protest President Trump on the first anniversary of his inauguration.
Several women in Austin, Texas, and Palm Beach, Fla., marched in the signature red cloaks and white bonnets from Hulu's "The Handmaid's Tale," the award-winning drama set in a near future in which the U.S., amid falling birth rates, has been seized by a theocratic regime unfavorable to women's rights.
A trio of marchers in New York evoked the confrontational spirit of the film "Three Billboards Outside Ebbing, Missouri," carrying stark red posters with thick black typeface declaring "Misogynistic racist, installed by Putin," "And still no impeachment?" and "How come, Speaker Ryan?"
The character of Princess Leia played by Carrie Fisher in the "Star Wars" saga "was a frequent presence among protest posters, many of which declared "A woman's place is in the resistance." Other posters referenced Harry Potter, Wonder Woman, the film "Get Out" and Netflix's anthology series "Black Mirror"; one sign read "This episode of 'Black Mirror' sucks."
Josh Gad ("Frozen") and Matt McGorry ("Orange Is the New Black") were among protesters who marched in Los Angeles. The Chicago cast of the historical musical "Hamilton" performed at that city's march. Actress Alyssa Milano ("Charmed") addressed protesters in Atlanta, asking participants to look at each other.
"I want you to realize, that this, this right here, is what democracy looks like," she said. "It doesn't happen automatically. It demands our action and participation. It challenges us, but it also empowers us because at the end of the day, it is us."
At a New York rally, singer Halsey delivered a moving poem about consent and harassment.
"This was really hard for me to do but I'm glad I did it," she said afterwards on Twitter. "This is why we rally."
follow me on twitter @sonaiyak
Get our L.A. Goes Out newsletter, with the week's best events, to help you explore and experience our city.
You may occasionally receive promotional content from the Los Angeles Times.