As women rule wrestling, WWE's Paige reflects on life lessons following 'Fighting With My Family'
As a teenager, Saraya-Jade Bevis made her wrestling debut for her parents — professional wrestlers and promoters who operated their own gym in Norwich, England.
At 20 she signed with WWE, and under the ring name Paige ascended the ranks with athletic charisma, jet-black hair and an outsider goth flair. She became one of wrestling's most beloved stars and helped the company spark a long-needed women's revolution.
Now 26, Bevis — who still goes by the single moniker Paige — has lived even more extraordinary ups and downs and come out swinging. Only the most family-friendly parts of that story are chronicled in MGM's "Fighting With My Family," the well-reviewed dramedy now in theaters, inspired by Paige's improbable journey to the WWE and starring "Lady Macbeth" lead Florence Pugh.
"The sequel would be ... interesting," Paige volunteers with a laugh, strolling into the offices of WWE Studios in Los Angeles a few days after premiering the film at this year's Sundance Film Festival.
Review: Florence Pugh turns a Paige in the delightful 'Fighting With My Family' »
A two-time Divas champion and inaugural NXT champion, Paige was a WWE superstar at the top of her game when her career felt like it was all tumbling down just a few years ago.
She's open about the personal hits she's endured — the WWE drug violations, the hacked videos that left her contemplating self-harm and reportedly hospitalized for exhaustion — and the 2017 re-injury that ultimately led to her retirement from the ring last year.
Briefly, she mulls it over. It would be a good story to tell, she says, because it might help others avoid making the same mistakes she did. She waves it off in her husky British accent, saving the idea for later.
"Let's get the first one out of the way! But let's say, a couple of years down the line, a second one comes out — I feel like the story that I've had since then is also pretty empowering. Because you go through hell and you hit rock bottom, and even when you make it, there are still obstacles." She smiles. "Florence would definitely be in it."
"Fighting With My Family" was in the works long before Paige hit her rough times. The idea began with Dwayne "The Rock" Johnson, who also rose to international stardom from an iconic wrestling family.
He was in London filming "Fast & Furious 6" in 2012 when he couldn't sleep and turned on the Channel 4 documentary "The Wrestlers: Fighting With My Family," about the quirky Bevis wrestling clan. Their story had all the elements of an inspirational comedy, while reminding him of his own family.
Producing for his own Seven Bucks banner, Johnson teamed up with "Scorpion King" producer Kevin Misher and brought U.K.'s Film4 and WWE aboard to co-finance the $10 million indie.
"It's about this family who loves each other madly and loves this thing that binds them," said Misher. "It's the glue that keeps them together. And I think Dwayne really identified with that."
Stephanie McMahon on why you should take your family to WrestleMania »
Johnson broke the news to Paige by summoning her backstage at WrestleMania 2014. He told her he planned to turn her story into a film — and that she would also be making her main roster debut the next day to win the Divas Championship.
"I'm just crying and he's shoveling tissues to me," laughs Paige, "and I was like, 'What?!' I was a hysterical mess. He's like the Oprah of wrestling."
By the time filming began early last year under the direction of "The Office" co-creator Stephen Merchant, Paige was in a very different place. Pugh, 23, had been cast to play the driven but still searching-for-herself young Paige, and the two would frequently chat, text and Skype.
"Equally, I think what we wanted this film to be was not an impression," said the Oxford-born Pugh — a newbie to wrestling who now considers herself a "slight expert" with a Twitter feed full of WWE alerts — one afternoon at Sundance. "Whilst we're playing these amazing characters we had to find some level of understanding in our approach."
The actress prepared by studying online recaps of the wrestler's matches — the way she cut her attitude-filled promos, how she moved.
You don't get anywhere without losing a lot. That is so truthful about how hard we work to get where we need to be.
— "Fighting With My Family" star Florence Pugh
"It's a wrestling film, but ultimately it's about her and her family and the downs, as much as the ups," she said of Paige, whom she met in person only two weeks prior to Sundance. "And that is real life. You don't get anywhere without losing a lot. That is so truthful about how hard we work to get where we need to be."
"That's the thing that was kind of a guiding light," says Paige, reflecting on how the film helped her. "I was like, 'Man, I have this movie coming out. I don't want to mess this up.' Because at one point it could have all just been gone."
In those dark times, her WWE family also offered behind-the-scenes support. "They would call me every week, wanting to help me constantly. They even flew me in and tried to sit me down and talk to me," she says. "The first thing they said to me when I came back was, 'We never thought that we were going to see you again — alive.'
"That broke my heart," she adds. "And I would never want to be in that position again."
Written by Merchant and based on key events in Paige's life, "Fighting With My Family" is anchored by her loving relationships with parents "Rowdy" Ricky Knight (Nick Frost) and "Sweet Saraya" Bevis (Lena Headey) and the bond she shares, and tests, with brother Zak (Jack Lowden), who harbors his own lifelong WWE dreams.
Another thread concerns the sea change in representation ushered in by performers like Paige, who was a girl in the 1990s when WWE's Attitude Era marked a more hostile time for women in wrestling.
"When I first came there, WWE really did love the women wrestlers," says Paige. "They really did support them. It's just that a lot of the time the fans didn't. They looked at them like 'T&A.' They'd go use the restroom during our matches and didn't take us very seriously."
Far from home, entering WWE's NXT training program, she compared herself to the more conventional-looking fitness models in her class. For a hot second she tried lightening her hair, got a spray tan, removed her piercings, "and it didn't look right!" she says. "I remember John Laurinaitis was like, 'No! What are you doing?' He was very encouraging: 'No, you have to be yourself.' "
As portrayed by Pugh in one of the film's memorable moments, Paige also brought a few wrestling traditions with her when she came to train in America, like the concept of "receipts" — paying back an errant blow in the ring to send a message — inspired by an incident involving fellow future WWE star Summer Rae.
"That's the old-school way!" she cackles. "I'm lucky I got raised in the old-school way, but I don't think they do it anymore. Not from what I've experienced. It was always me receipting people. I'm sorry!"
Now, with WWE superstars Becky Lynch, Ronda Rousey and Charlotte Flair getting some of the biggest pops in wrestling on a weekly basis — and poised to make history in April at WrestleMania 35 with the hoped-for, first-ever female headlining match fans are clamoring for — pro wrestling is ushering in a new age for women. Finally.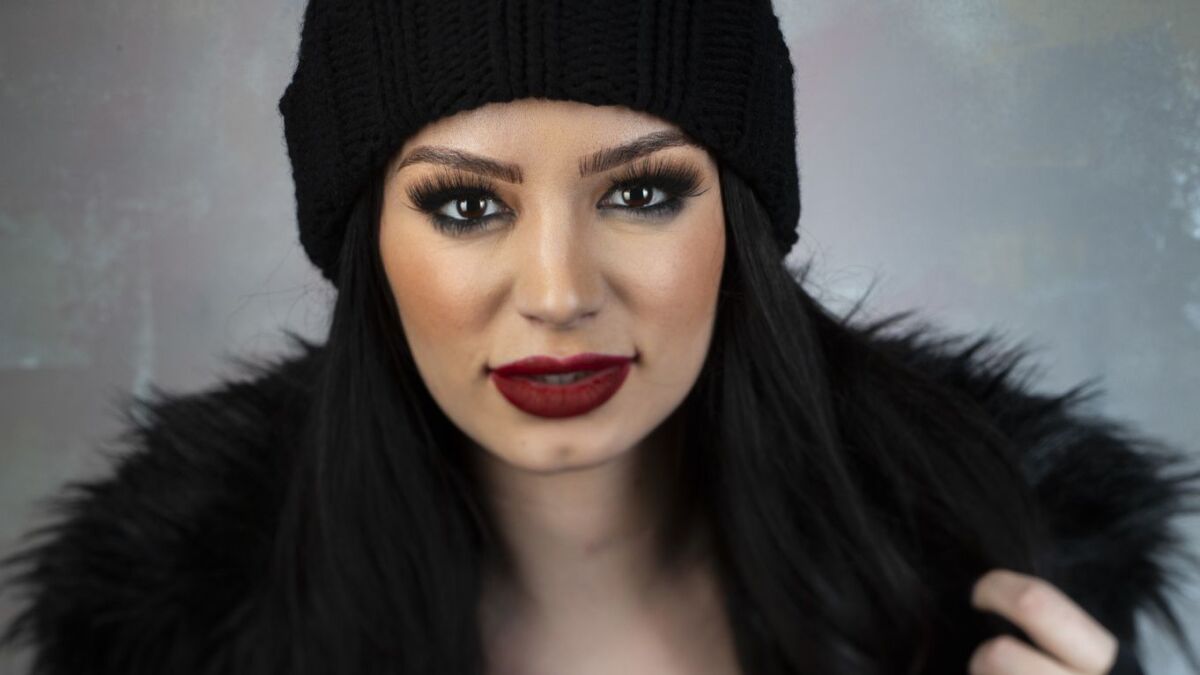 "It gives me goosebumps just talking about it because that's what I wanted to do when I first came over here; I wanted us to be taken seriously. I want us to main-event," she says. "This is the era of the female athlete."
She proudly applauds Lynch, whom she's known since she was 12. "Now she's the hottest thing on TV in WWE. People are excited to see her. I saw her and I was like, 'Sis, you have to do "Raw" and "Smackdown"?' I was like, 'Okurrrr!'" (Paige, a self-professed Cardi B fan, would love to make a Bardi-WWE collab happen.)
In talking about the women she's close with, like former Raw Women's champion Nia Jax, Paige radiates an accessible aura of realness. As she demonstrated on WWE reality series "Total Divas," she's fast and loose with quips and anecdotes other WWE stars might keep contained.
"I karaoke with Nia Jax!" Paige exclaims. "She's incredible. She just sent me flowers and chocolates to my house. She's great at karaoke. Mandy Rose," she adds, a glint in her eye, "terrible singer. Put that on the record!"
I wanted us to be taken seriously. I want us to main-event. This is the era of the female athlete.
— WWE's Paige
Sliding the veil of kayfabe aside, she shares advice she gave after Jax bloodied Lynch's face in the ring, going viral. "I had to calm Nia down from that because she was like, 'I feel like everyone is mad!' And I said, 'You know what? This elevated Becky so much too. And you're about to turn heel anyways — so who cares?
"Who cares if the internet's mad at you?" she grins. "They're always going to be mad at you! There's a quote I love: You can be the ripest, juiciest peach, but not everyone's always going to like peaches. It's just one of those things."
She cites mentors like the late Dusty Rhodes, who trained her and inspired the character of Hutch, played by Vince Vaughn in "Fighting With My Family," for helping her find that kind of confidence in herself. "Like the movie says, I didn't know who I was supposed to be," she says, teeing up a drawling Rhodes impersonation.
"He was like, 'Baby, you're like my broken toy. I just want to put you back together again … You just be yourself, baby.' He's the one who helped me stay the way I was. Dusty Rhodes. Rest in peace, buddy."
When it came to filming the biggest scene in the story about her own meteoric rise, Paige in turn gave advice to Pugh to calm her nerves.
It was a Monday night at the Staples Center in Los Angeles and only the fourth day of shooting. In order to recreate Paige's iconic WWE debut match, Merchant and his crew, aided by WWE camera crews still in place after a live-taping of "Raw," asked 20,000 avid wrestling fans to stay in their seats to double as extras.
"Many of those people had seen the match, and they knew who Paige was," remembered Merchant. "[Pugh] was amazingly contained and still and present and ready." With only an hour to get the sequence down, Johnson served as crowd MC and ringside producer, giving Pugh pep talks.
"It was nerve-wracking on all kinds of levels," said Merchant.
Johnson coached Pugh through a pre-show warm-up as pro wrestlers kept watch. "On that day I was getting all this advice from people," said Pugh. "And I realized, 'OK, I just need to message [Paige].' I said, 'I'm about to do the thing that you did four years ago, and I'm feeling the way that you were. … Is there anything that you need to tell me?' "
Paige sent back the words Pugh needed to hear. "She sent me this huge long message and said, 'Remember: The most important thing is you go out there and you be a total badass, and the rest will just happen,'" said Pugh, smiling. "Best piece of advice."
Now retired from in-ring action, Paige has remained a part of the WWE as commentator and general manager. In recent weeks the film's promotional tour has occupied her schedule. "I was a GM! McMahon stole it off me!" she roars, briefly slipping back into character. "When I go back eventually we'll see what's going on."
Acting and other ventures are intriguing to her too. Movies, or a reality television show of her own outside of "Total Divas," could be in her future.
"Every day of my life there is something going on," grins the entertainer, who turns 27 this year. "There is never a dull moment."
---
Get the Indie Focus newsletter, Mark Olsen's weekly guide to the world of cinema.
You may occasionally receive promotional content from the Los Angeles Times.