This is what happens when Afropunk meets L.A.'s diverse faces and styles
Injecting more multicultural fashion flair into Los Angeles' Westlake neighborhood, Afropunk, the Brooklyn-based music festival, brought its Fancy Dress Ball to the West Coast for the first time on Sunday.
The event, part of Red Bull Sound Select's month-long concert series 30 Days in L.A., took place at the historic, Gothic Revival-styled event space the MacArthur, drawing hundreds of people in celebration of the theme "Be You. Be Free."
"We are a platform that celebrates freedom, and this is a party with a purpose," said Jocelyn Cooper, who co-founded Afropunk with fellow music veteran Matthew Morgan. "We're about music and activism and beautifulness and the celebration of people of color expressing themselves in every avenue of their life. [The Fancy Dress Ball] is a manifestation in the physical form of that."
The Afropunk name might sound familiar: Since its 2005 founding, the New York festival has become a yearly cultural touchstone in music, art, fashion and culture.
The event takes its name from the 2003 documentary "Afro-Punk" about the participation of African Americans and other black communities in the overwhelmingly white punk music scene. Previous headliners have included Lauryn Hill, Lenny Kravitz and D'Angelo.
The Afropunk brand, however, has become more than just the festival, representing all that is stereotype-bending, nonconforming and unconventional. (There is also an Afropunk online magazine.)
The Fancy Dress Ball, rooted in Carnival traditions of the African Diaspora, benefits the Afropunk Global Initiative, which aims to, according to the group's website, "move the needle of progress closer to a holistic, democratic and enlightened representation of people of color within all facets of society [by creating] unique programming that encourages diversity in media."
The soiree, at which such cultural garb as dashikis, kaftans and kimonos was to be expected, had been held only two times prior, once in New York (with Grace Jones as the headliner) and once in Paris.
At Sunday's event, between headlining sets by queer hip-hoppers Big Freedia and Cakes Da Killa, The Times caught up with some of the attendees to talk about their personal style and outfits for the night. Here are some of the standouts.
---
Michelle Harper
Occupation: Works in fashion
Age: Unknown
"I've had this outfit on all day. I pretty much dress like this every day. My style is very eclectic. I love fun clothes. I'm into Egyptian and mystery and love that this is very covered but also very sexy. This [headpiece] was in my car. I got it from the Lagunitas Beer Circus in Azusa and decided to throw it on."
---
Michele Chantel, Elise Welch and Abby Gould
Occupation: Graphic designer; hairstylist and DJ; and fashion designer, respectively
Age: 30, 31 and 26, respectively
Speaking on behalf of the trio, Chantel said: "We all had our outfits and felt it spoke true to who they are — these colorful, great prints from the brand OTT in Dubai. There's nothing more important than putting something on and saying, 'This is me. This is it.' It's walkable, wearable art."
---
Mike Taylor
Occupation: Singer
Age: 32
"I'm always giving color. I'm a person of color, so I have to give myself, 365, 24/7. This [print] is actually my album cover."
---
Loren Piretra
Occupation: Works for Red Bull
Age: 27
"I got this vest from Goodwill for under $20. We keep it faux. I was trying to go with a colorful pastel vibe, so I mixed two of my favorite colors — a baby pink and a mustard yellow/burnt orange. I travel a lot and try to make a Salvation Army or Goodwill stop every trip that I go on."
---
Ebony
Occupation: Unknown
Age: 30
"I really wanted to wear this lavender wig because I think it complements my skin tone and is fabulous. These are my mom's vintage leather biker shorts and a Fashion Nova bodysuit. It slays, and I like to online shop. I have a skinny-enough body so I can order things, and they fit me. I'm lucky about that."
---
Kristine Lee
Occupation: Unknown
Age: 31
"I feel like I'm always digging through weird, old things. I tend to find things that have lived a life before coming into mine. I found this walking around the Long Beach flea market. The choker was made by my bestie in Portland, and the necklace is actually a belt my mom found at a thrift store. She always told me, 'Never brand yourself for others. Brand yourself for you. Don't wear labels. Wear something that when you put it on, you're empowered.' "
---
Derek Hines
Occupation: Works in fashion
Age: 32
"I just wanted to be vintage Tom Ford and sexy. I got these glasses from somewhere in downtown L.A. and I'm wearing them because I'm tired as … so I have bags under my eyes."
---
Jodie Turner-Smith
Occupation: Unknown
Age: 30
"I thought [this skirt] made my bum look really nice, which I really liked. And I like a bit of drama. The headscarf is actually a dress."
---
Spencer Niemetz
Occupation: Social Media
Age: 23
"It's a maxi silhouette because I ate a lot of pizza this weekend. I put the harness on to make it modern with a pointy-toed shoe to let people know that I have an aggressive side. Everything I'm wearing is head-to-toe Nasty Gal — even the bag, which is square, I didn't want to bring. But I knew my phone was going to die, so I needed my charger."
----------
10:46 a.m., Nov. 22: An earlier version of this article listed the occupation of Spencer Niemetz as retail. He works in social media.
----------
---
Daniel Chimowitz
Occupation: Textile designer
Age: Unknown
"My goal is to make my patterns on my jackets stand out next to women's patterns. I believe men should have the ability to rival women's clothes. I'm tired of women having all the great patterns. This is kind of a tribute to Alexander McQueen. When he died, that's when I decided to take fashion to the next level."
---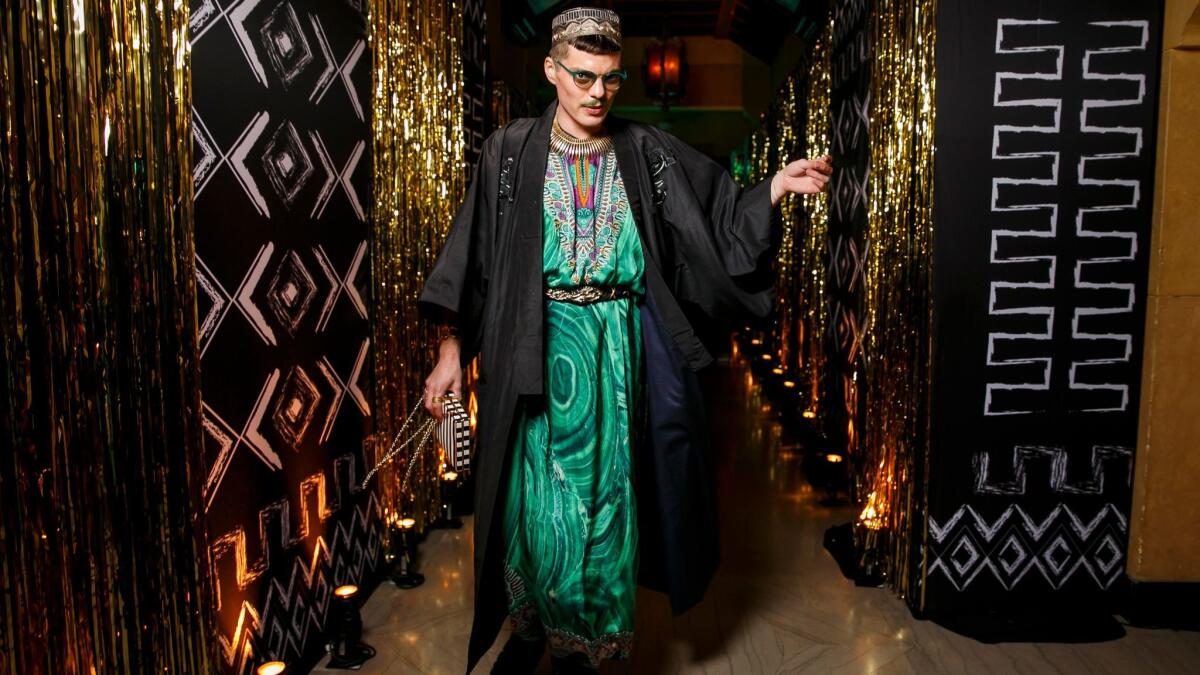 Jacques Smith
Occupation: Fashion designer
Age: 27
"I'm feeling very mult-culti. This kimono is one of my own pieces; I do custom embroidered 'Jacques-ets.' The bottom piece is from Dubai, and I got my hat in Istanbul."
---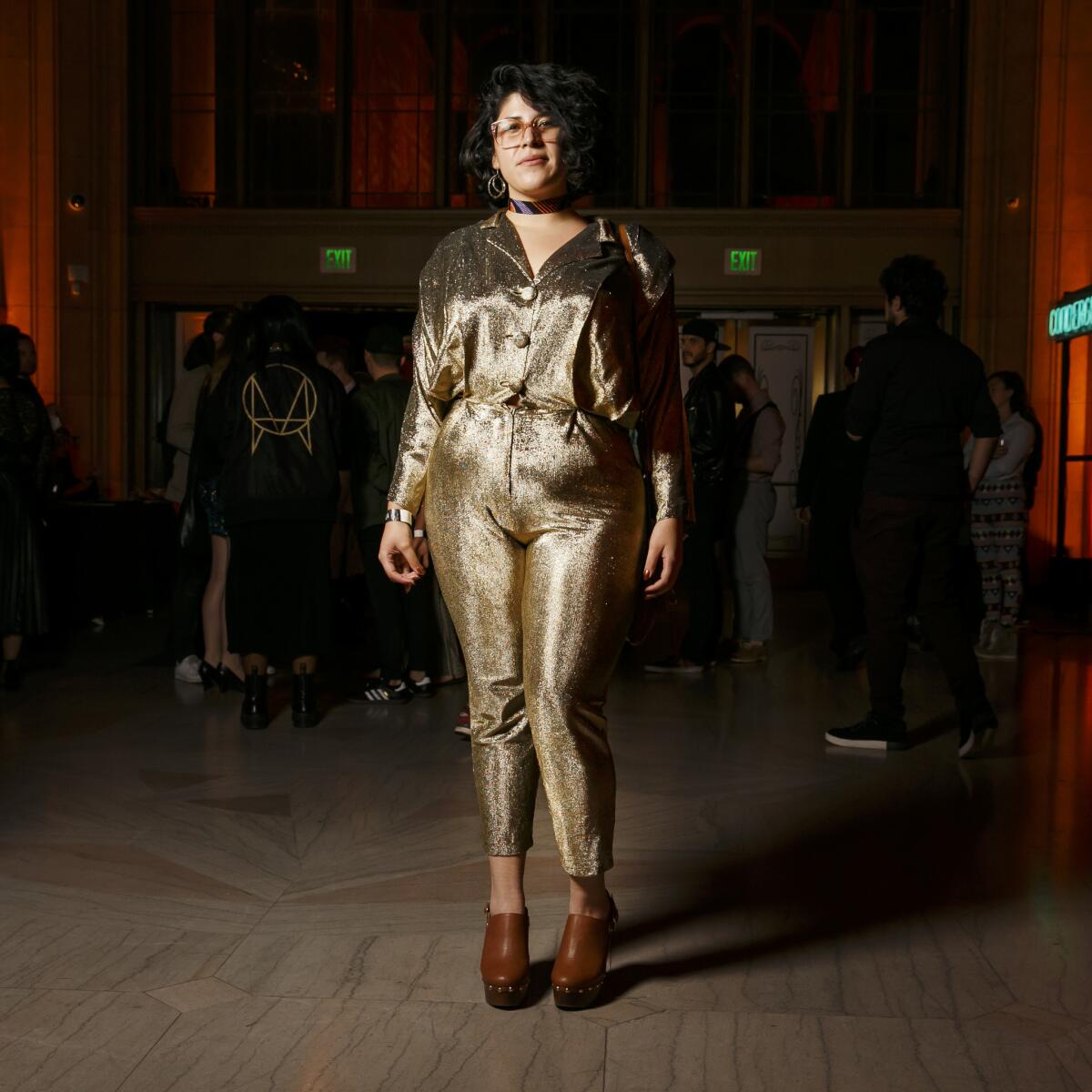 Sesalli Castillo
Occupation: Executive assistant
Age: 26
"I'm trying to give myself the ability to twerk it and werk it. But I'm also trying to give people some shine, some glitter, some life."
---
Lydia Broussard
Occupation: Anthropologist
Age: 29
"I didn't want to be a walking offensive person [wearing African prints], so I went to a goth website and got this strappy number. I thought it was military chic. But it's also see-through, like bedroom chic. So I paired it with an old American Apparel dress that I once wore for a photo shoot where I was New Year's Eve."
---
Ann Marie
Occupation: Unknown
Age: 28
"My hair underneath all of this is orange, because I really like sunsets. I told my friend, who's a hairstylist, that I wanted cornrows and individual [braids]. But I also have a few dreads in my hair … which signifies for me, intention and the lessons that I've learned. So, for tonight, I wanted to incorporate something similar to that that I already had, and that was metallic beads. I love this whole look."
Get your life! Follow me on Twitter: @TrevellAnderson.
Get our L.A. Goes Out newsletter, with the week's best events, to help you explore and experience our city.
You may occasionally receive promotional content from the Los Angeles Times.