12 Images
New faces in old spaces
By Patrick Day, Jevon Phillips and Lora Victorio, Los Angeles Times staff writers
Last year give us a new Joker, new Bond girls and even a new Maxwell Smart. In 2009, we'll be introduced to a new Capt. Kirk.
Sometimes these changes are made to introduce a new generation to a beloved brand, as in the rebirth of this year's "
Star Trek
." Sometimes it's a business decision.
Terrence Howard won't be reprising his role as Lt. Col. James "Rhodey" Rhodes in "Iron Man 2," a part which will instead be played by
Don Cheadle
. Indeed, "Iron Man" is the latest franchise to see a bit of a shake-up, but far from the first.
(Terrance Howard and Robert Downey Jr. in "Iron Man." / Marvel Entertainment)
Bond girls
Previously played by:
Eva Green, Halle Berry, Sophie Marceau, Teri Hatcher, Famke Janssen, Ursula Andress, etc., etc.
More recently played by:
Gemma Arterton and Olga Kurylenko (pictured) appeared in 2008's "Quantum of Solace." British actress Arterton played Agent Fields, while Ukrainian beauty Kurylenko morphed into a villainess named Camille after her role in video-game-turned-movie "Hitman."
A change for the better?
They're certainly striking actresses, but Green and Berry were no slouches. Daniel Craig's Bond has yet to establish himself and is not the freewheeling playboy that Pierce Brosnan, Sean Connery and Roger Moore portrayed.
(AP / WireImage)
New Harry Potter instructors
Previously played by:
David Thewlis, Kenneth Branagh, Imelda Staunton and Brendan Gleeson
This time around:
Jim Broadbent plays Horace Slughorn in "Harry Potter and the Half-Blood Prince" (July 17)
A change for the better?
After the icy villainy of Staunton's Dolores Umbridge in "Order of the Phoenix" and the masterful boasting of Branagh's Gilderoy Lockhart in "Chamber of Secrets," Broadbent (pictured, right) will have to work double time to make the fawning Slughorn a memorable part of the Harry Potter legacy.
(Warner Bros. / Getty Images)
Capt. James T. Kirk
Previously played by:
William Shatner (1966-1994)
This time around:
Chris Pine in J.J. Abrams' new "Star Trek" film (May 8)
A change for the better?
Not at all, and we don't care how awesome the new movie is. Shatner may have descended into self-parody in recent years, but his swaggering, hammy, increasingly bloated Capt. Kirk is impossible to replicate. Pine may bring a certain amount of acting competence to the role, but it just won't be Kirk without "The Shat." Can you imagine any other actor, with the possible exception of Nicolas Cage, being able to pull off Kirk's famous "Khan!" scream from "Star Trek II"?
(Samuel Goldwyn / Roadside Attractions)
Maxwell Smart
Previously played by:
Don Adams
More recently played by:
Steve Carell, "The 40-Year-Old Virgin" himself, took on the role in an updated "Get Smart."
A change for the better?
Well, it's a change. Don Adams as the often in-over-his-head Agent 86 helped create the best anti-Bond character/show ever (Inspector Clouseau? Blah). His confident incompetence was iconic, and Steve Carell has big shoes to fill. Carell is funny, and has the demeanor to play him straight and not too obnoxiously, but fighting KAOS will never be the same.
(Warner Bros. Pictures)
Bruce Banner
Previously played by:
Bill Bixby, from 1978 to 1982, in the TV adaptation of the Marvel comic book. Eric Bana (left) took over in the 2003 movie version, the Ang Lee-directed "Hulk."
More recently played by:
Edward Norton (right) tried his hand at the tragic character in "The Incredible Hulk."
A change for the better?
Yes. Bana was capable in the big-screen role, but Norton as both writer and star brought a deeper understanding of the character, and a better all-around movie.
(Universal Pictures)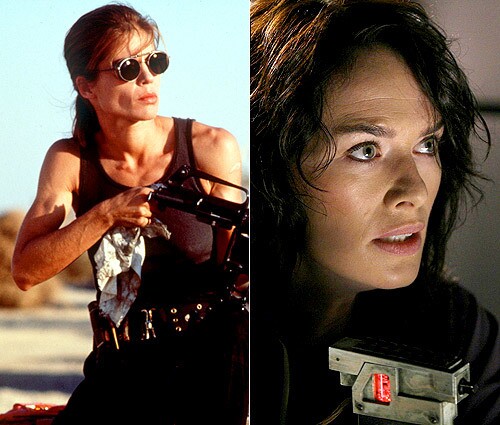 Sarah Connor
Previously played by:
Linda Hamilton (1984)
Currently played by:
Lena Headey (right) took the reins as the mother of a son who will save the future from a mechanical A.I. nightmare in "Terminator: The Sarah Connor Chronicles." And, of course, her son is being hunted by deadly robotic terminator units sent from the future.
A change for the better?
We think so. Blasphemous? Hamilton wasn't the best actress in the world, but her angst-ridden portrayal of Sarah did evolve from "Terminator" to "T2" (she turned down "T3"). The image of her doing pull-ups at the beginning of "T2" was awesome. Headey's Queen Gorgo was plenty tough in "300," though, and she's a solid actress who can shed the angst and go hard-core.
(Fox)
The Joker
Previously played by:
Jack Nicholson (1989), Cesar Romero (1966-1968)
Most recently played by:
Heath Ledger in "The Dark Knight"
A change for the better?
It was certainly hard to top Nicholson's scenery-chewing, over-the-top performance in Tim Burton's blockbuster "Batman," but director Christopher Nolan's vision was darker and grittier. Ledger threw himself into the role, and his performance seems destined to go down as one of the most talked-about superhero movie appearances ever. Ledger, who died before the film opened, won the best supporting actor Oscar in 2009.
(Warner Bros.)
Indiana Jones villain
Previously played by:
Ronald Lacey, the SS Officer Toht in "Raiders of the Lost Ark" (1981); Amrish Puri, the Kali death cult priest Mola Ram in "Indiana Jones and the Temple of Doom" (1984); and Alison Doody, the double-crossing Nazi archeologist Elsa Schneider in "Indiana Jones and the Last Crusade" (1989)
More recently played by:
Cate Blanchett as Soviet agent Spalko in "Indiana Jones and the Kingdom of the Crystal Skull."
A change for the better?
Indiana Jones fans love their Nazis (only when they're getting pummeled by Indy, of course) so could have been tough to move on to communists. Still, Blanchett brought a certain A-list gravitas to the villain role that had been lacking in previous installments, and was one of "Crystal Skull's" bright spots.
(Lucasfilm)
The Punisher
Previously played by:
Dolph Lundgren (1989) and Thomas Jane (left, in 2004)
This time around:
Ray Stevenson (right) in "Punisher: War Zone"
A change for the better?
If a "change for the better" means that more actors in Hollywood are getting a chance to star in big comic-book movie sequels, then yes, "Rome's" Stevenson playing the vigilante with a lot of guns is a good thing. But was anyone really dying to star in, let alone see, another Punisher flick? Does anyone remember this movie even came out?
(Lionsgate / HBO)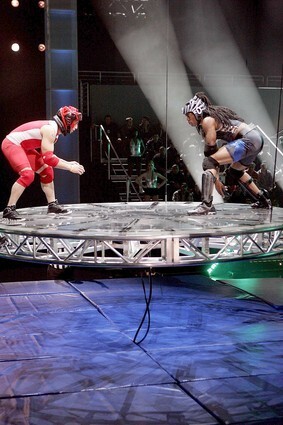 'American Gladiators'
Previously played by:
Laser, Zap, Turbo, Nitro, Ice, Gemini, Diamond, Blaze, Tower, Lace, Gold and Thunder (1989-1997)
More recently:
Toa, Crush, Militia, Hellga, Venom, Stealth, Fury, Titan, Mayhem, Justice, Siren and Wolf
A change for the better?
Yes, if you're into that sort of thing. The updated show on NBC (pictured) had all the adrenaline and heart-pumping challenges of the original, but the addition of hosts Hulk Hogan and Laila Ali gave it more heart.
(Trae Patton / NBC Universal)