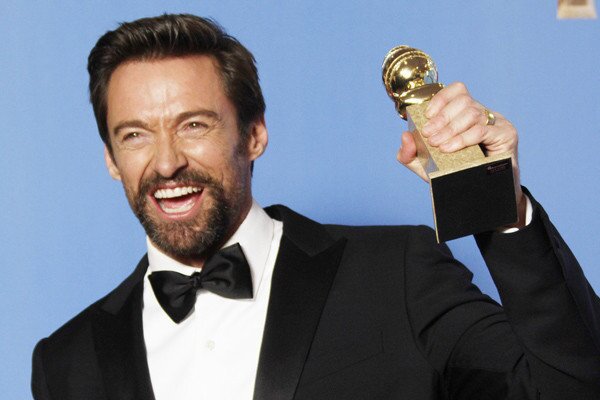 18 Images
Golden Globes 2013: Quotes from the stars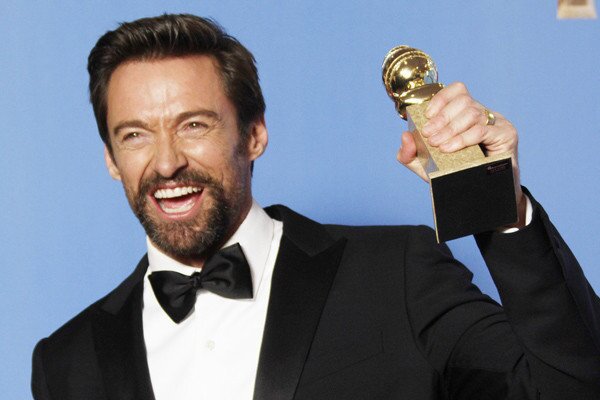 "It's the Mt. Everest of filmmaking, making a movie musical," Hugh Jackman told reporters.
When questioned about the masculinity of men dancing and singing, Jackman had this to say: "Not masculine?" he said. "I don't know how in history we got off track. Fifty years ago, you were never going to get a girl" if you didn't know how to sing and dance. "To me, it is the epitome of a man."
(Lawrence K. Ho / Los Angeles Times)
"We got nominated for seven Oscars, including best picture," said Ben Affleck. "If you can't be happy with that, then your prospects for long-term happiness are probably pretty dim."
"I'm an enormous admirer of the academy," he added. But "Argo" producer Grant Heslov couldn't resist: "Which academy are you talking about?" he jabbed.
George Clooney acknowledged he was "disappointed" by the Oscar best director snub for "Argo." "But you can't figure out what goes on in the academy. We talked about it the next day for a while. It's disappointing but ... we're not dead yet."
(Jordan Strauss / Invision / AP)
"It's so encouraging because there are so many people out there who feel, and know in their hearts, that they are actors, and it doesn't work out for so many of them," Anne Hathaway said.
"It just makes me feel really lucky that I get access to these kind of roles and these kind of experiences. It makes me wonder who I send a check to. I've loved the show since I was 8," Hathaway said of "Les Miserables." "I saw my mom perform this role when I was 8 years old. It just seemed like an amazing challenge to tell a story and represent the destruction and redemption of a soul in 15 minutes of screen time."
(Kevin Winter / Getty Images)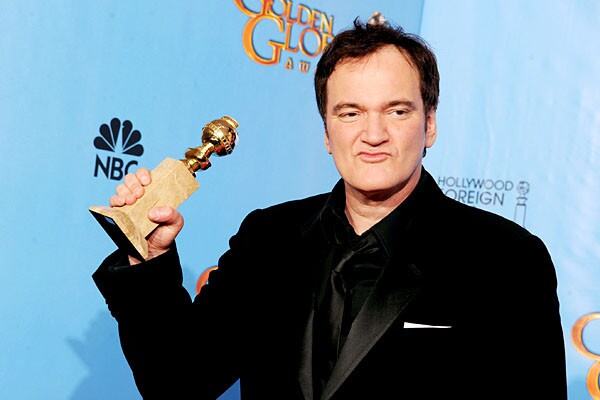 "I knew that when I decided to throw my hat in the ring with a western that it would be a spaghetti western," said Quentin Tarantino. "I like how they tell their stories, how violent, how nihilist, and the operatic stage that they play their stories out on."
(Kevin Winter / Getty Images)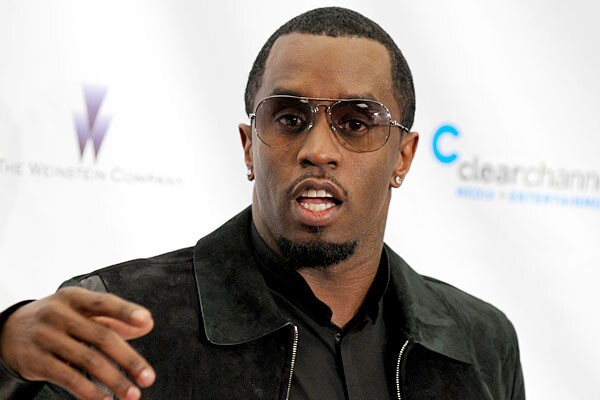 "I'm here to support Lena Dunham and Mark Wahlberg because they're my friends," Sean Combs said. "But I'm trying to get my company off the ground. And that means coming out here and shaking some hands and networking."
(Peter Foley / Bloomberg)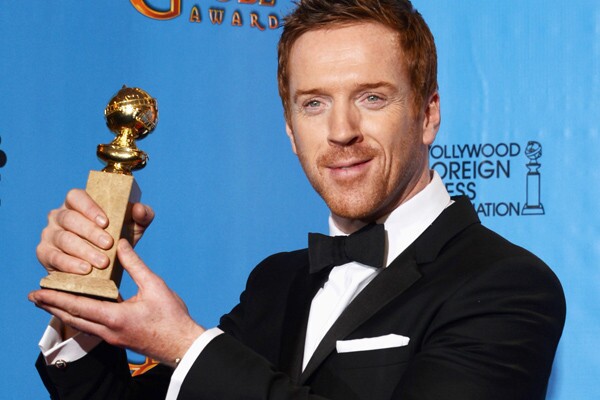 In "Homeland," the 41-year-old British actor Damian Lewis plays prisoner-of-war-turned-American-hero-with-unclear-intentions Nick Brody, a role he feels "extremely lucky" to have landed, given his roots.
"There's a lot of talented American actors out there who could have done it justice" Lewis said. To his credit, he's found the secret of keeping us fooled: "It's really a technical issue of finding the cadence of the American accent. Finding the rhythm is more important than actual correct vowel sounds."
(Kevin Winter / Getty Images)
"I have to go up and feed the baby -- I think of it as another 4 a.m. call, which I have a lot on set working," Claire Danes said. "I'm sort of used to being sleep deprived. But this is taking it to another level. And there isn't a weekend off. But it's very delicious. It's very motivating -- his smell and just his scrumptiousness."
(Jordan Strauss/Invision/Associated Press)
Adele, smooching her Golden Globe for "Skyfall" earlier this month, will be performing the tune -- also nominated for an Oscar -- at the Academy Awards telecast next month.
(Jordan Strauss / Invision / Associated Press)
"I'm just a liiiittle bit excited but I feel stressed out from all the noise," said director Michael Haneke.
(Jordan Strauss/Invision/Associated Press)
"That gives me a lot of anxiety," Jennifer Lawrence said when someone asked whether she was looking forward to the Oscars, stammered a minute, then said, "Me and the Oscars together give me a lot of anxiety."
(Jordan Strauss / Invision / Associated Press)
"It should be controversial," Christoph Waltz, the man who plays a smooth-talking bounty hunter in "Django Unchained," told reporters back stage at the Golden Globes. "If you choose a controversial subject, you better be prepared for a controversial discussion," he said, adding, "I wish more movies gave us an opportunity to discuss controversial [subjects]."
(Lawrence K. Ho / Los Angeles Times)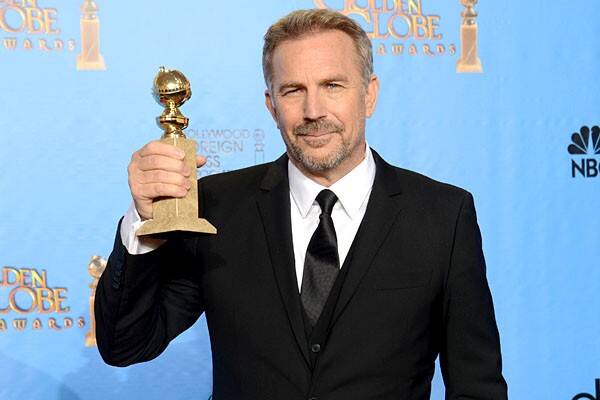 "I feel like I say, 'No' all day long," jokes Kevin Costner, who won a Golden Globe for "Hatfields & McCoys." "I love raising my kids, and I built our homes. I have a life that's very outside of the business. But I'll probably never move away from telling stories, because I love to do that."
(Jordan Strauss / Associated Press)
"What she [and Katie Couric] did in 2008 was truly extraordinary," said Julianne Moore, who won a Golden Globe for her portrayal of vice presidential candidate Sarah Palin in HBO's "Game Change." "They really changed that election. It was very subtle. But in their own industries, they were quite powerful forces."
(Jordan Strauss / Associated Press)
On Golden Globes hosts Tina Fey and Amy Poehler, Anjelica Huston says: "The girls are really great. I'm actually having fun."
(Wally Skalij / Los Angeles Times)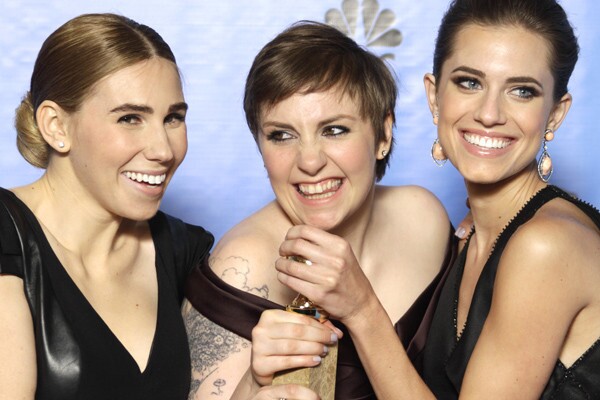 "If I was as brave and reckless as people thought I was, then I would've worn flats to a show like this," said Dunham, surrounded by her costars. "But clearly I drank the Kool-Aid and I'm wearing heels."
(Lawrence K. Ho / Los Angeles Times)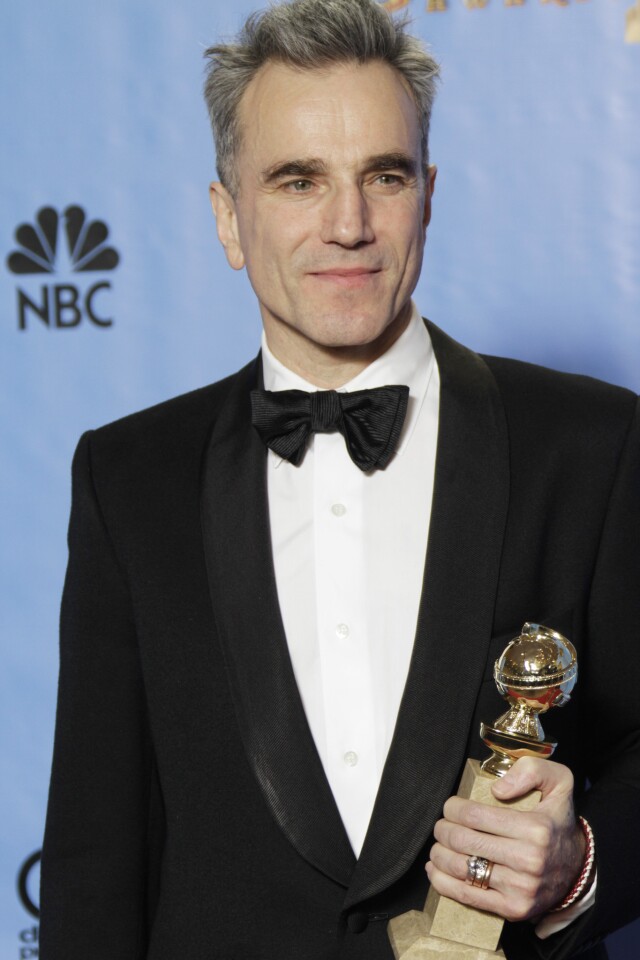 Daniel Day-Lewis has a reputation for a certain shyness before the press, but he was downright loquacious backstage after winning the award for actor in a drama, for his role in "Lincoln."
Asked about his inspiration for playing the Civil War-era president, Day-Lewis said it was fear of failure that motivated him. "The last thing I wanted to do was go down in flames having desecrated the memory of the greatest president in the history of this country," said the actor. "Fear was certainly something I was aware of."
He turned philosophical as a reporter asked him what he'd say to Lincoln if he met him. "I'd probably end up not saying a word," then after a pause. "The thing I'd have been more fascinated by, what we don't know, is what he would have done during the period after the war to bring about Reconstruction."
As for the question on everyone's mind: Did the actor or others at his table know Bill Clinton was coming on stage? Day-Lewis flashed a sly smile. "A couple of us. I didn't know when, though."
The actor, who won a Globe five years ago for his portrayal of an oil speculator in "There Will Be Blood," said that he felt it was more than just star power that made Clinton's presence at the Globes unique.
"I haven't had the chance to find a corner somewhere and reflect on that moment when he spoke about our film," he said. "But what an incredible privilege for a Lincolnian scholar in his own right to speak about our film in that way."
(Lawrence K. Ho / Los Angeles Times)
"If I were to have met her I would've put her in danger of going to prison," says Chastain. "It's a very difficult time, and she's an undercover agent who is really good at her job. I feel safer knowing that she's out there taking care of us."
(Jordan Strauss / Associated Press)