21 Images
Lily Tomlin: Life in pictures
Lily Tomlin, shown here on Sept. 22, 2012, was born on Sept. 1, 1939, in Detroit. After studying theater at Wayne State University, she launched her standup career in Detroit and later moved to New York City. Tomlin made her TV debut on "The Merv Griffin Show" in 1965.
(Kirk McKoy / Los Angeles Times)
After a stint as a hostess on ABC's "Music Scene," she joined NBC's sketch comedy "Rowan and Martin's Laugh-In" in 1969. On the show, she developed several recurring characters, including the ornery phone operator Ernestine (here, in a 1973 episode) and the sassy 5-year-old Edith Ann.
(Los Angeles Times)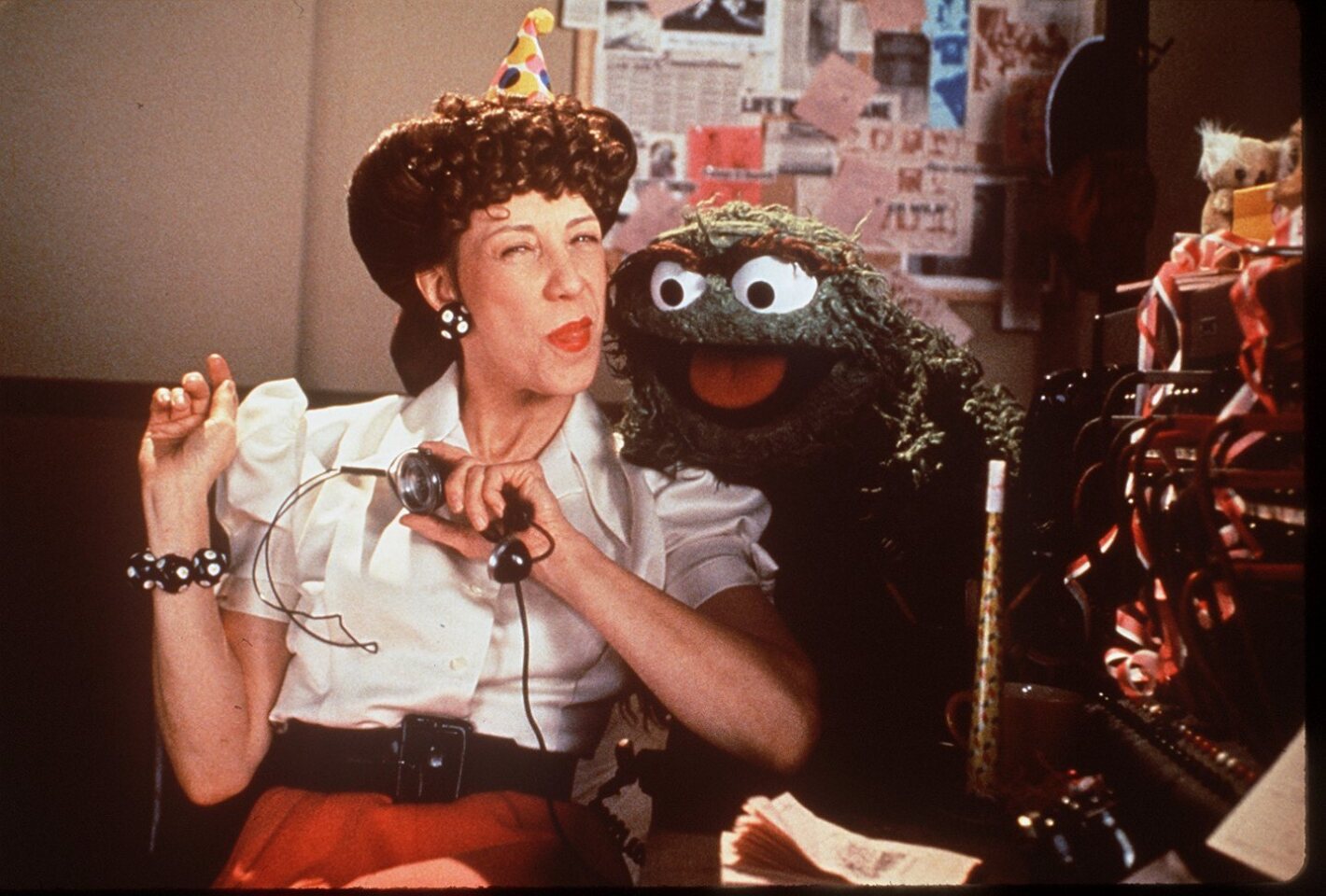 Ernestine proved to be one of Tomlin's most beloved creations. Her first comedy album, 1971's "This Is a Recording," was centered on the character and won a Grammy for comedy recording. Tomlin revived the character several times, including during an appearance in a 1976 "Saturday Night Live" episode and, pictured, a 1993 episode of "Sesame Street."
(Frank Micelotta / CTW)
In 1977, Tomlin was the first woman to appear solo in a Broadway show with "Appearing Nitely" at the Biltmore Theatre. In 1985, she launched the Broadway show "The Search for Signs of Intelligent Life in the Universe," which won her a Tony Award. It was revived in 2000. Pictured: Tomlin performs "Search" at the Ahmanson Theatre in Los Angeles on May 13, 2003.
(Lori Shepler / Los Angeles Times)
Tomlin, with Robert Doquit, made her feature film debut in Robert Altman's "Nashville" (1975). Her dramatic performance earned Tomlin an Oscar nomination in the supporting actress category. She and Altman worked together frequently over the subsequent decades.
(Paramount Pictures)
After a Golden Globe-nominated performance in the Altman-produced 1977 film "The Late Show," Tomlin joined Dolly Parton, left, and Jane Fonda, right, in the 1980 smash hit movie "Nine to Five."
(20th Century Fox)
Tomlin starred in a few films in the 1980s, including the 1981 sci-fi comedy "The Incredible Shrinking Woman," and "All of Me" (1984), pictured, with Steve Martin. Also, in 1981, Tomlin's TV performance "Lily: Sold Out" won an Emmy for variety program.
(Universal City Studios Inc)
In 1992, Tomlin had a small role in Woody Allen's "Shadows and Fog" and made a cameo in Altman's star-studded film "The Player." In 1993, Tomlin appeared in the comedy remake of "The Beverly Hillbillies," pictured. From left: Diedrich Bader, Cloris Leachman, Erika Eleniak, Tomlin and Jim Varney.
(Deana Newcomb)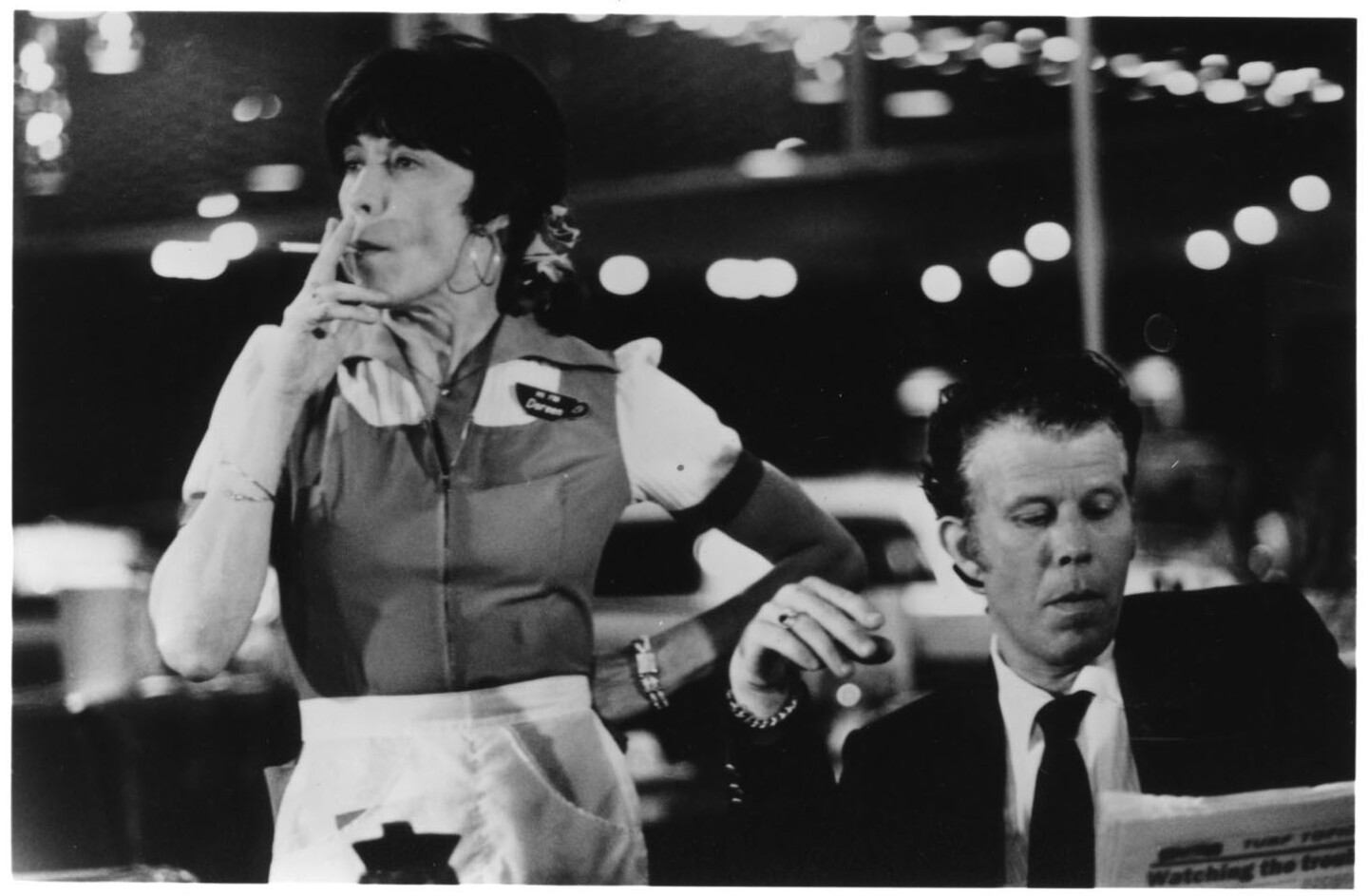 1993 found Tomlin reuniting with Altman once again in the all-star Oscar-nominated "Short Cuts," which also featured singer-actor Tom Waits.
(LACMA)
In 1993, Tomlin co-starred in the HBO AIDS drama "And the Band Played On," which earned her an Emmy nomination in the supporting category. From left: Ian McKellen, Matthew Modine and Tomlin.
(Janet Van Ham)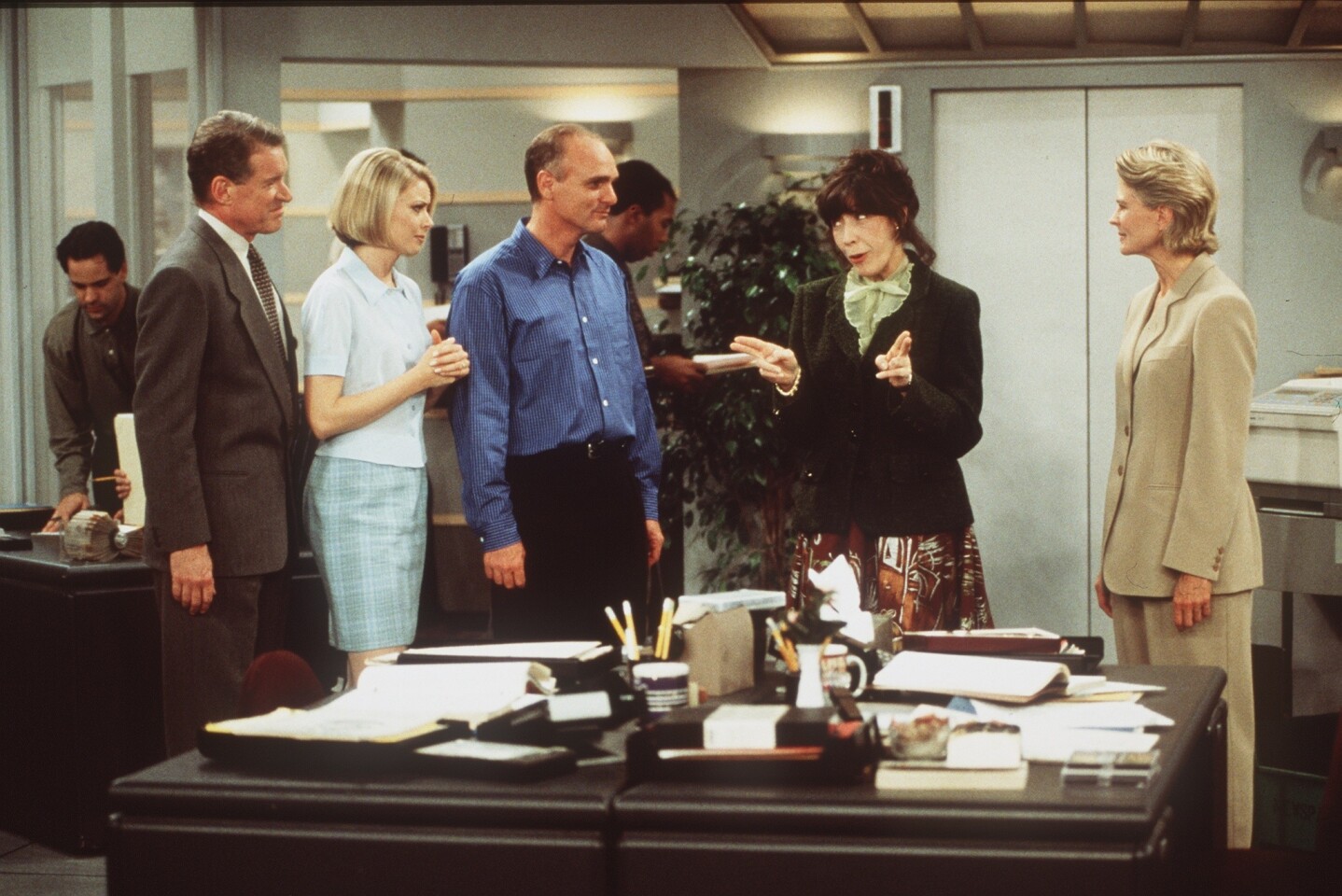 The '90s found Tomlin appearing more and more on prime-time TV, popping up on "Murphy Brown," pictured, "Frasier," "The X-Files" and "Homicide: Life on the Street," for which she earned an Emmy nomination for guest actress. By the early 2000s, Tomlin had longer recurring roles on "The West Wing" (which earned her three SAG Awards nominations) and "Will & Grace."
(Spike Nannarello / CBS )
For the 2004 film "I (Love ) Huckabees," Tomlin, pictured with Dustin Hoffman in the film, reunited with David O. Russell, who directed her in the 1996 comedy "Flirting With Disaster." Russell and Tomlin reportedly butted heads on the set, with videos of their confrontations leaking to the Web.
(Claudette Barius / 20th Century Fox)
Tomlin promotes the Ahmanson Theatre run of "Signs of Intelligent Life" in 2003. "Life" was co-written by Tomlin's life partner, Jane Wagner. The two were married in 2013.
(Mark Boster / Los Angeles Times)
Tomlin was part of the ensemble cast of Robert Altman's final film, 2006's "A Prairie Home Companion." Along with co-star Meryl Streep, left, Tomlin accompanied Altman, center, to the 2006 Oscars, where he received an honorary award.
(Kevork Djansezian / AP)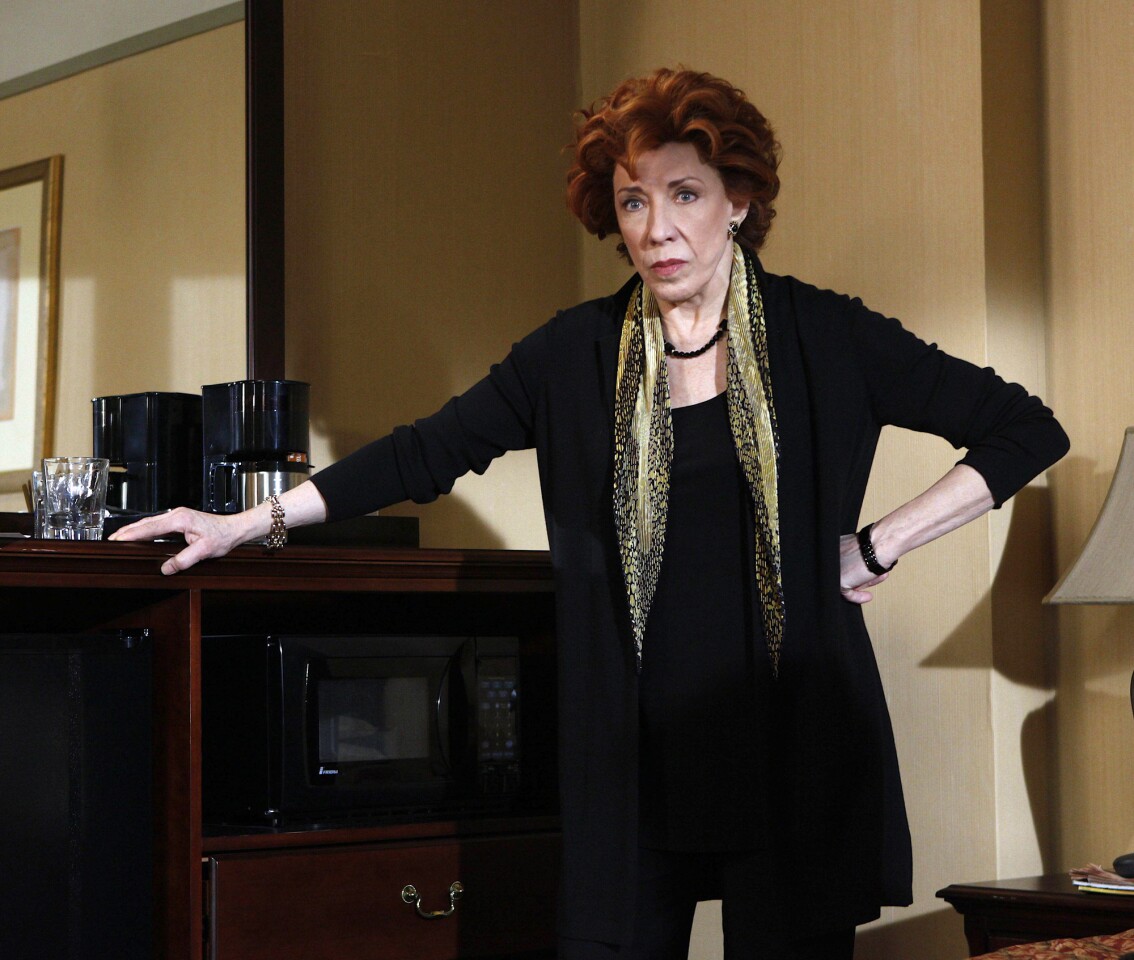 Lily Tomlin joined the cast of the FX drama "Damages" in 2010, once again picking up an Emmy nomination in a supporting category.
(Craig Blankenhorn / FX)
Tomlin recently reunited with her "Nine to Five" co-star Jane Fonda for the Netflix original series "Grace and Frankie."
(Melissa Moseley / Netflix)
Tomlin and Fonda attending Netflix's "Grace and Frankie" Q&A screening event at Pacific Design Center on May 26, 2015, in West Hollywood.
(Jason Kempin / Getty Images)
Lily Tomlin as Elle Reid and Julia Garner as Sage in "Grandma."
(Aaron Epstein / Sundance Film Festival)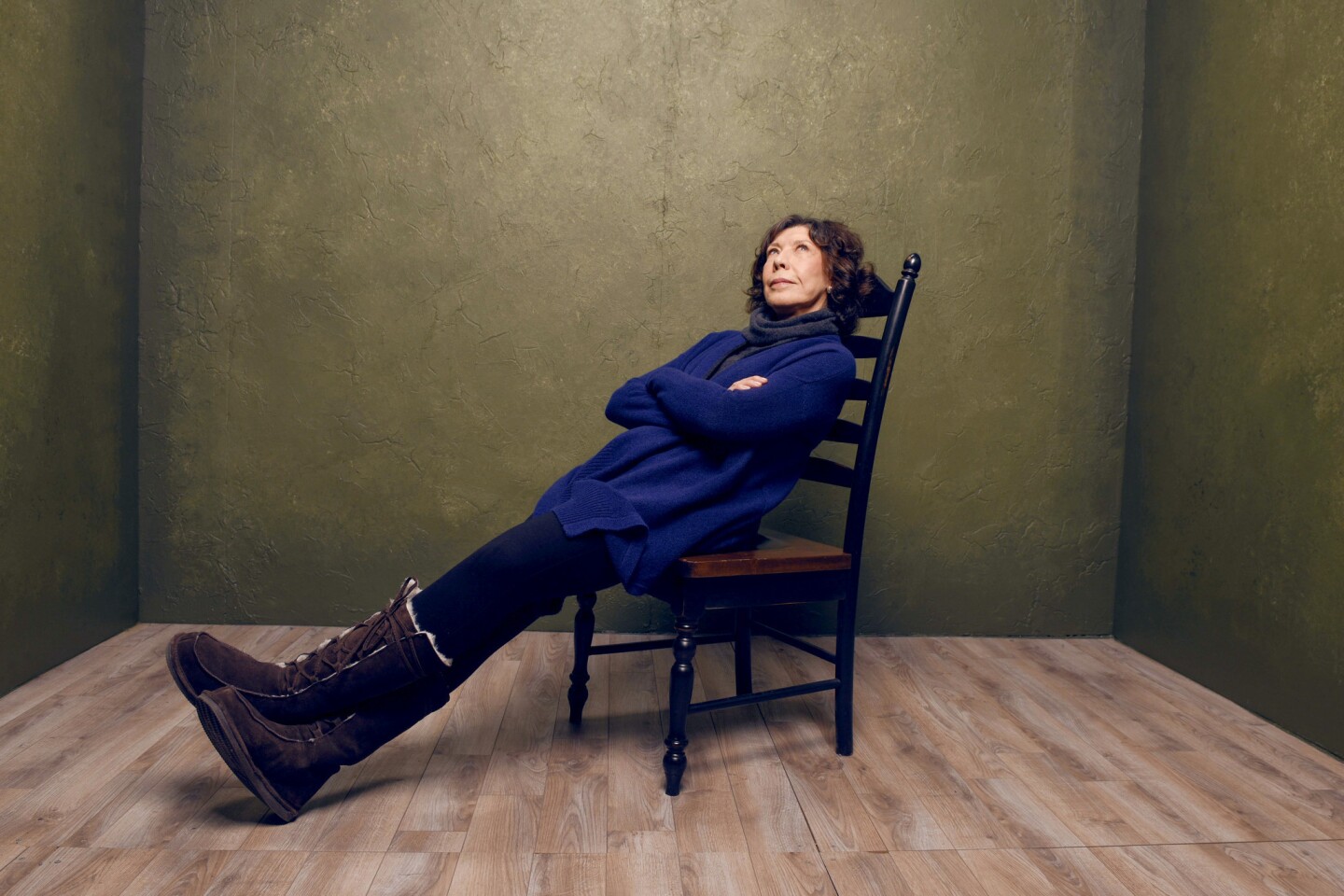 Actress Lily Tomlin of "Grandma" poses for a portrait at the Village at the Lift during the 2015 Sundance Film Festival.
(Larry Busacca / Getty Images)
Lily Tomlin, left, along with Brie Larsen and Charlotte Rampling and, seated left, Saoirse Ronan, Helen Mirren and Cate Blanchett attended The Times' roundtable discussion in 2015.
(Kirk McKoy / Los Angeles Times)
Lily Tomlin's work in "Grace & Frankie" has led to multiple award nominations in 2015 and 2016. Here, left, she arrives at the 73rd Golden Globe Awards show at the Beverly Hilton Hotel. Tomlin arrives, right, at the 68th Primetime Emmy Awards at the Microsoft Theater.
(Wally Skalij/Los angeles Times | Jay L. Clendenin/Los Angeles Times)