Documentary spotlights Chinese artists Wang Guangyi, Liu Gang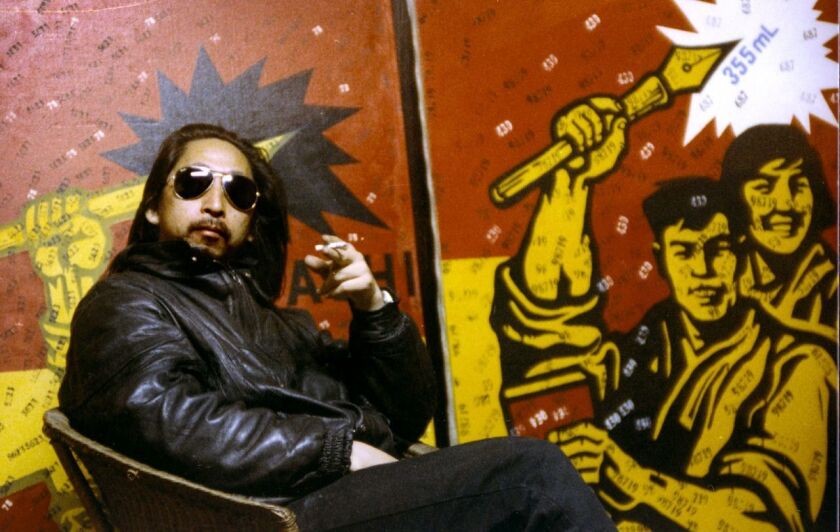 BEIJING -- One scene of the new documentary "Chimeras" shows the young Chinese artist Liu Gang wandering with his camera around a town in China that's been built to resemble an English village. Liu is in Thames Town, a development outside Shanghai that's eerily empty, aside from the couples posing in matching outfits for wedding photographs on faux cobbled streets.
In a series of satirical, candid shots called "Better Life," Liu explores China's conflicted aspirations. Our ideas of a better life, the artist explains, are "all indeed fantasies from the West."
Finnish filmmaker Mika Mattila's thought-provoking "Chimeras" -- which played this week at the San Francisco International Film Festival -- is a documentary about the search for a uniquely Chinese aesthetic in an international art world dominated by the West. But it is also an intimate portrait of two very different artists -- Liu Gang and Wang Guangyi -- as they navigate an explosion of possibilities along with feelings of frustration, even confusion.
Mattila first wanted to make a documentary that elevated itself above "China" as subject matter. With this in mind, he chose what he considered to be the suitably global world of Chinese art and picked five subjects to film.
"I wanted to focus more on the dynamics of how the art boom was operating," he explained. "But as I went along, the issues of identity, and East and West, emerged more and more. And Liu Gang and Wang emerged as the more central characters. Artists constantly examine themselves and how they are in relationships with society."
The more famous of the two featured artists, Wang is a striking, uncompromising, erudite man in his 50s often seen wielding a smoldering cigar. Early on in the film, an auction of one of his pieces starts at $1.5 million -- and we learn that in 2008, a year before filming began, the annual auction sale of his works totaled $23 million, ranking him eighth among living artists in the world.
Wang made his name, and fortune, in his "Great Criticism" series that combined Mao-era social-realist propaganda with Western brand logos such as Cartier, Hermes and Walt Disney. He has heavily drawn on the Western canon. But looking back, Wang believes he has been brainwashed -- first, by Mao Tse-tung during his childhood in the Cultural Revolution, and second by Western art history. He mourns: "We are always blatantly imitating the West."
"He is a paradoxical character," said Mattila. "His opinions can be challenging for a Westerner. What he says and what he does, sometimes, at least, it feels contradictory."
This is displayed starkly. Wang attends glitzy dinners and hobnobs at Dior events. But during one informal gathering of artists and academics, he declares that every Chinese who has studied abroad should be executed. His friends take it as a joke but Wang is not laughing. You cannot help but think he is most angry with himself.
Liu, by contrast, is tentative and contemplative, observing the world through a boyish fringe and his camera lens. He is torn in different directions: his girlfriend is pressuring him to get married; his parents want him to save marriage for later and concentrate on his career.
He lives in a cramped apartment in Beijing and his parents are cooks at a school canteen in the southern province of Guizhou. At one of his first solo exhibitions in the capital's most prestigious art gallery, where he is propelled to 15 minutes of fame, he is told: "Only in China could this happen."
If Wang's story shows an artistic and intellectual giant at work, Liu's is just as compelling, largely because it delves more deeply into his personal life. Mattila spent four years trailing both subjects and previously worked as a news cameraman in Beijing ("Chimeras" is his debut film). He is able to home in on the smallest of details.
Some are painful. At one point, Liu's father points out a crease in a photo during his son's first big art opening, saying awkwardly, "This one's damaged." The young artist winces at the comment, because the crease is deliberate. At another moment, Liu rubs his eye as his family warns him against tackling the country's one-child policy as a subject of his art -- it is too political, they say.
Liu's work, like Wang's, merges his personal quest for answers with China's. His first series consists of photographic advertisements of housing developments and highways from newspaper. He cuts them out, creases them, folds them and crumples them before reshooting them. Sitting in a coffee shop in central Beijing this week to discuss the documentary, he explained that he named the series "Paper Dreams" because "paper is fragile. You can see it is easily destroyed."
In the documentary, Liu says: "I myself don't have such big dreams. I just hope I can concentrate on my art." Since filming finished earlier this year, however, the 30-year-old has taken a break from art to take up a stable job to better provide for his wife and new baby.
A chimera is defined as a thing that is hoped for but is in fact illusory, or an organism containing a mixture of genetically different tissues, formed from fusion, grafting or mutation. Both definitions seem to pertain to Wang and Liu, as they examine and try to reconcile Chinese life and culture with global influences such as Coca-Cola and villa developments -- both in their art and for themselves.
"Where are our roots?" Wang asks simply.
ALSO:
Reel China: A crash course in different storytelling traditions
Oriental DreamWorks and Chinese partners announce Tibet movie
John Woo to direct 'Flying Tigers' as two-part feature
---
The complete guide to home viewing
Get Screen Gab for weekly recommendations, analysis, interviews and irreverent discussion of the TV and streaming movies everyone's talking about.
You may occasionally receive promotional content from the Los Angeles Times.