Melissa Leo finds her footing amid good and evil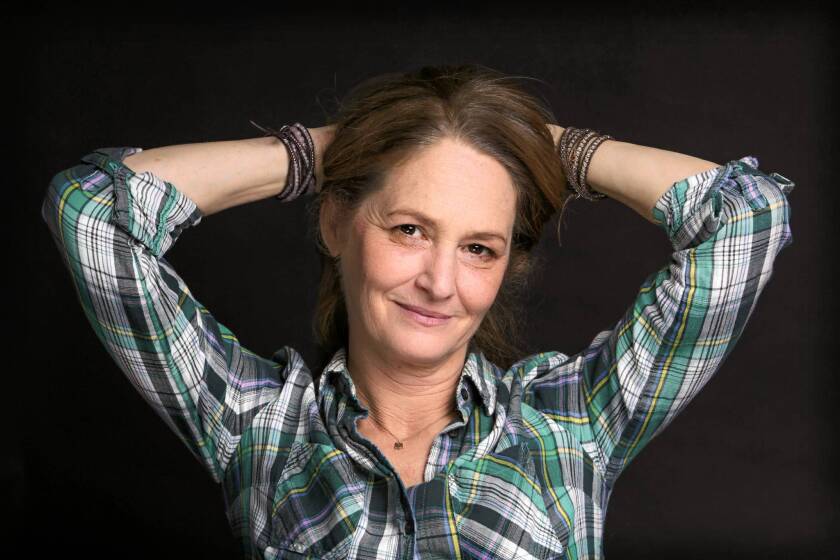 With her elaborate makeup and creepy mien, Melissa Leo plays one of several memorable characters in "Prisoners," Denis Villeneuve's child-snatching thriller that became a hit when it was released in September.
But Leo wasn't so sure we should see her in the movie — the actress turned down the role when it was offered to her by a previous director.
"There was a large part of me that wondered whether a movie about abducting children should be made for the purposes of entertainment," says Leo, who has a son in his 20s. "It just seemed dangerous."
INTERACTIVE: Best and worst Oscar moments since 2008
The actress eventually agreed after Villeneuve came aboard and convinced her the film would be an elevated genre piece. The "Prisoners" script has the trappings of a procedural: a father named Kellen Dover (Hugh Jackman) tortures a man (Paul Dano) he believes kidnapped his daughter, while a swaggering detective named Loki (Jake Gyllenhaal) pursues the case. But the movie would also examine larger moral questions, he told her.
"The film is really asking, 'Are there evil people?' 'Who is good and who is bad, and is there a clear line?'" she says.
The actress plays Holly Jones, a middle-aged loner who raised Alex, Dano's character. As she putters through her dilapidated home, Jones answers questions from Dover and Loki with a kind of slow-burn deliberateness that's at once helpful and off-kilter.
Audiences could be forgiven for not immediately recognizing Leo in the film. The actress tones down the fiery qualities she brought to such films as "The Fighter" in 2010. She also looks different--very different. As Jones, Leo wears a gray wig, clunky glasses and an, er, spongy prosthetic bottom meant to accentuate the character's slothfulness.
"The center of gravity informed me; it made me walk slower. And the slower I walked and lower I talked, the happier Denis was," Leo says, smiling over the exacting French-Canadian auteur.
"Prisoners" is the latest award-contending turn for Leo, 53, who in an era of flavor-of-the-month actresses has become an anomaly: a performer who has managed to find mid-career acclaim, if not fame. After nearly a quarter of a century of acting, Leo snagged a lead actress Oscar nomination in 2009 for playing a struggling mother in "Frozen River," then won a supporting actress statuette in 2011 for her part as the feisty matriarch Alice Ward in "The Fighter."
It is hard not to mention her most famous moment associated with that campaign (well, besides the F-bomb in her Oscar acceptance speech): when she took out a trade ad that featured her, glammed-up and in faux fur, above the word "Consider." Neither studio Paramount Pictures nor its consulting firm appeared to be aware of the ad, which Leo paid for herself.
"Would I do something different?" she says when asked of that decision. "I don't think so. Did I know everything that I was doing? Definitely not. Do I regret it? Not in the least." She does say that she "didn't like the photographs we used," adding that she had partly delegated the choice of photographer and photo editing, which in retrospect she feels was a mistake.
Leo is fresh off a plane from Vancouver where she's been shooting M. Night Shyamalan's Fox TV series, "Wayward Pines." She's at a table in Dan Tana's, the West Hollywood mainstay that she says she's dined at regularly for three decades on work trips to Los Angeles from her home in upstate New York.But she's not eating one of the Italian restaurant's famed comfort-food dishes. She's snacking on sliced apples as part of an eating regimen of grazing for eight consecutive hours and fasting for sixteen, one of several endearing eccentricities. (She says she learned of the diet from Jackman, who told her that it would better regulate bodily systems for travel-addled actors.)
TIMELINE: The Academy Awards through the years
There is an earnestness to the actress; asked about enduring the rigors of another award season, she refers to her Oscar for "The Fighter" and offers this response: "The honor of that little golden man in my house — words can't describe it. How it makes this girl from New York feel. Accepted. All kinds of beautiful, unspeakable things. Secret, private, beautiful things."
Still, Leo can be allowed some leeway, toiling for decades in a harsh profession that less hardy souls would have walked away from. Oddly, she worked with Gyllenhaal in one of the actor's first roles as a child actor, on an episode of her series "Homicide: Life On the Street" in 1994, on which Robin Williams (!) also guest-starred. When she says that "I'm probably the lowest-paid actress ever to win an Oscar," it resonates.
Next up for Leo is a supporting part in next year's Antoine Fuqua film, "The Equalizer." Fittingly for the veteran, this isn't her first encounter with the property. "I was on the first season of that show. I played a Russian ballerina," she says. Told that that is a YouTube moment if ever there was one, she turns serious. "There are some good scenes in it and some scenes where I have no idea what I'm doing."
She continues. "One of the lessons from all of this is that I need ground under my feet and then I'll be better. Then I'll be better."
---
Inside the business of entertainment
The Wide Shot brings you news, analysis and insights on everything from streaming wars to production — and what it all means for the future.
You may occasionally receive promotional content from the Los Angeles Times.