'Enough Said' director found kindred spirit in Julia-Louis Dreyfus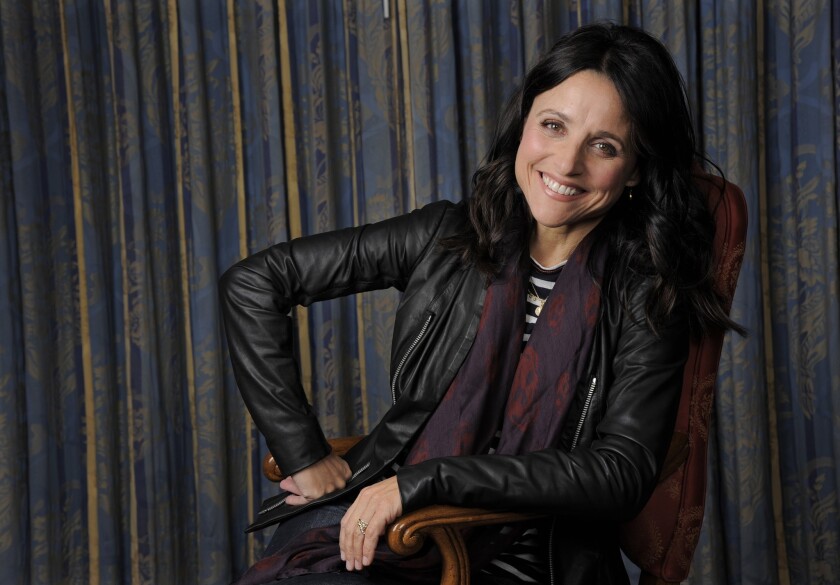 Julia Louis-Dreyfus takes her phone out of her purse in the middle of lunch to show off a photo that's served as her screen saver for the last three years. It's a shot of the actress, her husband, Brad Hall, and their two sons just before they left their eldest on the doorstep of his new college.
It's also the picture that helped her land the lead role in Nicole Holofcener's new movie, "Enough Said."
"Seeing how emotional she was about her son going away … it was a big topic," said Holofcener, 53, recalling how Louis-Dreyfus, 52, turned to the snapshot when they first met to discuss empty nest syndrome and the film's protagonist, a divorcée contending with the wild emotions associated with sending her child off into the world. "She cried. I loved that."
PHOTOS: Fall movie sneaks 2013
"I totally fooled her," said Louis-Dreyfus with a laugh.
Actually, there seems to be little that Louis-Dreyfus could put over on Holofcener these days, so simpatico the two appear to be after their intense collaboration on "Enough Said," which arrives in theaters Wednesday following its premiere at the Toronto International Film Festival.
The movie centers on Eva, a masseuse and mother of a high school senior who begins dating a large, quirky man named Albert, played by James Gandolfini. Things get complicated when Eva also befriends Albert's ex-wife (Catherine Keener) without realizing the connection between the two. The film marks one of the last on-screen performances for Gandolfini, who died in June of a heart attack at age 51.
Though Holofcener is known for her knack for translating her personal life into big-screen stories like "Please Give" and "Friends With Money," her fifth feature feels especially poignant, perhaps because the writer-director is anxiously prepping for the not-too-distant departure of her own twin 16-year-old boys.
And in Louis-Dreyfus, she seems to have found someone who not only can access the emotions she is looking to convey but also may be her cinematic doppelgänger. The duo, both from New York, are practically the same height and nearly the same age. They share a similar fashion style and sense of humor.
PHOTOS: Hollywood backlot moments
"She's the movie star version of me," quipped Holofcener as Louis-Dreyfus reached over to adjust the clasp on her necklace. "I do think what's important to us is very similar. Our children are the most important thing to us, I think."
"As opposed to everyone else in the world?" asked Louis-Dreyfus.
"Oh, yeah, it's just us. It's what makes us special. And makes our children special," Holofcener deadpanned before trying again at a real answer. "I guess we both find humor in discomfort."
"We will laugh when our hearts break," added Louis-Dreyfus. "That's the name of the book we are going to write."
Uncomfortable moments
Mining discomfort is something both women do very well. Holofcener's films have tackled everything from interracial adoption to financial inequality among friends; Louis-Dreyfus has been the queen of exploiting awkward situations since her days on "Seinfeld."
So when the two got together on "Enough Said," the central challenge was calibrating the emotional moments to align them with the comedy.
"I wanted, of course, for it to be funny but also true, real, real, true, small, small," said Louis-Dreyfus. "It has a lot of drama in it. I wanted you to buy that, making sure the comedy didn't get too broad so the stuff on the other side, the dramatic moments in the film, were believable."
PHOTOS: Celebrities by The Times
One of the most difficult points was the fateful scene in which Eva and her ex-husband must say goodbye to their daughter at the airport as she ventures off to college. The cast and crew had only a brief three hours in the Ontario airport to nail the emotionally packed moment, and a group of unruly extras was ruining the mood.
Yet, according to Holofcener, that scene gets viewers all kinds of crying. "I've had men who don't have kids say they were weeping. Isn't that odd?" asked Holofcener. "But I'm so happy to hear that stuff. I love to make people cry. It's what I live for."
For Louis-Dreyfus, who's made a career of television comedy and is about to begin filming the third season of her Emmy-nominated "Veep," moving audiences to tears with something other than laughter is a new sensation. Holofcener is eager to explore that further, and the two are looking for another project.
"Her performance in that scene is a director's dream," said Holofcener. "Not only is she falling apart, but she's trying not to fall apart. That is even more emotional, seeing her trying to keep it together for her kid. I hope to God I can do it."
An unexpected loss
Louis-Dreyfus and Holofcener are struggling to accept Gandolfini's death. The "Sopranos" actor never got to see the finished film, and his turn as an insecure yet sweet man, both women say, is closer to his true personality than the thugs he was more closely associated with on-screen.
The role of Albert, as well as Gandolfini's part in last year's "Not Fade Away" from David Chase, speak to a compelling yet ultimately interrupted middle-age career change that the actor was cultivating with some anxiousness. "He was nervous, very nervous," recalled Louis-Dreyfus, who described the actor as charismatic and even goofy, yet thoughtful. "Somehow he kept wondering if he should be in this position."
PHOTOS: James Gandolfini | 1961-2013
Holofcener said she cast Gandolfini for his talent — and his girth. "He was afraid people wouldn't buy it — that [Eva] would ever go for him. Even though everyone on the set was attracted to him," she said. "I liked his belly. I wrote the script for someone to be overweight. He knew he had a belly, so it was OK to talk about."
The director's last visit with Gandolfini came two weeks before his death, when he came to the soundstage to do some voice-over work. "It was fun watching him watch himself," said Holofcener of that day. "He had his head in his hands for most of it. He was kind of pacing, but some of it he seemed to enjoy watching."
"Having those insecurities made him even more appealing," added Louis-Dreyfus. "An overly confident person is not that appealing — to me, anyway."
Many of the highlights of the film are improvised bits that Louis-Dreyfus and Gandolfini worked out during rehearsal. Even the ending was something that Louis-Dreyfus ad-libbed.
"I loved shooting the end of that movie. That was a glorious day," said Louis-Dreyfus. "The movie ends when it does, but when we shot it, it sort of continued and Jim and I walked into the house and we just hugged."
"You did?" asked Holofcener.
"Yeah," Louis-Dreyfus said, "because we knew we nailed it."
---
Inside the business of entertainment
The Wide Shot brings you news, analysis and insights on everything from streaming wars to production — and what it all means for the future.
You may occasionally receive promotional content from the Los Angeles Times.