As it challenges 'Hobbit,' 'Frozen' proves a bracing blast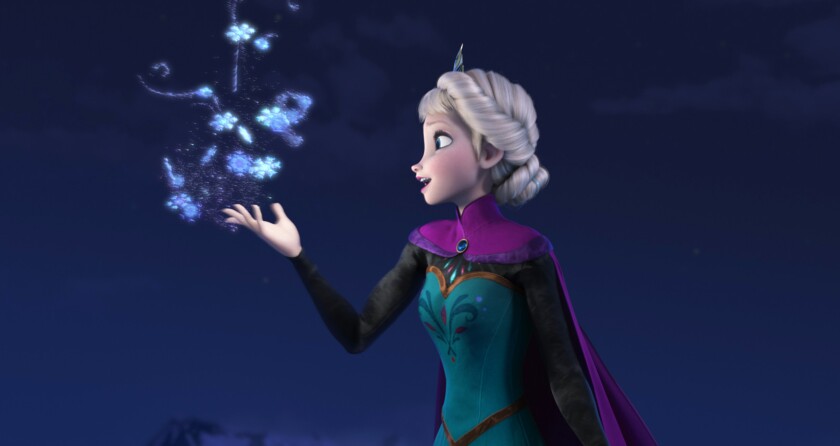 The holidays are a time when family-friendly films pack in audiences like the Dallas Cowboys pack-in last-minute turnovers. But even in a season when the G and PG films come with a built-in head start, it's hard not to be impressed by what "Frozen" has done.
Disney's retelling of the Hans Christian Andersen tale "The Snow Queen" finished in second place this weekend, its fifth in wide release, with $28.8 million. As the numbers came in throughout the weekend, at times the film even challenged the more recently released, advance-hyped "The Hobbit: The Desolation of Smaug" for the top box office slot, and in fact wound up finishing just a few bucks away.
"Frozen" now stands at nearly $250 million since it went wide in late November, a very solid number in its own right. But it's the way the Chris Buck-Jennifer Lee film has reached the milestone -- highlighted by the results this weekend -- that serve as the surprising and unusual feat.
PHOTOS: Box office top 10 of 2013
In the last few years, animated movies that opened in the fall with an eye toward playing through the holidays -- "Puss in Boots," "Wreck-It Ralph," a pair of "Alvin and the Chipmunks" movies," Madagascar 2" -- were all out of the top five by the time their fifth weekend of wide release rolled around. (None of these movies, incidentally, got near $250 million in total box office receipts.)
In fact, most wide-release films in general can't sustain that kind of momentum a month after first hitting theaters. "Frozen" is not so much in the ballpark of other animated movies as it is like uncommon, often spectacle-driven films that do: film-biz phenomena such as "Gravity," which just hung on at No. 5 in its fifth week, and "Avatar," which continued to win the weekend on its sixth and seventh weekends of release.
Some of its success is due to fortunate timing -- this is a good season for animated movies, and there isn't a lot out there to feed that appetite. But big animated films have had prime weeks all to themselves before without the same results.
There are, broadly speaking, two kinds of hits in the movie business -- the splashy big-budget release that catches fire pretty much the moment it comes out. And there is the word-of-mouth hit that chugs along, performing well. Having legs, the movie business calls it. And in an age when studio movie releasing is all about hammering the audience early and grabbing the receipts quickly, it's the rarer form of hit.
BEST MOVIES OF 2013: Turan | Sharkey | Olsen
"Frozen" is actually the even rarer species: The film that operates on both levels. It's certainly a film that made its mark right out of the gate. It opened in wide release on Thanksgiving weekend to $67 million, just behind juggernaut "The Hunger Games: Catching Fire," and in fact went on to win the box office in its second weekend. Over its first 12 days of wide release (it had played a one-theater limited engagement the week before it went wide), the film had racked up a whopping $134 million.
But it also has proved a word-of-mouth smash. Thanks to its crowd-pleasing mix of stirring action, catchy music and stunning visuals -- evidenced, most clearly, by its A+ CinemaScore -- the film has brought out audiences even after the weeks and new competing movies (there were half a dozen in the last few days alone) have piled up. Though "Frozen" dropped out of 150 theaters this weekend compared to last week, its ticket sales actually surged up 46%, nearly unheard-of in an industry where week-to-week drops are the practically inviolable rule.
At its current rate, it looks like the film, a virtual lock for the animated picture Oscar, could approach $300 million in domestic receipts. (It recently crossed half a billion in worldwide ones.) That would make it the fourth-biggest U.S. hit of the year and mean that two of the top four movies in 2013 were animated films. That's a feat that hasn't happened since 2001. But it's the kind of long-running phenomenon that "Frozen" represents that feels especially long in coming.
ALSO:
Disney is reanimated with films such as "Big Hero 6" and "Frozen"
"Frozen," "Hobbit," "Hustle" and "Wolf" fight it out at the box office
Twitter: @ZeitchikLAT
---
Get the Indie Focus newsletter, Mark Olsen's weekly guide to the world of cinema.
You may occasionally receive promotional content from the Los Angeles Times.