Movie review: 'Hello Herman' misses target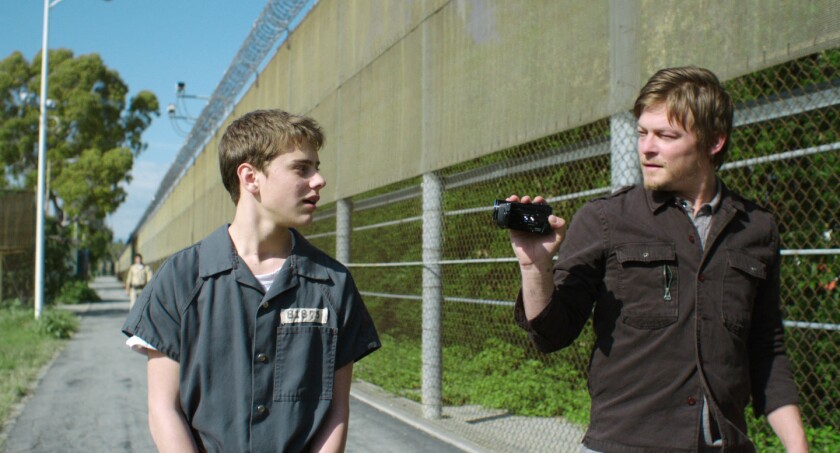 "Hello Herman," a school shooting drama about a Justin Bieber look-alike who murders 39 kids and three adults, opens with the all-too-familiar images: police tape, sobbing students, scrambling news anchors and headline-grasping senators.
But Lax Morales (Norman Reedus), a badly named rebel bloggerista still reeling from his time embedded among the Georgia KKK, sees something different — footage emailed straight to him from the killer (Garrett Backstrom).
The boy, Herman, wants an interview. Morales wants a scoop, or at the very least, not to blow his big "get." But we're not sure what director Michelle Danner, who plays Herman's defensive mother in an uncredited role, wants us to get besides a reminder that angry boys act out for a host of half-defined reasons: bullying, video-game desensitization, painful memories and, perhaps most of all, because they need to feel heard.
As a talking head himself, Morales understands. But only to a point, which is something John Buffalo Mailer's well-intentioned script lacks.
At least it doesn't lack in big moments where people cry and scream. But Reedus, a relaxed character actor best known for his work on TV's "The Walking Dead," does his best to keep his scenes quiet and realistic, a boon for a film that fast-forwards the action so rapidly that barely a week seems to go by before the 16-year-old is convicted, sentenced to death and suffering dream sequences in which a little ghost girl on inline skates tells him he's going to hell.
--
'Hello Herman'
MPAA rating: None.
Running time: 1 hour, 25 minutes.
Playing: At the Laemmle NoHo 7, North Hollywood.
---
Get the Indie Focus newsletter, Mark Olsen's weekly guide to the world of cinema.
You may occasionally receive promotional content from the Los Angeles Times.