Harmony Korine on 'Spring Breakers': 'We're doing a remix'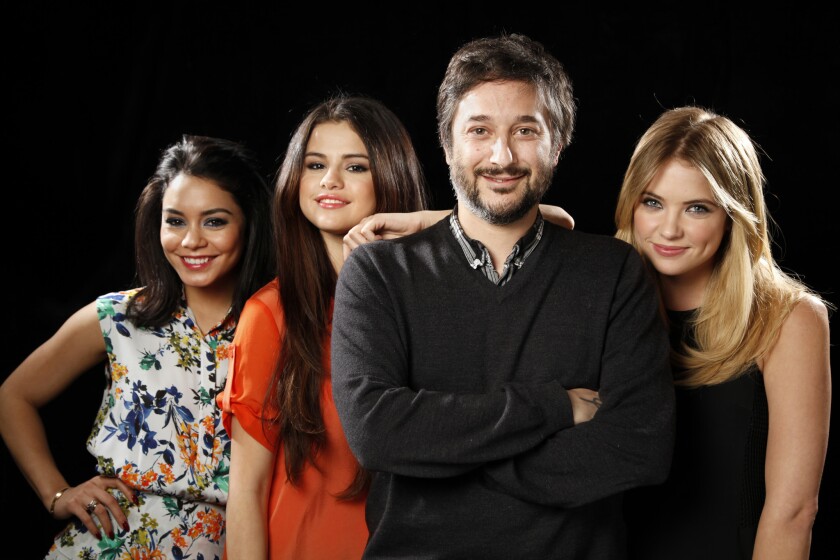 Forget the director's cut. Here comes "Spring Breakers: The Remix."
In March, the $5-million artsploitation film rippled across the cultural consciousness, spreading across social media on a viral tide of mini upturned thumbs. Starring James Franco, Selena Gomez and Vanessa Hudgens in career-defining roles, the sexy crime romp became one of the rare art house cinema offerings to cross over into the mainstream on a blaze of neon-hued bikinis.
But then too, "Spring Breakers" forever changed commercial perceptions of its director Harmony Korine, the indie auteur behind such cult movies as "Julien Donkey-Boy" and "Trash Humpers" who crashed Hollywood's party with his debut screenplay "Kids" in 1995 and has been pushing boundaries of taste and propriety ever since.
Reached recently in Miami, where the filmmaker was prepping an as-yet unspecified follow-up feature, Korine revealed to The Times his plans to extend "Spring Breakers'" cultural momentum using a trope snatched from the pop musical world.
"I had this idea," Korine said. "With music remixes sometimes, when certain producers take a song and chop them up and deconstruct them – why not try that with a feature film? Using all different footage, making the same film all over again."
Asked if that meant he was enlisting an outside filmmaker – or even possibly several filmmakers – to reassemble outtakes from "Spring Breakers" into something new, Korine demurred. "I'm working with different people," he said.
"Maybe that's a surprise. Let's just say for right now there'll be a whole alternate film at some point," said Korine. "Maybe on the DVD, maybe on iTunes."
PHOTOS: Celebrities by The Times
On July 9, Lionsgate Home Entertainment will release a Blu-ray and DVD of "Spring Breakers" that does not list any "remix" elements in its promotional materials. A publicist for A24, the company that released the film in theaters, did not immediately respond to a request for comment.
"It'll be the first chopped and screwed movie," the director added.
A sub-genre of Southern hip-hop, chopped and screwed music utilizes pitch control techniques to dramatically slow down recorded vocals and beats to replicate the super slow-mo high achieved by ingesting large quantities of codeine cough syrup – "sizzurp" as it's known in the streets.
In 2000, DJ Screw, the Texan producer-remixer who helped popularize the sound, became one of the most famous sizzurp casualties. He died of an overdose on cough syrup and other substances, including alcohol and marijuana, a medical examiner concluded.
"The film has been sizzurped!" Korine exclaimed. "The ghost of DJ Screw came back and edited the film. It's going to be an interesting experiment."
ALSO:
Sam Taylor-Johnson: What does she mean for 'Fifty Shades of Grey'?
Ava DuVernay no longer in 'Middle of Nowhere'
Costa-Gavras' 'Capital' ideas come to Los Angeles Film Festival
Twitter: @__chrislee
---
Inside the business of entertainment
The Wide Shot brings you news, analysis and insights on everything from streaming wars to production — and what it all means for the future.
You may occasionally receive promotional content from the Los Angeles Times.