Emmys 2013: Michael Douglas 'taken for granted' in movie awards?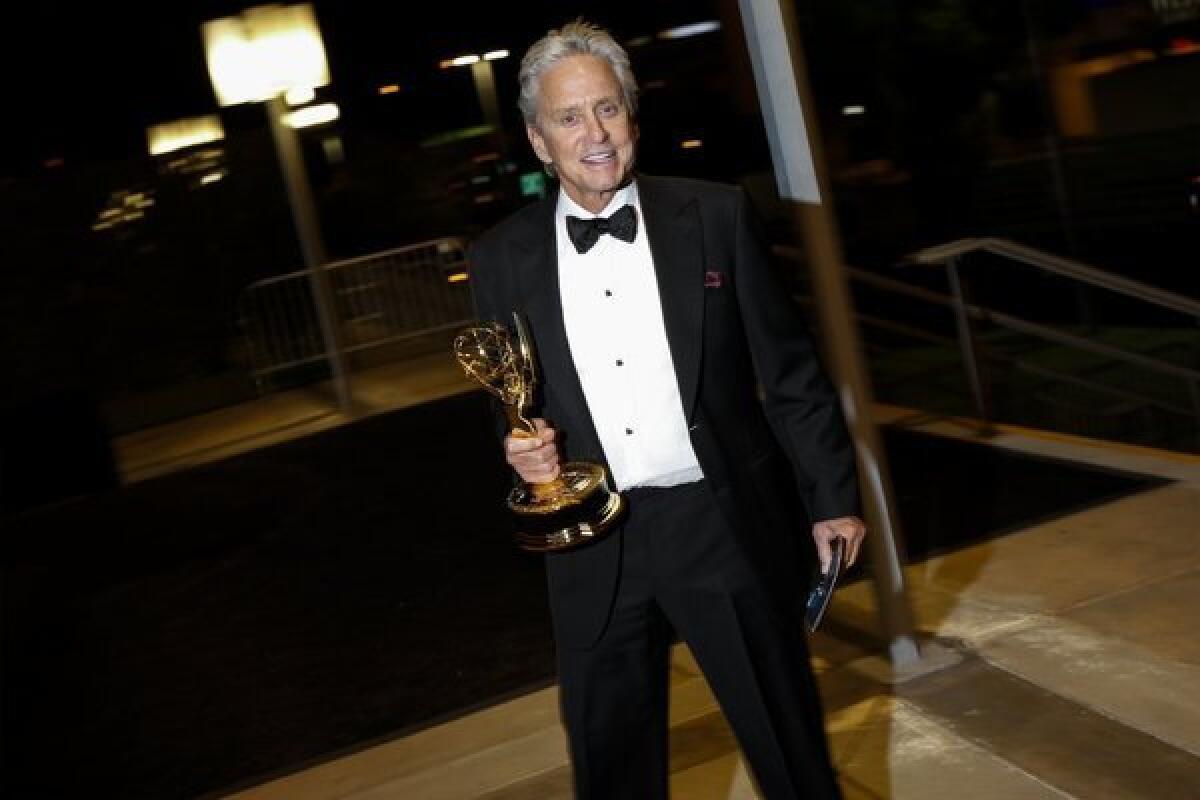 Michael Douglas wishes he could tell you that the relative dearth of awards recognition over his four-decade career in movies and TV means nothing to him. But he can't. And now with his "two-hander" Emmys victory speech scorched into the public imagination, the 68-year-old star doesn't have to put a good face on it anymore.
Until he snapped his quarter-century awards cold streak Sunday night -- snatching the Emmy for lead actor in a miniseries or movie for his turn as Liberace in the HBO biopic "Behind the Candelabra" -- Douglas hadn't scored a statuette since 1987, when he won a best actor Oscar for his performance in "Wall Street." Before that, you'd have to rewind to 1975, when he scored a best picture Oscar for producing the drama "One Flew Over the Cuckoo's Nest," for the star's only other appearance on a major awards podium.
Ask Douglas why he's been shut out for all these years -- after era-defining roles in such classic dramas as "Basic Instinct" and "Fatal Attraction," unselfish performances in 1997's "The Game" or 2000's "Wonder Boys," not to mention well-received character parts in 1993's "Falling Down" or the 1989 comedy "War of the Roses" -- and his hesitance speaks volumes about his depth of feeling on the subject.
Emmys 2013 full coverage: Best & worst moments | Winners and top nominees | Red carpet arrivals
"I've got to be careful how I answer this," Douglas said, with a fleeting, tight-lipped smile.
"You look at my track record. 'This guy's got a lot of hits here, one after another. Gee, how'd that happen?'" Douglas told Movies Now in June at his country club in upstate New York, shortly after "Behind the Candelabra" debuted to rave reviews. "Do I think one's been taken for granted? Sure. I do."
That, in part, was a problem of perception. As the son of screen legend Kirk Douglas ("Spartacus," "Paths of Glory"), the younger actor felt for many years that Hollywood gave him only grudging recognition that his acting achievements came courtesy of talent and tenacity rather than family connections.
Emmys 2013 full coverage: Timeline | Photo booth | Emmys presenters
Michael Douglas hoped his "show part" turn in "Behind the Candelabra" would remind industry peers that the consistent quality of his film oeuvre was no accident.
"That comes from second generation, that assumption -- what they take for granted," said Douglas. "Even though the history of second-generation guys is not that great. Or maybe you make it look easy. You make it look effortless. What they don't understand is that somehow, the pictures are always good."
ALSO:
Emmys 2013: How much was film's presence felt?
Emmys 2013: Jeff Daniels wins best actor in a drama
'Prisoners' opens to solid $21.4 million
Twitter: @__chrislee
Get our L.A. Goes Out newsletter, with the week's best events, to help you explore and experience our city.
You may occasionally receive promotional content from the Los Angeles Times.