New Releases: 'Prisoners' a pulp drama with a stellar cast
The movie:
"Gravity"
The role: Dr. Ryan Stone, the beginner astronaut suddenly stuck in space when her space shuttle is damaged, and her thirst for life deepened.
The final pick: Sandra Bullock. Jolie was set to star alongside Robert Downey Jr. But Jolie's management team wasn't able to come to an agreement with Warner Bros.


(Ethan Miller / Getty Images; Warner Bros.)
The movie:
"Twilight" franchise
The role: Bella Swan, a teenager turned vampire with the skill to shield herself and others from mental harm. All the while, she's madly in love with mind-reading vampire Edward Cullen.
The final pick: Kristen Stewart. Lawrence later landed the role of Katniss Everdeen in the equally popular series "The Hunger Games."
(Samir Hussein / Getty Images; Kimberley French)
The movie: "Michael Clayton"
The role: Michael Clayton, an attorney with a conscience, who breaks down the corruption surrounding a chemical scandal.
The final pick: George Clooney. To this day, Washington regrets turning down the role. "With 'Clayton,' it was the best material I had read in a long time, but I was nervous about a first-time director, and I was wrong," Washington said.
(Chris Pizzello / Invision / Associated Press; Myles Aronowitz)
The movie:
"Forrest Gump"
The role: Forrest Gump, a not-so intelligent former military man set to tell the story of his life.
The final pick: Tom Hanks. Travolta simply turned down the role and later admitted his decision was a mistake. For Hanks, the role earned him an Oscar for best actor in 1994.
(Francois Durand / Getty Images )
The movie:
"Clueless"
The role: Cher Horowitz, the wealthy Valley girl up for anything that involves fashion, makeovers and, like, boys.
The final pick: Alicia Silverstone. Gellar couldn't commit due to scheduling conflicts.
(Jordan Strauss / Invision / Associated Press; Paramount Pictures)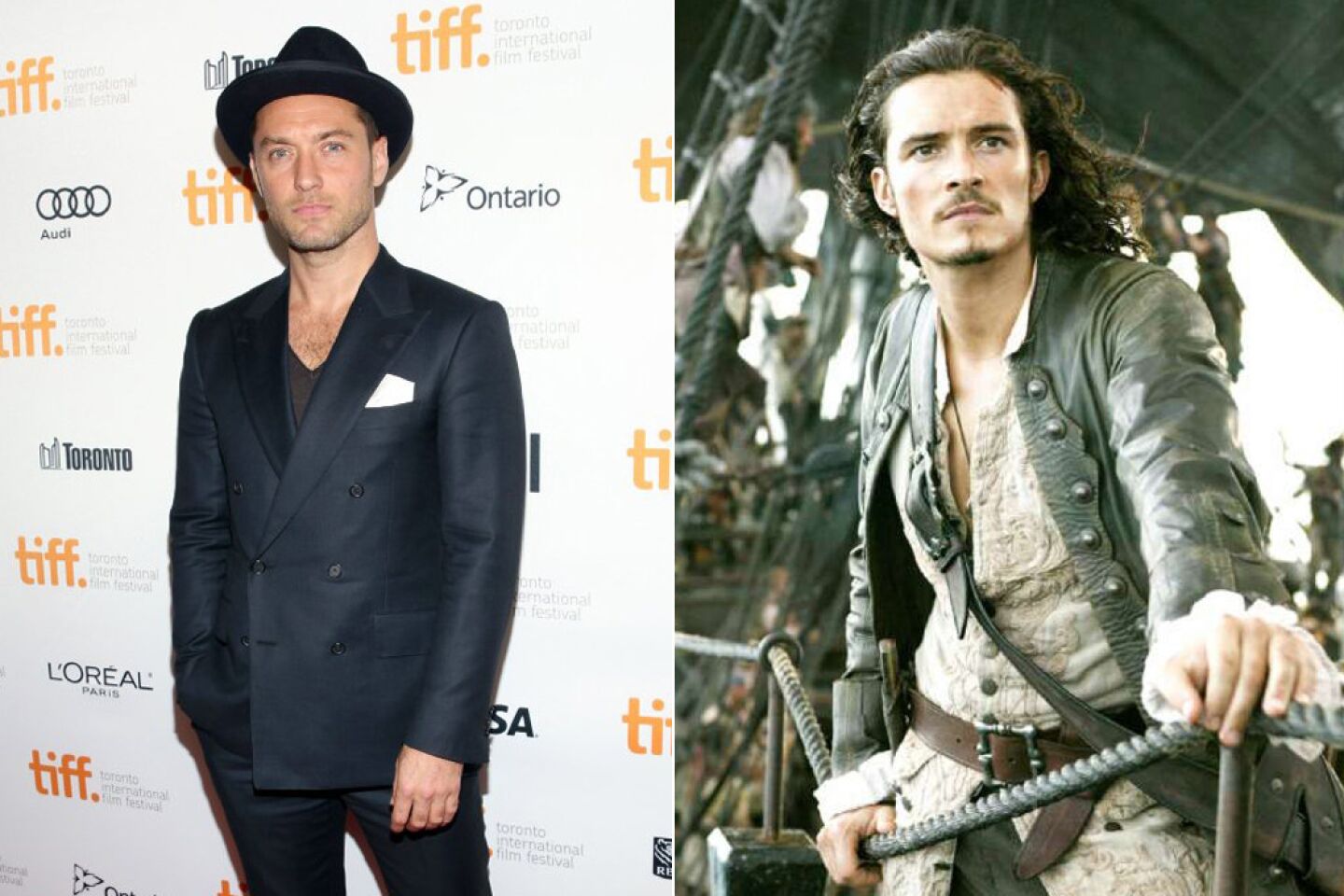 The movie:
"Pirates of the Caribbean" franchise
The role: Will Turner, an ace swordsman and budding pirate.
The final pick: Orlando Bloom. Law auditioned for the role to play Keira Knightley's love interest, but was shoved aside for Bloom.
(Jonathan Leibson / Getty Images; Peter Mountain / Disney Enterprises )
The movie:
Marvel's "Iron Man 2"
The role: Black Widow, a femme fatale formerly known as a Russian spy.
The final pick: Scarlett Johansson. Blunt passed on the role saying: "Usually the female parts in a superhero film feel thankless: She's the pill girlfriend while the guys are whizzing around saving the world."
(Ricardo DeAratanha / Los Angeles Times; Zade Rosenthal / Marvel)
The movie:
"Pretty Woman"
The role: Vivian Ward, an assertive Hollywood Boulevard prostitute who finds love with a wealthy lawyer.
The final pick: Julia Roberts. Hannah rejected the role since she believed it was belittling to women. "They sold it as a romantic fairytale when in fact it's a story about a prostitute who becomes a lady by being kept by a rich and powerful man," Hannah said. Hannah, however, later portrayed a stripper in the drama "Dancing at the Blue Iguana."
(Robert Gauthier / Los Angeles Times; Buena Vista / Getty Images)
The movie:
"Spider-Man" franchise
The role: Spider-Man, the web-slinging, wall-crawling figure who has proved to be one of the most commercially successful superheroes.
The final pick: Tobey Maguire. A disappointed Prinze Jr. told late-night radio personality Howard Stern that he was originally cast as Spider-Man, but director Sam Raimi went with Maguire instead.
(Ken Hively / Los Angeles Times; Merrick Morton / Columbia Pictures)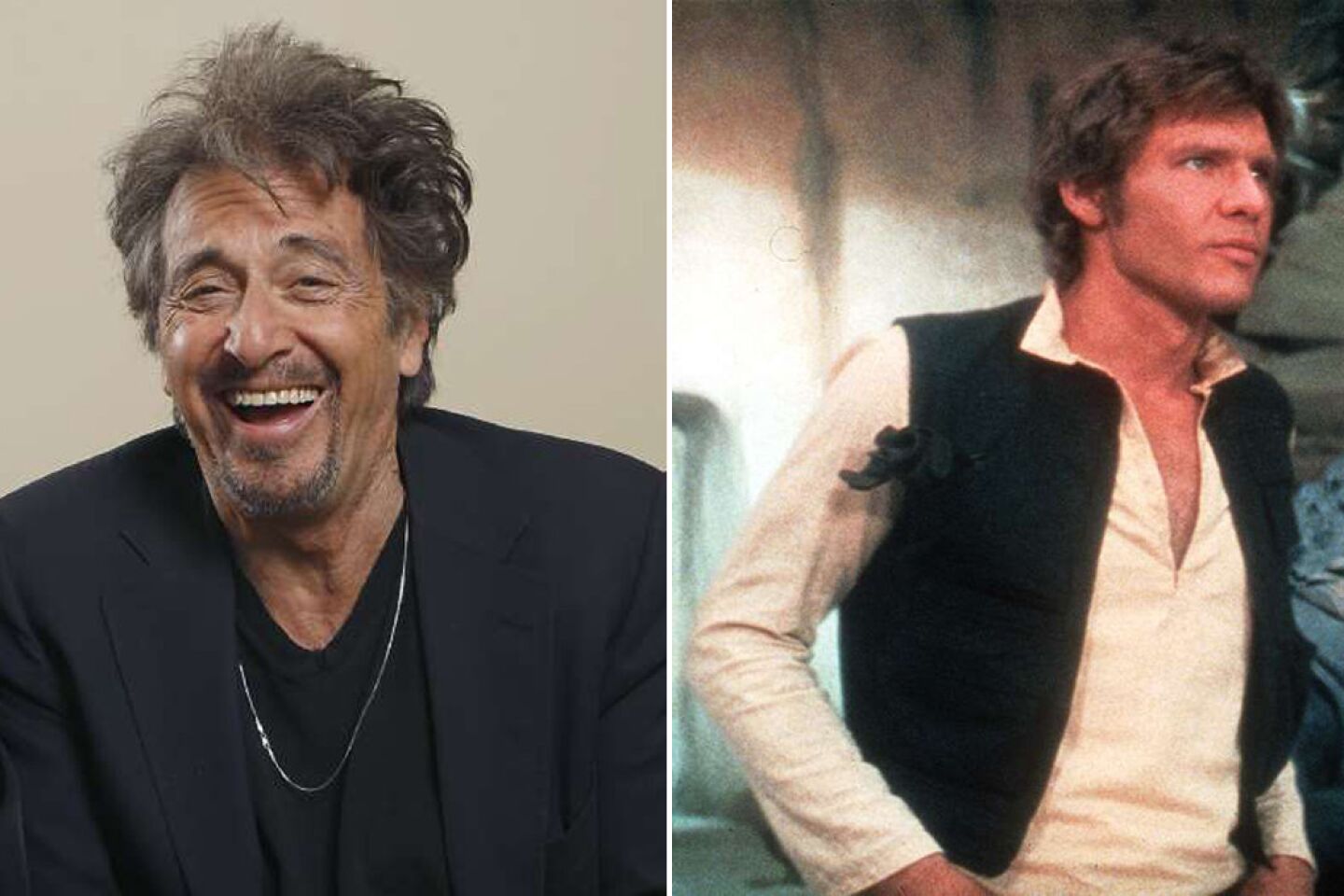 The movie:
"Star Wars"
The role: Han Solo, a sarcastic yet compassionate hero who helps for the common good.
The final pick: Harrison Ford. Al Pacino dismissed the role, saying: "It was mine for the taking but I didn't understand the script." Pacino turned down the "Star Wars" series and later starred in the Godfather trilogy, but found it to be "a long, awful, tiring story."
(Kirk McKoy / Los Angeles Times; Industrial Light & Magic)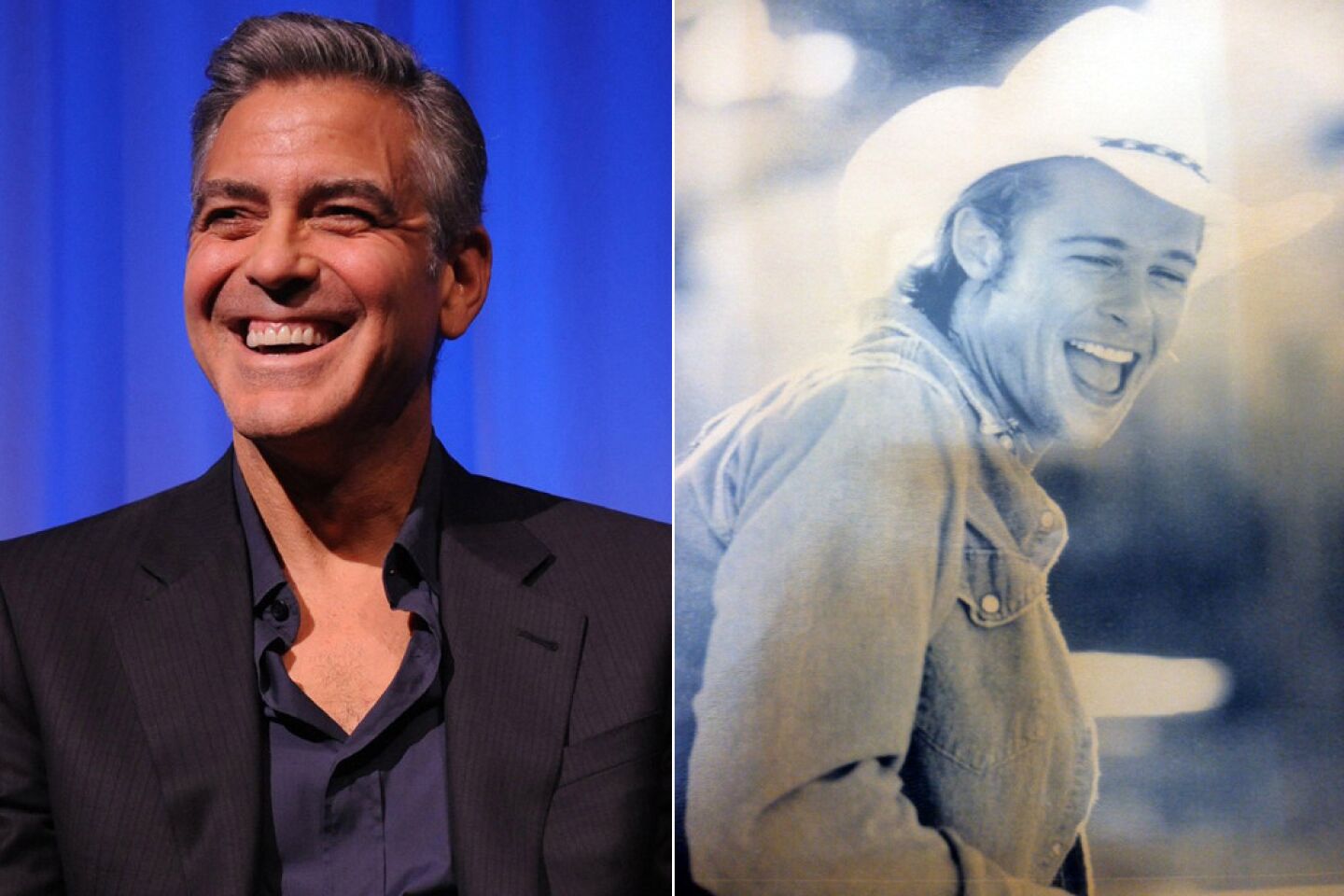 The movie:
"Thelma & Louise"
The role: J.D., the money-stealing, good-looking thief who strikes up a romantic relationship with Thelma (Geena Davis), and ends up educating her on his holdup tactics.
The final pick: Brad Pitt. Clooney read with Davis several times, only to be booted for Pitt. Clooney admitted he didn't see the movie for years, then decided to rent it one night and realized that Pitt was perfect for the role.
(Brad Barket / Getty Images for Academy of Motion Picture Arts and Sciences; MGM)
The movie:
"Gone With the Wind"
The role: Scarlett O'Hara, a smart and charming woman searching high and low for love.
The final pick: Vivien Leigh. Davis turned down the role under the impression that Errol Flynn would play the part of Rhett Butler. (Clark Gable actually got the role.) Davis had refused to work with Flynn earlier, as their relationship off-screen was rocky. Davis even reportedly once slapped Flynn on the face.
(Don Bartletti / Los Angeles Times; Los Angeles Times Archives)
Prisoners
Warner Bros., $28.98; Blu-ray, $35.99
Available on VOD beginning Dec. 17
Part mystery-thriller, part brooding meditation on how evil spreads, Denis Villeneuve's film is a gorgeously shot, masterfully acted piece of pulp that takes itself a smidge too seriously. Hugh Jackman stars as a Pennsylvania carpenter and survivalist named Keller who finds himself unprepared when his daughter is abducted. Paul Dano plays the creep who Keller suspects of the crime, while Jake Gyllenhaal is the overqualified local cop who simultaneously tries to find the girls and to prove that Keller has overstepped his bounds in his quest for revenge. "Prisoners'" twisty, fairly ridiculous plot is the stuff of airplane reading, but Villeneuve frames it like a portentous procedural, akin to "Zodiac" and "Mystic River." This choice is justified somewhat by Roger Deakins' stunning cinematography — bringing a wintry Pennsylvania community to life — and by Gyllenhaal's winning performance as an exasperated force for justice. The DVD and Blu-ray come with a pair of negligible featurettes.
VIDEO: 'Prisoners' cast and crew discuss film
Ain't Them Bodies Saints
IFC Films, $24.98; Blu-ray, $29.98
The impressionistic, romantic crime drama openly evokes the cinema of the mid-1970s, when filmmakers like Terrence Malick, Arthur Penn and Bernardo Bertolucci were imbuing genre pictures with a weird poetry. Casey Affleck stars as affable criminal Bob Muldoon, who protects his girlfriend Ruth (Rooney Mara) by taking responsibility for a murder she committed during a shootout with the police. Writer-director David Lowery (a respected indie film editor, helming his second feature) tracks Bob as he escapes prison and winds his way back to a woman who's been trying to forget her former life. The minimal plot is mainly an excuse for Lowery to play with the textures of old movies, which he does beautifully. The DVD and Blu-ray tack on a behind-the-scenes featurette.
PHOTOS: Billion-dollar movie club
Elysium
Sony, $30.99; Blu-ray, $40.99
Available on VOD beginning Dec. 17
Writer-director Neill Blomkamp's "District 9" was a scrappy low-budget sci-fi/action picture with a political message. Blomkamp ventures into similar territory with the larger-scaled "Elysium," which stars Matt Damon as a working class grump living on a crowded, crumbling Earth. The richest citizens — including a devious politician played by Jodie Foster — live on a space station hovering just above the planet, always in sight of the poor, and always tantalizing them. There's a lot of action in "Elysium," shot in the same gritty docu-style that Blomkamp used in "District 9," but the plot this time is more convoluted, with more scene-setting than actual narrative. It's all remarkably well-realized visually, but not that well-written. The DVD and Blu-ray add a slew of "how'd they do that?" featurettes.
PHOTOS: 'Blue Jasmine' and 'Elysium': Inequality at the movies
We Are What We Are
Available on VOD beginning Dec. 17
Based on Jorge Michel Grau's gruesome 2010 Mexican horror film, Jim Mickle's version follows an insular family with a dark secret, which may be publicly revealed when one of the parents dies. Mickle changes some key details from Grau's original, beyond just setting it in the rural U.S. instead of south of the border. The characters are different, the plot is different and the overall theme is very different, taking on cult fanaticism instead of class conflict. But the malice that binds the family remains the same and is every bit as disturbing as it is in the source material. This is one grim little movie, which meets the essential horror standard of being memorable, not by-the-book.
PHOTOS: Dysfunctional TV famalies
And…
The Family
20th Century Fox, $29.98; Blu-ray, $39.99
Available on VOD beginning Dec. 17
Justified: The Complete Fourth Season
Sony, $55.99; Blu-ray, $65.99
Kick-Ass 2
Universal, $29.98; Blu-ray, $34.98
Available on VOD beginning Dec. 17
The Lone Ranger
Disney/Buena Vista, $29.99; Blu-ray, $39.99
Available on VOD beginning Dec. 17
Get our L.A. Goes Out newsletter, with the week's best events, to help you explore and experience our city.
You may occasionally receive promotional content from the Los Angeles Times.