20 Images
Oscars 2013: Best & worst moments
Makes David Letterman's Uma-Oprah-Uma routine look like a classic
Seth MacFarlane's opener proved to be one of the most bewildering Oscar openers in recent memory. With a cameo appearance by William Shatner squeezed into his old "Star Trek" uniform, a tribute to film nudity called "We Saw Your Boobs" with the Los Angeles Gay Men's Chorus and finally a song and dance with Channing Tatum, Charlize Theron, Joseph Gordon-Levitt and Daniel Radcliffe, some people were probably numb by the time they got to the sock-puppet re-creation of "Flight" or MacFarlane's monologue jokes that seemed cribbed from Bob Hope circa 1965.
(Robert Gauthier / Los Angeles Times)
Dress by 'sparkly' and handbag by 'puppy'
Best red carpet fashion accessory: nominee Quvenzhane Wallis' stuffed puppy purse. And why did the 9-year-old choose her dress? "It was sparkly and fluffy," she told the red carpet hosts. Finally, someone who knows how to navigate the red carpet without looking like a dolt.
(Valerie Macon / AFO Getty Images)
The magic of Dustin Hoffman
Strange David Lynchian moment on the red carpet: While Dustin Hoffman was talking to E! red carpet host Ryan Seacrest in the little secondary window in the corner of the TV screen during E's broadcast, Melissa McCarthy was shown posing for photographers in the larger picture. Suddenly, Hoffman appeared in the larger window to greet McCarthy at the same time he was talking to Seacrest. It's still unclear if one was time-delayed video or Hoffman has a doppelganger at the Oscars.
(Jay L. Clendenin / Los Angeles Times)
What's in the box?
What's in the box? Throughout ABC's red carpet pre-show, Kristin Chenoweth quizzed attendees about the mystery contents of a covered box that contained "a piece of Oscar history." Oscar attendees have a lot of things on their minds that night, but guessing the contents of a box on live TV is not one of them. Nor one that anyone wanted to spend much time contemplating. (Strangely, it was eventual lead actress winner Anne Hathaway who guessed it correctly: the ruby slippers from "The Wizard of Oz.")
(Jason Merritt / Getty Images)
A poignant moment gets swallowed by the shark
Artists from the visual effects house Rhythm & Hues won the Oscar for visual effects for "Life of Pi," marking an important moment in the company's tense recent history (it filed for bankruptcy protection earlier this month). But in yet another squirm-inducing moment for the ceremony, the winners were loudly and aggressively played offstage by the "Jaws" theme just as winner Bill Westenhofer attempted to address their company's situation. Even Keith Urban was left shaking his head in the audience.
(Kevin Winter / Getty Images)
No Bonds
When is a James Bond tribute not much of a James Bond tribute? When there are no James Bonds to be seen. In celebrating the 50th anniversary of the character, there was a lengthy clip package and a performance of "Goldfinger" by Shirley Bassey, but Sean Connery, Roger Moore, Timothy Dalton, Pierce Brosnan and Daniel Craig were nowhere to be seen. They didn't even have George Lazenby show up.
(Robert Gauthier / Los Angeles Times)
The Affleck vs. MacFarlane feud begins here
It's never a good sign when the presenters start trading surly comments with the host, especially at the Oscars, where everything and everyone is supposedly floating on clouds of celluloid and magic. But after a series of gags by Seth MacFarlane at the expense of presenter Ben Affleck, the director of "Argo" took the stage and grumbled, "Thanks, Seth, I thought the show was going well. Maybe you can turn it around." Fistfight in the parking lot later?
(Kevin Winter / Getty Images)
The Capitol Records safehouse
One of the biggest mysteries of the evening: Why was the Oscars orchestra sequestered a few blocks down Hollywood Boulevard in a studio in the Capitol Records building? The orchestra has been in the theater for decades, and suddenly they're being treated like a cabinet member at the State of the Union. What were they moved for? To make room for bigger egos? Adele managed to get a different orchestra into the Dolby Theatre for her performance of "Skyfall."
(Robert Gauthier / Los Angeles Times)
Crowe crows
One of the highly touted moments of the evening was the tribute to film musicals, featuring live performances of songs from "Chicago," "Dreamgirls" and "Les Miserables." Only one of those films was actually up for any Oscars this year, leading many to scratch their heads and wonder if they were watching the Tonys and not the Oscars. On the plus side, after Seth MacFarlane's masterful bombing throughout the evening, no one seemed to mind that Russell Crowe still isn't a great singer.
(Kevin Winter / Getty Images)
Never work with dogs, kids or CGI bears
Mark Wahlberg agreeing to act alongside a potty-mouthed CGI teddy bear in the comedy film, "Ted": smart move. Mark Wahlberg agreeing to appear alongside a CGI teddy bear while presenting Oscars: bad move, bad bad move.
(Robyn Beck / AFPGetty Images)
A good night for long, blond hair
Oscar statisticians had their minds blown when the sound editing category yielded a tie. (It has happened only five times in Oscar history). Sound editors for "Zero Dark Thirty," right, and "Skyfall" went on stage to get their awards, and showed that in order to be really successful in the sound editing community, one's hair must be long and blond.
(EPA / Getty Images)
Never too late to invest in black candles and robes
Potentially creepiest opening to an acceptance speech ever: Anne Hathaway accepting the award for supporting actress and whispering to the gold man, "It came true." An innocent girl's Hollywood dream finally achieved or the final result of a disturbing act of black magic and witchcraft? You decide.
(Al Seib / Los Angeles Times)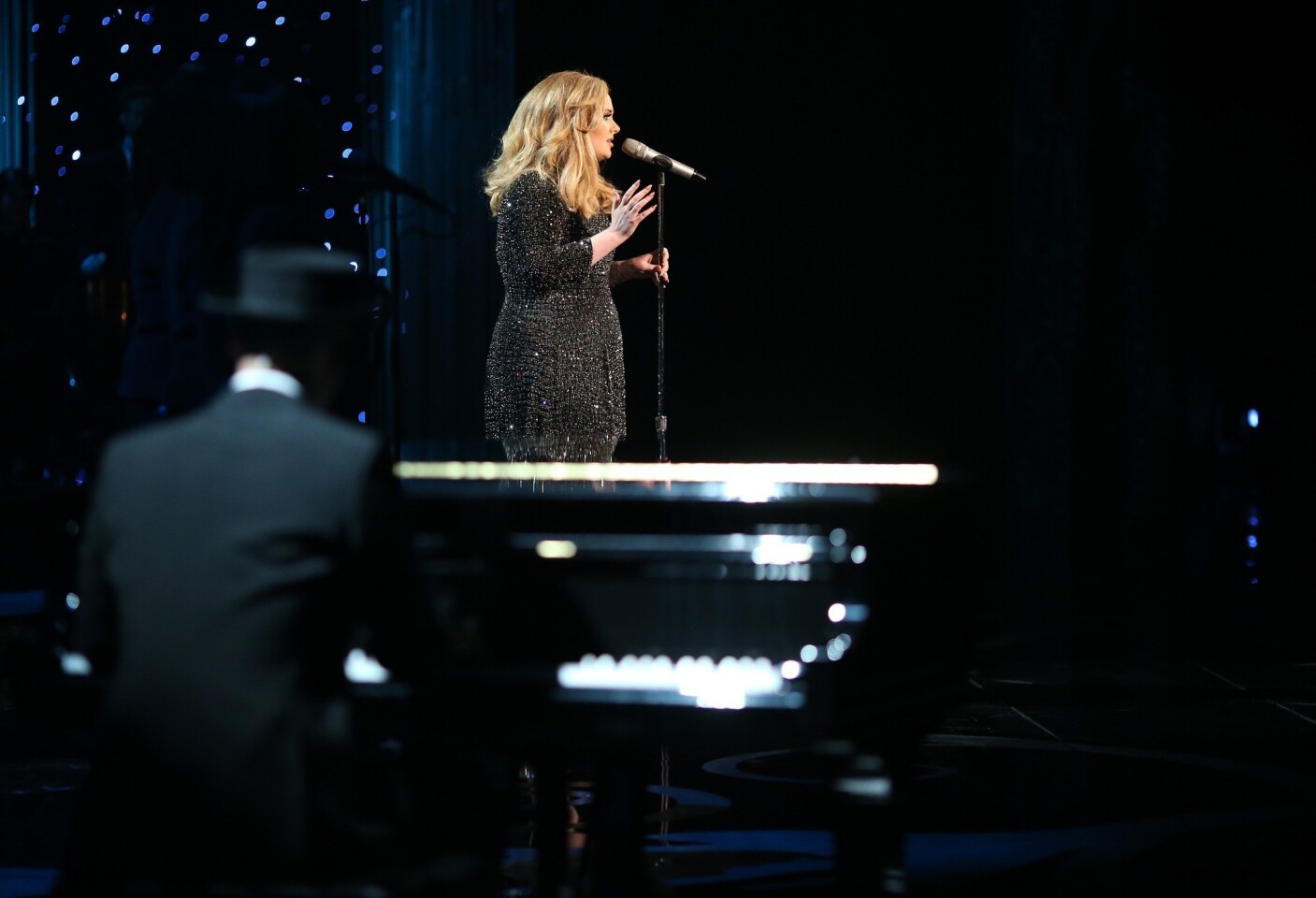 Adele rules another awards show
Not everything in the Oscar ceremony was an uncomfortable mess. Adele brought the charm and power she's displayed so many times at the Grammys to the Oscars and owned the room for her performance of the nominated song "Skyfall."
(Christopher Polk / Getty Images)
Be careful, Kristen Stewart
During her presenting of the Oscar for production design, Kristen Stewart managed to make the entire audience feel like they were the parents of a surly and troubled teenage girl. Rumpled, lethargic and acting as if she really didn't want to be there, Stewart even made people worry about her with her limp and bruises.
(Frazer Harrison / Getty Images)
It's never a bad time to honor 'Chicago'
Anyone wondering why there were so many tributes to "Chicago" in the Oscar ceremony need look no further than the end credits of the telecast, which featured the names of producers Craig Zadan and Neil Meron, who also produced, you guessed it, "Chicago."
(Robert Gauthier / Los Angeles Times)
Hollywood neighbors
Strange bit of Hollywood trivia: Charlize Theron and Quentin Tarantino are next-door neighbors. Tarantino admitted as much when he got up to accept his Oscar for best original screenplay. Only question is: Did Charlize realize she was living next to Quentin?
(Kevin Winter / Getty Images)
First Lady and Captain Kirk
What do Michelle Obama and William Shatner have in common? They made surprise appearances via remote feed to bookend the ceremony. Shatner appeared from "the future" to chastise MacFarlane at show's opening and Obama appeared to announce the best picture winner at show's end.
(Robert Gauthier / Los Angeles Times)
Wipes out ... and wins
Falling while walking to the stage to collect an Oscar is every nominee's nightmare, and Jennifer Lawrence played that nightmare out when she won for lead actress. Luckily, Lawrence is exactly the kind of goofy performer to handle the wipeout well. And she did, telling the audience that gave her a standing ovation, "You guys are standing up because you felt bad that I fell, which is embarrassing. This is nuts."
(Al Seib / Los Angeles Times)
Ben gets choked up
Ben Affleck already has an Oscar, but the actor-turned-screenwriter-turned-director seemed overwhelmed with emotion during his best picture acceptance speech -- a blathering, heartfelt conclusion to a long ceremony. As cynical as the Oscar show can be at times, it's always nice when people allow themselves to feel.
(Al Seib / Los Angeles Times)