For Phil Lord and Chris Miller, creative bricks aplenty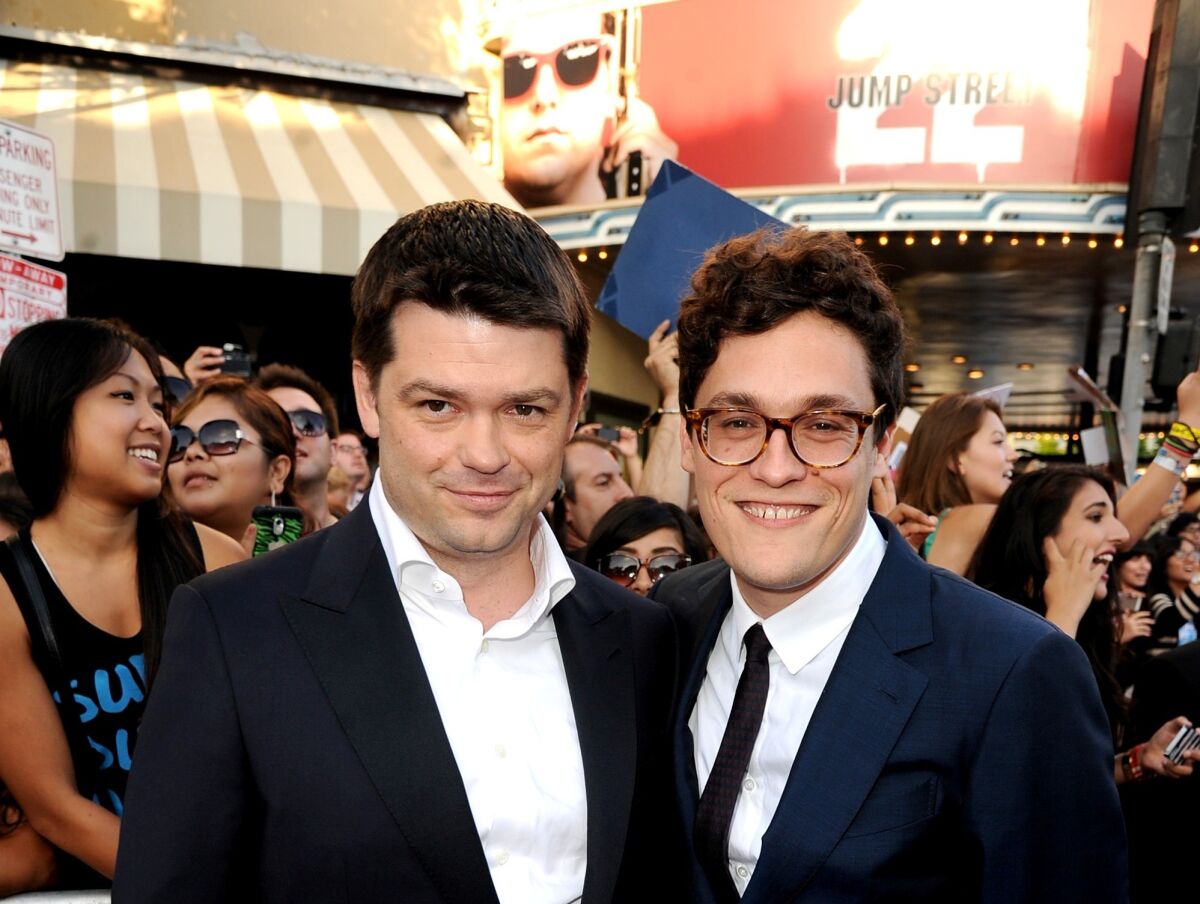 Ever since "The Lego Movie" became a surprise blockbuster last year, the writing and directing duo of Phil Lord and Christopher Miller have been picking up speed, scoring a second 2014 hit with the summer sequel "22 Jump Street," watching their Fox TV series "The Last Man on Earth" become a fan favorite and becoming linked to a number of high-profile projects.
Given Lord and Miller's current velocity, it's perhaps only fitting that their newest potential movie is Warner Bros.' big-screen adaptation of "The Flash," the long-running DC comic about a red-suited hero with super-speed.
------------
For the Record
April 13, 8:04 a.m.: A previous version of this story said "The Lego Movie Sequel" does not yet have a director. Rob Schrab is to direct.
------------
Lord and Miller have been enlisted to develop the story and are writing a treatment for "The Flash," The Times has confirmed. (Meet the Movie Press first reported they were considering working on the film, and Deadline Hollywood first reported the treatment news.)
It's not yet clear if Lord and Miller will write or direct "The Flash," which is to star Ezra Miller in the title role. At the moment, the filmmakers have a number of potential screen projects on their list. It's a matter of if, not when, they'll tackle one or two of these, though given the extensive nature of the list, it's unlikely they can stay involved with all of them. Here's a rundown:
The "Lego" franchise
The $468 million worldwide box office total of the original "Lego Movie" might help explain why Warner has multiple sequels and spinoffs in the works. Lord and Miller are on board to produce the ninja-centric "Ninjago" in 2016, a Lego Batman movie in 2017, "The Lego Movie Sequel" in 2018 and the yet-undated "Billion Brick Race." Lord and Miller are also writing the script for "The Lego Movie Sequel." It doesn't appear they'll be directing a "Lego" movie in the immediate future, as "Ninjago," the Batman movie and "Sequel" have directors set, but they're expected to be closely creatively involved with "Sequel."
The "Jump Street" franchise
Yes, the credits of "22 Jump Street" expertly spoofed the notion of further sequels by offering up 22 more wacky ideas, but "23 Jump Street" is indeed in development at Sony, with Rodney Rothman working on a script. A few days ago at WonderCon, Lord and Miller told IGN, "We found a way that we love that makes those imagined sequels canonical and yet does something that we haven't told you about yet." It's unclear what role Lord and Miller will play for "23," though Sony would love them to return to their Midas-like positions behind the camera.
The rebooted "Ghostbusters" franchise
Lord and Miller reportedly turned down a chance to reboot Sony's "Ghostbusters" franchise last year, but the studio is now looking to build a whole shared universe out of the property. First up is Paul Feig's female-led "Ghostbusters" in 2016, to be followed by another installment courtesy of Channing Tatum and filmmaking brothers Joe and Anthony Russo. It's been rumored that Lord and Miller could still be eyed for a "Ghostbusters" film down the line.
"The Rosie Project"
If all those tentpoles prove to be too much, Lord and Miller have a more intimate film in their development quiver: "The Rosie Project." Based on Graeme Simsion's well-regarded novel and written by "The Fault in Our Stars" screenwriters Scott Neustadter and Michael Weber, "Rosie" looks at a genetics professor who seeks to program the perfect mate — only to find that romance and science don't easily co-exist. Lord and Miller haven't directed a lot of romance, but the premise of the Sony film will allow for plenty of their brand of absurdist comedy.
"The Last Man on Earth"
Lord and Miller have been most visible in recent months with their post-apocalyptic TV comedy "The Last Man on Earth" on Fox, created by and starring Will Forte. The show centers on the in-jokily and portmanteau-ishly named Phil Miller (Forte) and examines what happens when said man, in a benign post-apocalypse, finds he is sharing the planet with a woman (Kristen Schaal) he doesn't exactly get along with. Lord and Miller wrote and directed the pilot and serve as executive producers. The show was renewed for a second season earlier this week and continues to be a hot topic of conversation on a crowded TV Sunday night.
Follow @ogettell and @ZeitchikLAT for movie news
---
Get our L.A. Goes Out newsletter, with the week's best events, to help you explore and experience our city.
You may occasionally receive promotional content from the Los Angeles Times.