17 Images
Lessons from the campaign trail on film
In 2008, presidential candidate
Sen. John McCain
(
Ed Harris
) selected relatively unknown Alaska Gov.
Sarah Palin
(
Julianne Moore
) as his running mate. While the book by John Heilemann and Mark Halperin focuses on both President
Barack Obama
and McCain's campaigns, the Jay Roach-directed HBO film focuses on Palin's effect on the latter campaign and her personal interactions throughout. When Palin stepped out in front of the American people, her great northern accent, shoe selection and odd sayings came under fire and potentially cost McCain the race.
Campaign lesson learned:
When choosing an unknown running mate for vice president, be prepared for the polarizing effect her great northern accent, shoe selection and odd sayings may have.
(Phillip V. Caruso / HBO)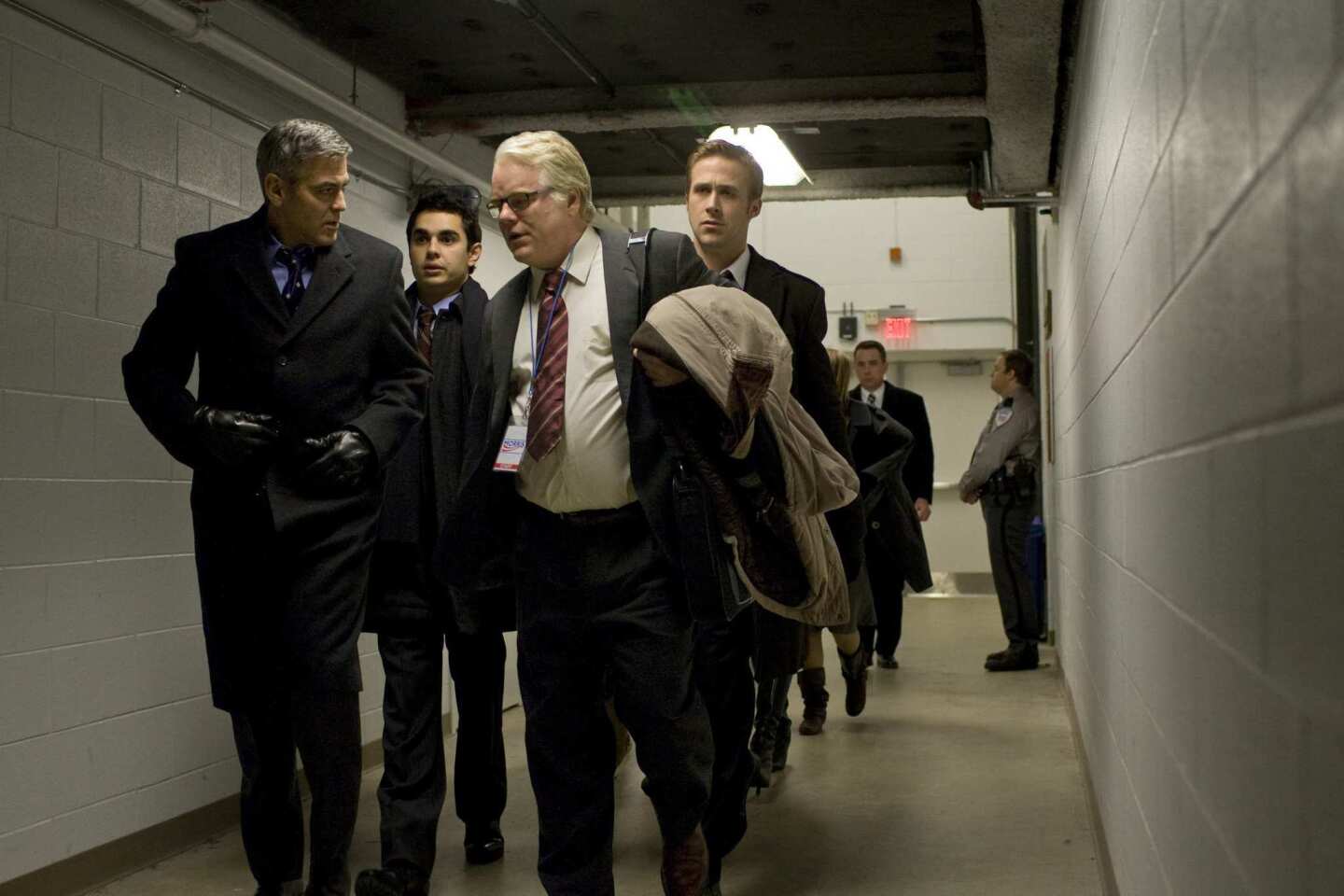 Gov. Mike Morris (George Clooney) shows his young buck spokesman (Ryan Gosling) the all-scheming side of politics while running his presidential campaigns. The hardball milieu can transform even the most ideological supporter into a hardened cynic quicker than the next campaign scandal unfolds.
Campaign lesson learned:
Even close friends and colleagues are capable of betrayal. Taking a page from William Shakespeare's "Julius Caesar," it's best to "beware the ides of March."
(Saeed Adyani / Columbia Pictures)
Matt Damon
stars as David Norris, a congressional candidate who is forced by the guardians of fate to choose between his political career path (including a run as U.S. president) and the love of his life (
Emily Blunt
). The film is loosely based on
Philip K. Dick
's short story "Adjustment Team" and sends in members of the bureau to freeze time and "adjust" people's lives according to a mysterious Chairman's grand "plan," paying no mind to free will.
Campaign lesson learned:
Make sure your life falls into line with "the plan," otherwise a gaggle of men wearing suits will make sure it does. If you're lucky enough to learn their identities and not be brainwashed, the only way to rival their power is to don their hats, travel through secret doors and remain devoted to your true love. Maybe then will the race's outcome be favorable.
(Andy Schwartz / Universal Studios)
Butterfly ballots and hanging chads, these are what presidents are made of. "Recount" follows Denis Leary, left, Laura Dern and Kevin Spacey as they navigate the 2000 presidential election that pitted then-Texas Gov. George W. Bush against then-Vice President Al Gore. Voter error resulted in the hotly contested election that ended in the hands of the Supreme Court.
Campaign lesson learned:
Every vote counts, so long as it's counted.
(Carolyn Cole / Los Angeles Times)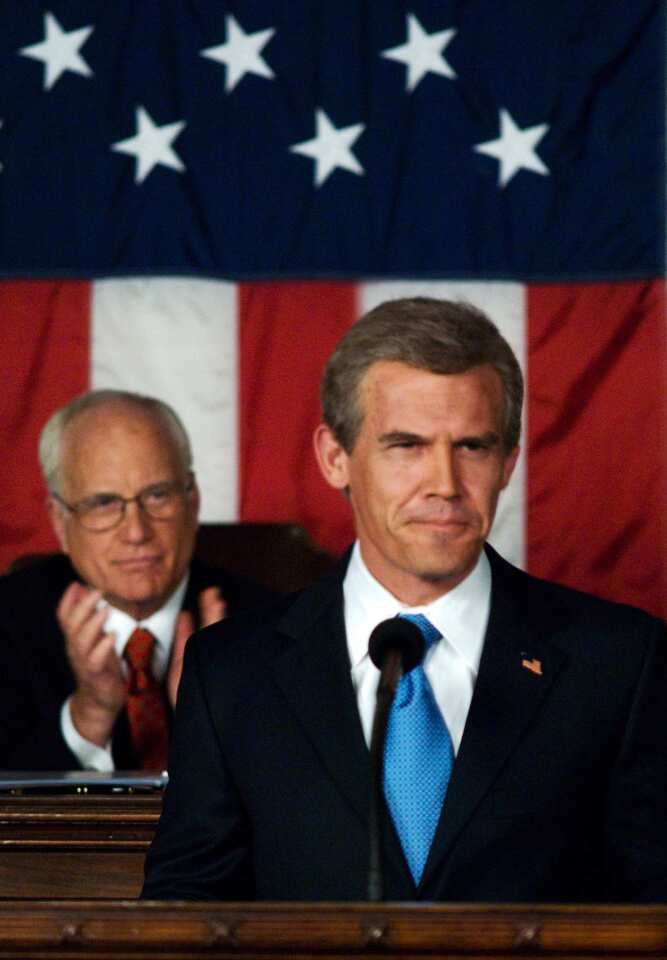 Oliver Stone
provides rich caricatures of
President George W. Bush
, his family and his political associates in the the unauthorized biopic "W." The film offers insight into Bush's drinking days in college, relationship with wife Laura and his ups and down with his dad,
President George H.W. Bush
.
Campaign lesson learned:
Daddy issues can work to your advantage. Through Stone's prism, it's as if everything Bush did was because of his father: running for office, going to war with Iraq and trying to keep the Bush legacy in tact.
(Sidney Ray Baldwin / Lionsgate)
Kevin Costner
plays a down-on-his luck regular guy whose irregular ballot has become the swing vote for the presidency of the United States of America. His smart and strong-willed daughter helps him navigate the pressure and expectations that come to bear as the entire country turns its attention to his decision.
Campaign lesson learned:
Every vote counts, and the little guy -- his concerns and his everyday life -- are not so little when it comes to being his representative.
(Ben Glass / Touchstone Pictures)
A young idealistic lawyer, Willie Stark (Sean Penn), is urged to run for office. Soon, however Stark's idealism subsides revealing an insatiable appetite for power. Suicide and murder ensues.
Campaign lesson learned:
"Power tends to corrupt, and absolute power corrupts absolutely."
(Kerry Hayes / Columbia Pictures)
Richard Condon's novel had two runs in Hollywood -- first,
John Frankenheimer
's 1962 version starring
Frank Sinatra
, Laurence Harvey and
Angela Lansbury
, and the second in 2004, with director
Jonathan Demme
that starred
Denzel Washington
, Liev Shreiber and
Meryl Streep
. In both versions, the main characters are snatched during wartime (the Cold War and Gulf War, respectively), taken to Manchuria and brainwashed in a plot to assassinate a presidential nominee. The plots happened to be orchestrated by the candidate's dear-old-mum.
Campaign lesson learned:
Beware of manipulative mothers who are secretly Communist or have their own political aspirations in mind.
(Ken Regan / Paramount Pictures)
Reese Witherspoon plays an overachieving and manipulative high school student running unopposed for student government president. Matthew Broderick plays a history and civics teacher who tries to stop her by introducing his own candidate. But his involvement backfires, and his personal life begins to crumble.
Campaign lesson learned:
In this satire on politics and suburban life, it seems the lesson is that all politics is dirty politics. To succeed, you have to be smart, savvy and willing to sacrifice. And it might not be worth it.
(Bob Akester / Paramount Pictures)
President Bill Clinton
got a comedic nod from Hollywood courtesy of
John Travolta
, who plays charming, philandering presidential candidate Jack Stanton in 1998's "Primary Colors." Surrounded by a rag tag ensemble of campaign staffers, Stanton has to brave a storm of sex scandals and political spin to improve his chances as an underdog candidate making a run for the
White House
.
Campaign lesson learned:
When it comes to public forgiveness, Southern charm and a smile go a long way.
(Francois Duhamel / Universal Studios)
Nobody knows how to craft comically controversial sound bites better than a political candidate with nothing to lose.
Warren Beatty
proves that every time he opens his mouth to spit a rhyme in his 1998 comedy "'Bulworth." Beatty, who directed, co-wrote and co-produced the film, stars as suicidally disillusioned California Sen. Jay Bulworth, who throws a monkey wrench in his re-election campaign by becoming bluntly honest with his voters. Using hip-hop lyricism as his ultimate weapon of truth, he gleefully exposes the underbelly of politics and issues facing the inner city.
Campaign lesson learned:
Anything a politician says automatically sounds less offensive in the form of a hip-hop verse.
(Sidney Baldwin / 20th Century Fox)
When a sex scandal strikes days before the election, media spin doctor
Dustin Hoffman
is called in to save the day. His solution: Fabricate a war, of course. The Hollywood production comes complete with faux war anthems and costume designers who bring the war to the masses while guarding the president from being caught with his pants down. Ironically, the film was released just before the Clinton-Lewinsky scandal hit news stands around the globe.
Campaign lesson learned:
"Why does the dog wag its tail? / Because the dog is smarter than the tail. / If the tail were smarter, it would wag the dog."
(P.V. Caruso / New Line Cinema)
Michael Douglas plays a widower who also happens to be the U.S. president running for reelection. Annette Bening plays a lobbyist on a mission to get an environmental bill passed. Sparks fly when the two attend a state dinner together, but a smear campaign by the opposing party threatens to cut their romance short in this film, which was nominated for an Oscar and five Golden Globes.
Campaign lesson learned:
The world of politics makes for a tough romantic playground. But if you keep your relationship aboveboard and stick to your ideological guns, you have a shot at winning the election and the girl.
(Castle Rock Entertainment)
Dave Kovic is just an average Joe running a temp agency and making money on the side as an impersonator. When the president, Bill Mitchell, suffers a stroke while having relations with his mistress, his team attempts to cover up the scandal by hiring Dave as a lookalike to take his place.
Campaign lesson learned:
When choosing a puppet candidate, make sure they're on your side. Dave's handlers, including his press secretary, quickly learn that he had a few ideas of his own. Despite being a stand-in for the president, as the pretend commander in chief he can still fire anyone who gets in his way.
(Francois Duhamel / Warner Bros.)
D.A. Pennebaker and Chris Hedgus direct a behind-the-scenes documentary about the 1992 Clinton presidential campaign, mostly following the spin doctors of the movement: the outspoken campaign manager
James Carville
and softer-spoken but brilliant director of communications George Stephanopoulos.
Campaign lesson learned:
Political campaigning is sometimes petty and very much manipulative, but a lot of the steps taken to win require heart and an uncanny gift for presentation.
(October Films)
Florida con-man
Thomas Jefferson
Johnson (Eddie Murphy) capitalizes on the sex scandal-related death of his local Congressman
Jeff Johnson
(whose name is remarkably similar to his own) to start his own congressional campaign using the late congressman's office. He then sets out for
Washington, D.C.
, where the "streets are lined with gold," to turn the table on the country's lawmakers. When he becomes privy to the amounts of money representatives, senators and lobbyists throw around to get what they want from Washington, he decides to run a con of his own, blackmailing Capitol Hill.
Campaign lesson learned:
Getting elected is all about name recognition. Staying in power is all about blackmail.
(Barry Wetcher / Hollywood Pictures Company)