12 Images
SAG Awards 2014: Best and worst moments
Can she get this in the OED?
Jennifer Lawrence could have a second career as an editor for the Oxford English Dictionary after hearing her utter the term "armpit vaginas" on the SAG Awards red carpet with Giuliana Rancic. "I have armpit fat," Lawrence told Rancic. "It's armpit vaginas. It's awful." Never a dull moment with Jennifer Lawrence.
By Patrick Kevin Day / Los Angeles Times
(Kirk McKoy / Los Angeles Times)
The horror, the horror
While Julia Roberts approached the fans swarming the sidelines, the waist-high metal barrier collapsed, nearly spilling a hoard of young girls into the street. Though Roberts seemed to take it all in stride, E! host Giuliana Rancic seemed to think it was akin to Roberts surviving a riot, asking the actress how "scary" the incident was. The answer, of course, is not scary. At all.
(Allen J. Schaben / Los Angeles Times)
The voice of the SAG Awards
Being the announcer for an awards show can be a thankless, and often overlooked, task. Until you go overboard. Let's all look to the SAG Awards announcer who opened the show with a montage of red carpet shots and cheesy lines such as "Calm down, ladies: Bradley Cooper!" And a shot of Tom Hanks looking at his show tickets accompanied by, "Get your tickets and get inside, Tom Hanks!"
(Kirk McKoy / Los Angeles Times)
Rob Lowe, lord of the table
Just as the show was beginning, some guy in the audience thought he could cut past Rob Lowe's table to get to his seat. Little did he suspect that Lowe was going to open the show with a little speech about his origins as an actor. "Can I squeeze through here?" the man asked. "No!" Lowe responded firmly. Then the camera was there and it was showtime. It wasn't exactly Gandolf's "You shall not pass!" from "Lord of the Rings," but it was close.
(Amy Sussman / AP)
Lupita Nyong'o makes a lot more fans
A lot of awards show speeches can be overwrought. "12 Years a Slave" supporting actress Lupita Nyong'o's speech was not one of those. Honest, heartfelt and moving, it's the kind of speech that could help her get up and accept again on Oscar night. She even ended it with a great little story about her father. When she got the role she told him "Dad, do you know Brad Pitt? I'm going to be in a movie with him." Dad's response, "I don't know him personally, but I'm glad you got a job."
(Frank Micelotta / Invision / AP)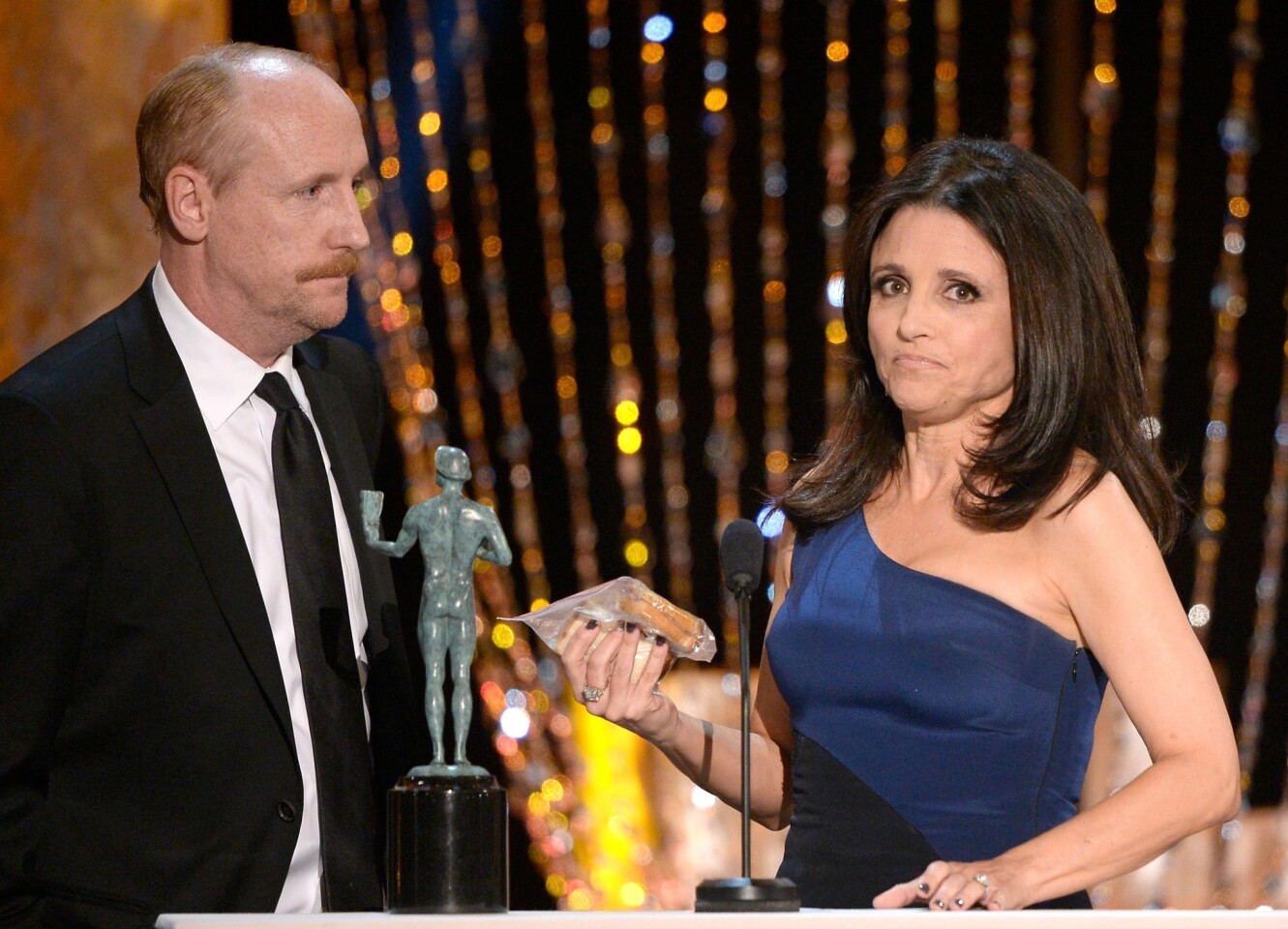 Julia Louis-Dreyfus goes back to the same gag
Sometimes, little pre-planned acceptance speech bits are appreciated. But Julia Louis-Dreyfus' routine, in which she pretended to mistakenly deliver her Golden Globes then Academy Awards acceptance speeches until her aide ("Veep" costar Matt Walsh) helped her out, went on a little too long. Also disappointing is that it was the same kind of shtick she did with costar Tony Hale at the Emmys last September.
(Kevork Djansezian / Getty Images)
Helen Mirren knows her puns
Helen Mirren picked up the SAG Award for actress in a TV movie or miniseries for "Phil Spector" and also won the award for best pun-based acceptance speech joke, telling the audience, "I don't feel at all saggy; I feel quite perky."
(Robert Gauthier / Los Angeles Times)
Michael Douglas won't stop making awkward jokes
Michael Douglas' awards show momentum can't be stopped, and sadly, neither can his predilection for making awkward gay sex jokes about his performance as Liberace in "Behind the Candelabra." "Matt, I know we've gone head to head," Douglas said to his costar Matt Damon, who tried his best to stop Douglas from his seat in the audience. To no effect.
(Kevork Djansezian / Getty Images)
Rita Moreno is awesome
A lot of times, lifetime achievement awards acceptance speeches have all the excitement and pizazz of a retirement party. But Rita Moreno's power victory lap onstage, followed by the R-rated start to her speech and her lusty shout-out to Jeremy Renner and Brad Pitt (not to mention the a cappella singing) made this a lifetime achievement speech to beat. Did we mention she's 82?
(Frank Micelotta / Invision / AP)
Yes, Brother McConaughey! Speak it!
Right now, there are motivational speakers all over America studying Matthew McConaughey's acceptance speech for actor like football coaches study game tape. Seriously, everyone is probably wondering how the romantic comedy guy who was allergic to shirts has somehow transformed into such a dynamic and weirdly hypnotic public speaker. He told the audience he's had a great run of characters to play. "I would humble myself to their humanities and then get feverishly drunk on their obsessions," he said. And that was part of the speech that kind of made sense. Never mind, the sheer energy of it makes you want to stand up and do ... something. During the commercial break, of course.
(Kevork Djansezian / Getty Images)
Cranston just keeps bringing it
Bryan Cranston has won a metric ton of awards for playing Walter White on "Breaking Bad," yet somehow he still finds ways to keep his acceptance speeches varied and interesting. His SAG Award win began with him singing -- a common theme in awards shows after Diane Keaton at the Golden Globes and Rita Moreno earlier in the evening -- and proceeded to go all fanboy on Emma Thompson and do an impression of his old boss down at the truck yard. Too bad Cranston won't be at the Oscars in a month -- these speeches need to keep coming.
(Robert Gauthier / Los Angeles Times)
You won't cut off Cate Blanchett
Cate Blanchett won the SAG Award for "Blue Jasmine" and made quite the sassy speech, arguing with the countdown clock for more time at the podium -- "Matthew McConaughey spoke about Neptune, I think I can have five seconds" -- and performed some subconsciously dirty motions with the SAG Award statue.
(Frank Micelotta / Invision / AP)