17 Images
SAG Awards 2014: Quotes from the stars
Michelle Dockery | "Downton Abbey"
"I was listening to Beyonce's new album nonstop this morning while getting ready," the "Downton Abbey" actress, sporting a structured black and white gown with a plunging neckline. "That album is everything I want in life. It's brilliant."
Dockery's cheerfulness is a stark contrast from that of her character's this season. When the fourth season of "Downton Abbey" picked up earlier this month, it had been six months since the death of Mary's husband, and downton heir, Matthew.
"Matthew is a tough one to beat," Dockery said. "He was the love of [my character's] life. I think [creator Julian Fellowes] is taking every character on an interesting journey."
(Rick Loomis / Los Angeles Times)
Abigail Breslin | "August: Osage County"
The "Little Miss Sunshine" veteran said she still feels out of place at glam functions. "I always feel like the person who got invited as the plus-one," she said. "I'm always terrified."
On the award trail, the actress said she'd gradually begun to feel more comfortable around her megawatt costars, who include Meryl Streep and Julia Roberts.
"Julia is so sweet," Breslin said. "I don't ever feel like I can't go to her with something."
(Matt Sayles / Invision/AP)
Jared Leto | "Dallas Buyers Club"
When he walked the red carpet at the Golden Globes, Jared Leto's hair was suddenly the subject of much attention. "Oh, I don't pay attention to that," Leto said at the SAG Awards, where he was, indeed, man-bun-less.
Addressing a room full of reporters after winning the SAG Award for male actor in a supporting role, Leto asked: "Would you guys like a rear view, or a frontal?" referring to the nude actor statue he was given. "You should see the buns on this guy."
(Frederick M. Brown / Getty Images)
June Squibb | "Nebraska"
June Squibb (pictured with "Modern Family's" Jesse Tyler Ferguson") has proven she's adept at playing feisty gals -- whether an insult-slinging patient on HBO's "Getting On" or the thorny wife to an alcoholic husband in "Nebraska." There's a reason for it.
"I'm a hot-blooded woman!" she joked. "I think with any character you find a bit of yourself in them. I can get fired up like the best of them."
(Matt Sayles / Invision/AP)
Holly Hunter | "Top of the Lake"
Holly Hunter walked the red carpet at the SAG Awards on Saturday in support of the Jane Campion-directed miniseries "Top of the Lake."
Why did Hunter take the role? "I did it because it's Jane," she said of "The Piano" director with whom she won her 1993 Oscar. "Jane has impeccable instincts and is a true artist, and I haven't worked with that many of them, so I trust her completely."
"It's been energizing to Jane and the form of the miniseries, which really has been revitalized by the artistic success of shows like this," Hunter said.
(Rick Loomis / Los Angeles Times)
David O. Russell | director of "American Hustle"
For Russell (pictured with "American Hustle" actress Jennifer Lawrence) each new awards show is an honor and revelation, even as it becomes old hat.
"This is an extra-long awards season," he said, referring to the break afforded by the Winter Olympics. "I think I'm going to start a luge team."
(Frederick M. Brown / Getty Images)
Mandy Patinkin | "Homeland"
Mandy Patinkin searched the pockets of his tuxedo.
"Hold on a minute, I know I have them," he said. "I like to heat them up before I distribute them." The actor was searching for croissants -- the food item has become Patinkin's calling card ever since the much-talked about Season 3 finale of the Showtime drama "Homeland," which found Saul (Patinkin) seeking relaxation in Greece with the help of the flaky pastry.
"I had no idea people were so moved by it," he joked.
(Jennifer S. Altman / For The Times)
Daniel Bruhl | "Rush"
The "Rush" star was considered a shoo-in for a supporting Oscar nod after picking up a slew of other major nominations this season, but that didn't happen.
"I got four nominations, and you become a bit greedy," he admitted on the SAG Awards red carpet, where he was nominated for male actor in a supporting role. "I thought, 'I think I'll get it for sure.' So it's been a disappointing couple of days."
Being at the SAG Awards, he said, boosted his spirits -- "you realize it's all just a roller coaster. I'm amazed when these legends can even pronounce my name."
(Jay L. Clendenin / Los Angeles Times)
Bruce Dern | 'Nebraska'
"Has this all made us closer?" Bruce Dern's daughter Laura Dern yelled into the ear of her hearing-impaired dad, repeating a reporter's question.
"It's wonderful to have an excuse to be together," the "Nebraska" star said.
(Kevork Djansezian / Getty Images)
Lupita Nyong'o | '12 Years A Slave'
"I couldn't sentimentalize the pain that I would have to go through," Lupita Nyong'o said backstage after winning a SAG award for playing tortured slave Patsey in Steven McQueen's harrowing "12 Years a Slave."
I had the privilege of going at it in an imaginary world. Being aware of that made it very doable. Not to say it was easy. But I was privileged to do so."
(Kirk McKoy / Los Angeles Times)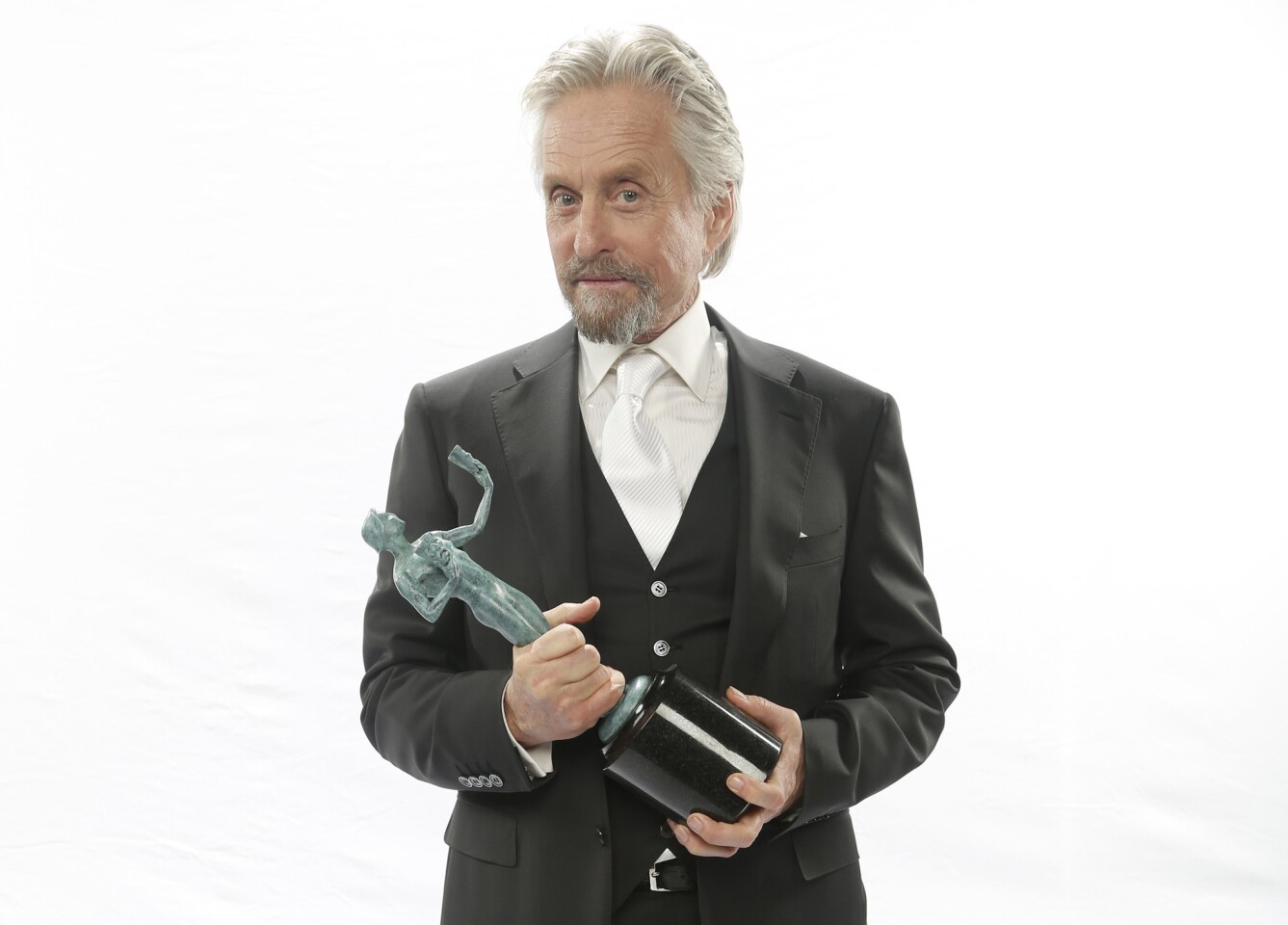 Michael Douglas | 'Behind the Candelabra'
Michael Douglas,69, who won the SAG Award for playing flamboyant singer Liberace in "Behind the Candelabra," was particulary proud to share the reaction to one boundary-pushing scene he shot in the film.
"Forgetting all the hot tub sequences we had, there was one particular sexual act that we only did one take," he said. [Director] Steven Soderbergh put down the camera and said, 'I have no notes.'"
(Kirk McKoy / Los Angeles Times)
Helen Mirren | 'Phil Spector'
While holding her statuette backstage, Mirren spoke enthusiastically about the new frontier that television and film dramas are embarking on -- more specifically, she noted Showtime, HBO, FX, and Netflix as examples of network's spearheading the shift.
"It's all very exciting," she said. "The whole landscape of drama -- film and television -- is changing so erratically -- I'm much older now -- at least I'm working at a time when things are changing. People can watch the kind of television they want to watch when they want to watch it."
(Robert Gauthier / Los Angeles Times)
Rita Moreno | Lifetime Achievement Award honoree
"Hi, I'm the lady who said the bad word," Rita Moreno said, greeting reporters backstage following her live F-bomb.
"Boy, I had one glass of wine and I'm a disaster," she added giddily. "Two glasses of wine and I belong to anybody."
(Robert Gauthier / Los Angeles Times)
Aaron Paul and Dean Norris | 'Breaking Bad'
"I started rewatching the series from the pilot when we started shooting the final eight," said Aaron Paul, center, backstage. "I'm on Season 2 now."
To which Dean Norris, second from left, who played Walter White's DEA agent brother-in-law, quipped: "I hear it has a great ending."
(Kirk McKoy / Los Angeles Times)
Cate Blanchett | 'Blue Jasmine'
Asked if this was one of the best days of her life, she answered simply: "Yes."
Blanchett elaborated: "This has been an extraordinary, extraordinary week," citing having met Rita Moreno and noting that her award was bestowed to her by Robert De Niro. "You can't get much better than that."
On the recent photo Jessica Chastain tweeted of Blanchett:
Before an actual question could form, Blanchett interrupted that she would not discuss what she and Chastain were talking about during the snapped moment. "I don't participate in social media. That was extremely funny and naughty and private." OK.
What's your favorite Beatles song, one reporter asked.
Blanchett, after saying "When I'm 64," started singing said song: "When I get older, losing my hair, many years from now --"
"It's the only song I know the lyrics to," she explained.
(Kirk McKoy / Los Angeles Times)
Matthew McMonaughey | 'Dallas Buyers Club'
"I've been having fun with the circus," Matthew McConaughey of "Dallas Buyers Club" told reporters backstage after raising a few eyebrows during a long-winded acceptance speech — a speech that involved staying in character and going to Neptune. "If I wasn't having fun, take me behind the woodshed and straighten me out."
(Robert Gauthier / Los Angeles Times)
Jennifer Lawrence | 'American Hustle'
Listen up, reporters. You better ask some good questions backstage. Because Bradley Cooper does not have time for your silly inquiries about beauty routines or fashion choices.
At least that's what it seemed like, anyway, when Cooper abruptly left the room as the rest of the "American Hustle" cast was left to field let's say, uh, lighthearted questions from the press.
Jennifer Lawrence, for one, was not pleased that she had to take the mic to talk about what it was like going from David O. Russell's "Silver Linings Playbook" to "American Hustle" sans her co-star. "It really just seemed like one kind of seamless — [expletive], [screw] you, Cooper," she said.
(Robert Gauthier / Los Angeles Times)