A timeline of Sunset Boulevard's key musical moments from 1924 to now
Sunset Boulevard's evolution over the last century from a former cattle trail to a boulevard of melody has influenced American culture in countless ways. Below, a timeline of some the boulevard's key musical moments.
---
1924
Sunset Plaza, the first commercial development on the Sunset Strip, opens.
1926
Early West Hollywood gay club Cafe Gala opens.
1935
Club Seville, an early iteration of influential Sunset Strip club Ciro's, opens. That spot is now the Comedy Store.
FULL COVERAGE: Mapping Sunset Boulevard's musical history »
1938
CBS Columbia Square opens in Hollywood. The complex will eventually house recording studios where artists including the Byrds, Barbra Streisand and Simon & Garfunkel will record.
1940
Wallichs Music City, Hollywood's biggest record store for the next 35 years, opens at the northwest corner of Sunset and Vine Street.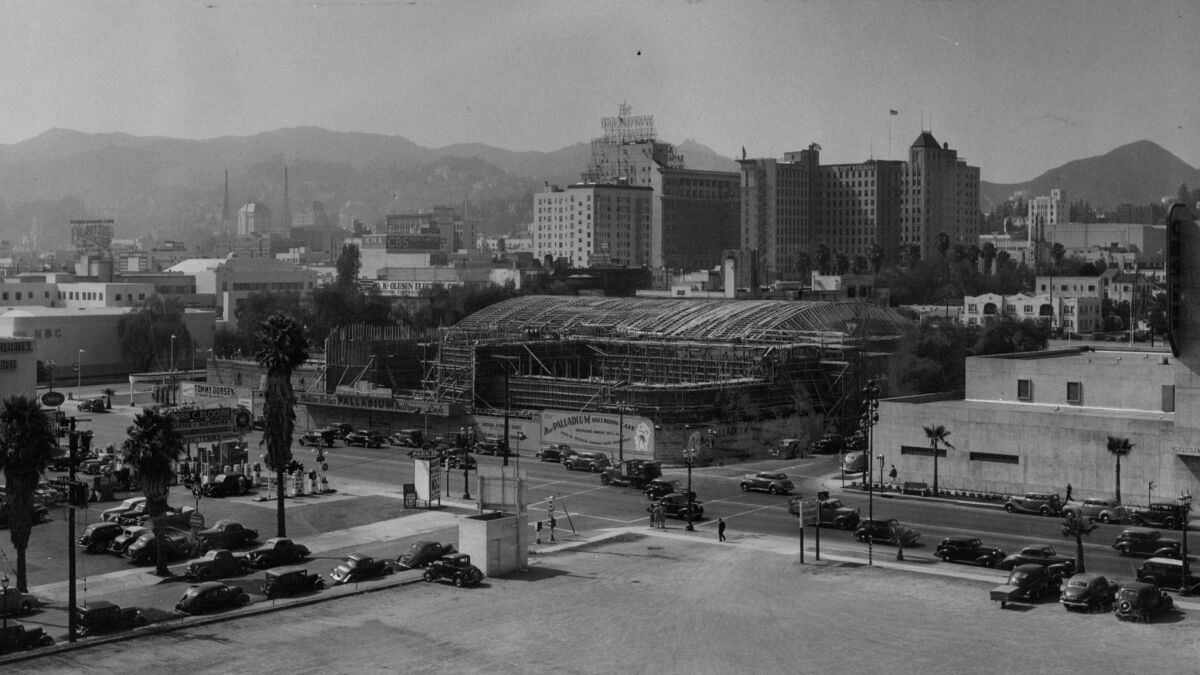 October 1940
The Tommy Dorsey Orchestra featuring Frank Sinatra christens the newly built Hollywood Palladium.
January 1941
The glamorous Hollywood club the Mocambo opens, where Sinatra makes his solo Los Angeles debut.
1942
Songwriter Johnny Mercer co-founds Capitol Records above Wallichs Music City.
1949
Specialty Records, which would become home to artists including Sam Cooke, Fats Domino, Little Richard and Wynona Carr, moves from Venice to West Hollywood. (8508 Sunset Blvd.)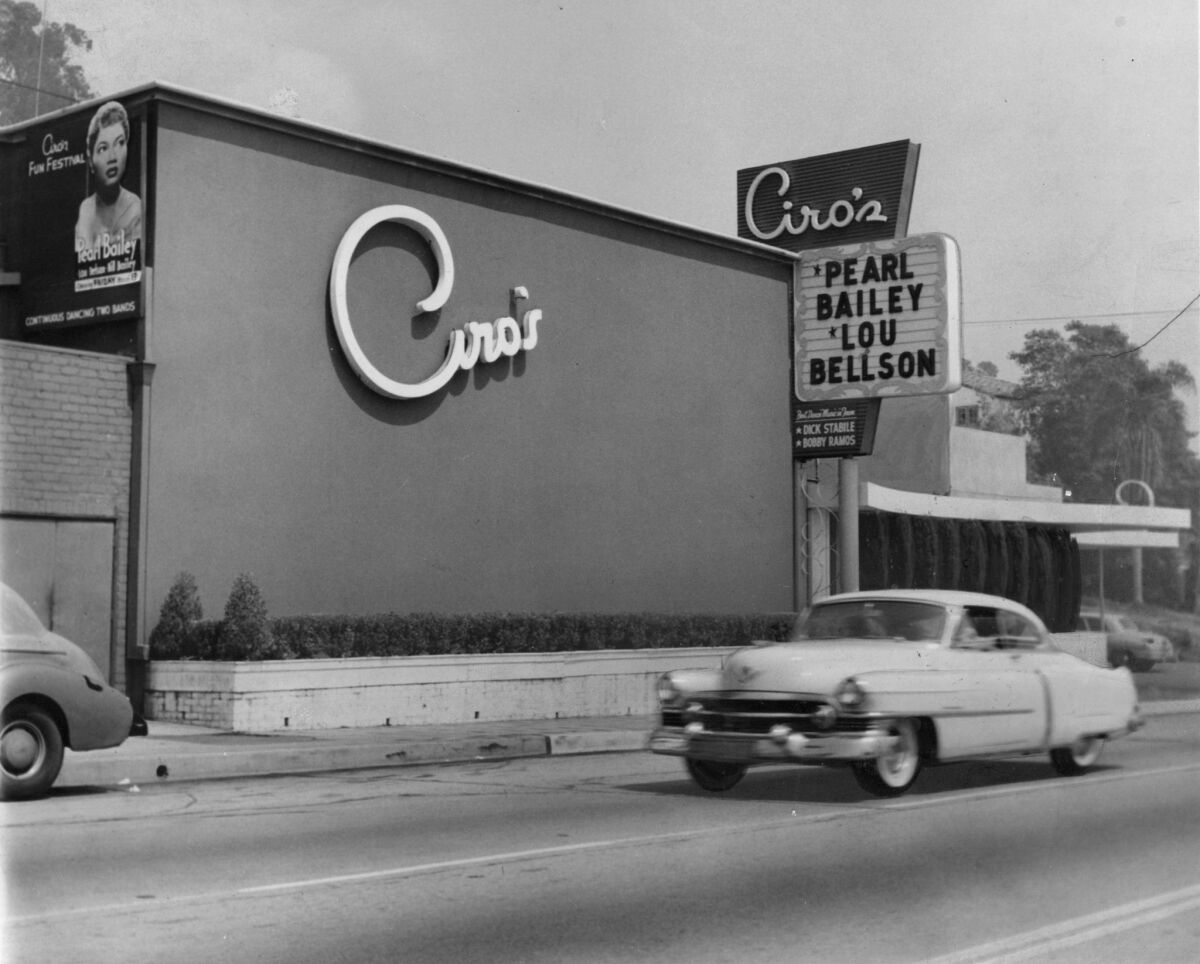 1951
Influential rock 'n' roll disc jockey Art Laboe begins broadcasting his radio show on KPOP from Scrivner's Drive-In at 6607 Sunset Blvd. (now a Jack in the Box)
1954
Composer Leonard Bernstein records the score for "On the Waterfront" at CBS Columbia Square studios.
1955
The Hollywood Palladium begins the long-running "Latin Holidays" nights, which under the guidance of radio personality Chico Sesma brings superstars including Perez Prado to the venue.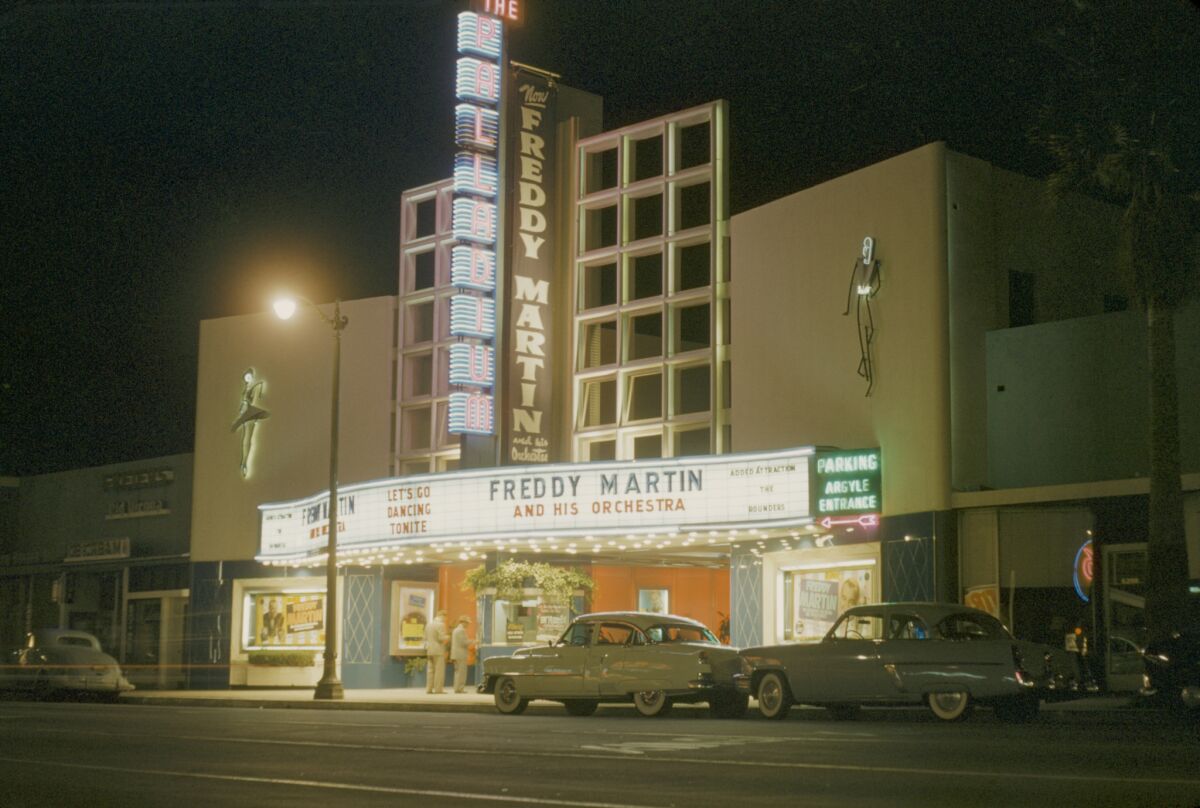 April 1956
Capitol Records relocates to its newly erected Capitol Records building on Vine.
1958
Former Chicago recording engineer Bill Putnam, who invented artificial reverb while working in Chicago, opens United Recording at 6050 Sunset Blvd. The complex, which eventually included neighboring Western Recorders, has helped generate classic music by Marvin Gaye, the Beach Boys, Michael Jackson, Madonna, Herbie Hancock and others.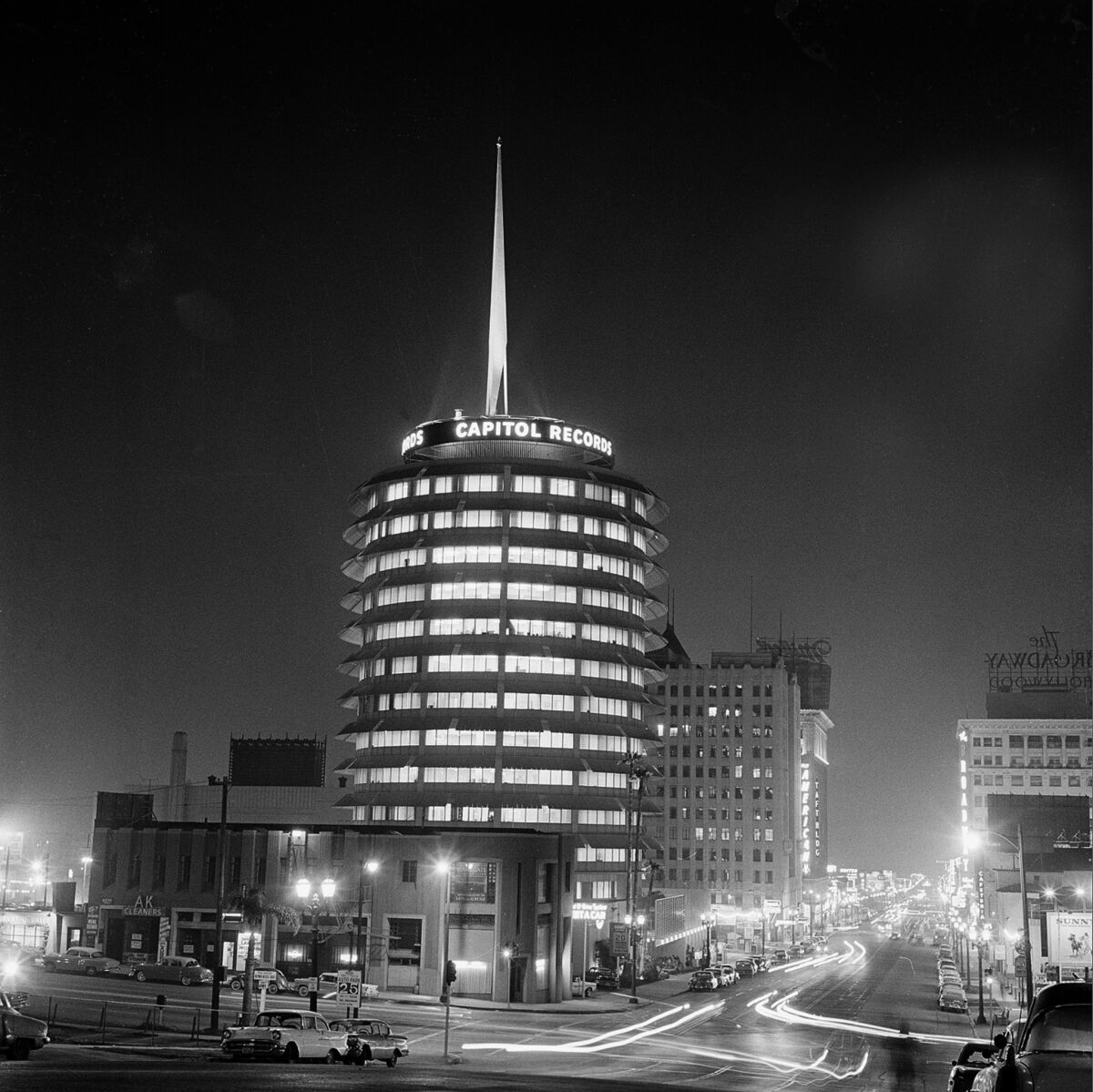 1958
Work begins on the studio that will become Sunset Sound Recorders (6650 Sunset Blvd.). Built to record scores to Disney movies, the studios have helped bring to the public classic records by the Doors, Prince, Metallica, Linda Ronstadt, the Rolling Stones and dozens more.
1961
Producer and songwriter Phil Spector, three years out of Fairfax High School, partners with music executive Lester Sill to open Philles Records at 6515 Sunset Blvd. The label will go on to release classics by the Ronettes, Crystals, the Righteous Brothers, Gene Pitney and Ike & Tina Turner.
1962
Musician and businessman Herb Alpert and partner Jerry Moss form A&M Records at 8255 Sunset Blvd. They eventually relocate to the former Charlie Chaplin Studios (now the Jim Henson Co. lot) near the corner of Sunset and La Brea Avenue.
August 1962
Dick Dale and the Beach Boys perform at the Palladium for the first annual Surfer's Ball during the peak of the surf-music craze.
Fall 1963
The UCLA Folk Festival commences the first of five events under the guidance of D.K. Wilgus. Among those who perform over the years include instrumental folk guitarist John Fahey, seminal country singer Rose Maddox and country blues singer Son House.
January 1964
Johnny Rivers performs on the opening night of the Whisky a Go Go on the Strip.
February 1964
Pop duo Jan & Dean release "Dead Man's Curve," which tells the story of a deadly crash on Sunset Boulevard.
April 1964
RCA Studios opens at 6363 Sunset Blvd. Artists including Astrud Gilberto, Harry Nilsson and the Jefferson Airplane record here.
March 1965
The Byrds debut at Ciro's on the Strip.
September 1965
The Rolling Stones record the final version of "(I Can't Get No) Satisfaction" at RCA Studios.
Fall 1965
Mamas and the Papas audition for Lou Adler at Western Recorders. He signs them to Ode and releases "California Dreamin'."
November 1965
Frank Zappa's Mothers of Invention debut at the Whisky a Go Go.
April 1966
Otis Redding makes his debut at the Whisky.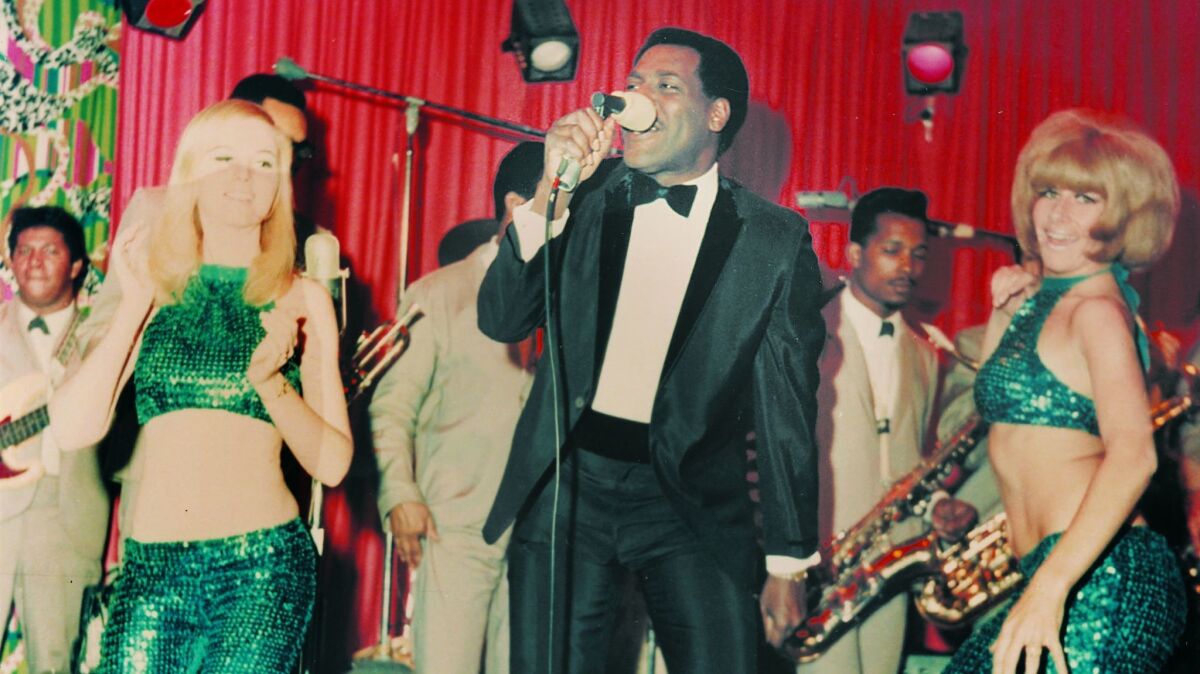 May 1966
The Beach Boys release "Pet Sounds," recorded at Sunset locations including United Western Recorders, CBS Columbia Square and Sunset Sound.
June 1966
Van Morrison's early group Them performs a two-week residency at the Whisky with opening band the Doors.
November 1966
The so-called Riot on Sunset Strip occurs when protesters clash with police over the closure of the popular hangout Pandora's Box at Sunset and Crescent Heights.
1967
Studio Instrument Rentals opens at 6465 Sunset Blvd. The company, which rents instruments and rehearsal space, is currently celebrating its 50th anniversary.
January 1967
Buffalo Springfield, which months earlier made its debut at the Whisky a Go Go, releases "For What It's Worth," a song inspired by the Riot on Sunset Strip.
January 1967
The Grateful Dead starts recording its debut album at RCA Studios.
December 1968
Sinatra records "My Way" at Western Recorders.
January 1971
Singer Janis Joplin's "Pearl" is released posthumously, recorded at Sunset Sound Recorders (6650 Sunset).
February 1971
Carole King releases "Tapestry" on Lou Adler's Ode Records, recorded at A&M at La Brea and Sunset.
1971
Retailer Wayne Mitchell relocates his shop, the Guitar Center, to Sunset Boulevard. Formerly known as the Organ Center, the business explodes with the rise of rock music.
1971
Tower Records opens at 8801 Sunset in West Hollywood.
1971
Music entrepreneur David Geffen teams with Joni Mitchell and Neil Young's manager Elliot Roberts to found Asylum Records.
June 1972
Detroit label Motown Records announces its intention to move its headquarters to offices at 6255 Sunset Blvd.
December 1972
Steely Dan performs a weeklong stint at the Whisky a Go Go.
September 1973
The Roxy opens its doors with three nights with Neil Young and Crazy Horse.
October 1973
Sly & the Family Stone and Bob Marley & the Wailers share a double bill at the Hollywood Palladium.
April 1974
Van Halen becomes the house band at the rock club Gazzarri's, where the quartet will continue to book extended residencies for the next three years.
September 1975
Female punk band the Runaways make their debut at the Whisky a Go Go.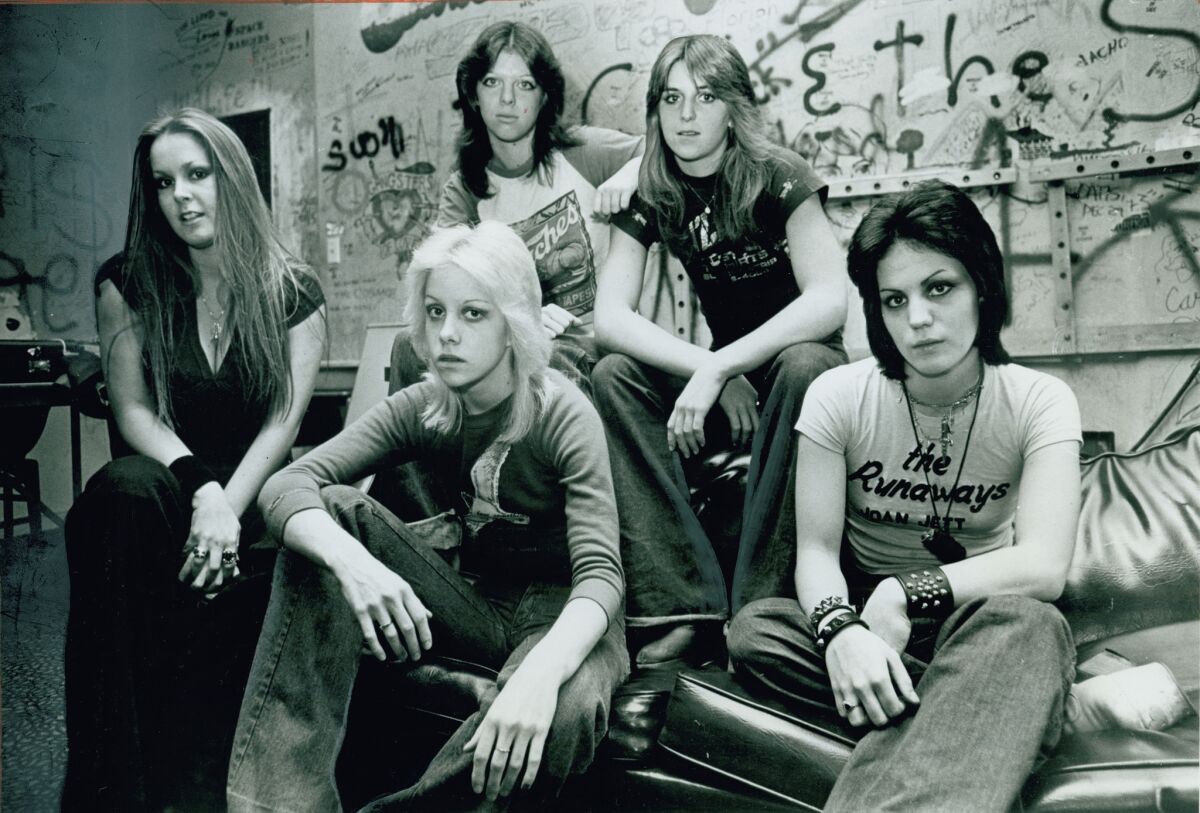 November 1976
Jackson Browne releases "The Pretender," recorded at Sunset Sound.
February 1977
Tom Petty and the Heartbreakers perform a residency with Blondie at the Whisky a Go Go.
June 1977
The Germs play at the Roxy and record "Sex Boy," the B-side to the punk band's first single.
September 1977
Devo, Blondie, the Weirdos and the Avengers gig at the Hollywood Palladium.
October 1978
Early L.A. punk band the Go-Go's make their debut at the Whisky and eventually become the most commercially successful of Sunset's first-wave punk bands.
December 1978
Hard rock band Quiet Riot, featuring young hotshot guitarist Randy Rhodes, performs its first Whisky a Go Go gig.
September 1979
Punk band Black Flag makes an early Sunset Strip appearance at Gazzarri's.
August 1980
The first Sunset Junction Street Fair occurs at the intersection of Sunset and Santa Monica boulevards.
1980
David Geffen founds Geffen Records, which will go on to release albums by Guns N' Roses, Nirvana and dozens more, at 9130 Sunset Blvd.
August 1981
Prince finishes recording of "Controversy" at Sunset Sound.
July 1982
SST Records label-mates Minutemen, Saccharine Trust, Meat Puppets and Overkill perform on a bill at the Whisky.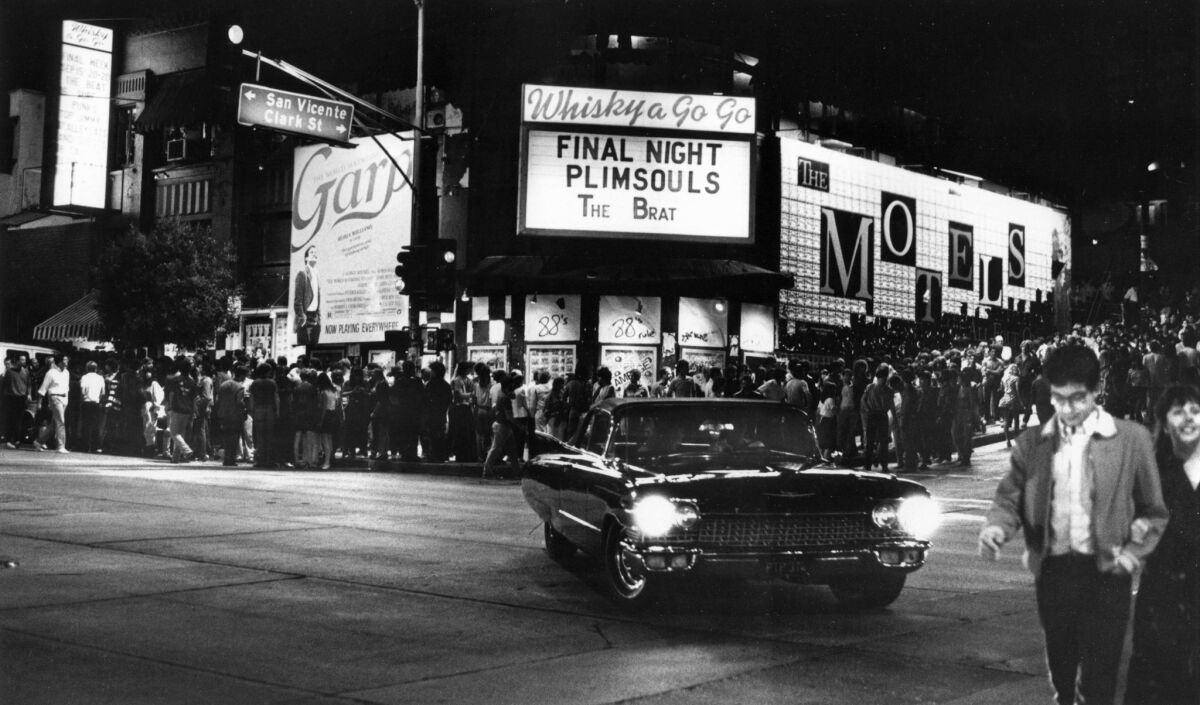 July 1983
Red Hot Chili Peppers play an early Sunset Boulevard show at Club Lingerie.
June 1984
Prince releases "Purple Rain," recorded in part at Sunset Sound.
Summer 1985
Guns N' Roses take over the so-called "Hell House" behind 7508 Sunset Blvd., where the band will write most of its debut album, "Appetite for Destruction."
October 1985
Jane's Addiction plays its first L.A. show (after a set at Safari Sam's in Huntington Beach) at the Roxy.
November 1988
The Red Hot Chili Peppers begin recording their breakthrough album, "Mother's Milk," at Ocean Way Studios (formerly United).
January 1989
Budding rap label Delicious Vinyl (6607 Sunset) releases rapper Tone-Loc's breakout album, "Loc-ed After Dark." With production by future Beck and Beastie Boys collaborator the Dust Brothers (and session work from Red Hot Chili Peppers' bassist Flea), the album hits No. 1.
1993
Investors including Johnny Depp and Chuck E. Weiss buy the Central (formerly the Melody Room) on the Sunset Strip and reopen it as the Viper Room.
1994
Epitaph Records, home to punk band Bad Religion, relocates its offices to Silver Lake.
1994
House of Blues opens its deliberately ramshackle music venue on the Sunset Strip (8430 Sunset Blvd.). It closed in 2015.
April 1995
Venerated post-punk venue Club Lingerie, where bands including Jane's Addiction, Red Hot Chili Peppers and Nirvana performed, closes.
July 1996
Fiona Apple issues her debut album, "Tidal," recorded in part at Ocean Way.
November 1997
System of a Down performs at the Whisky. The opening band, Xero, would eventually become Linkin Park.
Early 1999
Label consolidation forces thousands of layoffs amid the closure of key Sunset label offices of Geffen, A&M and Motown.
November 2001
Amoeba Music opens its first Southern California location (after two in the San Francisco Bay Area).
October 2002
Elliott Smith and Rilo Kiley play the recently opened Echo.
Feb. 3, 2003
Producer Phil Spector meets cocktail waitress Lana Clarkson at the House of Blues. Hours later she is dead. Eventually Spector is convicted.
July 2004
The first FYF Festival debuts at the Echo with a lineup that includes post-punk bands the Mae Shi, Wires on Fire and Sabretooth Tiger.
October 2006
Tower Records closes its flagship store after declaring bankruptcy.
March 2007
Amy Winehouse makes her Los Angeles debut at the Roxy.
October 2008
The Hollywood Palladium reopens with headliner Jay-Z after a multimillion-dollar renovation by its new owner, Live Nation.
December 2008
Elmer Valentine, who opened the Whisky a Go Go and the Roxy, dies at 85.
February 2009
The founders of Hydra Head Records open record store and metal-scene hub Vacation Vinyl in Silver Lake.
October 2009
The influential dance club A Club Called Rhonda relocates from Guatelinda Nightclub in East Hollywood to longtime flamenco club El Cid. Two years later the promoters move to the newly renovated Los Globos, also on Sunset.
July 10, 2012
Frank Ocean releases "Channel Orange," recorded primarily at EastWest (formerly Cello, Ocean Way, and Western).
---
Sources: Los Angeles Times archives; "Riot on Sunset Strip" (Dominic Priore); "Waiting for the Sun" (Barney Hoskyns); Discogs.com; "We Got the Neutron Bomb" (Marc Spitz and Brendan Mullen); "The Wrecking Crew" (Kent Hartman); "Under the Big Black Sun" (John Doe with Tom DeSavia and friends); "The Rolling Stones: All the Songs (Philippe Margotin and Jean-Michel Guesdon); "Queens of Noise: The Real Story of the Runaways (Evelyn McDonnell); "Mexican American Mojo (Anthony Macias); "Sunset Boulevard: Cruising the Heart of Los Angeles" (Amy Dawes); "Where the Action Is!" (Andrew Sandoval, liner notes).
For tips, records, snapshots and stories on Los Angeles music culture, follow Randall Roberts on Twitter and Instagram: @liledit. Email: randall.roberts@latimes.com.
---
Get our L.A. Goes Out newsletter, with the week's best events, to help you explore and experience our city.
You may occasionally receive promotional content from the Los Angeles Times.