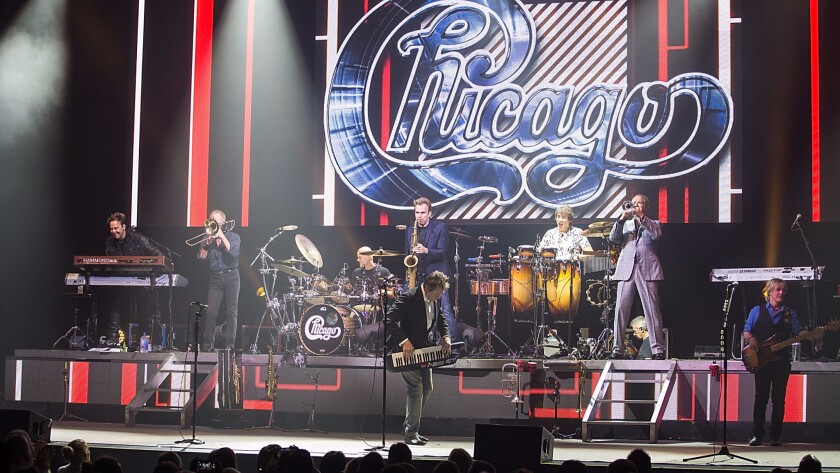 Chicago's Robert Lamm is best known for his dozens of smooth, brass-infused rock hits in the 1970s and '80s ("Saturday in the Park," "25 or 6 to 4" — you know them well). But after nearly 50 years of touring, he also appreciates the virtues of a sweaty rave.
"Whenever I'm in an art museum, they're just all photographing the painting. We're being conditioned to have filters," Lamm said. "That's why I think raves and festivals have become so huge in the last decade, and I think that's the saving grace for live music."
This weekend, Chicago plays the Hollywood Bowl for a three-night stand that begins Saturday and runs through the Monday holiday. The act will be joined by the Hollywood Bowl Orchestra.
It's an auspicious moment — in the last two years, Chicago was inducted into the Rock and Roll Hall of Fame, performed at the Grammys and starred in a documentary film, "Now More Than Ever: The History Of Chicago."
Lamm talked about the return of '70s album-oriented rock, his unexpected contemporary interests (Kendrick Lamar, "Hamilton") and how to stay inspired over five decades on the road.
These have been a big few years for the band's legacy. Why do you think there's been such attention on your accomplishments recently?
I don't know! I know that we've never stopped touring and recording, and I can only speculate that, in concert, we play with conviction, and there's a sense in the audience that they're hearing the real thing. I'm going to do it until I fall. That's the plan.
You've been touring and recording for 50 years, and seen so many genres wax and wane. What's turning your ear in contemporary music?
[When] touring Europe, I first heard compilations of club music and dance music, and it was inspiring because I dug the samples and beatmaking of hip-hop, but I wanted to hear more harmony and melody. Those are all things I dragged into the last Chicago album (2014's ""NOW Chicago XXXVI").
In the same year that I saw "Hamilton" on Broadway, I got to witness Kendrick Lamar perform at the Grammys, and I felt there was a strong connecting thread there. On the radio now, there are so many beautiful recordings of not-so-great songs with similar approaches sonically. I hear a lot of that and don't find it interesting.
When I first started out, I was very into bossa nova. [Antonio Carlos] Jobim was very interesting, and I've never been afraid to look into music of other cultures. The fact that we do that at a click, that we can listen to every corner of world, that's great.
Music-sharing technology definitely enabled that, but it's also kept bands from being able to have the kind of long career and livelihood of Chicago. Is it better for musicians now than back in the '70s?
I'm not tech-y. I like to read, I like art museums, fashion, and all these things are immediately available on laptop. Now, tech is a dividing device and yet it brings me to consciousness with the culture. So technology is both good and bad.
I think that's the saving grace for live music. Venues have dried up, places to play are fewer than in the '70s. It's a challenge for artists and a challenge for listeners. The fact that we can occasionally perform with a great orchestra, that's such a treat for us. A lot of musicians in these orchestras grew up listening to Chicago, and that's crazy.
What do the Rock Hall induction and the Grammy performance mean to you at this point in your career?
We were actually surprised the Rock Hall came around. But the important goal is to be able to survive as working musicians. Getting a gold record has nothing to do with the music, it's more of a reward.
But we had a great time — people at the Hall were very gracious. It was a hoot. But the Grammys were a different kind of acknowledgement. The Grammy performances that we watch every year, it takes the temperature of music. To be included was an honor. And for a band like us, any time we can get our mugs on TV is a good thing.
A lot of your '70s and '80s peers, like Fleetwood Mac and Hall & Oates, have had a revival lately. What do you think was underrated about that era of rock?
Thoughtful songwriting. Most of us came out of the awakening of the Beatles, where you could write your own songs and express personal feelings but also reflect what's going on in culture. That was invented by the Beatles, and those who followed in the '70s had a similar [mix of] talent and inspiration. That has resonance in the 21st century and I think that's what will keep rock and pop going in the long run.
Twitter: @AugustBrown
---