Review: Café Tacvba and the L.A. Phil find the sweet spot between Latin rock and orchestral elegance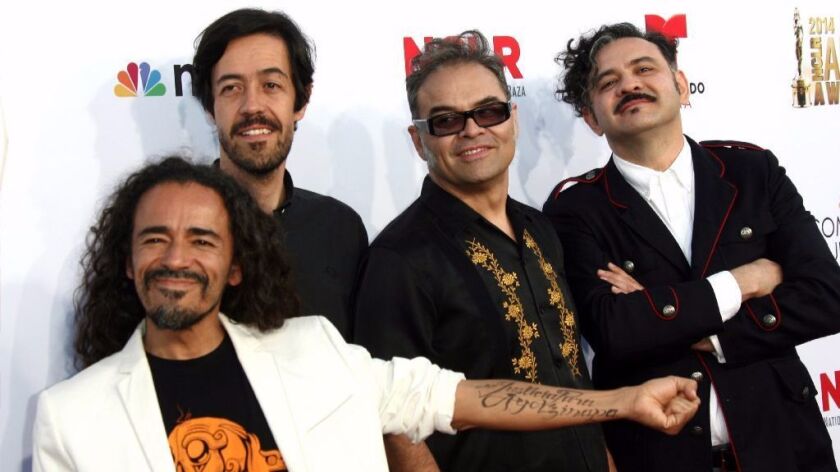 Café Tacvba has zigged and zagged along the fringes of Latin rock for so long that it's astonishing to think there's any new territory to explore. Since the early 1990s, the pioneering Mexican band's music has mashed up everything from punk, electronica, folk and funk to salsa, cumbia and just about every other Latin rhythm. And that's often on one album.
Sunday night revealed a whole new layer of Café Tacvba after 25 years of twists and turns. In the stately confines of Walt Disney Concert Hall, the six-piece held court with the Los Angeles Philharmonic, with conductor Gustavo Dudamel at his usual perch. As part of the L.A. Phil's CDMX Festival, a celebration of music from Mexico City, in conjunction with the Getty's Pacific Standard Time: LA/LA series, the performance marked the band's debut collaboration with an orchestra.
They were an odd couple, the kind you'd invite over for dinner but secretly worry about how the conversation would go down. Where the L.A. Phil is sophisticated and precise, Tacvba (pronounced Ta-COO-ba) is usually brash and unbridled, with one of rock's great mad scientists on the mike, Rubén Albarrán. And yet somehow the pairing worked. Mostly.
Dudamel led the orchestra in an opening set of vivid danzones — imagine tango by way of Bernard Herrmann's suspenseful scores for Hitchcock — by the contemporary Mexican composer Arturo Márquez, who took a bow at the end of the performance amid rapturous applause.
One by one, the members of Café Tacvba then took the stage, saving the best for last: Albarrán slinked out in a floor-length, rose-colored robe (was that velvet?), beaming with not one but two man buns pointing east and west. It was practically a sight gag, raising eyebrows about how these technicolor misfits would jibe with their new cohorts decked out all in black.
Together they found the sweet spot when they re-imagined some of the band's softer moments. With the orchestra adding a new cinematic climax, "Eres" (with keyboardist Emmanuel "Meme" del Real on lead vocals) shed some of its Sunday-morning R&B vibe and drifted to an astral plane.
The L.A. Phil's majestic sweep also coaxed new shades of Albarrán's voice. His pinched, raspy wail is one of rock en español's great gifts, but Sunday night he got to plumb different textures of his singing. On "De Este Lado del Camino," Albarrán burrowed deep into his vocals, elongating phrases and sustaining notes for dramatic effect. He was clearly seeking — and relishing — a fresh way to interpret the lyrics.
Other times, though, you missed the syncopated punch that often kicks Tacvba's songs into override. The dense orchestrations on "El Puñal y el Corazón" blunted some of its dizzying force, and the band seemed slightly out of sync with the L.A. Phil on "Esa Noche," even with a slower tempo.
For the final third act, Dudamel and company disappeared, leaving Tacvba to transform the hallowed concert hall into a rock spectacle full of pulsing lights and decibels cranked well beyond your typical L.A. Phil performance. They roared out of the gate with "Futuro," a heady blend of Radiohead, Peruvian chica and, um, the Beach Boys from the band's new album, "Jei Beibi" (as in, "Hey Baby").
Fan favorites "Chilanga Banda" and "Las Flores" rang out as singalongs that resonated in the venue's pristine acoustics. Of course, it wouldn't be a Tacvba show without an impassioned plea from Albarrán, who preached the value of love and respect for everyone from women and indigenous peoples to the LGTBQ community and victims of recent natural disasters.
It was a fitting preface to the closing "El Baile y el Salón," whose chorus reminded us that, especially in turbulent times, redemption is often just one song and dance away.
Follow me on Twitter @jreedwrites.
---
The complete guide to home viewing
Get Screen Gab for weekly recommendations, analysis, interviews and irreverent discussion of the TV and streaming movies everyone's talking about.
You may occasionally receive promotional content from the Los Angeles Times.