A reanimated Gorillaz is back — this time with real-life musicians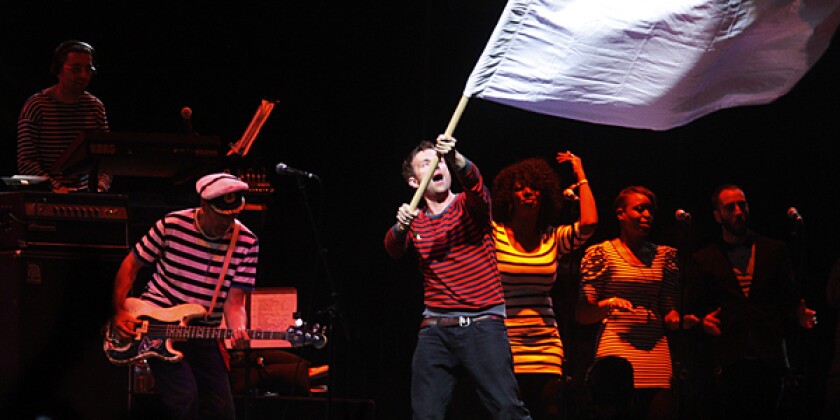 When the sprawling British ensemble Gorillaz reunited to close out the final night of Coachella in April, anyone familiar with the band might have been shocked at what they saw.
Gorillaz, co-founded a decade ago by Blur frontman and U.K. rock macher Damon Albarn and the comic artist Jamie Hewlett, was conceived as a kind of wry Pop Art comment. So many chart-toppers felt vapid and cartoonish, the duo's thinking went, that they conceived a quartet of actual cartoons visualized by Hewlett in animated projections, and created dub- and rap-influenced electropop tunes performed by Albarn and collaborators. The project was a many-times-platinum success, and smoldering singles such as " Clint Eastwood" and "Feel Good Inc." are forever in the pop troposphere.
After a five-year lull, Coachella fans had little hint as to what the return of Gorillaz might entail. Animatronic versions of "band members" Murdoc, Noodle, Russel Hobbs and 2D? A movie-length narrative set in the cryptic world of its new album, "Plastic Beach"?
Nope. Instead, Gorillaz arrived on Coachella's main stage with its most exotic creatures yet — real, live musicians, including Albarn up front and a huge cast of boldface cohorts at his side.
Why'd they lose much of the animated veneer?
"The answer was simple — you don't have Paul Simonon and Mick Jones in your band and obscure them in any way," Albarn said of the two founding Clash members who now play alongside him in Gorillaz. "That said, at Coachella, there wasn't a lot of time from when we got the show to when we played, so there were lots of bits missing."
Since then, Albarn, Hewlett and the massive ensemble that counts pioneering rappers De La Soul, crooner Bobby Womack and half the Clash among it, have bent a little more to their cartoonish impulses. Hewlett penned a slew of new narrative animations for their current tour, which stops at the Gibson Amphitheatre Wednesday night. But this latest incarnation underscores something new and exciting in this Gorillaz return — the fact that they're human, after all.
Whereas 2001's "Gorillaz" and 2005's "Demon Days" relied on Albarn working in concert with a small stable of producers (Del the Funky Homosapien and Dan the Automator for the former, Danger Mouse on the latter), "Plastic Beach" found Albarn tapping everyone from canonical curmudgeons such as Lou Reed (who will appear at L.A.'s set) and the Fall's Mark E. Smith to Snoop Dogg, avant-electro singer Little Dragon and the National Orchestra for Arabic Music.
The results are both more eclectic and more extravagantly pop-centric than anything Gorillaz has done to date. "Stylo" benefits from the grand idea to have Mos Def and Womack swap butter-smooth flows atop a cold-wave synth bed; De La Soul turns in some exquisitely goofball verses on "Superfast Jellyfish," with Super Furry Animals lead Gruff Rhys on the psych-sunny hook. Reed's droll sing-speak on "Some Kind of Nature" thwacks against Little Dragon's wistful bliss pop on "Empire Ants."
As a collection of singles in the spirit of "Feel Good Inc.," the whole thing would be kind of a mess. But this singularly daft album has it roots in something far more highbrow — Albarn and Hewlett's collaboration on the 2007 opera "Monkey: Journey to the West."
Drawing from a 16th century Chinese novel, the two worked with director Chen Shi-zheng and more than 70 dancers, acrobats and martial artists for an extravagant piece following a group of mythological travelers who seek (and squander) enlightenment, slay foes, learn hubris and eventually meet Buddha in paradise.
The production met universal acclaim at its runs in Manchester, London, Paris and a U.S. debut in Charleston, S.C. The BBC used one of "Monkey's" animation sequences in its coverage of the Beijing Olympics. But the scope of it — and memories of a previously aborted Gorillaz tour involving a massive hologram rig — also helped put some practical boundaries around the duo's boundless aspirations for Gorillaz.
"['Monkey'] absolutely influenced everything we did on this record," Albarn said. "It made me think more operatically in terms of songwriting, storytelling and character development. But it also taught us a lot about what not to do in terms of the production."
Enter the humans, then. This tour's new animation buttresses the band-centric live performances with a wry trip through the surrealist, manga-informed world of "Plastic Beach," one punctuated with the dryly enthused musings known to fans of "bassist" Murdoc's Twitter feed. Offstage, Hewlett helms the animation sequences in time with the band's live sets.
"We tried the smoke and mirrors, but never really came up with anything that could tour properly," Hewlett said. "What we have now is the show we've always wanted. It's taken 10 years, but we've finally grown these characters into pop stars in their own right — they get away with so many things we couldn't."
As pop stars go, Albarn and Hewlett are indeed pretty domesticated. They still live across the street from each other in London (they started Gorillaz while sharing a flat), where both are raising families, and Albarn has shepherded projects ranging from his world-music label Honest Jon's to a much-beloved Blur reunion in 2009.
Gorillaz seems to offer an opportunity for Albarn and company to maintain the madcap creativity of their early careers at a station in life where every idea seems possible — from commissioning Snoop Dogg to add a verse to hiring half the Clash to headlining the world's biggest stages as essentially the house band for a film screening.
For something that began as a big in-joke on celebrity, Gorillaz managed to make awfully real pop stars of its two-dimensional quartet — and of themselves.
"Everyone has their favorite cartoon characters. It's ageless, really," Hewlett said. "If you look at the modern pop charts, lots of artists are just playing characters anyway."
---
Inside the business of entertainment
The Wide Shot brings you news, analysis and insights on everything from streaming wars to production — and what it all means for the future.
You may occasionally receive promotional content from the Los Angeles Times.