29 Images
Grammys 2013: Best & worst moments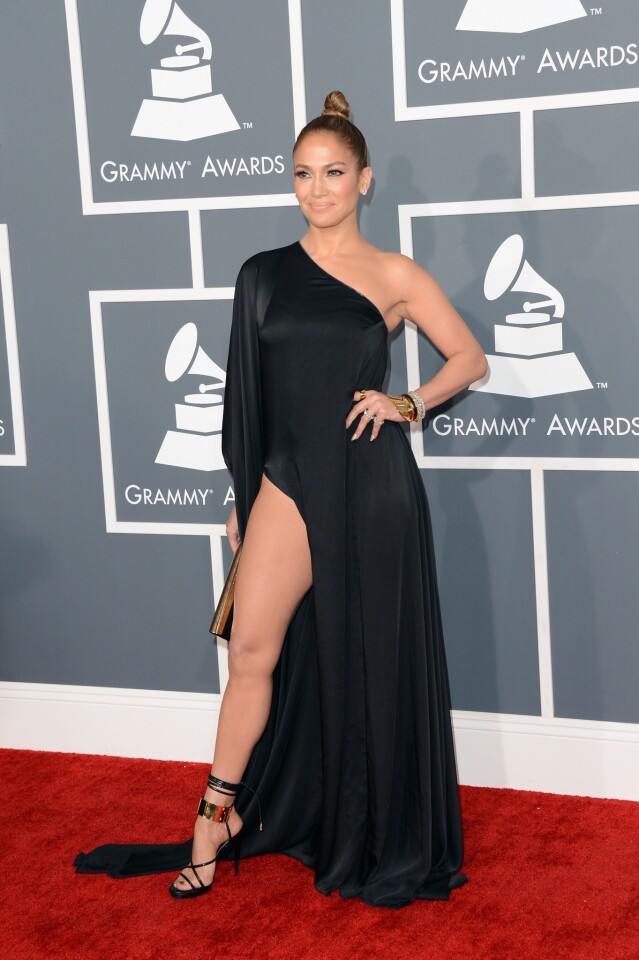 With any large group of people, it's inevitable that someone won't get the memo, and in the case of the Grammys, there literally was a memo, issued by CBS and admonishing Grammy attendees from baring too much skin, the "bare fleshy under curves of the buttocks and buttock crack" and "puffy" bare skin exposure. Among those who obviously didn't get the memo: Jennifer Lopez, Skylar Grey and Kelly Rowland. Actually, J.Lo got the memo, as she told E! "They didn't say anything about leg."
(Jason Merritt / Getty Images)
Taylor Swift opened the show with a three-ring circus of "Alice in Wonderland" imagery, and she performed her hit "We are Never Ever Getting Back Together." Swift once again demonstrated her show business shrewdness, filling the stage with so many stilt walkers, clowns, flame dancers and human marionettes that it's likely some failed to notice that she continues to sing poorly live.
(Joe Klamar / AFP Getty Images)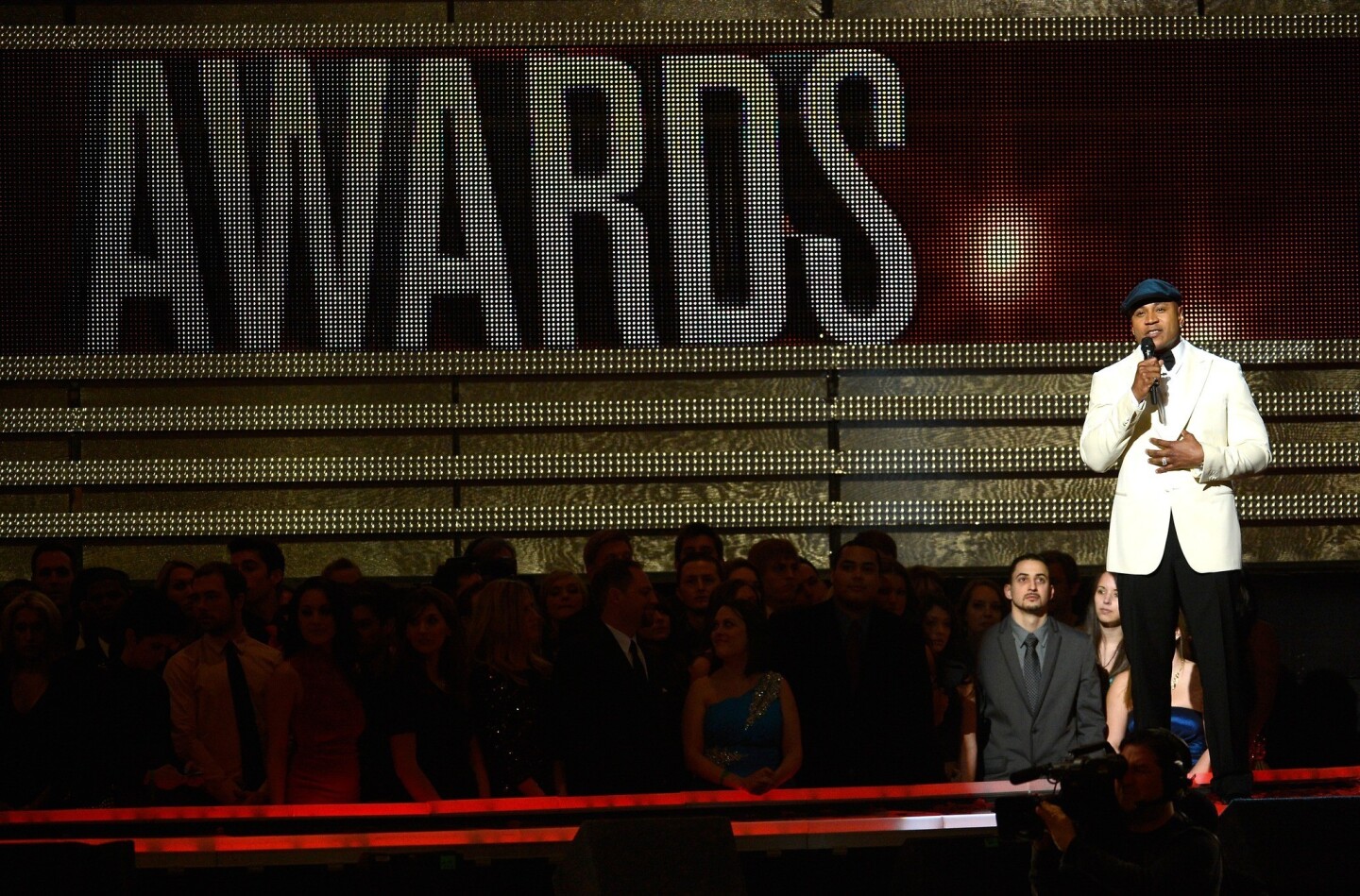 LL Cool J didn't attempt to yuk the audience up while opening the Grammys for his second stint as host. Instead, he tried to induce a lump in the throat, evoking the spirits of Whitney Houston and Michael Jackson, his recording-artist father and even his dear departed grandmother, to whom he gave his own Grammys. "My grandmother taught me to dream, dream, dream," the "NCIS: Los Angeles" star told the crowd. As for the Grammys? "I cherish and polish them regularly."
(Kevork Djansezian / Getty Images)
Midway through Fun.'s performance, fake rain began to fall from the stage, proving to be most distracting from their performance of "Carry On," as many wondered about the possibility of electrocution on stage. That was either a fear or a wish, depending on the audience's opinion of Fun.
(Robert Gauthier / Los Angeles Times)
The Grammys have long been known for their odd or interesting pairings: Many praised music elder statesman Elton John teaming with Ed Sheeran, while many criticized Miranda Lambert and Dierks Bentley. But the strangest pairing had to have been Miguel, right, and Wiz Khalifa performing together and then having to present the award for country solo performance.
(John Shearer / InvisionAP)
One of the best acceptance speech lines of the evening came from Fun. singer Nate Reuss, second from right, who, upon winning song of the year for "We Are Young," told the crowd, "I don't know what I was thinking writing the chorus for this song. If you have HD you can see us, and we are not young." (Actually Reuss is 30, which isn't exactly old, either.)
(John Shearer / InvisionAP)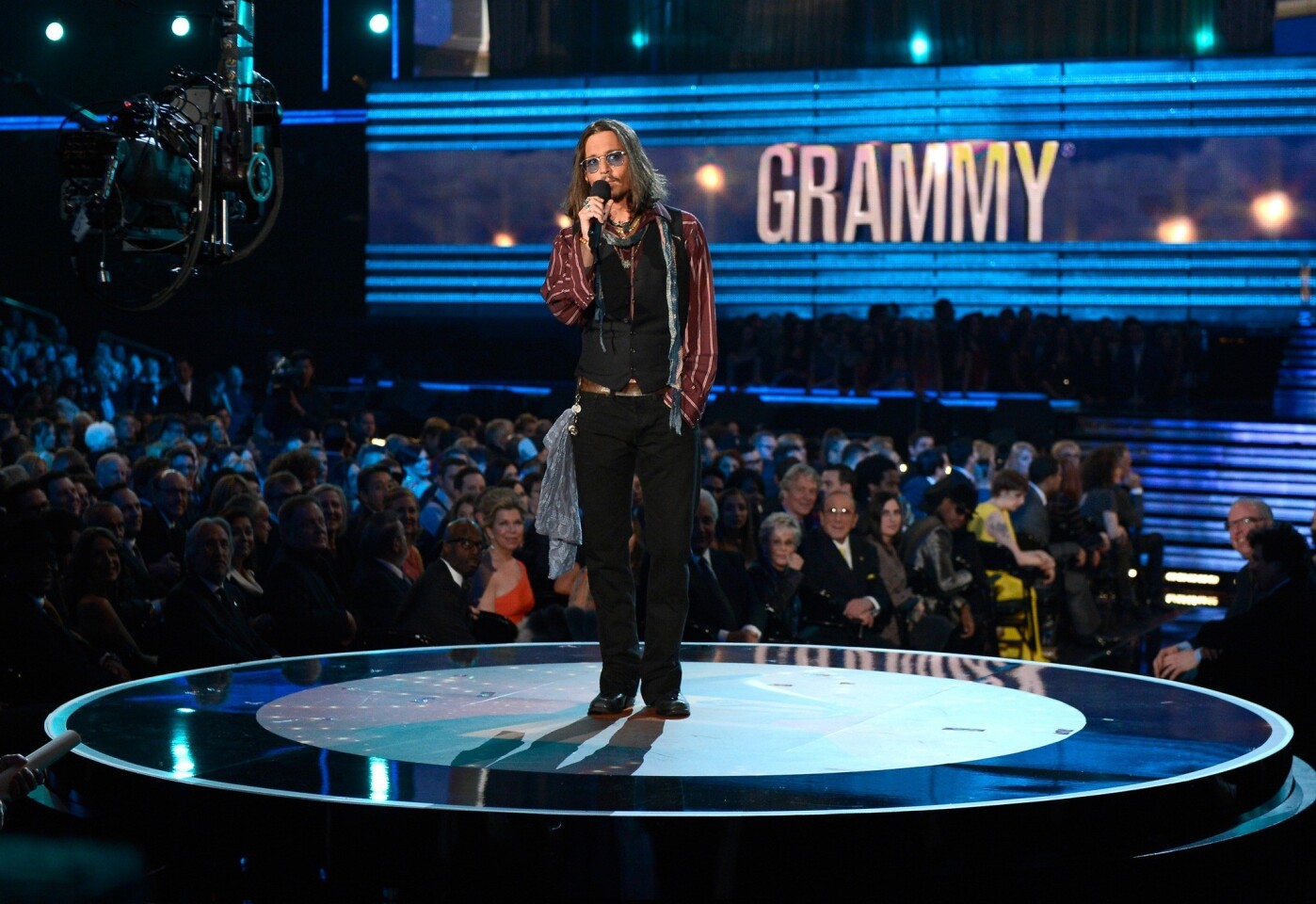 Johnny Depp, overflowing with scarves, suddenly appeared on the platform and introduced Mumford & Sons without any introduction of himself. Was it Depp standing there or Captain Jack Sparrow? At this point, they seem to be becoming one and the same.
(Kevork Djansezian / Getty Images)
Justin Timberlake's much-hyped return to live performances featured a 1940s-style staging of his new song "Suit & Tie" broadcast in black and white (to accentuate the old-timey-ness) with an assist from Jay-Z, who bizarrely joined the fun directly from his front-row seat. While the performance drew considerable praise from within Staples Center, many in the TV audience wished it was catchier.
(Christopher Polk / Getty Images for NARAS)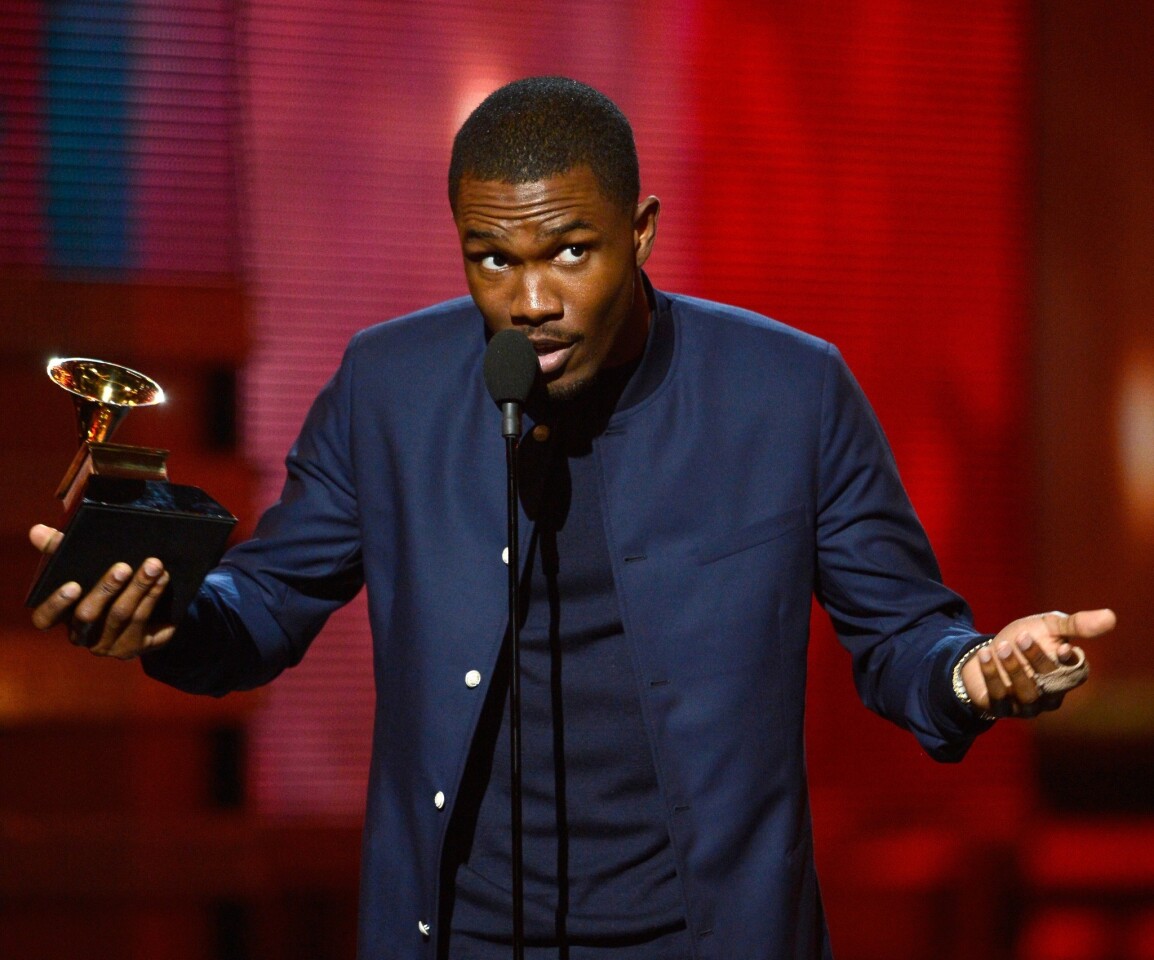 Score another win for Frank Ocean, who beat out Chris Brown for urban contemporary album. Making it especially sweet was that Brown and Ocean were pitted against each other in real life recently in a scuffle over a parking spot at an L.A.-area recording studio.
(Kevork Djansezian / Getty Images)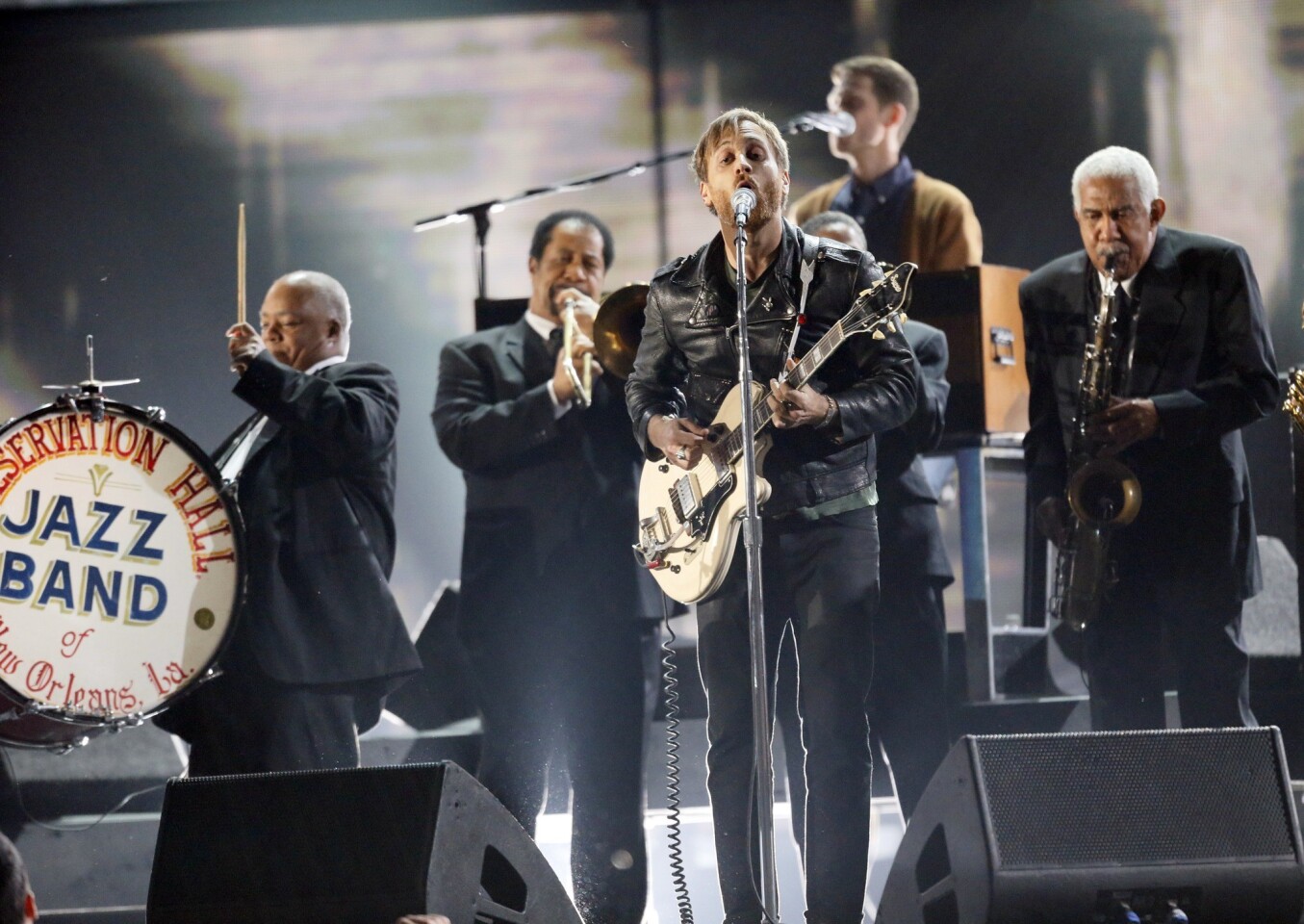 One of the live-performance highlights was the Black Keys teaming with Dr. John and the Preservation Hall Jazz Band for a rousing rendition of the Black Keys' nominated song "Lonely Boy." After a series of less-than-enthusiastically received performances, this was a standout.
(Robert Gauthier / Los Angeles Times)
Kelly Clarkson at the Grammy Awards.
(Robert Gauthier / Los Angeles Times)
Who doesn't like a party? Bruno Mars, Rihanna, Sting and Damian Marley did their best to bring the party during their lengthy tribute to Bob Marley, though more attention was paid to the long, lingering cut-away to Rihanna's on-again, off-again boyfriend Chris Brown, who couldn't seem to look up with Rihanna took to the stage.
(Christopher Polk / Getty Images for NARAS)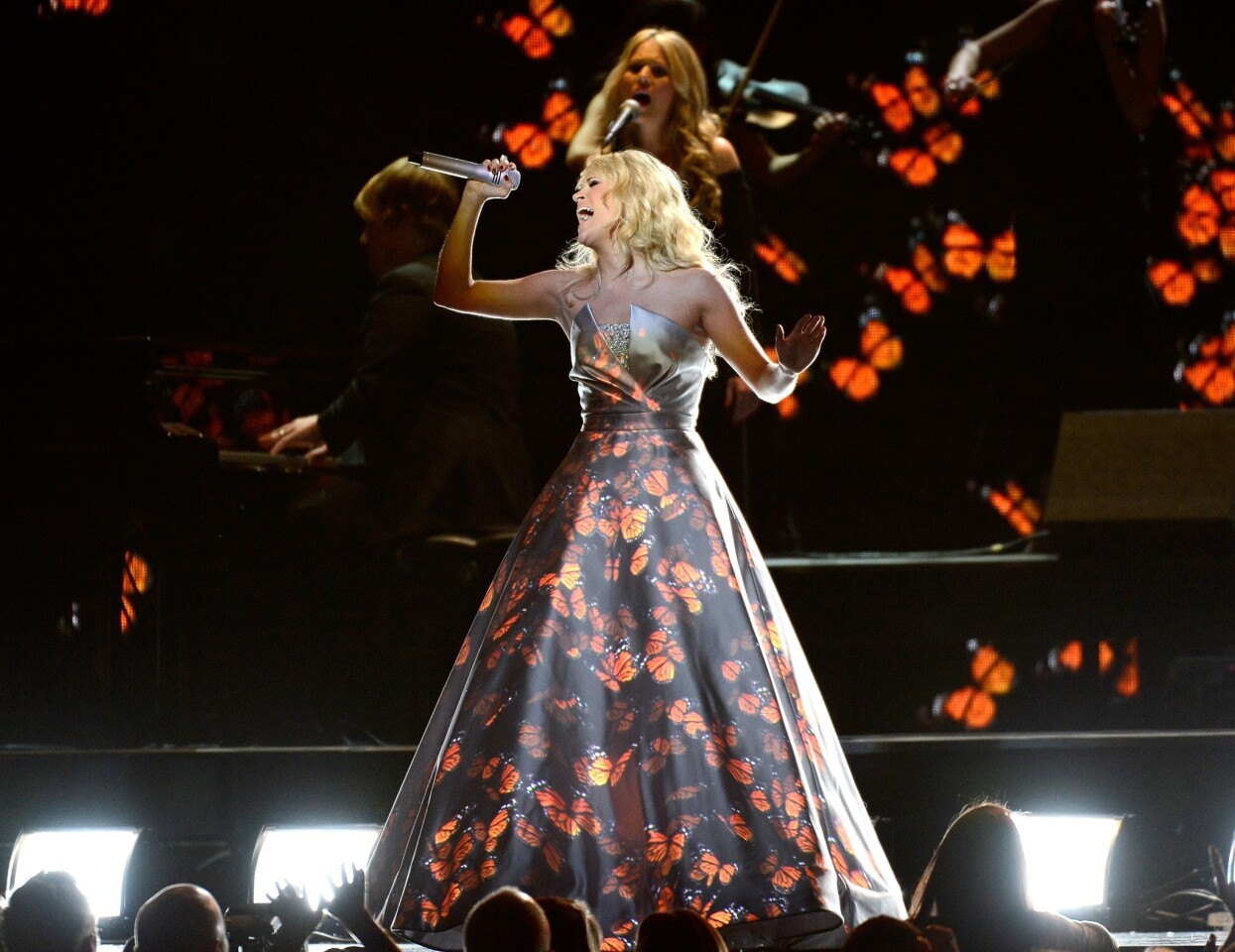 We're all for experimentation and boundary pushing in our live music performances, but Carrie Underwood was surely steered wrong by someone when they suggested she stand completely still during her performance while a variety of images and patterns were displayed on her large, flowing dress. Unless someone was planning to project "Lincoln" on there, they shouldn't have bothered.
(Kevork Djansezian / Getty Images)
Inspiration seemed to be the theme of the night, starting with host LL Cool J talking about his inspirations, then Grammy winner Gotye spending a big chunk of his acceptance speech praising his presenter, Prince. And then Juanes took a few moments to praise Elton John and cover "Your Song" before introducing Frank Ocean.
(Kevork Djansezian / Getty Images)
Backstage, the media was intensely interested in where music producer the Dream got his "Boyz N the Hood" hat that Jay-Z teased him about on stage, alluding to the swap meet where he found it. But in fact the Dream got the hat at the mall, at Spencers. Expect them to be sold out starting Monday.
(Kevork Djansezian / Getty Images)
One of the biggest, most rollicking moments of the night was the tribute performance to the Band's Levon Helm, featuring Elton John, Mavis Staples, Zac Brown, Mumford & Sons and Brittany Howard of the Alabama Shakes. So rockin' was the all-star jam that Staples' vocal stylings exceeded the actual end of the song. But who cares? It was fun.
(Kevork Djansezian / Getty Images)
LL Cool J saved the final performance of the night for himself, along with Chuck D., Tom Morello and Travis Barker. While it has been a while since LL Cool J was primarily known for his rapping, this performance on CBS was surely causing the prime audience of Cool J's "NCIS: Los Angeles" to look at one another and scratch their heads.
(John Shearer / InvisionAP)