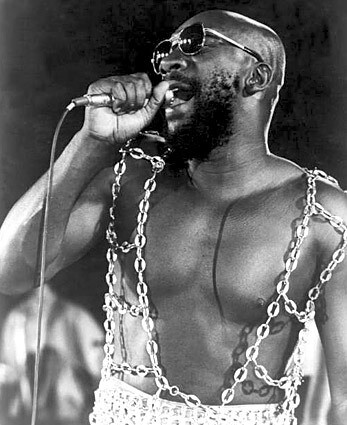 10 Images
Isaac Hayes: Life in pictures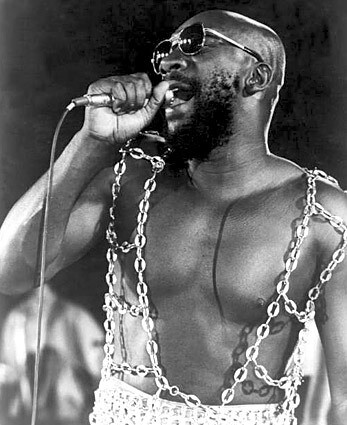 Isaac Hayes
Rough beginnings
Isaac Hayes in performance, circa 1970. Born in Covington, Tenn., in 1942, Hayes began singing at an early age, performing at his local church. Hayes lost both his parents when he was an infant, and he was raised by his grandparents. He picked cotton, and taught himself to play the piano.
(Michael Ochs Archives / Getty Images)
Isaac Hayes, Memphis
On to Memphis
Hayes' music career began in the early '60s when he moved to Memphis. He performed in a string of short-lived groups, and played sax with the Mar-Keys, who were associated with the pivotal soul label Stax Records. It was there he met David Porter, and the two became a potent songwriting team. They composed hundreds of songs, including Sam & Dave's "Soul Man" and Carla Thomas' "B-A-B-Y."
(Courtesy of the Saul Zaentz Comp)
Isaac Hayes, on his own
On his own
Hayes' solo debut was the jazzy 1967 album "Presenting
Isaac Hayes
," but it was his 1969 "Hot Buttered Soul" that was his breakthrough. It was an adventurous album that had a profound effect on soul music, even if it's not among Hayes' most popular works. Only four songs – three of which were at least 9 minutes – the album comes complete with elaborate string-enhanced productions and monologues. Indeed, "Hot Buttered Soul" was a concept record that stood in stark contrast to the Motown hits of the period.
(Michael Yarish / FOX)
Isaac Hayes, no slump in sight
No slump in sight
Hayes turned out two albums in 1970, "The
Isaac Hayes
Movement" and "To Be Continued." The former was a hit -- and no less challenging, rearranging works from the Beatles,
Jerry Butler
and
Burt Bacharach
.
Hayes' solo work was more atmospheric and experimental than much of the music he co-wrote with David Porter. In a 2001 interview with The Times, Hayes said, "That's where I was all along, when I was playing music just for me and myself. But I had to make the dollar, and Sam & Dave created a lot of money for Dave [Porter] and me. I gained a lot of experience doing that stuff, so when the time came for me to do my own thing, hey, I was ready."
(Michael Ochs Archives / Getty Images)
Isaac Hayes, Richard Roundtree, Shaft
Shaft!
Hayes composed the music for the blaxploitation film "Shaft," and the resulting work has become one of soul/R&B's most well-known pieces. Hayes' "Theme From Shaft" won the musician an Oscar, and the largely instrumental album was a showcase for Hayes' ability to shift moods and move through genres.
Also in 1971, Hayes released his top-10 charting album "Black Moses," a double-album that has become one of Hayes' most well-known works.
Pictured: Richard Roundtree in "Shaft."
(MGM)
Isaac Hayes, more film work
More film work
Hayes pulled double duty in the blaxpoitation films "Three Tough Guys" and "Truck Turner" in 1974, and then became wrapped up in a bitter royalty dispute with Stax Records. Hayes eventually won release from his contract and formed his own label, Hot Buttered Soul.
He filed for bankruptcy in 1976.
(Michael Ochs Archives / Getty Images)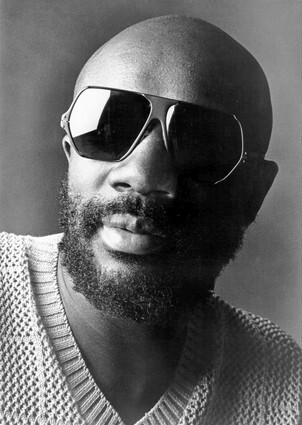 Isaac Hayes, Comebacks
Comebacks
Hayes was able to stage numerous comebacks throughout his career. In the late '70s, he had some success working with
Dionne Warwick
, and moved into disco/funk with hits "Zeke the Freak" and "Don't Let Go."
But by the end of the decade, Hayes was becoming increasingly more interested in acting. He remade his career as an actor and appeared in a number of films, including "Escape From
New York
," "I'm Gonna Git You Sucka" and "
Robin Hood
: Men in Tights."
(Michael Ochs Archives / Getty Images)
Isaac Hayes, Chocolate Salty Balls
Chocolate Salty Balls
Hayes was cast as the voice of Chef in the long-running Comedy Central series "South Park," which introduced the artist to a new generation of fans. Chef, a sex-obsessed cafeteria singer, became one of the show's most popular characters, and a song from the series, "Chocolate Salty Balls," was even a minor hit.
But Hayes' relationship with "South Park" ended in controversy. Hayes is believed to have quit the show in 2006 after an episode mocked Scientology.
(Comedy Central)
Isaac Hayes, Stax 2.0
Stax 2.0
Hayes suffered a stroke in 2006, but recovered, and he was well enough to tour and perform on last year's Stax reunion tour; the rebooted label was again working with Hayes. At the
Los Angeles
stop on the tour, The Times' Ann Powers documented Hayes' appearance:
"The very fact of Hayes' performance was reason to cheer: Last year, he suffered a stroke, and he is clearly still recovering. Leading a brawny band that featured two drummers, three additional keyboardists and itchy-fingered guitarist Charles 'Skip' Pitts, Hayes labored to focus as his trademark lush arrangements unfolded. His baritone croon cracked on the high notes, and he needed a notebook for lyrics; yet even when stumbling, he maintained his cool."
(EPA)
Isaac Hayes: 1942-2008
Isaac Hayes: 1942-2008
The soul legend was found dead by a family member on Aug. 10, 2008.
(Lawrence K. Ho / Los Angeles Times)