'Los Punks' documentary goes behind the scenes of L.A.'s underground punk rock scene
For decades a low-budget, high-energy punk rock scene has been burning through the backyards and empty lots of East Los Angeles, Boyle Heights and South Central Los Angeles.
If the new documentary "Los Punks: We Are All We Have" is any indication, the neighbors aren't too happy about it.
But the kids with mohawks keep coming anyway.
Featuring a new wave of loud, fast bands such as Psyk Ward, Rhythmic Asylum, Las Cochinas, Corrupted Youth and more, "Los Punks" documents the lives of a ragtag bunch of punks as they build and maintain a community.
The film premiered in January as one of the 20 feature-length selections at the 2016 Slamdance Film Festival, earning critical kudos for its behind-the-rage look at young punk rockers making a homegrown scene. Helmed by first-time director and longtime punk rocker Angela Boatwright, it arrives on iTunes on Friday.
Boatwright, a professional still photographer, has shot musicians for years, and when she relocated to Los Angeles after nearly two decades in New York, she started scoping the city for projects.
"I was looking for like-minded people," she said over coffee at Grand Central Market in downtown. "I grew up into hardcore, metal and punk, and I knew L.A. had a really rich punk history. I thought, 'I wonder what's going on?'"
She was joined at the market by one of the film's producers, the Emmy Award-winning Agi Orsi, who also co-produced the acclaimed skateboarding documentary "Dogtown and Z-Boys."
Something was indeed going on with the music, said Boatwright.
A resurgent punk scene that has thrived in and around the city since its birth in the late 1970s had blossomed once again in the shadow of the corporate music world. Each weekend, young promoters were organizing gigs away from the clubs and concert venues by booking bands in dirt lots and empty garages.
Boatwright became obsessed.
"I get there and there's so many young people — charged-up hair, spikes. It blew my mind. I was so excited by everything — the community, the colors, the quantity of kids."
Soon she was interviewing the musicians, promoters and fans and homing in on a handful of them to tell the scene's story.
"She came up and started asking me questions. I had no idea who she was," said Alex Pedorro, lead singer of Psyk Ward. "To be honest, I thought she was a cop. She was like, 'Are you Alex?' and I was like, 'Who wants to know?'"
Eventually, however, he and a few other scenesters, including Gary Alvarez (Rhythmic Asylum), Kat Arrunategui (Las Cochinas) and Nacho Corrupted (Corrupted Youth), were being interviewed by Boatwright.
She was looking for personalities and stories to inhabit the film, trying to find the people behind the punk.
"I find it interesting to see the surface of a person, and then to get a little deeper and meet their family and see what goes on in their personal life," Boatwright said. "We did everything we could to really express everyone's stories, pull their personality out and show who they are as individuals."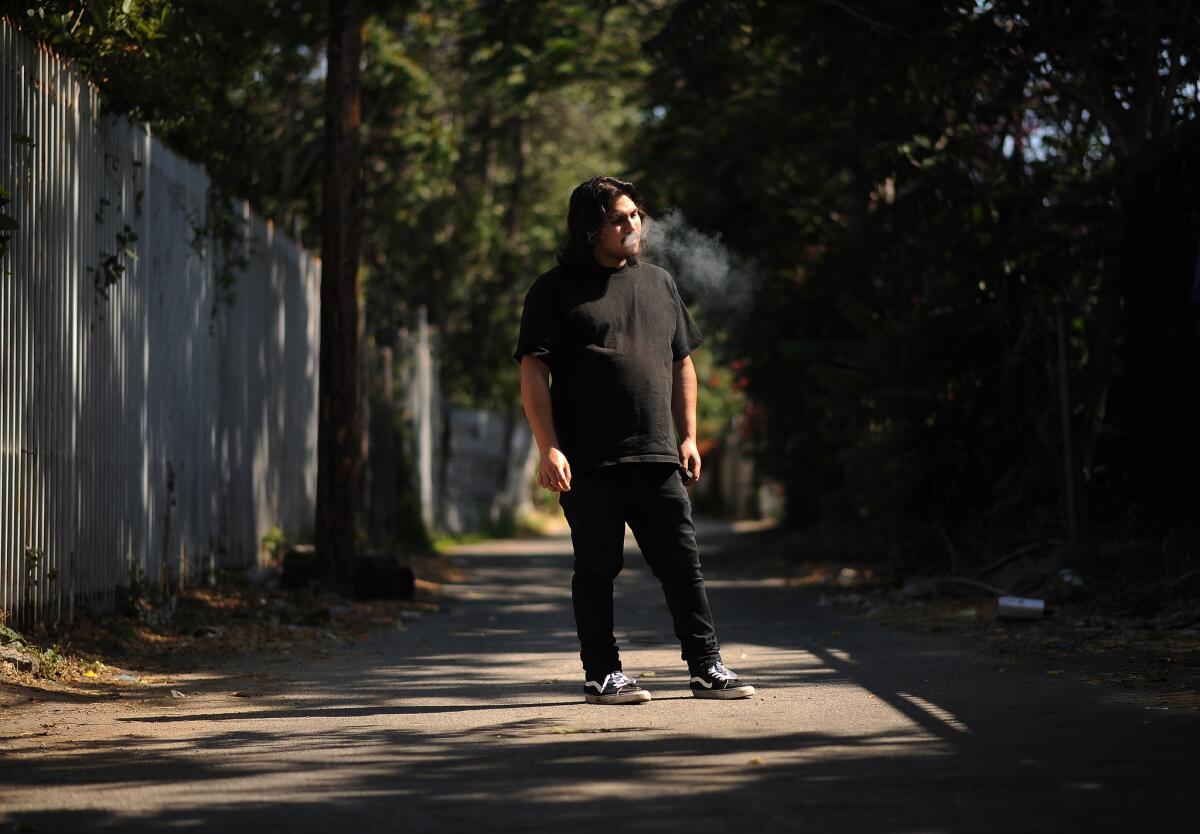 Pedorro's story is particularly riveting.
He's introduced through an interview that reveals his troubled past. He details failed suicide attempts — "I tried to hang myself and the rafter broke," he says with exasperation in the film — difficult family relations and time spent in military-type schools for at-risk teens.
As his conversations with the director continued, Pedorro said she started delving more into his past. "Before I knew it she was taking an interest in my life besides just being the singer of Psyk Ward. She was taking an interest in my life as Alex the human."
He's shown playing a backyard gig with Psyk Ward, screaming into a microphone as the band tears through hardened riffs. Still wearing his white chef's jacket from a night spent working in a kitchen, we watch as the singer bellows in anger as punks slam dance, socialize and glug cheap boxed wine straight from the container.
Pedorro's also shown cooking for his parents at their suburban home. The scene offers insight on his often tense relationship with his father and the disconnect between his street-savvy demeanor and middle-class upbringing, as well as his aspirations to be a chef.
"It was pretty overwhelming to see someone actually professionally piece together everyone's lives and be able to present it in such a small time frame was pretty amazing," he said, even if he felt self-conscious about his portrayal.
"To be honest, I actually thought I sounded a little bit whiny."
Nacho Corrupted, who's one of the kingpins of the scene, has a pivotal role in the film. A charismatic and imposing figure, he's seen organizing shows and searching for new lots to invade.
Inevitably, he finds himself talking to police as shows erupt in the background, working to avoid shutdowns or arrests and placate angry residents.
Another major presence, Alvarez of Rhythmic Asylum, rages into the microphone when on stage but is an eloquent spokesman away from noise. As the film progresses, we learn he is on his way to becoming an attorney.
Boatwright also details the all-female punk band Las Cochinas, whose lead singer, Arrunategui, articulates the ins and outs of a scene she's been a part of when she started her band at age 15. This summer they'll celebrate their 10th anniversary.
She says that the film, which was financed by the shoe company Vans, has been polarizing within the scene and has spawned conversations about whether such attention helps or hurts. When police helicopters are already shining spotlights on the gigs, why invite even more scrutiny?
"A lot of people are so grateful that Vans came in and gave us an opportunity to travel and play these places," she said. "However, a lot of people in the punk scene are against corporations and against the government and things like Vans, so the scene is pretty split, especially right now."
Still, Arrunategui, who is studying to be a CPA, added that the experience of being documented has been a thrill. She'd never been on an airplane before the documentary came along, and now she's jet-setting to premieres.
"My life is still the same. I still work every day, go to school every day, pay rent and stuff like that," she said. "But I've got a lot more excitement in my life now, and it's been an amazing trip to see how all of this has unfolded. I can't even express it in words. It's just been really rad."
Get our L.A. Goes Out newsletter, with the week's best events, to help you explore and experience our city.
You may occasionally receive promotional content from the Los Angeles Times.