Members of the music community have jumped onto their social media platforms to voice outrage over the Alabama Legislature's passage this week of the nation's most-restrictive antiabortion law, but veteran singer-songwriter John Prine is among the first to put his opposition to the new law into concrete action.
He's auctioning a numbered, limited-edition live album and pledging the proceeds to the Alabama chapter of the American Civil Liberties Union, which has announced it will challenge the law in court.
In addition, the 72-year-old two-time Grammy Award winner is recording new versions of two of his songs for a single that also will generate funds that his label, Oh Boy Records, will donate to support the ACLU's fight, his manager and wife, Fiona Whelan Prine, said Thursday.
"We at Oh Boy Records take our social responsibility very seriously," Whelan Prine told The Times. "John's music has always spoken to the frailty of the human condition and often to the heart of the matter at hand. What is going on in Alabama and in the country generally is more than disturbing. It's an affront to our American values and to the constitution we were so fortunate to inherit."
🚨 Sold Out- both test pressing have been sold, thank you for helping us raise $1000! We'll be back tomorrow with more cool stuff from the vault🚨 https://t.co/lG6CeIO5qB

— Oh Boy Records 🏝 (@ohboyrecords) May 16, 2019
Their steps come at the same time many in the film and TV community are protesting similar measures in Georgia, a popular location for filming because of incentives the state offers to bring lucrative shooting projects there.
Whelan Prine said her husband, who is still on the mend from an illness that prompted him to cancel an appearance recently at the 50th anniversary New Orleans Jazz & Heritage Festival, is teaming with Americana singer-songwriter Margo Price on Prine's 1984 song "Unwed Fathers," a look at men's often ignored or dismissed role in unplanned pregnancies. Price is pregnant with her third child and due to deliver this month.
The Prine-Price duet version will be paired on the new single with an updated performance by Prine and "a bunch of musician friends" of his 1971 song "Your Flag Decal Won't Get You Into Heaven Anymore," which he wrote after being discharged from the U.S. Army during the height of the Vietnam War. A release date has not been scheduled.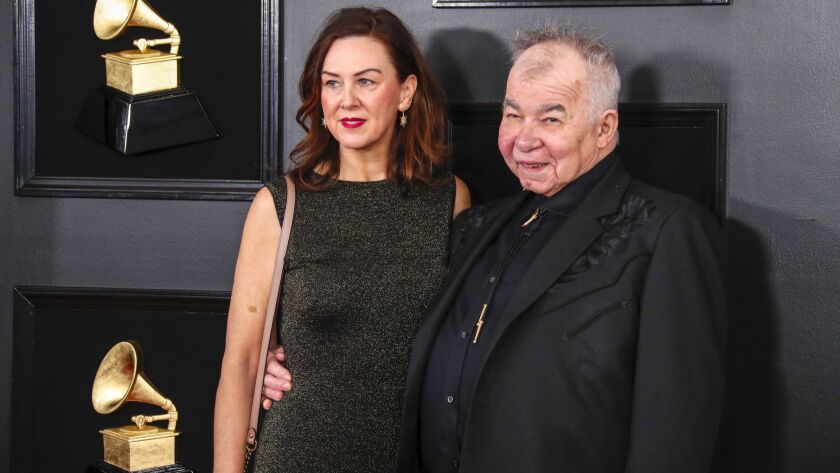 "This is not a ball game. It's people lives," Whelan Prine continued. "[It's] women's bodies, children's education, the rights of asylum seekers — the poor and bedraggled looking to us for compassion and justice."
Other pop music artists have made their feelings about the measure clear.
Lady Gaga described the law as a "travesty" in her Tweet:
Pop-R&B singer-songwriter John Legend tweeted, "These statehouses are waging all-out war on women and their right to control their reproductive decisions. This is awful."
Rihanna posted a collage with the faces of the 25 white male Alabama congressmen who voted for the measure, and also referenced the state's female governor who signed it into law:
English singer Dua Lipa wrote "Not your body. Not your choice. No justification needed. No man should be making such a fundamental decision on a woman's body. How is it that abortion gets banned before guns? Our rights need to be heard. And we have a right to be outraged. In solidarity with my sisters."
Nashville-based singer-songwriter Gretchen Peters told her Twitter followers that she's going through with previously booked shows in Georgia and Alabama, but donating part of the proceeds from those concerts.
Singer-songwriter Rosanne Cash, the daughter of Johnny Cash, retweeted Peters' message, adding a recommendation for followers to donate to relevant organizations.
Agree. I'm going to Alabama next week to visit friends and to see the @eji_org memorial. I don't want to betray my friends or boycott the wrong people, but I'm also furious. Make donations, reach out. https://t.co/oUTOO19Wc3

— rosanne cash (@rosannecash) May 15, 2019
Cash added, "Alabama: I love your state, but you've really [messed] up. You've made it so a teenage girl who is raped and impregnated has to give birth to the rapist's child, compounding trauma, destroying lives. But you'll at least provide free health care and education for the child, right?"
Follow @RandyLewis2 on Twitter.com
For Classic Rock coverage, join us on Facebook
---