Review: Was Arroyo Seco Weekend too much of a good thing? Lack of tension softened the performances
Pop Music Critic
"I'm not going back to Woodstock," Neil Young sang in his signature whine on Saturday night, and considering where he found himself, who could blame him?
Standing on the main stage at Arroyo Seco Weekend, the veteran rocker was closing his headlining set, as he often does, with "Roll Another Number (For the Road)," his decades-old farewell to the hippie movement of the late 1960s.
But if Woodstock represents a culture that Young was ready to leave behind, the famously mud-caked festival is also known to have been a pretty gnarly hang — tougher, certainly, than Arroyo Seco Weekend, which for the second year was held on the gently rolling grounds surrounding the Rose Bowl in Pasadena.
Presented by Goldenvoice, the Los Angeles-based promotions firm that also puts on Coachella and Stagecoach, the two-day event supplemented a musical lineup featuring Young, Jack White, Hurray for the Riff Raff and the Pretenders, among others, with craft cocktails and food from respected L.A. eateries.
NASA's Jet Propulsion Laboratory brought a geodesic dome where concertgoers could learn something about space; the Huntington Gardens set up a "botanical installation" with exotic flowers.
Even the weather Saturday, sunny but not too warm, helped create an environment of easygoing luxury.
So of course Young was looking back at dirty old Woodstock with a bit of disgust.
Nobody longs for the Red Roof Inn after a night at the Ritz.
Here's the thing, though: Music, unlike a hotel, isn't necessarily improved by comfort. And with its thoughtful amenities and low-stress layout, Arroyo Seco Weekend might have been — dare I say it — too pleasant.
It that silly to say? Perhaps.
In an era when the next social or political crisis is never far away, I can recognize that an enjoyable weekend is hardly something to complain about — truly a first-world problem if one ever existed.
Whining is also a little unfair to the show's organizers.
Last year many, including me, took issue with the way the festival allowed people to put chairs and blankets up right in front of the main stage, which led to overcrowding further back. That the speaker system wasn't equipped to push the sound to where folks ended up for last year's headliner, Tom Petty and the Heartbreakers, only made things worse.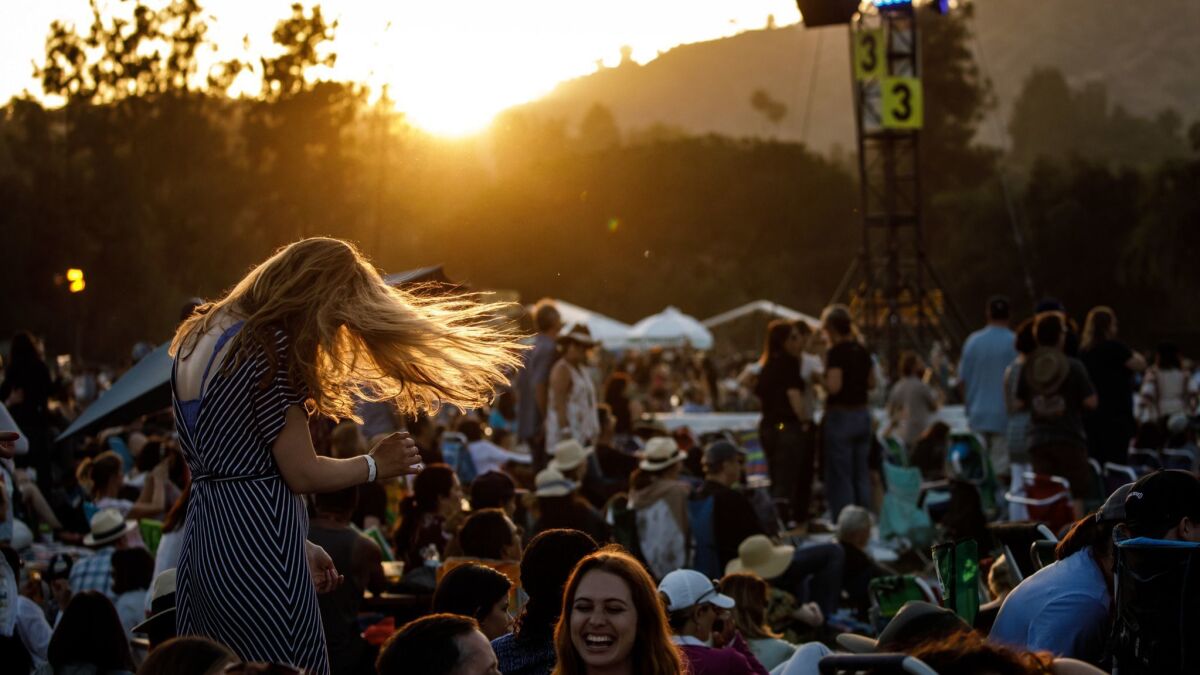 Goldenvoice fixed the problem this time with designated sitting areas (and what seemed to be a more powerful sound system). And the festival was more spacious overall, which let the estimated 25,000 who attended Saturday move around without difficulty.
But as I floated from one of the event's three stages to another — or from the pop-up wine-tasting room to the stall selling $20 lobster rolls — I sensed a deep relaxation that extended less happily to the music.
Basically, there was so little tension at Arroyo Seco Weekend that nothing felt at stake.
You could see that most clearly in a ho-hum performance by Jack White. A few months ago the garage-rock revivalist put out a wacky album of hip-hop experiments, "Boarding House Reach," which much of his audience seemed to hate.
Given the negative reaction, and White's typical excellence as a live performer, I was hoping he'd use this show to challenge his fans to reckon with the new music.
But that's not what happened.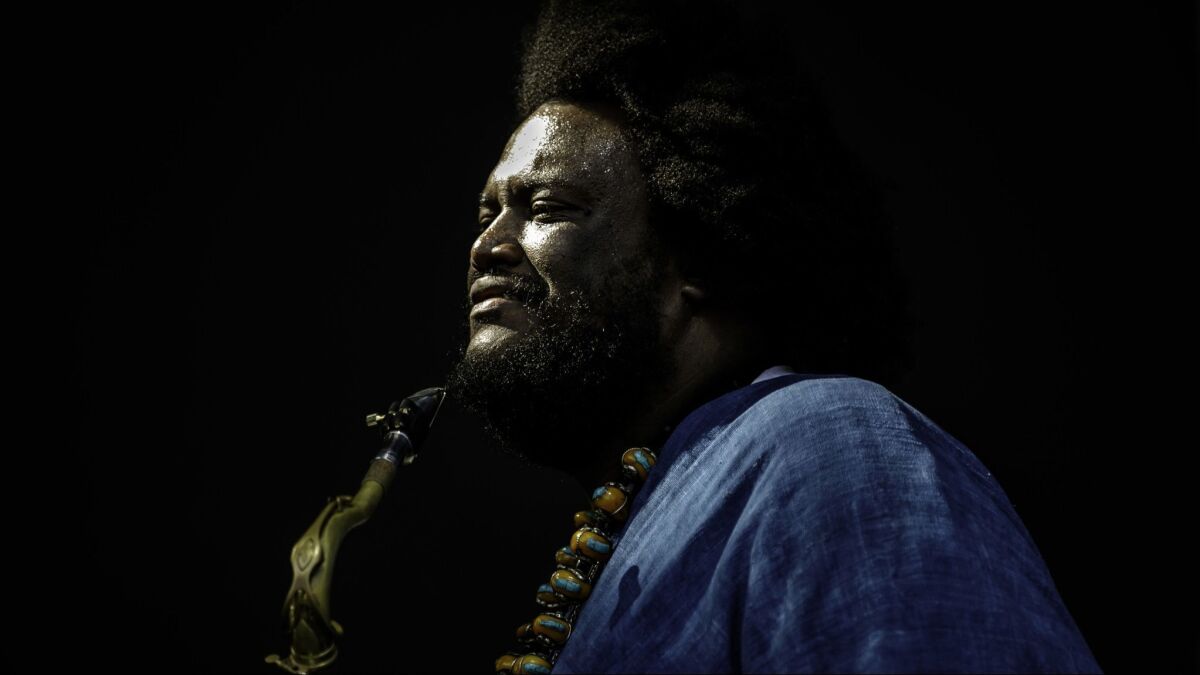 When he played stuff from "Boarding House Reach" (albeit minus the record's manic energy), the crowd applauded politely. And that gave the more conventional oldies he threw in — "Lazaretto," "That Black Bat Licorice," tunes from his days with the White Stripes and the Raconteurs — a sadly conciliatory vibe, as though he were rewarding people for humoring him.
A lack of drama or conflict, or even of the determination to prove something (anything!), led to similarly forgettable performances by Gomez, the past-its-prime roots-rock band; Margo Price, who looked like she'd rather have been in a honky-tonk; and the actor-turned-jazz-pianist Jeff Goldblum, who spent a long and mystifying portion of his set reading scripted trivia questions about the festival's other acts.
Very occasionally you'd encounter an artist putting himself or herself on the line, as when the Specials' Lynval Golding finished a propulsive rendition of the great British ska band's "Man at C&A" by fixing the audience with a steely glare.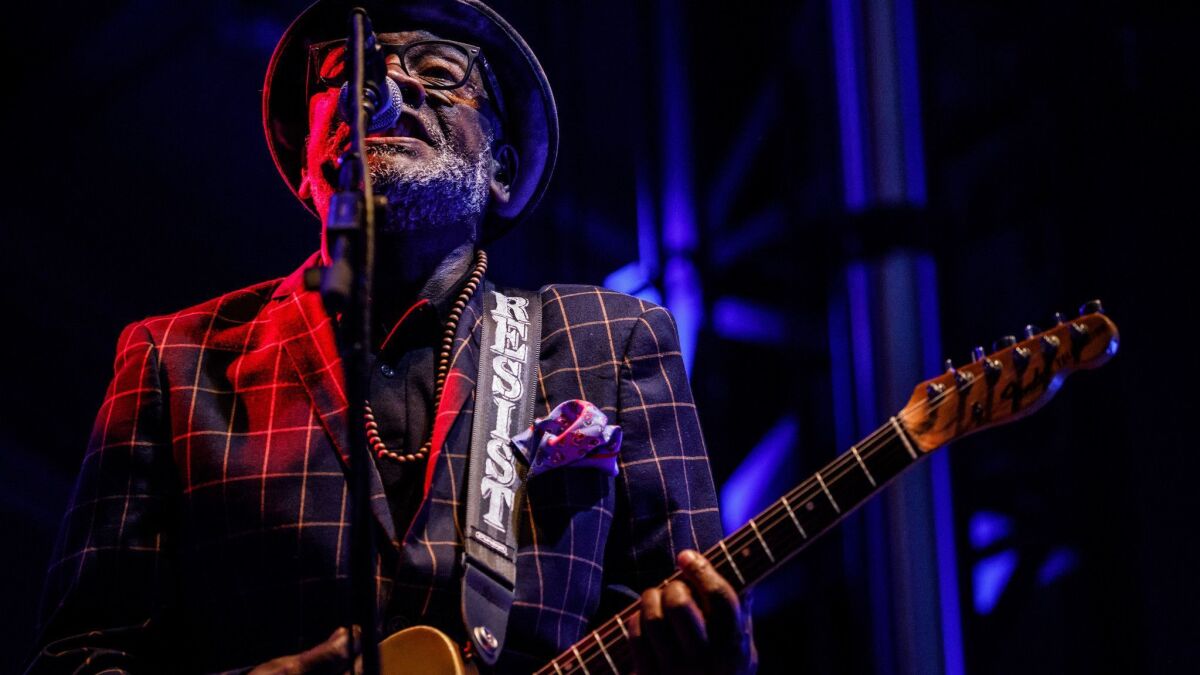 "America, no more war," said the guitarist, whose instrument was held by a strap emblazoned with the word "Resist."
Kamasi Washington spoke his mind too. Introducing his sweeping "Truth," the saxophonist anointed as jazz's bright young hope told the crowd that diversity isn't to be tolerated but celebrated.
Then he put that idea into action with a song that braided multiple melodies into a unified whole.
Arroyo Seco Weekend also had a few mellow moments worth savoring. Seu Jorge, the Brazilian singer and actor, did a funky and reassuring take on Roy Ayers' "Everybody Loves the Sunshine."
And Chrissie Hynde was a joy to watch as she led the Pretenders with effortless style. (Robert Plant and Kings of Leon were scheduled to headline Sunday's show after deadline for this article.)
As for the man who numerous artists referred to onstage as "Uncle Neil"? Young definitely was operating at a lower intensity Saturday than he did in 2016 at Desert Trip, Goldenvoice's classic-rock mega-concert that brought him, the Rolling Stones and others to the Empire Polo Club in Indio.
Unlike at that gig, where he seemed amped up about Donald Trump and the environment — and inspired, no doubt, by the threat of competition — Young took it easy as he led his durable backing band, Promise of the Real, through jammy but even-keeled versions of "Cortez the Killer," "Powderfinger" and "Down by the River."
At one point, the performance threatened to take a turn when Young ceded the microphone to Promise of the Real's Micah Nelson, who sang an unprintably titled song — more of a tantrum, really — about the dehumanizing effects of technology.
Then Young stepped back in and said his next tune was for "those little kids in cages," and again you wondered where this thing was going.
Or at least you did until Young experienced a problem with his guitar.
It was no big deal, of course — somebody came along and gave him another one.
But by then his temper had cooled.
Twitter: @mikaelwood
Get our L.A. Goes Out newsletter, with the week's best events, to help you explore and experience our city.
You may occasionally receive promotional content from the Los Angeles Times.