How Edgar Wright, Danger Mouse and choreographer Ryan Heffington gave 'Baby Driver' its perfect groove
Edgar Wright's new film "Baby Driver" could not have been shot without its soundtrack. Thirty, 43 or possibly 71 songs (depending on who's counting) run through the earbuds of title character Baby as he races through the streets of Atlanta, the heist film moving in lockstep with the rhythm.
Guns fire on beat; bad guys cross the screen in carefully choreographed movements. Fighting for his life, actor Jon Hamm's character mouths Barry White lyrics playing on the soundtrack.
Ansel Elgort as Baby times a robbery getaway to punk band the Damned's "Neat Neat Neat." Vinyl LPs line the shelves of Baby's home. A plot point featuring singer-songwriter-actress Sky Ferreira, who plays the character's mother, turns on a cassette tape of her singing.
Cameos include rapper Killer Mike of Run the Jewels and Outkast co-founder Big Boi, both of whom also appear on producer Danger Mouse's song "Chase Me," one of the film's only original songs.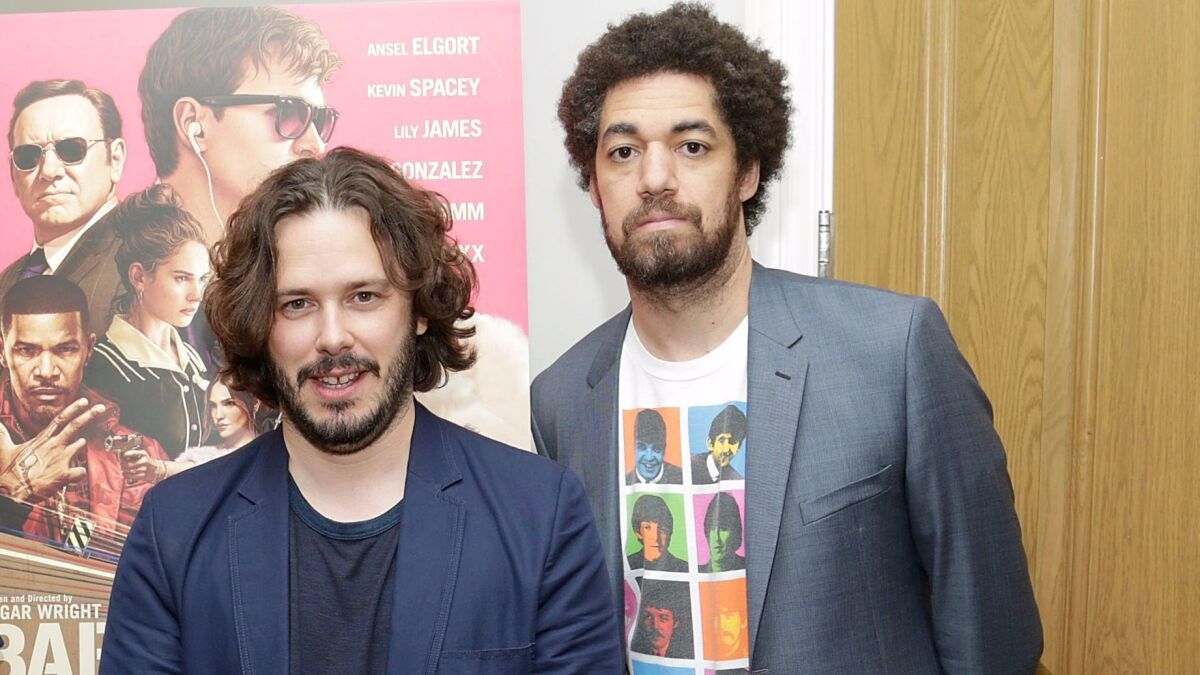 I just started visualizing a car chase. I didn't really know what the movie was, I just knew that that would be a great car chase song.
— Edgar Wright on the Jon Spencer Blues Explosion's "Bellbottoms"
The seed for "Baby Driver" was planted through music, specifically, the 1995 song "Bellbottoms" by blues-punk band the Jon Spencer Blues Explosion. The director heard the song on cassette in his early 20s and has been obsessed ever since.
"I just started visualizing a car chase," Wright says on the phone from London. "I didn't really know what the movie was, I just knew that that would be a great car chase song."
Over the years, as he made "Shaun of the Dead," "Hot Fuzz," "The World's End" and other movies that attracted devoted fans, the idea started to take shape.
"I thought, 'Well maybe this is about the driver actually playing the song within the scene," he explains. "And that became the idea of the perfect getaway track. Then that became the idea: 'What if his character has to listen to music all the time?'"
That chase and song open the film, synchronized in part through movement guided, like the rest of the film, by Los Angeles choreographer Ryan Heffington.
Baby's tragic past includes a ring in his ears that requires perpetual music to drown it out. The solution: iPods, ear buds and a nonstop playlist that includes rock band Jonathan Richman & the Modern Lovers, soul singer Carla Thomas, L.A. multi-hyphenate musician Beck, old school rapper Young MC, Dutch yodel-rockers Focus and a few dozen others.
Added in are bits of original score by composer Steve Price that serve as a kind of cross-fader connecting songs. The result is a relentless ride that's as sonically inspired as it is visually.
In his review, Times film critic Justin Chang celebrated Wright's style, writing, "The gimmick here is so good that I actually wanted more of it: more killer tracks, more death-defying car-eography, more chase scenes shot to look like renegade Uber commercials."
Despite the chase-driven plot, Wright says he wasn't interested in making a straightforward heist movie. Rather, "it was something that I knew was about people's relationship with music, because I think of what Baby does 24/7 is what a lot of people do in macro on a day-to-day basis."
Wright explains: "You might pull up in your car outside somewhere and wait for a song to end before you get out of the car, or those little miraculous moments where life syncs up with your soundtrack."
Hired to manage this synchronicity was choreographer Heffington, best known for his work on pop singer Sia's "Chandelier" video and Arcade Fire's clip for "We Exist." "Baby Driver" is his first feature-length project.
Heffington says that in early conversations Wright was specific about the film's style, including "that most of the action elements were in sync with the music." Heffington's role involved "articulating timing, as well as movement" of the actors and stunt people as a means of making what he called "dynamic choreographic sequences that didn't really feel or look like choreography."
Edgar's very great at extracting music that has super-strong moods, and I think that supports great storytelling.
— Choreographer Ryan Heffington
Even less outrageous scenes, such as Baby spending time in his apartment, involved what Heffington calls "storytelling movements."
"Edgar's very great at extracting music that has super-strong moods, and I think that supports great storytelling," Heffington says. "And, in turn, I can support that by giving movement that's appropriate and making sure it happens with the same sense of feeling as what you hear."
Wright had long been gathering what he called "songs crying out to have an action sequence built around them," he says, the main requirement of which is music that has dramatic structural or tempo changes.
Citing "Hocus Pocus," the 1970s rock song by the Dutch band Focus, which scores one climactic moment, Wright says, "That's perfect for an action scene — he's running and then hiding and running and then hiding again. It is a beautiful thing to be able to choreograph to."
Also a blast, says Wright, was working with Hamm and Heffington on a crucial scene involving Barry White's "Never, Never Gonna Give Ya Up."
Asked about it, Wright laughs. Calling it one of his favorite scenes in the movie, he says his goal was transforming "something that's essentially a love jam and making it into something somewhat sinister and creepy."
But on a more dynamic level, the song also serves to drive the narrative, adds Wright, who notes that it's one point in the movie "where the lyrics are absolutely lining up with what is happening. When Jon Hamm starts lip-syncing, he's essentially saying exactly what he's doing."
Producer Danger Mouse (Brian Burton) says he saw a rough cut "Baby Driver" last summer in London, and quickly volunteered to issue its soundtrack on his 30th Century Records imprint.
Calling himself "blown away" by the music, the producer, who is friends with Wright, offered to add a bonus track, which ended up being "Chase Me." Built on samples of the movie's opening song "Bellbottoms," Danger Mouse's contribution features Atlanta rapper Big Boi and the rap duo Run the Jewels.
Danger Mouse describes the track as the being the result of "serendipity": Run the Jewels were working on their verses for "Chase Me" in New York when Big Boi stopped by. Realizing that both he and Run the Jewels' Killer Mike were in the movie, Big Boi said he wanted in on the track.
"It all happened from us knowing each other, basically," Danger Mouse says. "I hadn't done a hip-hop song in a while, really, and I thought the feel of the song would fit with the soundtrack."
Issued last week, the soundtrack is available on CD, double vinyl, as a download and on streaming services.
Asked which format he preferred, Wright pauses.
He uses Spotify and collects vinyl, he says, but like Baby he's partial to his iPod Classic.
"I much prefer having my own private little hard drive. With streaming — when you have everything at your fingertips — I find it harder to order stuff. I like knowing where everything is."
For tips, records, snapshots and stories on Los Angeles music culture, follow Randall Roberts on Twitter and Instagram: @liledit. Email: randall.roberts@latimes.com.
Get our L.A. Goes Out newsletter, with the week's best events, to help you explore and experience our city.
You may occasionally receive promotional content from the Los Angeles Times.