'It's about results': Liz Phair and Best Coast's Bethany Cosentino on politics and pop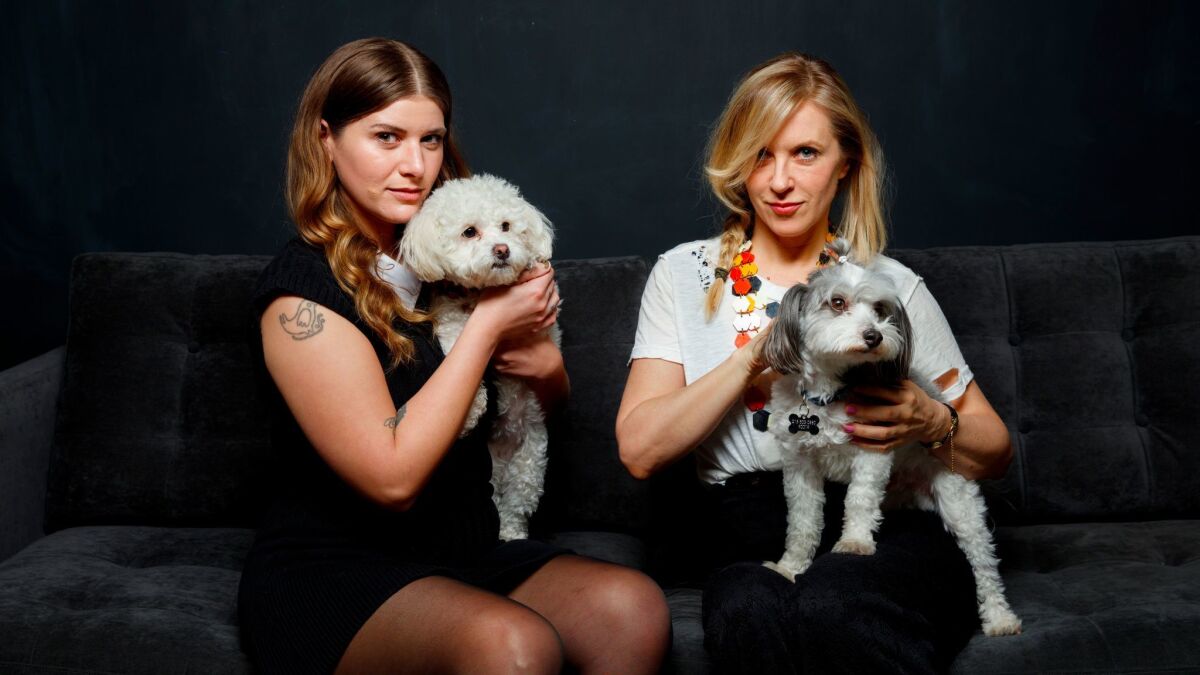 Pop Music Critic
On Saturday night, Liz Phair and Bethany Cosentino will perform at the El Rey Theatre as part of "Don't Sit Down," a concert benefiting Planned Parenthood that will also feature Grouplove, Muna, the Regrettes and Nina Gordon and Louise Post of Veruca Salt.
A planning session this week in Beverly Hills was the first time the two musicians had met. But don't think they were unacquainted.
"We're Twitter buddies," said Phair, who broke out in 1993 with "Exile in Guyville," her indie-rock classic of a debut album. Turning to Cosentino, who leads L.A.'s Best Coast and spearheaded the benefit, Phair added, "I totally feel like I know you."
Cosentino agreed, and not just because of social media: With its tuneful guitar fuzz and sly but confessional lyrics, Best Coast's latest album, "California Nights," demonstrates how deeply the frontwoman has internalized "Exile" as well as Phair's self-titled 2003 disc, on which the Chicago native infamously embraced the glossy sound of mainstream pop.
At the time, "Liz Phair" was viewed by many as a betrayal of Phair's scrappy DIY roots. But the intervening years have shown that she understood that sharp songwriting about sex and disappointment could survive — could in fact be bolstered by — explosive choruses laced with sugary harmonies. Now acts like Best Coast arrive at that knowledge faster than in the past, and that's thanks in part to Phair's example.
In a wide-ranging conversation — complete with a drop-in by Phair's manager's dogs — the two discussed speaking one's mind, Lady Gaga at the Super Bowl and Republican efforts to defund Planned Parenthood, which provides women's healthcare services. Here are excerpts from the talk.
Bethany, you've been a vocal supporter of Planned Parenthood for years. What led you to put Saturday's show together?
Bethany Cosentino: I started going to Planned Parenthood when I was 12 or 13 and I was too afraid to talk to my mom about sex. And I kept going until I could afford my own insurance. After the election, I knew it was something that was going to be under attack, so I wanted to do something not only to raise money but also to educate people on what exactly Planned Parenthood does.
People are under-informed, in your view?
Liz Phair: Absolutely. There's always been a misunderstanding about what it's really about. To me it's a safe space; it's affordable and accessible, and there's no judgment. I was so grateful when I used it, and it just changed the game for me. Sex and all that kind of stuff became less of a mystery, less of a fearful zone. And I think that was really helpful as a woman to feel empowered about my own body in a way that I didn't find in other spaces in our society.
What do you see as the driving force behind the push to minimize the group?
Cosentino: Abortion. Being an advocate for them and dealing with trolls on social media, every attack is always, "You support baby killing."
Phair: Do you know what they said to me when I said I was doing your benefit? "It's a good thing you weren't aborted." Because I'm adopted.
Cosentino: People that don't know anything about Planned Parenthood, they know it's a place where you can go to get an abortion. So instantly they're like, "We have to shut this place down." But the thing I always wonder is: You do realize that doctors and gynecologists perform this same procedure? Do you then boycott all gynecologists?
Phair: OK, so here's the second level that I see, which is that it's an independent organization that's not [connected to] the giant medical-industrial complex. This is healthcare right in your neighborhood where you can just walk in and get what you need. That's very powerful, and I think it's threatening to a lot of people.
I assume you both hear variations on "Shut up and sing."
Cosentino: All the time. Literally daily.
Phair: Since when was rock and roll not political? That we should be something other than political just negates the whole point of getting up and slinging on an electric guitar.
Cosentino: I think some people are just so, for lack of a better word, dumb.
Phair: Or they just don't want to be challenged. They want to be able to shop for the part of you they want and leave on the shelf the part of you they don't.
Was that true at the beginning of your career, Liz?
Phair: I don't know if I could've parsed it back then. But I was upsetting that boundary — I was seen and heard, which is like the cardinal sin. I could've looked more grungy and spoken my mind, or I could've tried for that mainstream image and not spoken my mind. You can't have it both ways.
When you put out "Exile in Guyville," social media didn't exist. Where were you encountering those attitudes?
Phair: Magazines, I guess. I wrote a couple songs about sex, and the next thing you know I'm [being photographed] in waders and suspenders in the middle of Michigan Avenue. They were like, "Naked! Naked! Make her naked!" But we're citizens, you know? We have every right to speak about every issue that we want to speak about.
Which artists showed you that when you were younger?
Phair: Chrissie Hynde was always shooting her mouth off.
Cosentino: I was a teenager in the [George W.] Bush era, so around that time I was always like, "Who's talking about Bush? I want to be involved in that." I had my anti-Bush sticker on my car, I did my whole thing. But to see people using their platform — like Conor Oberst when he did [his band] Desaparecidos — that validated this anger that I had. I grew up in a small suburb in the mountains of L.A. where everyone was like, "We're white and we play soccer and we don't really care about what's happening." So I was stoked to see that there were musicians and artists that were protesting. I'm all for a celebrity who speaks their mind. The louder the person is, the more I'm obsessed with that person.
Phair: There's an expectation in the mainstream that when you're an entertainer, the show comes first — that whoever you really are, we don't want to know.
What effect has pop's corporatization had on this? Watching Lady Gaga's relatively restrained performance at the Super Bowl a few weeks ago made me think about how artists might come up against the limits of their relationships with big brands.
Cosentino: I was a little bummed she didn't do anything big and pervasive. But I also understood it, because she was at the Super Bowl. I got it. I'm looking at some of these awards shows, like the Grammys: Katy Perry coming out and doing what Katy Perry's doing [in a performance of her politically inspired "Chained to the Rhythm"] — that's cool! Is it maybe a little late in the game? I don't know. Everybody wakes up to things at different times.
Should an artist adjust her message to a given setting?
Phair: You have to. I hate to align myself with [Donald] Trump, but it's about results. If Lady Gaga is the halftime performer at the Super Bowl, that's already a win; I don't need her to do much but catch the ball. There are people who lead on an issue, there are the people that trickle in as it's going along, and then there are the closers.
Cosentino: You're right. What Lady Gaga stands for — an Italian bisexual girl who's the queen of the LGBTQ community — that's already a protest.
How consciously has each of you kept track of the ways your platform has changed over the years?
Phair: I feel like I'm always trying to be me in whatever context I'm put in. And every new situation that comes up, I try to bring forth some kind of complexity. [To Cosentino] What I've been fighting against that you may not have had to fight against is binary. When I first broke out it was like, "Is she a good girl or a bad girl?" It was just this kind of plodding, methodical way of contextualizing everything. But I can see in the span of my career that we've moved toward complexity. People can handle not just black or white, good or bad. So whatever box they put me in, I check out the box, then I kind of drill around in it and maybe poke out the side somewhere.
Cosentino: I love that.
Bethany, did Liz's experience help shape yours?
Cosentino: I wouldn't be the artist I am without musicians like Liz, especially those female musicians when I was a teenager that made me go, "Whoa, girls with guitars." I only paid attention to boy pop-punk when I was super young, then I got older and realized girls can do it too. So asking her to be involved in this and finding out that she was going to do it, I was like, "Oh my God!" Even when we were just Twitter-friendly, I was like, "Liz Phair wants to be my friend!?"
Phair: There's like this bridge that I met through my Twitter buddies, which I didn't have when I was starting out — this incredibly wide field of female musicians. It was the bass player in a band, a few others here and there. Now it's like harvest day. There's women everywhere doing all sort of things, and they don't have to be part of any scene.
Do you take any pride in that?
Phair: I do. I take a godmotherly pride, because I feel like I helped. I got in so much trouble because I wasn't necessarily part of any one scene; I pissed everybody off without really meaning to. But I had the ability in my career to do it. And what I wanted always was for there to be as many girls and women making music as boys and men. I wanted it to be super pop stars and totally grunged-out punks, and I wanted it to not be an issue. And it kind of happened.
Twitter: @mikaelwood
ALSO
Best Coast finds another, higher place with 'California Nights'
L.A.'s next great singer-songwriter? It might be Ethan Gruska
'La La Land' seriously misunderstands music. So why are its songs pretty great?
---
Get our L.A. Goes Out newsletter, with the week's best events, to help you explore and experience our city.
You may occasionally receive promotional content from the Los Angeles Times.