More than 200 musicians rally behind appeal of 'Blurred Lines' verdict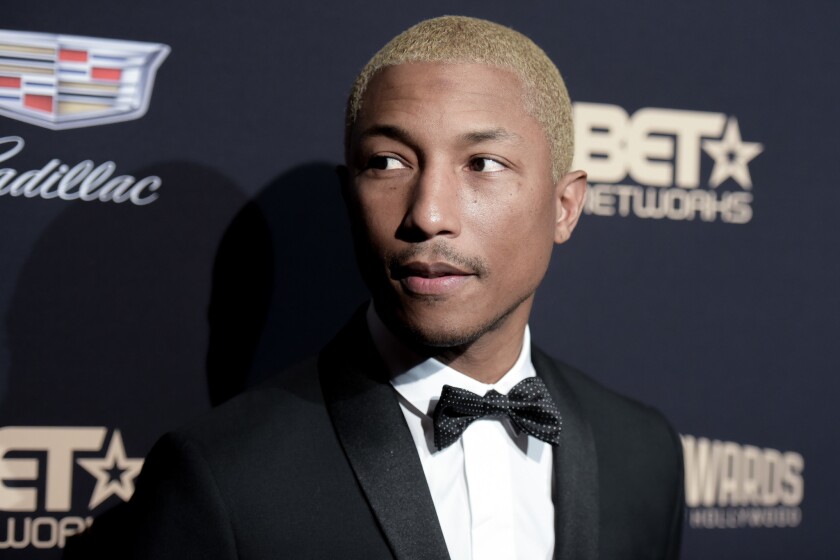 More than 200 musicians have signed a legal brief supporting Pharrell Williams' appeal of the $5.3-million judgment handed down against him and Robin Thicke in 2015 after a jury decided that their hit, "Blurred Lines," was lifted from Marvin Gaye's 1977 song "Got to Give It Up."
That verdict stunned many in the music industry, among them music mogul Irving Azoff, who noted that such cases typically are decided by music experts, not juries, because they can involve nuanced elements of music theory and composition.
"It's never been based on a jury's opinion," Azoff told The Times last year. "If we're now entering into a gray area, that's very scary."
The friend of the court brief argues that the "Blurred Lines" verdict was flawed and that if it remains on the books it would create a profound chilling effect in the creative community because the similarities between the "Blurred Lines" and "Got to Give It Up" had more to do with the general feel rather than specific musical elements in common.
See the most-read stories in Entertainment this hour »
No date has been set for the appeal to be heard.
The diverse collective of 212 musicians supporting the appeal coming before the U.S. 9th Circuit Court include Earth Wind & Fire's Philip Bailey and Verdine White, composer Hans Zimmer, "American Idol" alum Katharine McPhee, members of Three 6 Mafia, the Go-Go's and Linkin Park, Train's Patrick Monahan and Fall out Boy's Patrick Stump.
These musicians, the filing states, "are concerned about the potential adverse impact on their own creativity, on the creativity of future artists, and on the music industry in general, if the judgment in this case is allowed to stand. The verdict in this case threatens to punish songwriters for creating new music that is inspired by prior works.
"All music shares inspiration from prior musical works, especially within a particular musical genre," according to the brief. "By eliminating any meaningful standard for drawing the line between permissible inspiration and unlawful copying, the judgment is certain to stifle creativity and impede the creative process. The law should provide clearer rules so that songwriters can know when the line is crossed, or at least where the line is.
"Quite clearly, the verdict in this case, if based upon the music at all, was based upon the jury's perception that the overall 'feel' or 'groove' of the two works is similar, as songs of a particular genre often are. In essence, the Appellants have been found liable for the infringement of an idea, or a series of ideas, and not for the tangible expression of those ideas, which is antithetical to Section 102(b) of the Copyright Act.
"Such a result, if allowed to stand, is very dangerous to the music community, is certain to stifle future creativity, and ultimately does a disservice to past songwriters as well," the brief states.
Entertainment lawyer and musician Joe Escalante, a member of the long-running punk rock group the Vandals, said last year, "This may put a smile on the Gaye family's face, but it's a dark day for creativity, and in the end, this will be a net loss for music fans. [It's] good news for lawyers and the bitter everywhere."
The jury's original award of $7.4 million to Gaye's heirs was later reduced to $5.3 million.
Los Angeles attorney Edward McPherson filed the amici curiae brief, which states that it was not commissioned or paid for by Williams' or his legal team.
In June, the jury in another high-profile copyright infringement case ruled that Led Zeppelin did not steal from L.A. rock band Spirit's 1968 song "Taurus" when they wrote their iconic 1971 rock epic "Stairway to Heaven," deciding that the two were not "substantially similar" enough to constitute infringement under U.S. copyright law.
randy.lewis@latimes.com
Follow @RandyLewis2 on Twitter.com
For Classic Rock coverage, join us on Facebook
ALSO
Ruling that 'Blurred Lines' copied Marvin Gaye song rocks music world
'Blurred Lines' ruling stuns the music industry
Led Zeppelin didn't steal music for 'Stairway to Heaven,' jury finds
---
Your essential guide to the arts in L.A.
Get Carolina A. Miranda's weekly newsletter for what's happening, plus openings, critics' picks and more.
You may occasionally receive promotional content from the Los Angeles Times.