Review: Brian Wilson and his band bring the Beach Boys' Christmas album to life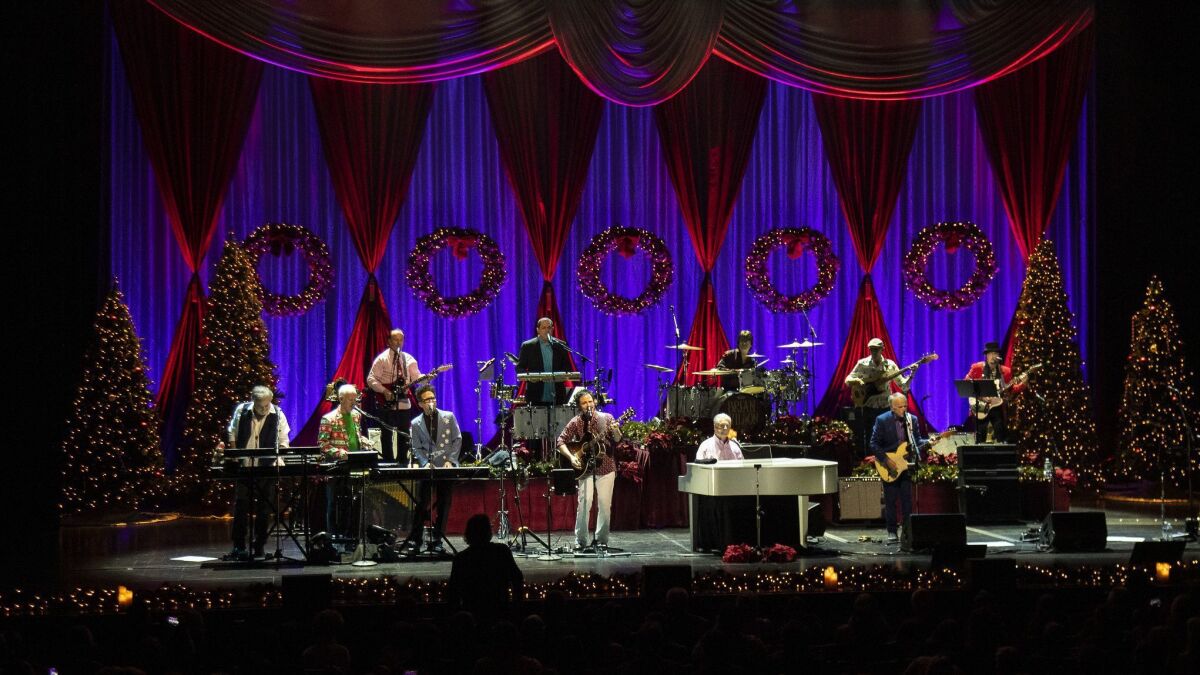 Of the countless holiday albums created since rock 'n' roll was born in the mid-1950s, perhaps only two — "A Christmas Gift for You," aka the Phil Spector Christmas album, and Elvis Presley's 1957 collection — can match the iconic status of "The Beach Boys Christmas Album" from 1964.
That's what made the prospect of hearing that last album performed live in its entirety by Beach Boys' creative leader Brian Wilson and his ace touring band so enticing when they brought their brief holiday tour to the Thousand Oaks Civic Arts Plaza on Thursday.
Sooner or later it seems that every musician gets around to making a seasonal album, but the vast majority remain essentially musical souvenirs for the artist's fan base rather than touchstones for the culture at large.
California's quintessential fun-in-the-sun band pulled off the latter feat in part thanks to the success of its 1963 Christmas hit "Little St. Nick," which dressed up the story of Santa Claus in the particulars of Southern California hot-rod culture.
That's the song that opens the Beach Boys' album, and which jump-started Thursday's show so joyously. Few might have guessed all those years ago that a Christmas song referencing four-speed sticks, candy apple red paint jobs and Kris Kringle hitting the gas and peeling out would have lasted beyond the few weeks of the '63 holiday season when it was released.
But it was such a success that the group was greenlighted to make a full album of holiday music the following year, the first side consisting of witty originals, the second half applying the band's signature harmonies to holiday standards.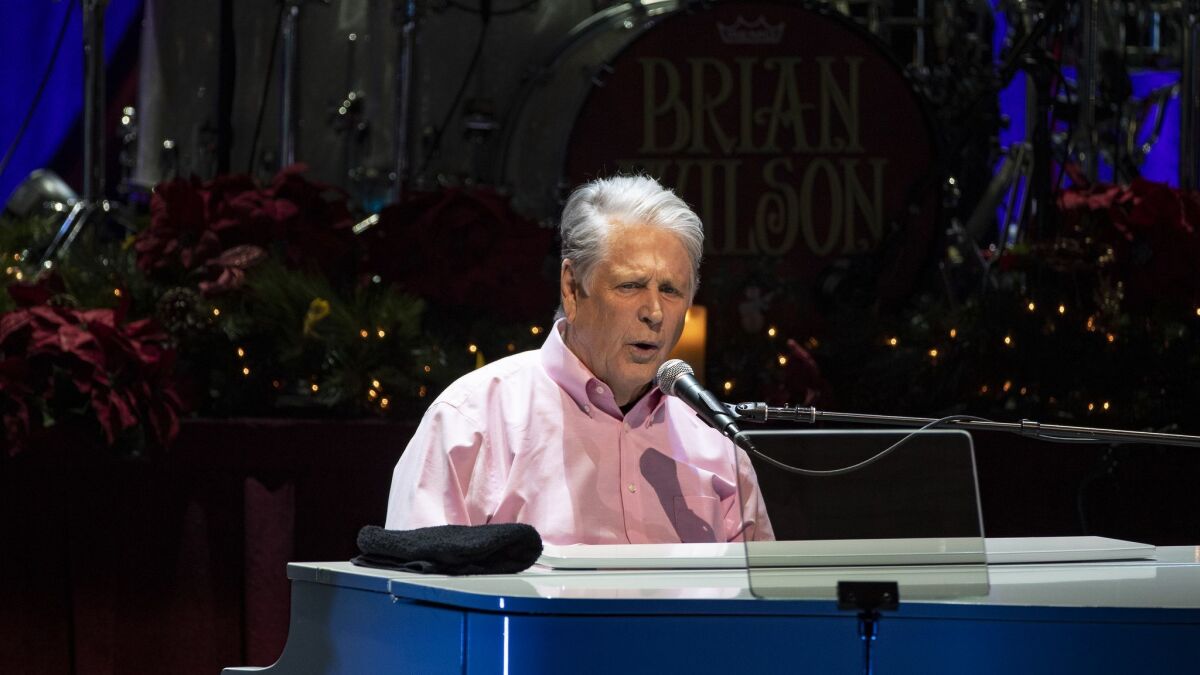 The appeal of seeing Wilson revisit this music at age 76 lies chiefly in the meticulous way his modern-day band handles all of his music: with spirited reverence for the original recordings, which are rightly prized for both Wilson's extraordinary vocal arrangements and the expansive orchestral-quality instrumental accompaniment that stretches well beyond standard guitar-bass-drums backing.
Following a sweet and loopy opening set from Ruby Friedman, Wilson's band brought all these numbers to life admirably on Thursday, whether it was the sleigh bells — not just one, but two sets going at times — French horn, clarinet, flute, roller-rink organ, saxophones, xylophones and other instrumental color each song calls for, all expertly handled by the 11 members of the band.
The stage on which this all played out was decorated in festive fashion with six lush red curtains, five enormous holiday wreaths, four fully lighted Christmas trees — missing only a partridge in a pear tree.
The original songs Wilson and band co-founder Mike Love concocted for the album retain their charm all these decades later, whether it's the driving energy of "The Man With All the Toys," the child-like wonder and relentless insistence of "Santa's Beard" or the dreamy romanticism of "Merry Christmas, Baby."
The influence on Wilson's approach to vocal harmony came through unmistakably in gorgeous renditions of "We Three Kings of Orient Are," "White Christmas" and especially in the jaw-dropping a cappella number that completes the album and concluded the concert, "Auld Lang Syne."
Two of the band members on hand Thursday added heft to the show: Wilson's fellow founding member of the Beach Boys, guitar and singer Al Jardine, and South African guitarist-singer Blondie Chaplin, whose stint in the band in the '70s helped to reestablish some of its relevance long after its dominance on the pop charts had faded.
It's understandable that Wilson wishes to afford generous spotlight time to Chaplin, who has also toured with the Rolling Stones and other rock kingpins, but his choice of "O Holy Night," despite his introduction identifying it as one of his mother's favorite carols, felt out of place given his idiosyncratic rock dude phrasing. Much more fitting was his rendition of the song with which he helped bring the band back onto Billboard's Hot 100 singles charts in 1973, "Sail On, Sailor."
Jardine's contributions brought a welcome infusion of original Beach Boy sound and spirit, his voice as fluid and effortless as ever in his renditions of "Christmas Day," which was his first recorded lead vocal with the band, he noted during his introduction of the song.
He would subsequently exploit his role out front to greatest effect in his lead vocals on "Help Me, Rhonda" and "Sloop John B," both of which figured into the part of the program that came after the group delivered most of the '64 Christmas album. The set list also included a couple of selections from Wilson's 2008 solo holiday album, "What I Really Want for Christmas."
At the center of it all, literally and figuratively, Wilson was a poignant figure on Thursday. He was helped onstage by musical director and woodwind player Paul Von Mertens, clearly hobbling in the aftermath of back surgeries he's undergone in recent years and appearing to have even more difficulty exiting the stage at the end of the 90-minute performance.
Often during the show, as the band members around him were energetically revivifying the sonic pictures he'd created more than half a century ago, Wilson sat unexpressively behind his white baby grand piano center stage.
He took lead vocals only sporadically, leaving that duty for the most part to his capable cohorts, creating the impression that at this stage, it's enough to sit at the center of his wondrous music and just absorb it along with those in the audiences he visits.
When he did handle a lead vocal, as he did on "God Only Knows," originally sung by his brother Carl, Wilson's delivery was clipped, almost spoken, interrupting the flow of one of the most haunting pop melodies ever written.
His stratospheric high harmonies and leads of yore are now handled effectively by one of the recent additions to the Brian Wilson Band's lineup, guitarist-singer Rob Bonfiglio, who also happens to be Wilson's son-in-law by marriage to his daughter, musician Carnie Wilson.
The abbreviated Beach Boys hits segment also included "Darlin'," another Carl Wilson vocal — this one handled exquisitely by the band's keyboardist and "musical secretary" Darian Sahanaja — as well as "Good Vibrations," "Barbara Ann," "Surfin' USA" and "Fun, Fun, Fun" before the finale performance of "Auld Lang Syne."
That song, a musical setting of Scottish poet Robert Burns' poem urging that old acquaintances should not be forgot as time goes by, took on greater than usual gravitas as the group members huddled closely together around their hero and mentor at his piano. It was hard to ignore the harsh reality that this bittersweet number was being sung so exquisitely in a theater just two miles from where the Borderline Bar & Grill mass shooting unfolded last month.
But the ethereal blend of human voices Wilson crafted when he was a young man of 24, along with its transcendent musical modulations, has stood the test of time and expressly conveyed a message of kinship that beautifully encapsulated the core message of the holiday season.
Get our L.A. Goes Out newsletter, with the week's best events, to help you explore and experience our city.
You may occasionally receive promotional content from the Los Angeles Times.