Conservative country music fans lash out at CMA performance by Beyoncé and the Dixie Chicks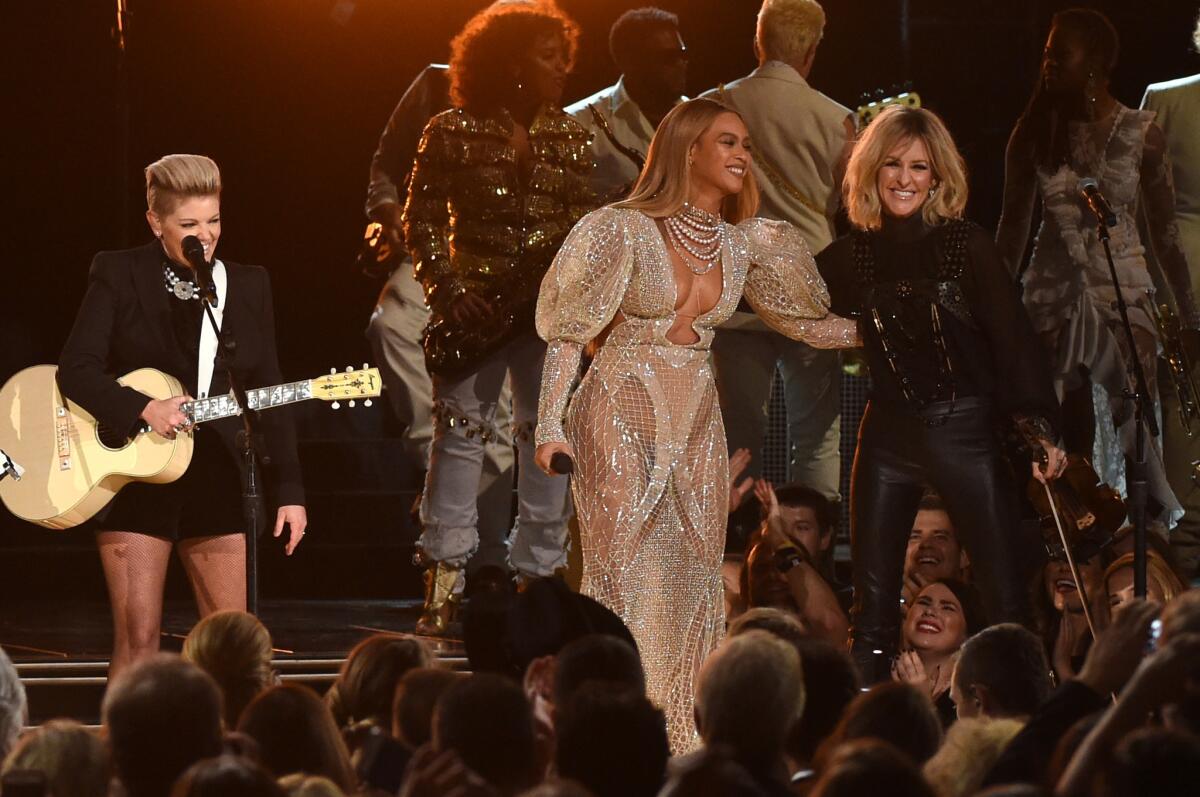 As pop superstar Beyoncé got in step with the Dixie Chicks during their genre-bridging performance at the 50th Country Music Assn. awards on Wednesday, she swung her arms and shouted, "Texas!"
Not missing a beat, the Chicks' Natalie Maines repeated her "Texas!" shout-out, a tacit acknowledgement of their Lone Star connection and the tangled roots of American music.
The land that bore both western swing band Bob Wills & His Texas Playboys and proto-R&B rocker Big Mama Thornton is big enough for both, so the notion that Beyoncé, of Houston, and Maines, of Lubbock, would represent on a single stage is hardly outlandish.
For her part, Maines was giddy after the show.
But conservative country music fans were having none of it as Beyoncé and the Dixie Chicks worked into a grand performance of "Daddy Lessons."
Many, in fact, were baffled and downright angry.
The song is from Beyoncé's recent album, "Lemonade," and takes a decidedly twangy turn — so much so that the Dixie Chicks have been covering it during concerts of late.
Most casual country music fans, though, had no idea of the song's existence, because country radio doesn't play it. All they knew was that an "other" was on their blessed stage.
The playful performance featured a huge band of traditional country instrumentalists offering a platform for the rebel women to shine. But to some it was just too much.
On Facebook pages such as the otherwise homespun Country Living, viewers were apoplectic.
The question "What did you think of the Beyoncé and Dixie Chicks performance?" was answered by thousands of commenters. The vast majority had big problems with it.
The gist, according to one: "Figures they would pair up. One who has no respect for the American military and another who has no respect for the American law enforcement. Ashamed they would be allowed to perform at the CMAs at all."
Virtually everyone was a music critic on the country music powerhouse CMT's Facebook page.
In a post on the performance, the cable station quoted country singer and CMA host Brad Paisley, who said: "Frequently, country crosses over. But every now and then a major pop superstar wants to be a part of this too. Welcome, Beyoncé."
Replied many fans: Not welcome!
Screamed one: "SHE DOES NOT BELONG!!!! When have they ever invited ANY country singer to their BET awards...NEVER!!!!STOP IT. I bet Alan, George and Vince think CMT has gone NUTS."
Granted, in such a polarized music world there would be opposing opinions. Fans of Beyoncé and the Dixie Chicks lined up to celebrate musical unity.
Opined one (with grammatical flair): "She is a TEXAN! She is COUNTRY! From HOUSTON! Let's not Judge or cast stone stones..Our country roots go farrrr back and bunch of musicians we look up to have a lot of ole cheat'n stories or going to jail and list goes on..We are human! No one is perfect! I'm excited to see what our TEXAS girl will show to CMT and the world. God bless and cast no stones!"
Others cited a history of cultural theft.
Still other Beyoncé fans made their preferences known with a simple brush-off.
On Thursday afternoon, a number of media outlets and Twitter users, including TMZ, accused the CMAs of scrubbing its social media accounts of Beyoncé performance clips and links after online backlash.
In a statement, the CMA Awards denied doing so, and also pointed out that the performance is online. The group did, however, admit to removing a short promotional clip.
"CMA has not erased any mentions of Beyoncé's performance on the CMA Awards. In advance of the broadcast, CMA removed a five-second promotional clip from ABC.com and CMA's Facebook page," read a statement provided to the Los Angeles Times.
"The promo was unapproved and CMA removed it prior to the broadcast. Beyoncé's performance with Dixie Chicks was a highlight of the evening and we are continuing to share the amazing full-length performance clip via our official social channels."
There's a lot of terrible music out there. For tips on the stuff that's not, follow Randall Roberts on Twitter: @liledit
ALSO:
Goodbye, Earl. Hello, Beyoncé: The Dixie Chicks get some superstar help at the CMA Awards
Listen to Beyoncé and the Dixie Chicks' 'Daddy Lessons'
Even with Beyoncé, the CMA Awards played to country's core
Photo gallery: CMA Awards 2016 red carpet arrivals
'It brought me to tears': Kenny Chesney reacts to tributes from Eric Church and Keith Urban
---
UPDATES:
5:40 p.m.: This article was updated with a statement from the CMA Awards denying allegations that it minimized Beyoncé and the Dixie Chicks' performance on its social media accounts.
This article was originally published at 9:45 a.m.
Get our L.A. Goes Out newsletter, with the week's best events, to help you explore and experience our city.
You may occasionally receive promotional content from the Los Angeles Times.