Cuco rising: How a teen romantic from Hawthorne is becoming the buzz of the biz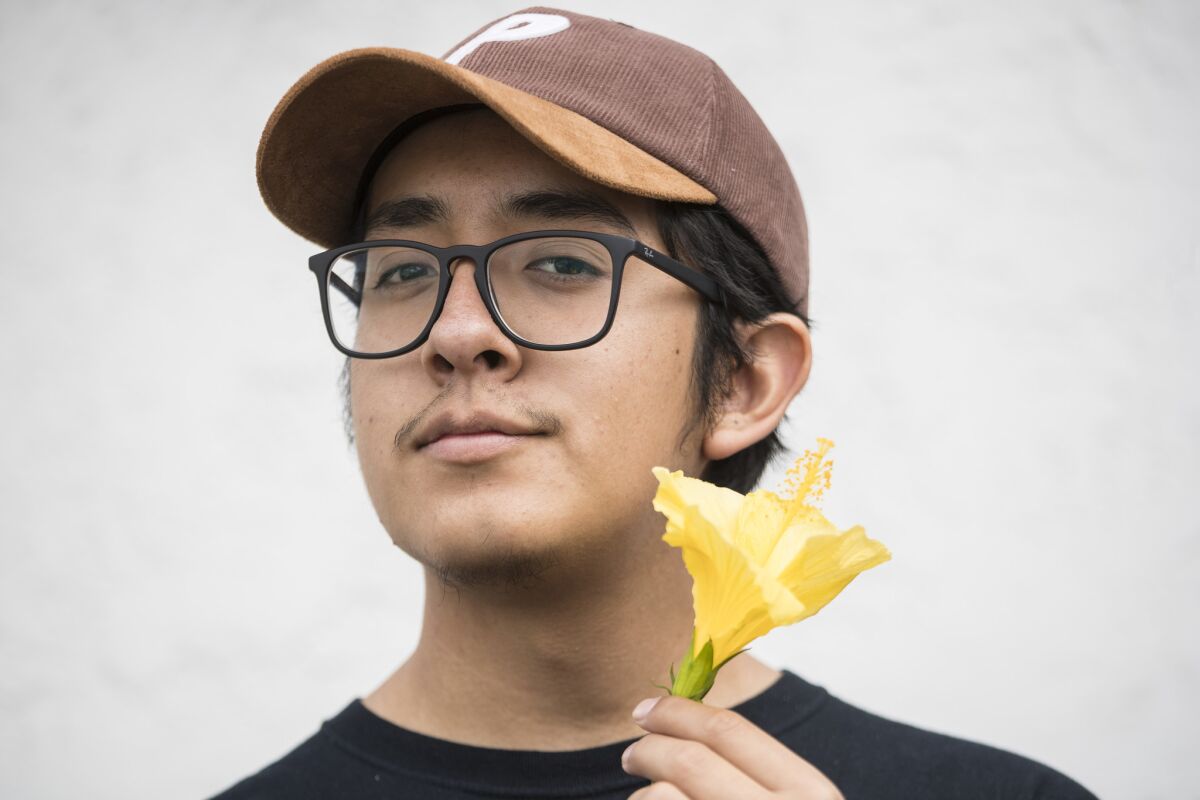 The Cuco story begins with a video-embedded tweet in the summer of 2016. In it, a musician with a cheeky Twitter name — @icryduringsex — sits in a cluttered bedroom and plays a lap slide guitar rendition of Santo & Johnny's classic romantic ballad, "Sleepwalk."
The clip went viral within a few days.
What was the allure? The 30-second performance showed only a torso in a logo tee and two hands playing a guitar.
Cuco, whose birth name is Omar Banos, isn't sure, he says over a burger and fries recently at Dino's, his favorite Hawthorne fast-food joint.
"I didn't expect that at all, dude," he says.
What's occurred in the 15 months since has catapulted a 19-year-old Hawthorne romancer with a funny Twitter handle to the role of heartthrob musical auteur able to sell out a club tour.
His manager Doris Muñoz, 23, has her own theory. "I will never underestimate the strength of a fan-girl ever again. They're wild."
Since then it's only grown. "Girls are chasing golf carts, they're waiting for us at the exits, asking him to sign anything and everything, crying when they meet him."
Currently the subject of a bidding war among a host of labels, the first-generation Mexican American artist and his first-generation Mexican American manager have found themselves in the unique position of being young, independent and holding a golden ticket: the undying devotion of an expanding fan base and an industry desperate to find new could-be superstars.
A few days before lunch at Dino's, Banos had performed as part of a multi-act roster to around 30,000 people as part of Hollywood Forever cemetery's annual Day of the Dead celebration. Instagram clips show a huge chorus of fans, many of them Latina, bellowing Cuco lyrics while alighting their smartphones.
They were likely drawn to his love songs, which promise everlasting romance and position the girl in his life on a bejeweled pedestal. He delivers his affections via music that mixes synthesized beats, echoed guitar and surreal textures.
"When I'm feeling puzzled, girl you put me back together / And if never is forever, then let's always be together," he sings on "One and Only."
In the five months since its release, "Lo Que Siento" has been played 992,000 times on SoundCloud, been added to influential Spotify playlists, and earned props from the Colombian R&B singer Kali Uchis.
Banos, who is an only child, doesn't dress the part of a budding superstar. Tall, bespectacled and boyish, at lunch he wore loose-fitting, two-tone retro sweat pants, a black, long-sleeved T-shirt and a brown corduroy cap. His low-key, amiable demeanor was as casual as his wisp of a mustache.
Raised in Hawthorne, the musician's first instrument was trumpet, which he played in high school band and still performs today.
At 16, practicing in his bedroom while accumulating cheap gear and learning how to use Ableton software, he started showcasing his stuff on SoundCloud. Early originals such as "Yeah" and "Fine Forest" draw on his love of the neo-psychedelic dancey rock band Tame Impala. His affection for balladry is obvious in his cover of Elvis Presley's "Can't Help Falling in Love."
He still lives and records his music in that bedroom, and played his first live show with a band as Cuco as part of a multi-act bill in October 2016 at a Santa Fe Springs house party.
I was in the middle of hundreds of teenagers surrounding this garage singing every lyric. I remember thinking, 'How has no one tapped into this?'

— Doris Muñoz, Cuco's manager
Muñoz, determined to connect with Banos after seeing his stuff on social media, sent him a few direct messages. They went unanswered.
Born in Whittier to Mexican immigrant parents and an extended family steeped in the ministry, Muñoz grew up in extreme poverty, she said over lunch in downtown L.A. in early November.
As the only American citizen in the family, she was both determined and expected to improve her lot. "You have Social Security numbers," she recalls her parents telling her. "This is your ticket to succeed."
Her parents' immigration concerns resonated with Banos, himself the bearer of the only Social Security number in his immediate family.
An outspoken advocate for so-called Dreamers brought into the U.S. illegally as children and whose future in the country is in jeopardy under President Trump, Banos says that he's witnessed the uncertainty firsthand.
"I didn't experience it myself, but I've seen my whole family go through the immigrant struggle," he says.
Muñoz regularly promotes fundraising shows called "Solidarity for Sanctuary," whose proceeds go to legal fees for families, including her own, actively petitioning for citizenship.
While attending Cal State Fullerton and accruing student debt, Muñoz interned at RCA and Columbia Records. On weekends, she waited tables.
When Banos announced a February 2017 show in Commerce, Muñoz committed to meeting him.
"I had literally never seen anything like this before," she says. "I was in the middle of hundreds of teenagers surrounding this garage singing every lyric. I remember thinking, 'How has no one tapped into this?'"
After waiting an hour "because there's girls taking photos of him and giving him gifts," she introduced herself and asked him about management.
Banos was skeptical. After all, he'd done pretty well on his own.
But after connecting over their shared tastes and experiences as first-generation Mexican Americans, the two made it official. He describes Muñoz as "like family."
Through her internship connections, Muñoz set up meetings with A&R executives.
It hasn't been easy, Muñoz says: "Obviously I'm young as hell. I'm a woman of color. I'm building my relationships as I go. And when they hear I just graduated college last year," some have been dismissive.
Though Banos hasn't signed a record deal — and doesn't even know if he will — he has signed on for tour representation with industry heavyweight Paradigm in May.
"Omar has a big decision to make," Muñoz says.
Banos gingerly dances around the subject of his future with a label. "They already sent their offers in and everything so now we're just kind of like looking over them, negotiating."
"I don't need a label. The labels mostly need me," he says. "Like, in no cocky way, the reality of it is labels stay up because of the artists."
At work on his debut, Banos said he recently crashed a hard drive containing new work, so he might have to redo tracks from memory.
That's not the only hurdle. Take his Twitter handle.
"We don't want to change it, but some branding opportunities have already slipped through our fingers because of this," Muñoz says.
Banos is adamant that the @icryduringsex name stays. "He's not afraid to show his emotions," Muñoz says. "He's a cancer."
For tips, records, snapshots and stories on Los Angeles music culture, follow Randall Roberts on Twitter and Instagram: @liledit. Email: randall.roberts@latimes.com.
Get our L.A. Goes Out newsletter, with the week's best events, to help you explore and experience our city.
You may occasionally receive promotional content from the Los Angeles Times.