Dean Wareham trades in N.Y. urbane for West Coast chill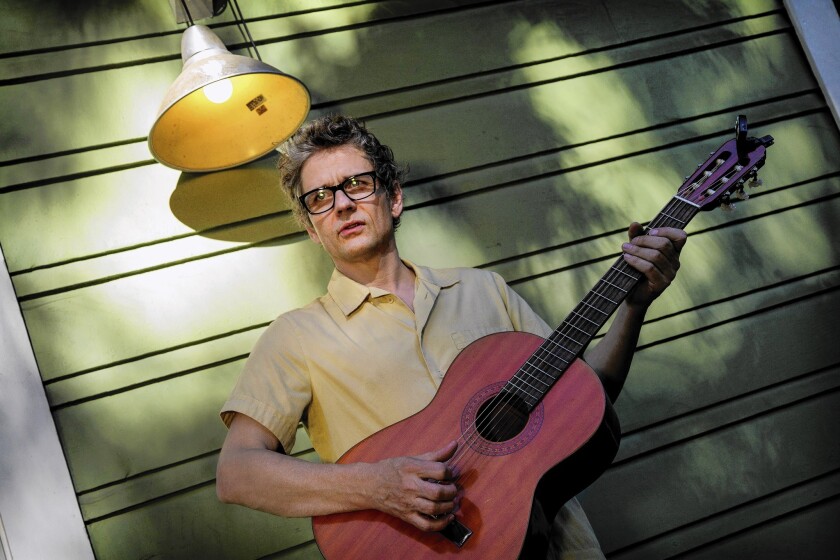 Things didn't work out especially well the last time Dean Wareham came West.
"Why can't we smile just like we used to?" the singer-guitarist asks in "California (All the Way)," by his beloved New York guitar band Luna. A highlight from the group's 1994 album "Bewitched," the tune charts the slow disintegration of a couple's relationship after the woman follows the man to California — and then promptly drives him crazy.
Two decades later, the veteran musician has returned to the West Coast, minus the drama.
"I actually found it pretty easy," he said of his recent move to Los Angeles. Sitting in the tree-shaded backyard of his new home in the hills near the Hollywood Bowl, Wareham laughed gently as he took in his sun-dappled surroundings. "You look around and what's not to like?"
One thing might've been the sacrifice of Wareham's urbane cool.
Formed after the breakup of his influential late-'80s dream-pop band Galaxie 500, Luna was a quintessential New York City act, wrapping wry little chamber dramas in trebly guitars that twinkled like the lights in Manhattan's skyline. (The band broke up in 2005.) The music wasn't loud like the Ramones' or funky like Talking Heads', but it carried a lean electricity that suggested the spirit of the city.
Maybe Wareham worried that relocating to the land of endless avocado would dull that edge?
"I definitely had people say, 'What?' " he recalled. " 'You're betraying us!' "
In truth, Wareham, 50, seems unbothered by such fears, perhaps because the move to L.A. — which he undertook last summer with his wife, Britta Phillips (who also played in Luna) — was inspired by a bigger concern: Wareham's desire to be near his son during the latter's high school years.
"I didn't want to be a parent who only sees their kid on vacation," Wareham said.
And the big midlife chill seems to have been coming anyway, to judge by the beautifully relaxed sound of "Dean Wareham," the very fine solo debut he released in March.
Unhurried in tempo and full of Byrds-like guitar jangle, the nine-track record exudes a distinctly Californian feel, even if it's not, strictly speaking, a product of the West Coast. Wareham wrote the album before leaving New York and recorded it in Louisville, Ky., with Jim James of My Morning Jacket producing. (His band in the studio included Phillips, with whom he's made several duo albums as Dean & Britta; she'll also back him in a concert Thursday night at the Roxy.)
Yet it's hard not to think of Wareham's relocation when he opens the record with "The Dancer Disappears," singing, "I was the arrow, I was the bow / I loved it, yeah, but I'm ready to go / Now that we're here, I'm ready to leave the whole wide world behind."
Other songs describe taking the high road to the sea and being happy and free ("for a while," at least). "There's nothing wrong with the road we're on," he croons tenderly over the humming groove of "Happy & Free" — the sentiment, clearly, of a man who's only recently begun driving the 405.
Yet Wareham's album isn't without anxiety or doubt (or loud guitars, as in "I Can Only Give My All"). "What have I done with my life?" he wonders in "Love Is Not a Roof Against the Rain," though Wareham in conversation was quick to point out the song's next line: "What have I done with the keys?"
"I didn't want it to feel too serious," he said.
There's also "Holding Pattern," which might appear to be about a kind of fiftysomething stasis if the lyrics didn't transform at one point into a list of old arena-rock bands.
"I started writing that one sitting in a hotel room in Sacramento watching 'Monday Night Football,' " Wareham recalled. The game was Seattle against Green Bay, which he changed with some poetic license to San Diego and Denver. "That got me to Kansas — they're in the same division. And then I started thinking about Boston, Toto and Journey." The song shouts out Foreigner and Styx too.
If Wareham is feeling good about his personal future, he's less sanguine about the future of the music industry. He put out "Dean Wareham" himself, so he knows exactly how much it cost to record the album and to promote it — and how little he's getting in return from the plays the album gets on streaming services like Spotify.
"As musicians, we're squeezed," he said.
The diminishing value of recorded music is one reason he complements his record-making with other pursuits. In 2008, he wrote a well-regarded memoir, "Black Postcards: A Rock & Roll Romance," about his days in Galaxie 500 and Luna, and he's worked on music for several of Noah Baumbach's films, including "The Squid and the Whale" and "Margot at the Wedding."
He and Phillips even acted in Baumbach's "Frances Ha," playing the hosts of a dinner party in which Greta Gerwig's character commits an epic overshare.
Wareham said Baumbach has cast him in two upcoming films, as well, including one in which he'll portray a pediatrician.
They're just small roles, he added with a New Yorker's reflexive no-big-deal-ness. But then his eyes sparkled like those of so many fresh Angelenos.
"You can put in the piece," he said, "that I'm available."
------------
Dean Wareham
Where: The Roxy, 9009 Sunset Blvd.
When: 8 p.m. Thursday
Tickets: $18
Info: https://www.theroxy.com
---
The complete guide to home viewing
Get Screen Gab for weekly recommendations, analysis, interviews and irreverent discussion of the TV and streaming movies everyone's talking about.
You may occasionally receive promotional content from the Los Angeles Times.