Paul McCartney brings out Neil Young — and a lifetime of indelible songs — at Desert Trip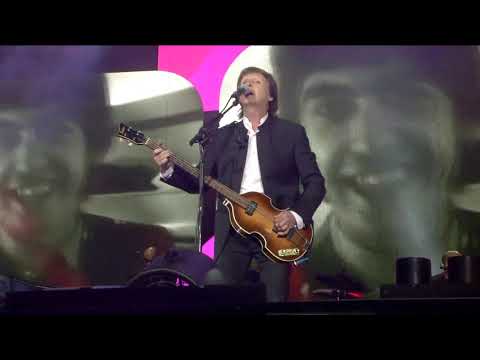 Paul McCartney performs at Desert Trip. (Video courtesy of Paul McCartney)
Reporting from indio —
Paul McCartney made good on Desert Trip's all-star-jam potential when he invited Neil Young onstage Saturday night to duet with him on a pair of classic Beatles songs.
Employing the royal "we" to introduce Young as "a really good friend of ours," McCartney brought out his fellow veteran (who'd played the festival earlier in the evening) for "A Day in the Life" and "Why Don't We Do It in the Road?"
At the end of the former, the two tacked on a bit of John Lennon's "Give Peace a Chance," which set off a mass singalong in the Desert Trip crowd. And during the latter, Young scratched out a noisy guitar solo that pushed the White Album cut closer to the heavy blues McCartney was clearly emulating.
Not that the former Beatle needed help in traversing styles.
Leading his expert band through three dozen songs over 2 1/2 hours, McCartney was a keen — and lovable — musical explorer at Desert Trip, moving through a vast assortment of sounds and attitudes with the lightly worn assurance of a lifelong superstar.
He did indelible Beatles hits such as "A Hard Day's Night" and "We Can Work It Out." He did twisting, knotty Wings songs like "Jet" and "Band on the Run." And he did solo tunes including "Maybe I'm Amazed," which he said he'd written for his late wife, Linda, and "My Valentine," which he dedicated to his current wife, Nancy, on what he said was the day before their wedding anniversary.
McCartney knew what audience he was playing to. Before "Blackbird," he explained how he'd hoped the song would be a balm for those caught in the struggle for civil rights in the 1960s. And he described "Here Today" as an imaginary conversation with Lennon, who'd been murdered not long before he wrote it.
Other songs triggered reminiscences of the Beatles' first recording session and a long-ago encounter with Jimi Hendrix. And following the Rolling Stones' rendition of "Come Together" on Friday at Desert Trip, McCartney returned the nod — well, sort of — by zipping through "I Wanna Be Your Man," an early Lennon/McCartney ditty originally recorded by the Stones in 1963.
Yet McCartney wasn't living in the past.
At one point he played "FourFiveSeconds," the great folk-soul single he released last year as an unlikely collaboration with Rihanna and Kanye West. He also did "Queenie Eye," from his most recent solo album, 2013's "New" — though in typical fashion he let the crowd off the hook for not knowing it, calling the song "a black hole" since it inspired so few to point their cellphones at him.
To close the show, which ended after midnight, McCartney returned to the blues for a bludgeoning "Helter Skelter" before finishing with a portion of the Side 2 suite from "Abbey Road."
"Smiles awake you when you rise," he sang, and he might've been describing the warmth his fans feel for him, a rock icon masquerading as a really good friend.
Twitter: @mikaelwood
ALSO
At Desert Trip, the Rolling Stones gather no moss
Desert Trip serves up protest-era rock — so far minus the politics
Talkin' 'bout their generation: What Desert Trip says about the classic rock mindset
Get our L.A. Goes Out newsletter, with the week's best events, to help you explore and experience our city.
You may occasionally receive promotional content from the Los Angeles Times.