The Democratic convention united Demi Lovato, Paul Simon and Boyz II Men for every generation of music lovers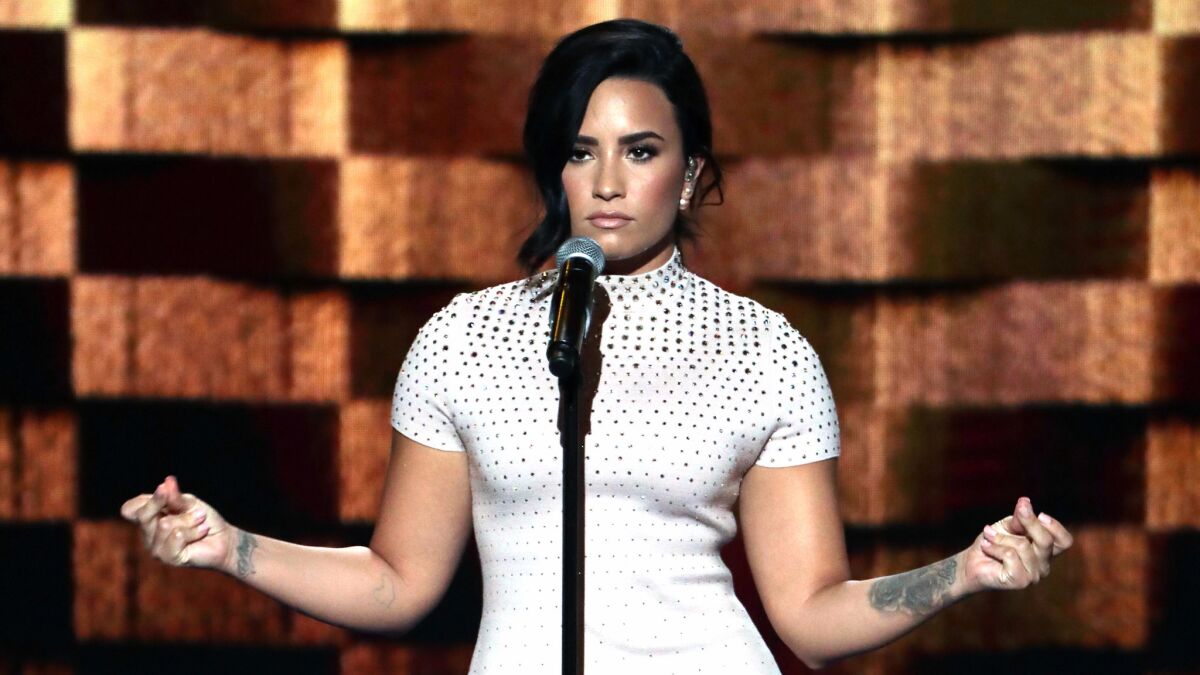 A pitchy Paul Simon served as musical entertainment during Monday's raucous opening of the Democratic National Convention in Philadelphia, even if his offer of solace "when darkness comes and pain is all around" was of little comfort to Bernie Sanders supporters.
Simon capped a day and night of convention-floor screaming and urgent messages from the podium, with the occasional break for a musical number. Across social media, viewers reacted with both praise and criticism.
That was true not only of Simon, but of fellow Day 1 performers Boyz II Men and Demi Lovato.
Did somebody say Boyz II Men? Philadelphia's rich history of birthing great R&B groups dictated a nod to the local constituencies, and the platinum trio whose work in the 1990s helped change the sound of pop stepped up with a fitting afternoon take on "Motownphilly."
Some people have short memories, though, and took to Twitter to wonder on the choice.
Maybe, wrote another, a certain "Parks & Recreation" character was responsible?
Before Demi Lovato took the stage to speak and perform, a few people wondered about her appearance and song choice. The day had been punctuated by floor battles between supporters of Sanders and Hillary Clinton. Might Lovato provide a song to move the process forward?
Lovato, though, had other things on her mind. Specifically, the artist, who is coming off of a banner year, opened her performance with a strong message about mental illness. The pop star has been an outspoken advocate after herself living with a mental illness.
"Like millions of Americans, I am living with mental illness, but I'm lucky. I had the resources and support to get treatment at a top facility," she told the crowd. "Unfortunately, too many Americans from all walks of life don't get help, either because they fear the stigma or cannot afford treatment."
Her willingness to discuss the issue prompted near universal praise on Twitter, with thousands tweeting and retweeting videos of the moment. That didn't mean there weren't cynics who read into her appearance a party-sponsored play to get the millennial vote.
Minus his former collaborator Art Garfunkel, Simon delivered "Bridge Over Troubled Water," his would-be ode to friends in need, to a buzzing arena still reeling from comedian Sarah Silverman's calling one faction of the crowd "ridiculous" moments earlier.
Simon, performing with piano accompaniment, has certainly done better renditions of his classic American song. Where once he and Art supported those powerful lyrics with the strength of an expansion bridge, on Monday his voice wobbled as if held up by ropes.
It's not the first time Simon's music has entered the political arena. During the 1992 presidential election, vice-presidential candidate Al Gore harnessed "You Can Call Me Al" as one of his stump-speech anthems.
But social media didn't exist in 1992, so Simon was spared the critiques from the masses. Not so on Monday, when Twitter erupted with take-downs.
Predictably, at least a few people saw something bigger at play.
There's a lot of terrible music out there. For tips on the stuff that's not, follow Randall Roberts on Twitter: @liledit
ALSO
'The Late Show's' Stephen Colbert tries (and tries and tries) to storm the stage at the DNC
DNC pulls out the stops on opening night, delivers a TV variety show
Sarah Silverman has a blunt message for 'Bernie-or-bust' crowd
---
Get our L.A. Goes Out newsletter, with the week's best events, to help you explore and experience our city.
You may occasionally receive promotional content from the Los Angeles Times.